This site contains affiliate links. Please see Policies for more information.
Update: At the end of this post are answers I've found to the most asked questions about the new iOS7 including pictures and wallpaper automatically resizing and losing the post to twitter and Facebook in the notification center.
As someone in the Apple Developer program, I was able to download iOS7 onto our iPhones before the release. We (Michael and I) wanted to share our favorite features with you, as well as some tips and tricks you might need to function when you first update your operating system to iOS7!
What We Love About iOS7
Multiple pages of apps within folders.
The default weather app–shows animations of the current weather in your area.
What We Don't Love About iOS7
The lag time when switching between apps "the old way." While the animation does make for a cooler look, it makes the overall experience seem a little slower. And yes, I realize I'm talking about .002 seconds. You can call me spoiled. It's much quicker to use the double-click method explained below.
Michael thinks the new operating system makes his iPhone look like a Droid–I agree, there are some definite similarities.
I really thought there would be a one-handed way to take a screenshot–kind of bummed it hasn't changed.
iOS7 Tips And Tricks
Multiple pages Of Apps Within Folders
A dream come true for app junkies and bloggers, this is the smartest feature I've found:
Just keep adding apps to existing folders to take advantage of this feature. Drag from one screen to the next as you would on your home screens (touch and hold app, wait for it to shake and drag it to the next screen).
To Multitask and Close Apps In iOS7
Double click the home button (the small round button on the bottom front) and slide to easily switch between apps: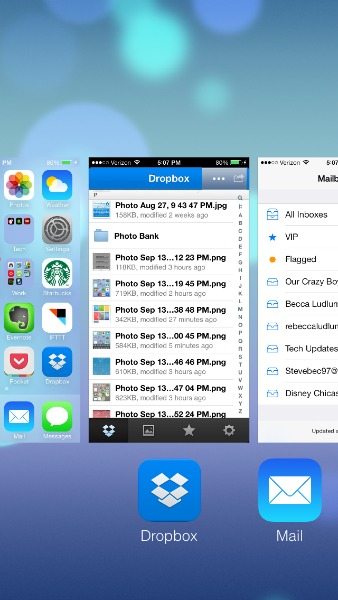 To close an app, "flick" it upward. This takes some getting used but you'll learn quickly.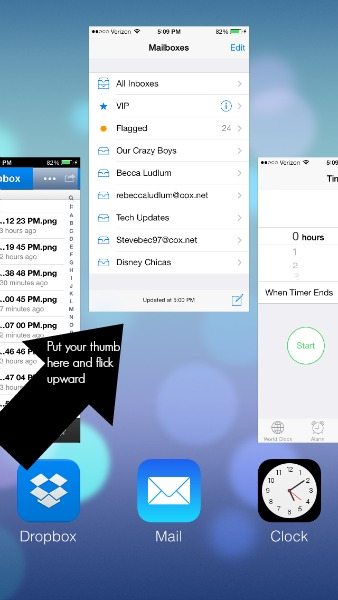 Wallpaper
Apple has preloaded some fun dynamic wallpapers that work well with their Parallax feature, the which makes the background seem almost 3D. The wallpapers that come with the new operating system are fairly basic, but as you can see there are colors to match the new iPhone 5c:
The colors go even further than the wallpaper–the control center feature also matches the wallpaper color and with the new iPhone 5c, your case color can now be integrated with your phone's software.
If you're looking for some more iOS7 backgrounds, here are 20 Parallax (dynamic) wallpapers for your iPhone from The Next Web.
Swipe Up For Control Center
The new swipe up feature for the iOS7 Control Center takes the place of what would take multiple clicks in iOS6. What used to be Settings > Brightness is now a swipe up from the bottom of the screen and a quick drag of a slider.
My favorite features of the Control Center are the flashlight, wi-fi settings, airplane mode and screen orientation.
The Control Center is available from any screen in iOS7, including the lock screen.
Here's a full list of the features you'll find in your control center:
Airplane mode
Wi-fi
Bluetooth
Do Not Disturb
Screen Orientation
Brightness
Music Controls
Airdrop and Airplay
Flashlight
Timer
Calculator
Camera
Continue To Swipe Down For Notifications
Your Notification Center is still available with a swipe down from the top of the screen.
Search In iOS7
You used to scroll left to the last screen to find a search bar, but now this feature is available by pulling down the home screen:
Tell me… what are your favorite tips about iOS7?
If you're new to all things iPhone, check out my iPhone 101 post here: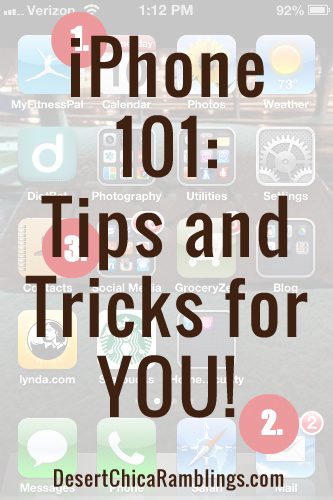 Your iOS7 questions: Answered.
My wallpaper is automatically resized. How do I fix it? This is a part of the Parallax feature. To turn off Parallax (and leave your wallpapers the size they were), Settings > General > Accessibility > Reduce Motion. This is also helpful if you have motion sickness and are not able to easily view your new iPhone screen.
Where are my quick post to tweet and post to facebook buttons that were in the notification center? Unfortunately, those are gone. Some people mentioned that they technically weren't notifications, so they didn't belong there to begin with–but I understand–they were there and you did use them. There's mention of these being brought to the control center, so keep an eye on that.
The weather app can't find my location! You may need to update a few things. Try Settings > Privacy > Location Services. Make sure your location is on for the weather app. If that didn't work, try Settings > Notification Center > and make sure undr Today View: Calendar Day View > On. You may need to restart your phone after this to see the information in your notifications. Note: This information will be in text form–not the fun animated view from iOS6.
What's the blue dot next to some of my apps? Since you don't have to manually update your apps anymore, this blue dot lets you know that app was recently updated.