This site contains affiliate links. Please see Policies for more information.
It's not enough to simply hang the stockings by the chimney with care; you also need to stuff them full of goodies! Stuffing the stockings sounds easy enough, but when you factor in everyone's different personality and tastes, it can be pretty tough. One of the people it can be tough to buy for is makers. Stocking stuffers for makers can be tough to figure out. Makers are the people in your life who like to tinker, build, and destroy almost anything. They love pulling it apart just to see if they can fix it! When you are filling the stockings this year, make sure the maker in your life pulls out some of these great gifts. These are stocking stuffers for makers that will be a surefire hit.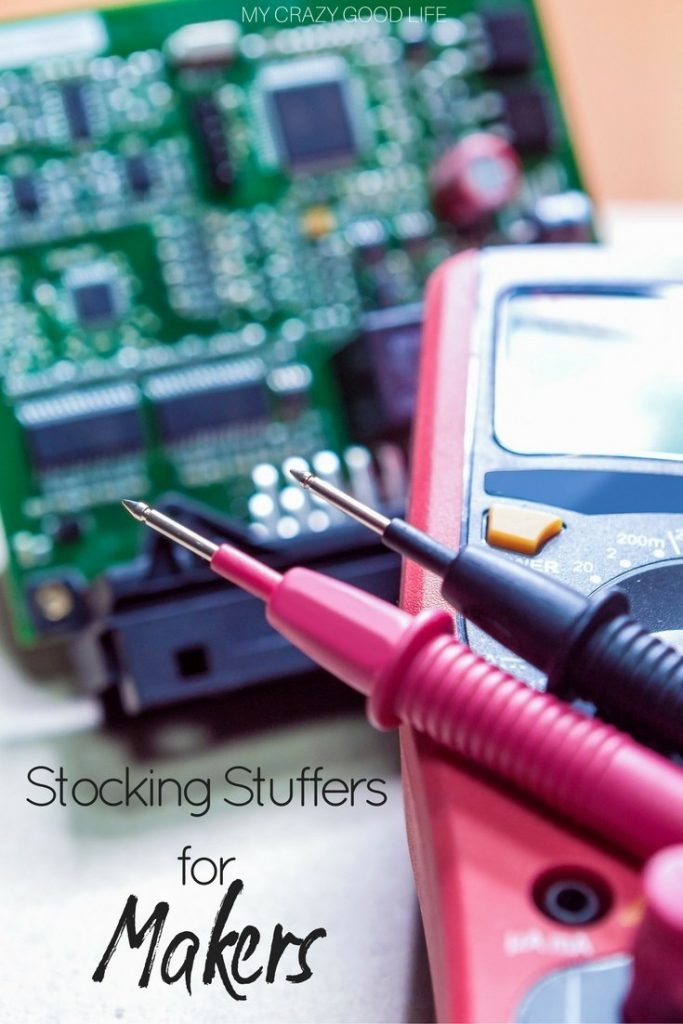 Unsurprisingly, the world of technology is a big draw for most makers. Building and advancing technology is a fun challenge for them. One of the best ways to get into the world of computers is to build your own! Raspberry Pi is a kit that comes with everything your maker will need to create a small Linux computer.
Maybe your maker is too young or isn't quite ready for building the Raspberry Pi, and that's fine. There are other options that you can choose from to get them started with building computers. The Kano DIY Kit is designed for even the youngest of makers. This kit is perfect for anyone who loves tinkering and building things!

This will come as no surprise to you, makers love to build things. Using the Arduino microcontroller, your favorite tinkerer can build some pretty amazing things. These tiny computers can give a small robot life, make ordinary objects communicate with smart devices, and the sky is the limit. If they can dream it up, they use this microcontroller to make it happen.

A 3D printer is a popular vehicle that makers use to bring their imaginations to life. However, having a 3D printer is only half the battle. Get your maker filament or other accessories they will need to make the most out of their 3D printer. Having lots of awesome supplies on hand can really allow them to experiment with 3D printing.

Developed by MIT's Media Lab's, Makey Makey is sure to impress the maker in your life. Using an Arduino microcontroller and a circuit board, you can turn a bunch of bananas into a piano. You can turn a table top into a keyboard and so much more.
We all remember the days of paper airplanes and throwing them across the room. For your builder, you can change the regular, everyday paper airplane into a smart plane. PowerUp 3.0 lets you control paper airplanes with a propeller, and a rudder. All you need is a smartphone with Bluetooth.
We all know that makers will get into the world of wiring at some point. The bigger the invention the more power they need to fuel it, the crossover is inevitable. This doesn't have to be cause for worry…Instead, make sure they have the proper tools to stay safe while messing with wiring. It's also a pretty good idea to set rules about building with live wiring!!
If wire strippers simply aren't enough, you can get an entire electronics tool set. These tools will help keep makers safe when tinkering with electronics. This particular kit is very popular and well made, you can rest assured that your favorite inventor will get a lot of use out of this stocking stuffer!
Not every tool for makers is electronic or harmful. Sugru is essentially a playdough/superglue hybrid. It works by allowing you to mold the dough in a shape or item and then overnight it hardens into a permanent form. This is a great tool for makers of all kinds. They can use Sugru to make forms and molds or parts that they can't quite craft out of other materials.

There are plenty of small drones currently on the market that will fit in a stocking. These tiny creatures will provide so much enjoyment to your makers. They'll probably be tempted to pull them apart to see how they work. Perhaps the maker in your life will have the skills or knowhow to enhance their drone for use in all kinds of fields.