This site contains affiliate links. Please see Policies for more information.
Toy Story 4 has a new friend! Well, wait–it's not as much a "new" friend as it is an old friend who has undergone a pretty cool transformation.
I won't be spilling it all here today, but you should definitely plan on heading to the theaters to see Bo Peep in Toy Story 4 later this month!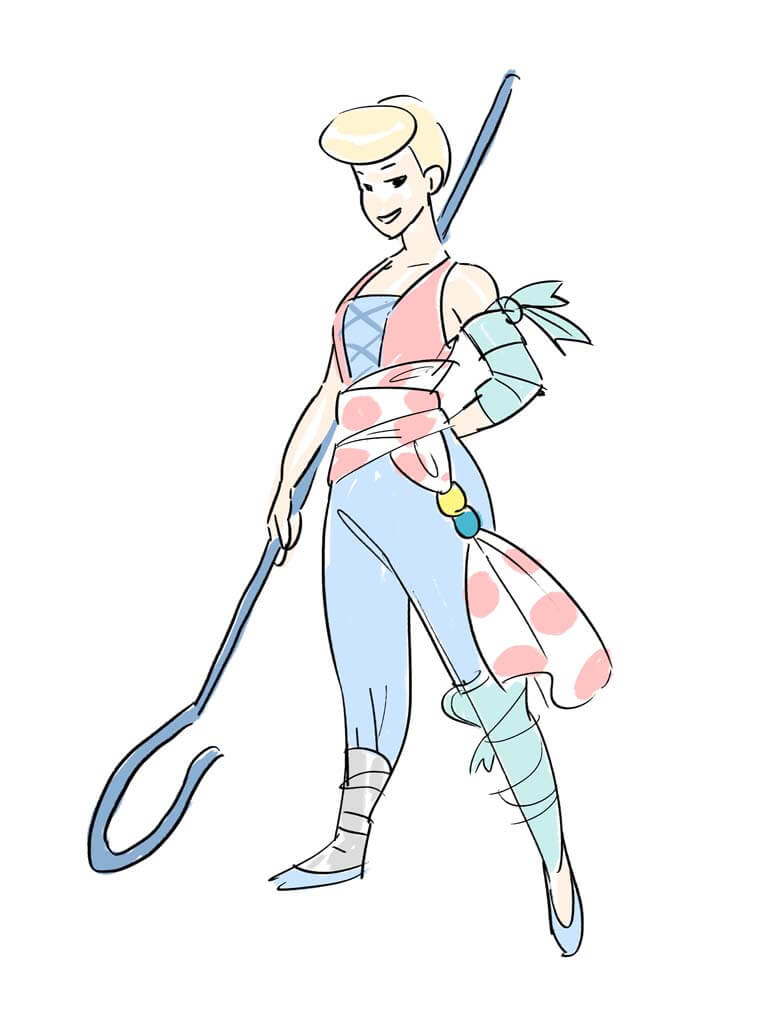 Who is Bo Peep?
You might remember Bo Peep from the first Toy Story movie–she was the lamp who watched over Andy's little sister as she slept (along with her sheep–Billy, Goat, and Gruff). Bo Peep was given away in Toy Story and has had a different life than her friends. Woody reunites with her in Toy Story 4 while in a wooded area at a playground.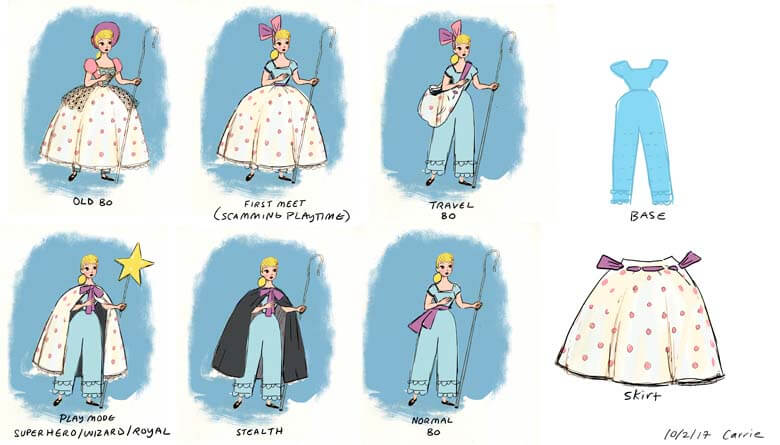 The "new" Bo from Toy Story 4
During our time at Pixar, we were able to listen to Bo's creators talk about her and how her character updates came to life in Toy Story 4.
Here are some moments from our time with Story Supervisor Valerie LaPoint, Story Artist Carrie Hobson, Characters Modeling Artist Mara MacMahon, Directing Animators Patty Kihm & Becki Tower and Character Modeling Artist Tanja Krampfert.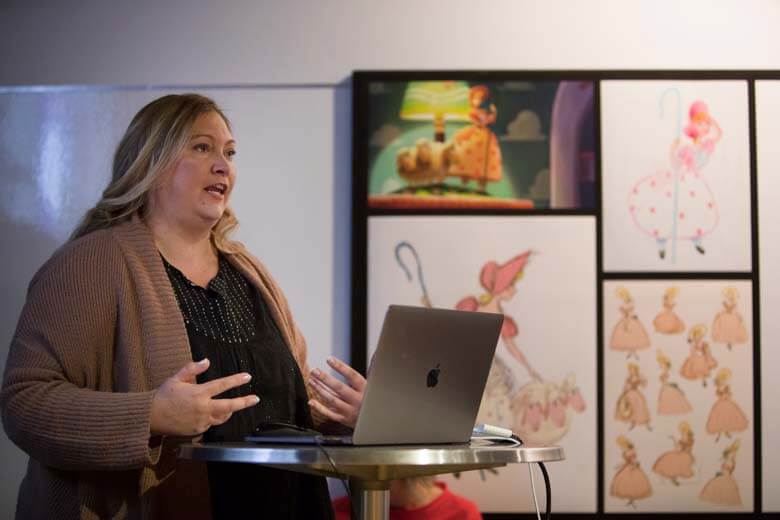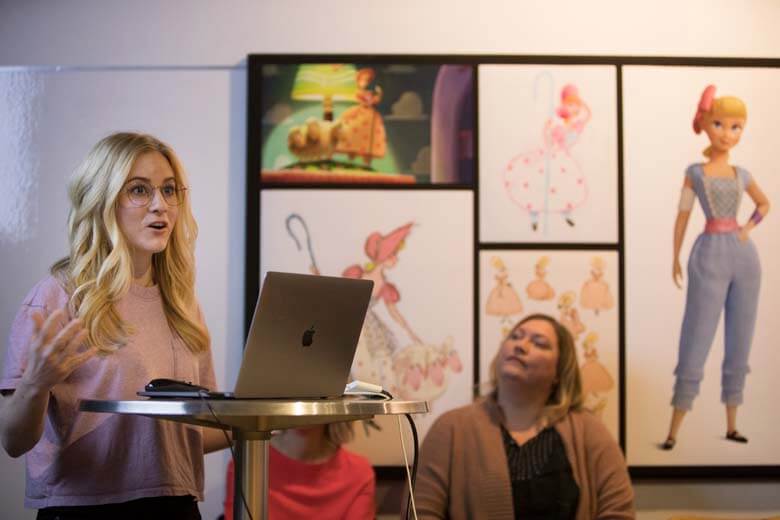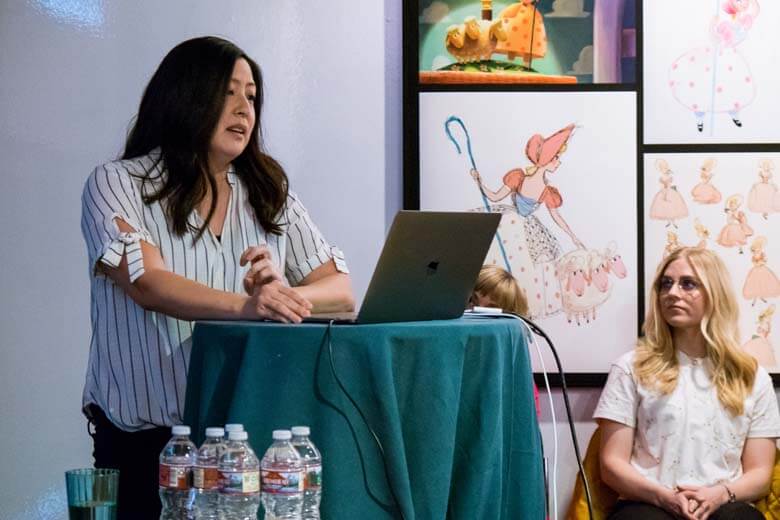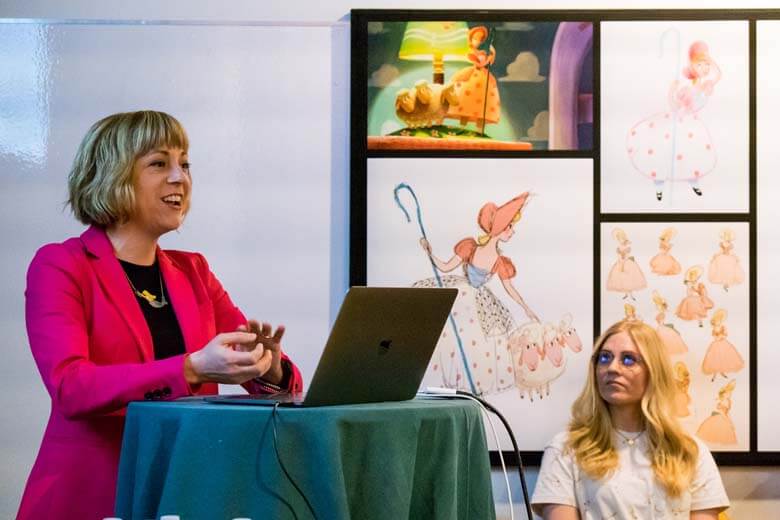 The new Bo is a little scrappy and rough around the edges–she can handle herself, but has partnered together with a few other lost toys and they watch out for one another.
Producer Jonas Rivera said that Bo Peep is "really the most important piece of the movie" because of her run in with Woody. It's the biggest thing that's happened to him.
Since Bo has such small parts in the previous Toy Story world, bringing her to life as a lead character was a big of a challenge. They had to think not just about Bo at present, but about where she has been throughout the years. What was her life like?
I'm not going to spoil a thing by telling you what I saw of Bo, but I love her now more than I loved her classic character before. She is scrappy, and so lovable. I love her new group of friends, too.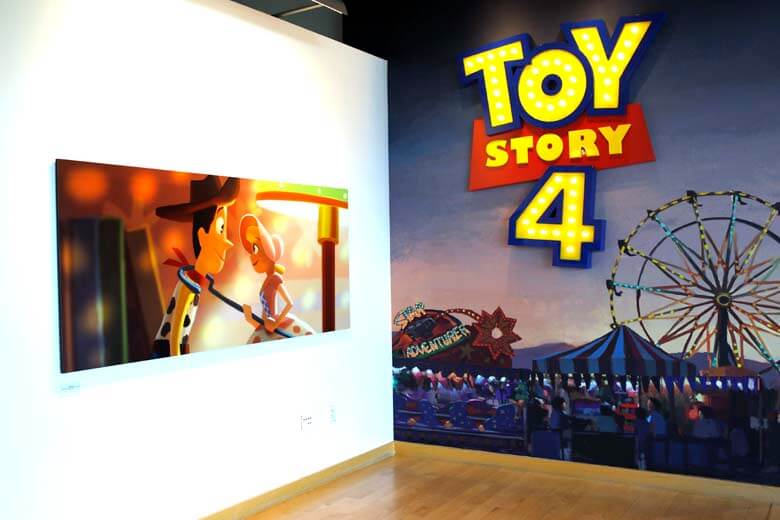 If you're the type of person who loves the "official" scoop, this is straight from Pixar about the new Bo:
BO PEEP is a long-lost friend of Woody, Buzz and the gang, who always shared a special connection with Woody while residing with her sheep on a lamp base at Andy's house. "There is definitely love between them," says Nielsen. "We see in the prologue just how hard it was for Woody to let her go.

After being separated for years, Bo has become chipped and discarded, but her spirit is far from broken. She has grown into an adventure-seeking free spirit whose strength and sarcasm belie her delicate porcelain exterior. When she and Woody are reunited under unlikely circumstances, Bo realizes just how much she's missed him, and can't wait to show him what she's been up to. "Bo's taken control of her own destiny," says Cooley. "While Woody was watching Andy grow up, Bo gathered dust until she took it upon herself to head out into the world. And when Woody shows up, they can't believe that they've found each other again."

According to screenwriter Stephany Folsom, Bo and Woody first connected as leaders of their respective rooms. "Woody ran Andy's room, overseeing the toys there, and Bo was in charge in Molly's room," says Folsom. "There's a certain responsibility that comes with running a room, and it's clear that Bo is strong and in control."

Annie Potts returns as the voice of Bo. "Annie not only brings emotion to Bo, she completely fleshes out that character," says Cooley. "She's heartwarming and funny, and Annie has a natural sarcasm that's just perfect.

"We had a few sessions when Annie and Tom recorded together," continues Cooley. "They've known each other for such a long time, there's a natural chemistry between them that made it so easy."
Take a peek at Bo Peep here:
I mentioned in my previous Toy Story post introducing
Forky
that one of my favorite parts about visiting Pixar while this movie was being wrapped up was the portraits of the characters–here is Bo's.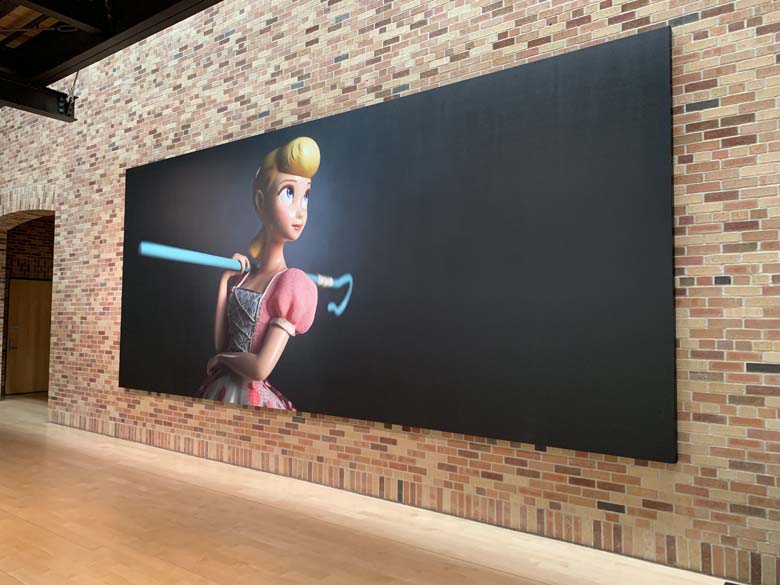 Toy Story 4 welcomes veteran voices back to the toy box, including Tom Hanks as Woody, Tim Allen as Buzz Lightyear, Annie Potts as Bo Peep, Joan Cusack as Jessie, Wallace Shawn as Rex, John Ratzenberger as Hamm, Blake Clark as Slinky, the late Don Rickles as Mr. Potato Head, and Estelle Harris as Mrs. Potato Head.
New to the "Toy Story" voice cast are Tony Hale as Forky, Christina Hendricks as Gabby Gabby, Keanu Reeves as Duke Caboom, Ally Maki as Giggle McDimples, and Keegan-Michael Key and Jordan Peele as Ducky and Bunny. 3 Directed by Josh Cooley ("Riley's First Date?"), and produced by Jonas Rivera ("Inside Out," "Up") and Mark Nielsen (associate producer "Inside Out"), Disney·Pixar's "Toy Story 4" ventures into U.S. theaters on June 21, 2019.