This site contains affiliate links. Please see Policies for more information.
During my trip to Los Angeles last month, I was part of a group of bloggers who was able to tour the set of Agents of S.H.I.E.L.D., meet and interview the cast of the show, tour the costume design area, and even watch while some of the season finale was taped! I brought you the costume design and set tour last week (did you see the awesome pictures of me in the Quinjet?!), and this week I have some fun behind the scenes information from actors Clark Gregg and Ming-Na Wen, Producer Jed Whedon, and Executive Producer Jeff Bell!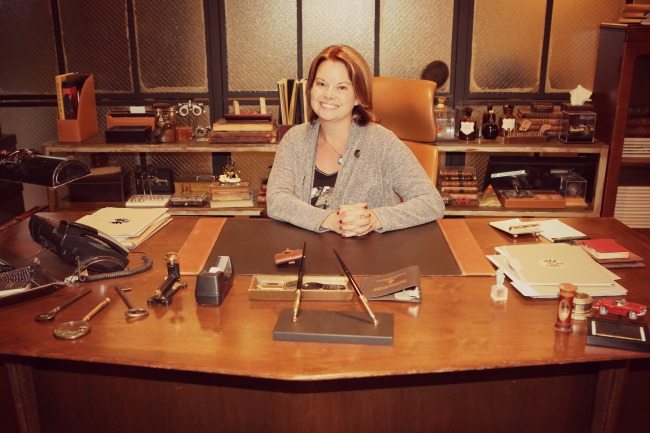 We started out chatting with two of the actors on the show: Clark Gregg and Ming-Na Wen. They literally finish each other's sentences.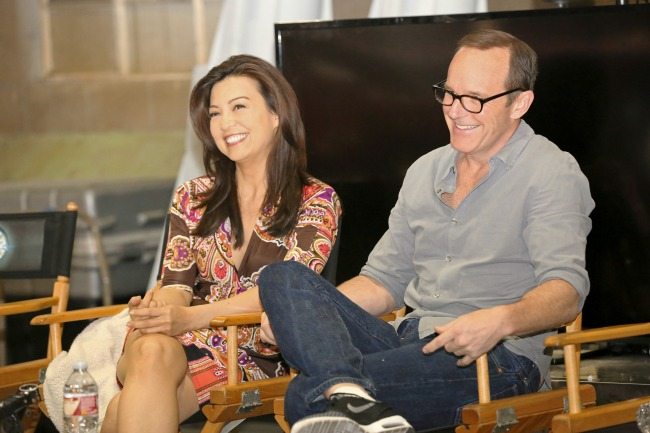 They were so great! Here are a few of my favorite parts:
Question: How much information did they give you in the very beginning?
Ming: They gave me the name of my character and that I was an agent of S.H.I.E.L.D. and that she left the field for a reason. That's about it. Really I didn't get very much.

Clark: Even in the pilot though, just from the script. In the pilot–the first scene where we meet you, is me going to find her where she's behind stacks of boxes and paperwork having checked herself out of S.H.I.E.L.D. And we only gradually come to learn that she's got this reputation–

Ming: –As the cavalry.

Clark: As the cavalry and that she's a legendary warrior who quit and pushed away from the table because of traumatic experience.

Ming: And I used my thing as an actor not want–just "I'm quitting." That's what I draw from.

Clark: Oh, that's your thing. A friend of mine gave me a Monopoly card that says get out of show business free. Just when you've had enough of the abuse.

Ming: Yeah, that's right–just box yourself in and, you know–

Clark: –But it was referenced a number of times. There were little hints of it in different episodes of what had happened. Eventually some pieces got filtered in–this involved a powered person and deeply scarring stuff, which I always really liked. It's where the show kind of veers into something topical, the concept of, people who do defend other people's militarily, the scars they carry in PTSD. But it's only been little piece meal hints.

So we were kind of excited, you know, three days before we started shooting when we found out that this was going to be the reveal.

Ming: Right, because we've heard a lot about Bahrain. And, you know, there were always references to it. But, uh, the details of it wasn't really known until the episode. Or maybe a couple of episodes before there were some hints about that storyline but nothing very specific. So, a lot of times when we're acting it's almost as we're the audience member because we're discovering it the way an audience member would discover it watching the show. You know, they don't tell us anything.

Clark: They tell me some stuff.

Ming: That's because you're the director. You're Coulson.
Question: How much of your own personality goes into your character?
Ming: Oh! 100%

Clark: For us, it's hilarious to watch the taciturn and lethal Melinda May and then hang out with the giggly and hilarious super sweet Ming. I mean you don't want to mess with Ming either.

Ming: Yeah, if I'm hungry.

Clark: But there's a difference–there's a difference.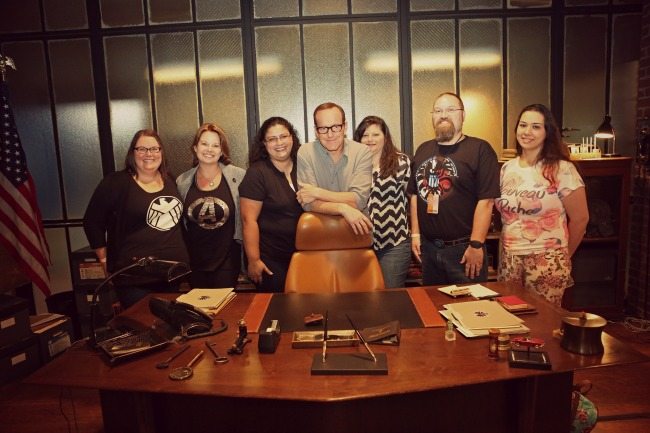 We then were able to chat with Agents of S.H.I.E.L.D. Producer Jed Whedon and Executive Producer Jeff Bell, who were also wonderful to chat with.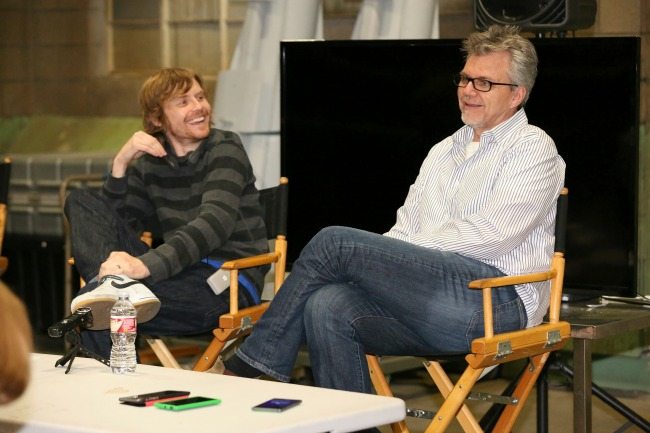 Jed Whedon is a writer, producer and musician from a family of television writers: son of Tom Whedon ("The Golden Girls," "Alice," "The Electric Company"), grandson of John Whedon ("The Donna Reed Show," "The Andy Griffith Show," "The Dick Van Dyke Show"), brother of Zack Whedon ("Southland," "Fringe") and Joss Whedon "(Buffy the Vampire Slayer," "Marvel's The Avengers"). Whedon was born in Los Angeles, California and earned his living as a touring musician, game designer and graphic artist until he began writing scripts with his then-fiancée/now wife Maurissa Tancharoen. Alongside Maurissa and his brothers Joss and Zack, he co-created and co-wrote the Emmy Award-winning musical "Dr. Horrible's Sing-Along Blog" before moving on to such television shows as "Dollhouse," "Drop Dead Diva" and Starz's "Spartacus." He is currently co-creator and executive producer on the ABC television series "Marvel's Agents of S.H.I.E.L.D."

Jeffrey Bell is a writer, director and executive producer. He began his television career writing for "The X-Files." He then joined "Angel" as a writer/director/producer. He was promoted to executive producer and showrunner for the series' final two seasons. Bell then spent four years under an overall deal at ABC developing, writing, directing and producing. He was executive producer and/or showrunner on several network series, including "Alias" and "Day Break" for ABC, and the murder mystery "Harper's Island" for CBS. He was co-creator and showrunner of the series "The Protector" for Lifetime and a consulting producer on the Starz series "Spartacus." He is currently an executive producer and showrunner for "Marvel's Agents of S.H.I.E.L.D."

Bell was born in Indiana, studied design and photography at the University of Cincinnati and then moved to Los Angeles, where he received an MFA in Film Production from UCLA. He has continued his ties to UCLA by teaching screenwriting in the MFA Producers Program.
Question: We have the Marvel Cinematic Universe and the TV shows. Are you limited to what you can and can't do?
Jed: We definitely have free reign but it does limit us in that we can't kill Captain America like we plan to each week (laughs). No, you know, obviously there's guidelines. They have these huge temples and we sort of move between them and there are things that are off limit to us for sure because they have either big plans for them or have already shot stuff that's gonna use them. But in terms, we don't feel limited by it. It's sort of a fun puzzle for us and, you know, we get big toys to play with because of it. So it's sort of a privilege to live in that universe and the fact that when something happens on our show it is canned.

But it's more of a puzzle for us, and we get the privilege of seeing what's coming down the pipeline and cater our stories to move between it.

Jeff: The only challenge really was when we first launched we knew that Hydra was the big bad guy in Capt. two and there was one word we were not allowed to say on Shield. We called it the H word and so we knew that was coming and we knew we were building up to that and we knew we were going to reward that way and we knew it was going to blow apart the team but it might have been helpful to have said the H word earlier for big comic fans. They're going, 'who are these bad guys?'

If we said, well he works for Hydra, he works for Hydra, she's with Hydra people would have been oh, they're doing Hydra, that's cool, but we couldn't say that. That was really the only limit but the upside was it just exploded in our show and having the word turn like that and letting Brett do that and become that, that was awesome and then it really depends on each movie. Like Guardians of the Galaxy didn't have much for us to tie in with.

Jed: And you can consider it a limitation to have a film that literally destroys the organization that your show is named after.

Jeff: Because when we first wrote it it's like episode seventeen, do we still exist? Agents of hmm???

We took it and saw it as an opportunity and I think that it us working around that and finding a way to make that our show came up with some of the best story that we had. It generated things that we never would have thought of and put us in a tight corner that we had to ride our way out.
Question: Are there any cameos we could expect?
Jeff: How would you define cameo? Like, Stan Lee?
Question: Stan Lee would be great but I was thinking of, like, Avengers?
Jed: Well, that falls in the category of questions we can't answer. That is always a possibility. It would be cool if that happens.
Agents of S.H.I.E.L.D. fans, you aren't going to want to miss tonight! Here are some details for you: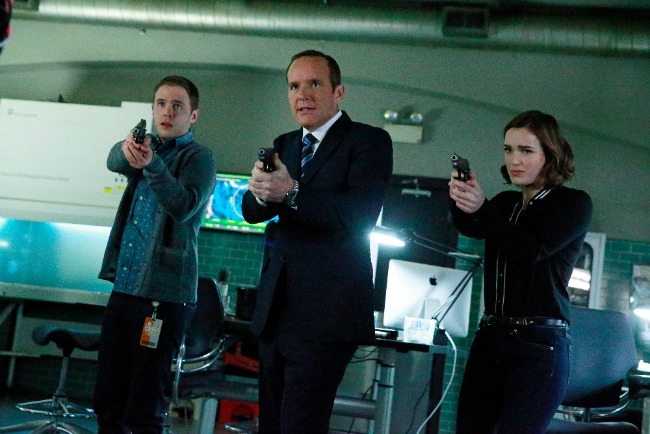 THE INHUMANS' ENDGAME IS REVEALED, ON THE TWO-HOUR SEASON FINALE OF ABC'S "MARVEL'S AGENTS OF S.H.I.E.L.D."
"S.O.S.," Part One and Part Two" – S.H.I.E.L.D. puts everything on the line to survive a war that blurs the line between friend and foe. Coulson and his team will be forced to make shocking sacrifices that will leave their relationships and their world changed forever, on the two-hour season finale of "Marvel's Agents of S.H.I.E.L.D," TUESDAY, MAY 12 (9:00-11:00 p.m., ET) on the ABC Television Network.

"Marvel's Agents of S.H.I.E.L.D." stars Clark Gregg as Director Phil Coulson, Ming-Na Wen as Agent Melinda May, Brett Dalton as Grant Ward, Chloe Bennet as Agent Skye, Iain De Caestecker as Agent Leo Fitz, Elizabeth Henstridge as Agent Jemma Simmons, Nick Blood as Lance Hunter and Adrianne Palicki as Bobbi Morse.

Guest starring on "S.O.S.," Part One are Henry Simmons as Alphonso "Mack" Mackenzie, Ruth Negga as Raina, Kyle Maclachlan as Cal, Jamie Harris as Gordon, Christine Adams as Agent Weaver, Mark Allan Stewart as Agent Oliver, Maya Stojan as Kara/Agent 33, Dichen Lachman as Jiaying, Luke Mitchell as Lincoln Campbell, Kyle Mattocks as Agent Harris, Ryan Powers as S.H.I.E.L.D. tech agent and Alicia Vela-Bailey as Alisha.

Guest starring on "S.O.S.," Part Two are Henry Simmons as Alphonso "Mack" Mackenzie, Kyle Maclachlan as Cal, Jamie Harris as Gordon, Christine Adams as Agent Weaver, Mark Allan Stewart as Agent Oliver, Blair Underwood as Andrew Garner, Maya Stojan as Kara/Agent 33, Dichen Lachman as Jiaying, Luke Mitchell as Lincoln Campbell, Brendan Wayne as Jiaying's assistant, Robert Reinis as bartender, Daz Crawford as Kebo, Alicia Vela-Bailey as Alisha and Anthony D. Washington as TAC agent #3.

"S.O.S.," Part One was written by Jeffrey Bell and directed by Vincent Misiano.
"S.O.S.," Part Two was written by Jed Whedon & Maurissa Tancharoen and directed by Billy Gierhart.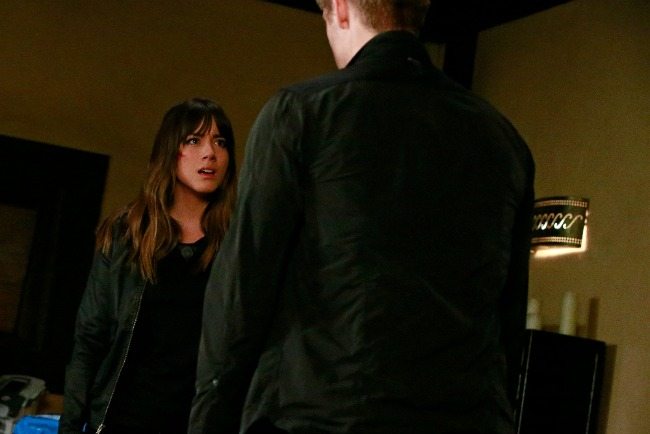 For more information on "Marvel's Agents of S.H.I.E.L.D.," visit ABC.com
Follow us on: Facebook www.facebook.com/AgentsofSHIELD
Twitter @AgentsofSHIELD
@ABC_Publicity
I attended press events with Disney and ABC TV, which included a set tour and interviews with the cast of Agents of S.H.I.E.L.D. I was provided with an expenses paid trip to Los Angeles in exchange for my coverage about the events. No other compensation is given. Of course, opinions and experiences are my own.