This site contains affiliate links. Please see Policies for more information.
Are you a Toy Story fan? Come meet the new Toy Story 4 characters who are joining Woody and the gang–Gaby Gabby, Benson, Giggle McDimples, Forky, Duke Caboom, Ducky & Bunny. You're going to fall in love with them all for different reasons once you see Toy Story 4 in theaters July 21.
Introduce the kids now with these fun (and free) Toy Story 4 coloring and activity sheets!
Why another Toy Story movie?
Director Josh Cooley explained that "like most people, I assumed that 'Toy Story 3' was the end of the story. Turns out it was only the end of Woody's story with Andy. Just like in life, every ending is a new beginning."
"Woody now being in a new room, with new toys and a new kid, was something we have never seen before. The questions of what that would be like became the beginning of an entertaining story worth exploring."
Who are the voices behind the new Toy Story 4 characters?
Benson is voiceless, which makes him a little creepy. He is an antique ventriloquist dummy, and Gabby Gabby's right hand. He leads a small group of ventriloquist dummies (again…creepy!) that serve as Gabby Gabby's henchmen. Creepy or not, Benson adds a certain something to the film.
Christina Hendricks is Gabby Gabby, a talking pull-string doll from the 1950s. Unfortunately, a defect in her pull-string voice box has left her sounding anything but adorable. Again, a little creepy, but these two new Toy Story characters add to this film in a way that the happy go lucky characters just can't. She's been living in the antique store for over 50 years and is excited to meet mew friends.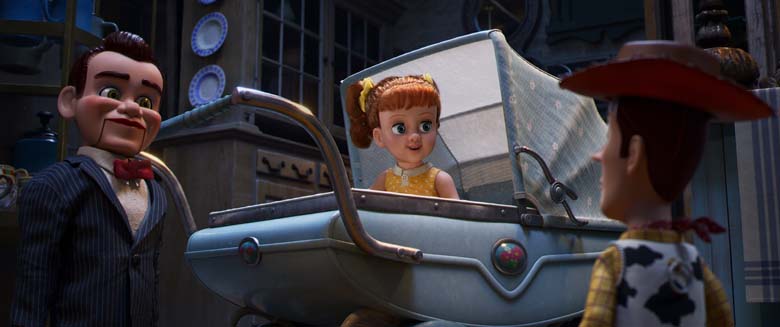 Ally Maki is Giggle McDimples, a tiny plastic toy from the 1980s Giggle McDimples toy line. Giggle is Bo Peep's best friend, and small enough to sit on Bo's shoulder, like a little angel–supporting and advising her. Woody and Bo make a great team with Giggles.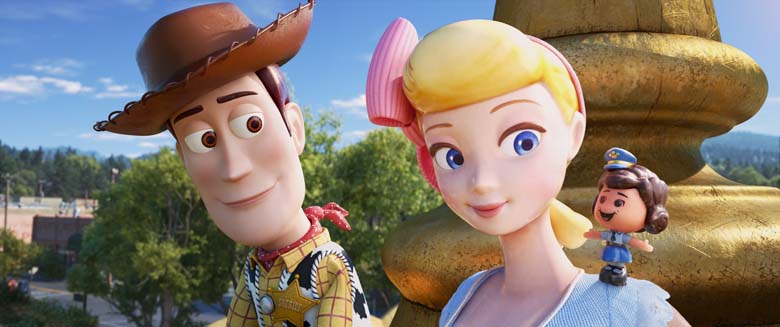 GIGGLE MCDIMPLES — In Disney•Pixar's "Toy Story 4," Bo Peep introduces Woody to her best friend Giggle McDimples. A miniature plastic doll from the 1980s, Giggle is Bo's confidant, supporter and advisor, and spends a lot of her time perched on Bo's shoulder. Featuring Ally Maki as the voice of Giggle, "Toy Story 4" opens in U.S. theaters on June 21, 2019…©2019 Disney•Pixar. All Rights Reserved. Tony Hale is Forky, a spork with a few identity (and confidence) issues. From the scenes of Toy Story 4 that we previewed, I'm fairly certain that Forky is my favorite new character–he is hilarious. Forky is an actual spork-turned-craft-project and he is pretty sure that he doesn't belong in Bonnie's room with the other toys.
Keanu Reeves is Duke Caboom, a 1970s toy based on Canada's greatest stuntman. Duke is always showing off his stunt poses (on his stunk motorcycle) with confidence and swagger. But, Duke has a big secret that he's keeping and I think kids relate to him quite a bit.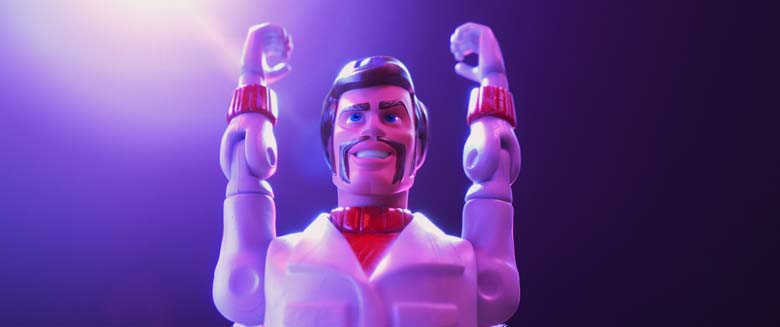 KeeganMichael Key and Jordan Peele are Ducky and Bunny, carnival prizes who are eager to be won. They have no kid–no home to go back to, and it's sad. But they end up on an unexpected road trip with a group of toys who have no idea how sad it feels to be tacked to a prize wall at a carnival.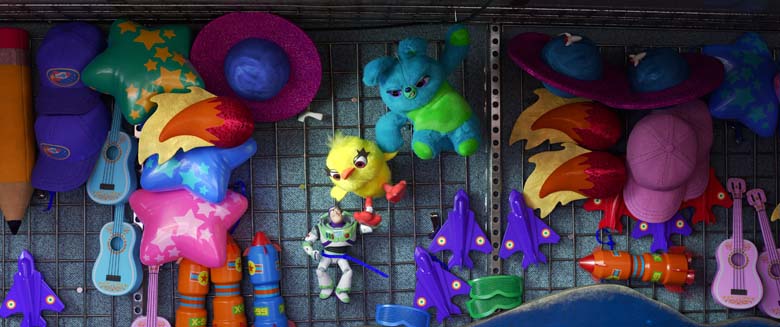 Though not a new character, Bo Peep is the voice of Annie Potts. After being on the road for years, Bo meets up with Woody and though has become chipped and weathered, her spirit is far from broken. You can read more about Bo and her new look (and personality) right here. And of course Tom Hanks and Tim Allen return as the voices of Woody and Buzz.
Looking for more?
Here are some of my favorite fun facts about Toy Story 4. The background info from this movie is amazing, and the research that went into it is unbelievable. The antique store and carnivals were researched for months before being recreated perfectly and with such detail that literally every speck of dust was placed for a reason.
See Toy Story 4 in theaters June 21!