This site contains affiliate links. Please see Policies for more information.
This post, Interview with Thor: Ragnarok's Karl Urban, is part of an expenses paid trip with Marvel Studios, Disney/Pixar, and Disney Junior. Some interview questions and responses have been edited to improve readability. 
As he walked into the room he was a bit taken aback by our applause and cheers–he does play the Executioner, after all. But Karl Urban's character in Thor: Ragnarok is more than an Executioner–you'll see this as soon as you watch the movie.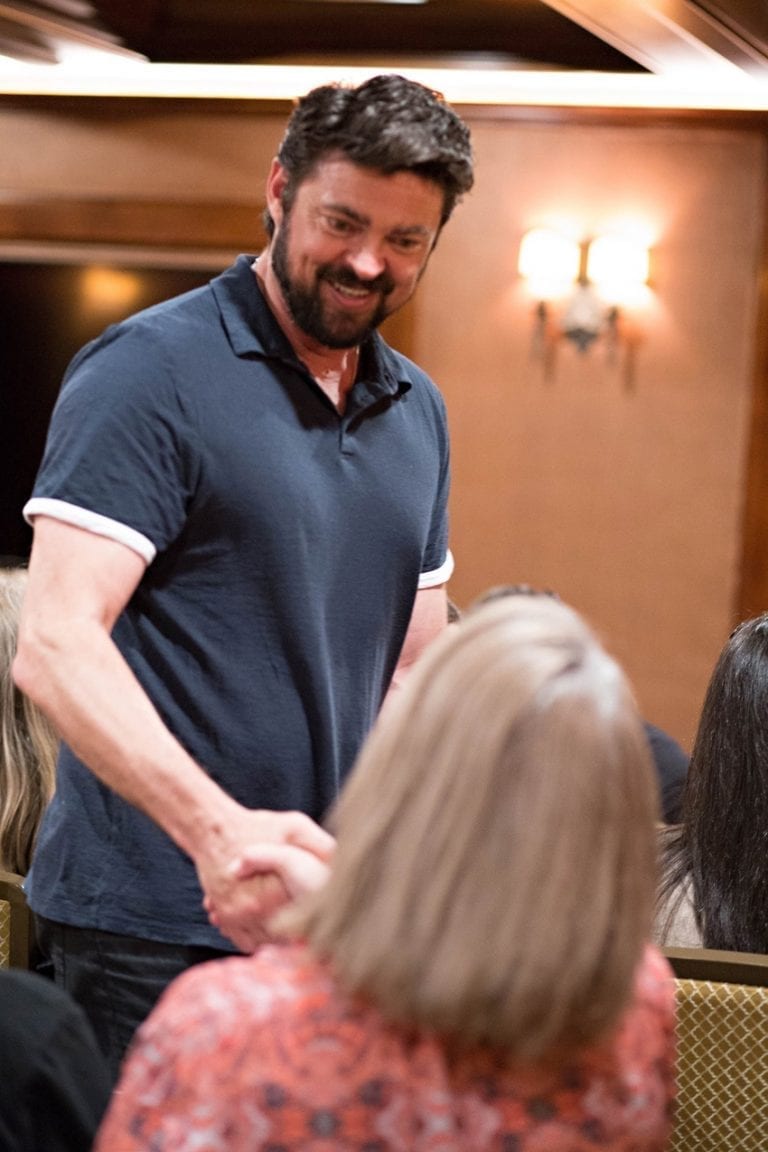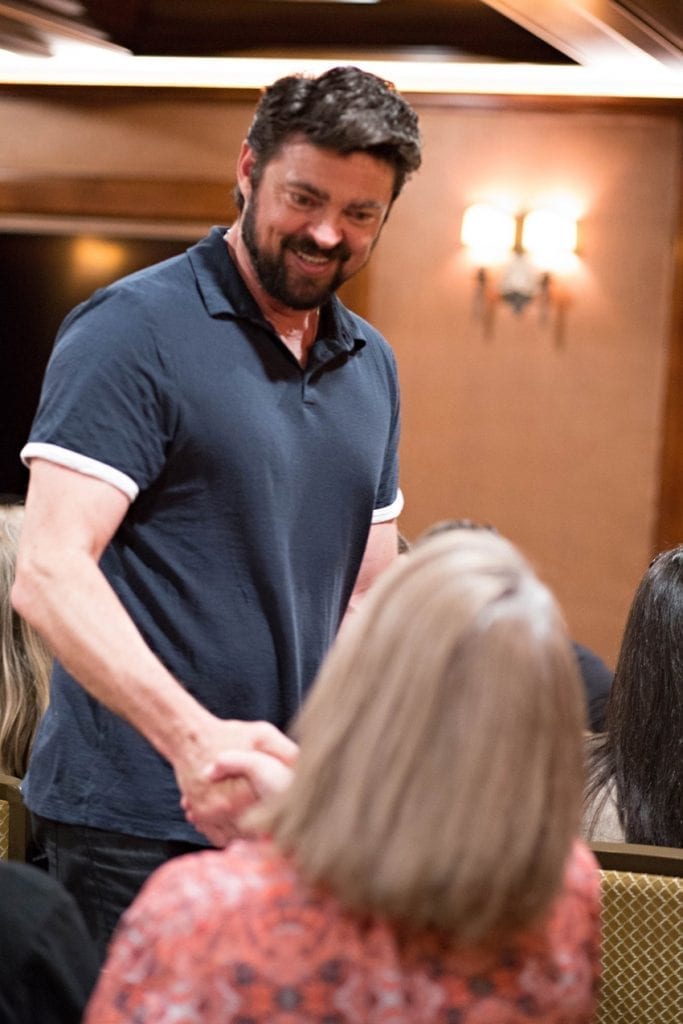 Karl Urban walked into the interview room and shook every one of our 25 hands before he sat down to chat with us. It meant the world to us all that he took the time to personally welcome each of us, and if we hadn't already loved his character Skurge surely we would have fallen in love with him because of his kind gesture.
Here are my favorite parts of our conversation with Karl Urban from Thor: Ragnarok.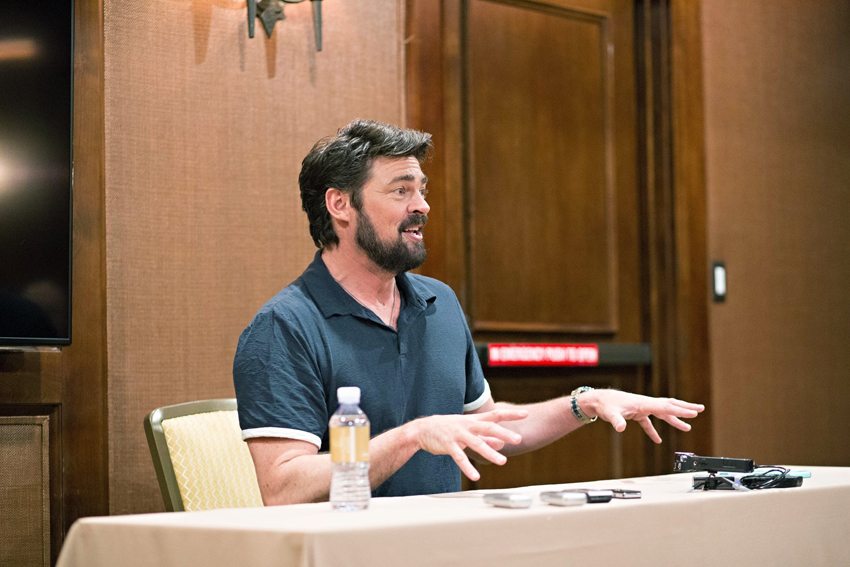 Do you have a favorite scene that didn't make it in to the film?
No, I have Skurge's introduction, when I'm trying to woo the young ladies. They had a whole collection of stolen stuff that Skurge had had pillaged from the universe. And you only got to see, you know, one thing of me shaking the shake weight. But they had all sorts of stuff, we shot for hours with me with fishing rods, with lures, and all sorts of crazy stuff, so I'm looking forward to seeing that.
Was last night the first time you saw the movie?
Yes it was.
What did you think?
I feel so blessed. It was such a pleasurable experience to not only see the film with with my friends and colleagues, but to to see the film with an audience who were thoroughly entertained.

You know, you have to give full credit to Taika and to Marvel for really producing a film that I think reboots Thor in a wonderful, healthy, positive way. And I'm so happy for Chris that he's actually finally been given the opportunity to spread his wings. I think that this film showcases his complete full potential.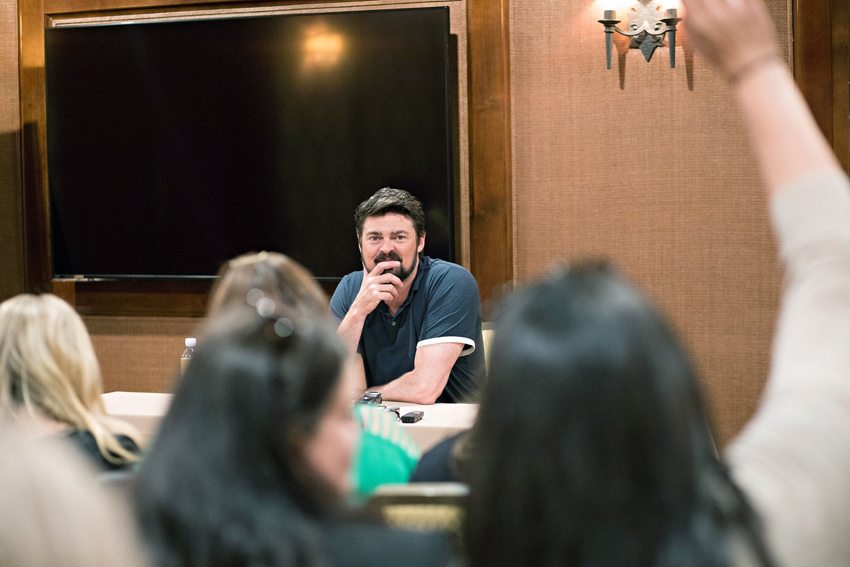 I really like the arc of your character, how he wanted to be part of the warriors.
Well it was on the page, you know. I got a call from Taika saying, 'listen there's this character in this movie that I'd love you to do' and I'd wanted to work with Taika for a long time. I'm a huge fan of his work from What We Do In The Shadows, to Wilderpeople, and Boy. So already he had my half hooked just by calling me.

But he sent me the script and I immediately recognized that there was actually something profoundly emotionally compelling about this character's journey that was eminently relatable. Here's a character that's put in a situation where he has to make a decision; he has to align himself with a cause that he does not believe in, but it's the only thing he can do in order to survive.

And I thought that was a very interesting moral dilemma. And then of course, you know, once he's crossed that bridge and he realizes there is no turning back, then he is looking for a way to redeem himself and that was ultimately his journey. And it resonated on the page. So I had full confidence that left unmolested it was going to translate onto the screen.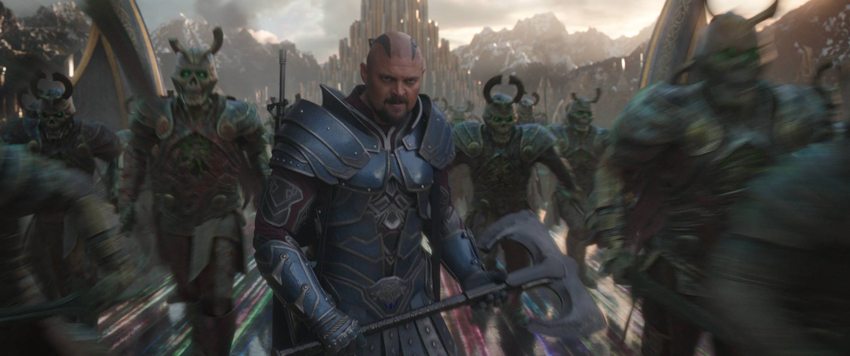 Chicks are awesome and were fighting against everything, what does that mean for you? Since this is a movie that younger people are watching, is that important for you? Cate and Tessa?
It's imperative. I think it would have been a boring movie without them. Cate and Tessa are so wonderful in this film. They are my favorite parts of the movie.

I love seeing Tessa's swagger. I love the journey of her character from the dark place that she was in to redemption, to reclaiming herself with her identity. I thought it was a a strong, compelling journey.

Then I had such such a wonderful time working with Cate Blanchett. I mean to be perfectly honest, she was the reason I decided to do this movie–it was the opportunity to work with Cate Blanchett. I read that script and saw that ninety percent of my material was with her. I was like 'where do I sign up? How much do I pay you?!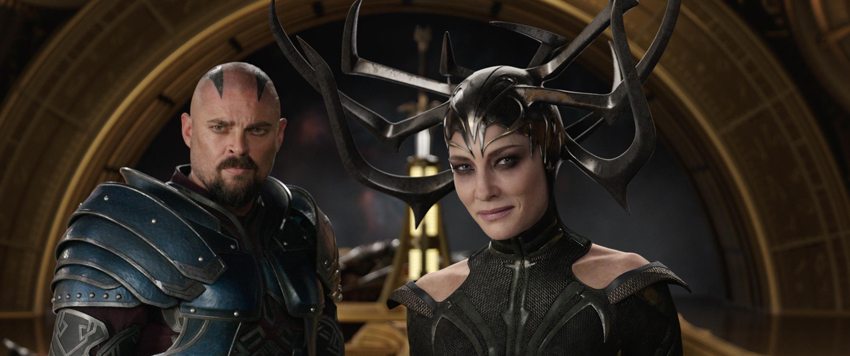 You're trying to survive and do the right thing, how do you teach that to your boys?
I think with parenting the key is to lead by example and provide a lot of love and support for them. I'm also a firm believer in allowing them to fall down and allowing them to make mistakes, because that is ultimately the way we learn. You know, if you can learn from somebody else's mistake then you're smart.

But most of us learn by making mistakes. It's wonderful to watch watch them grow and flourish when you don't push them too hard. And I think that's when I'm most proud of my sons is when out of their own volition; they start to make the right choices in life like, 'you know what, I'm going to go and get a part time job. I'm going to start eating healthier.'
Thor: Ragnarok opens November 3, 2017!