This site contains affiliate links. Please see Policies for more information.
Stocking a pantry is imperative for a healthy lifestyle. Having things healthy pantry staples easily accessible means you're more likely to cook healthy meals, and in times of need you'll always have something to cook.
A common misconception is that healthy eating is expensive. That's not entirely true. Getting started can be, but you don't have to fill your pantry all at once. Add a few items every week until you cleaned out the bad and replaced it with the good.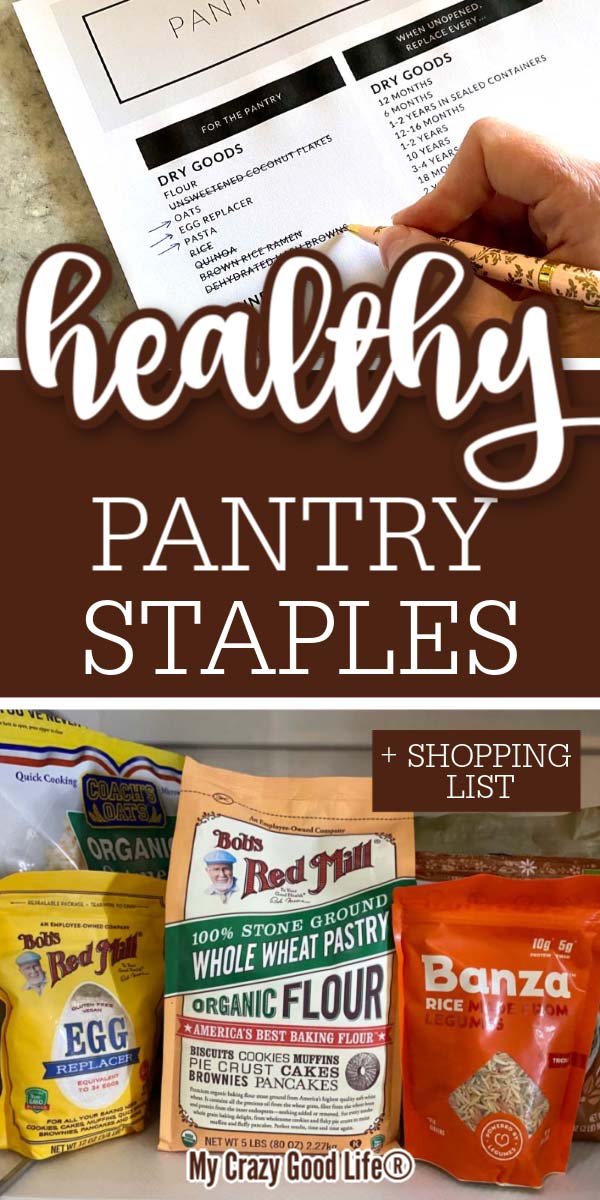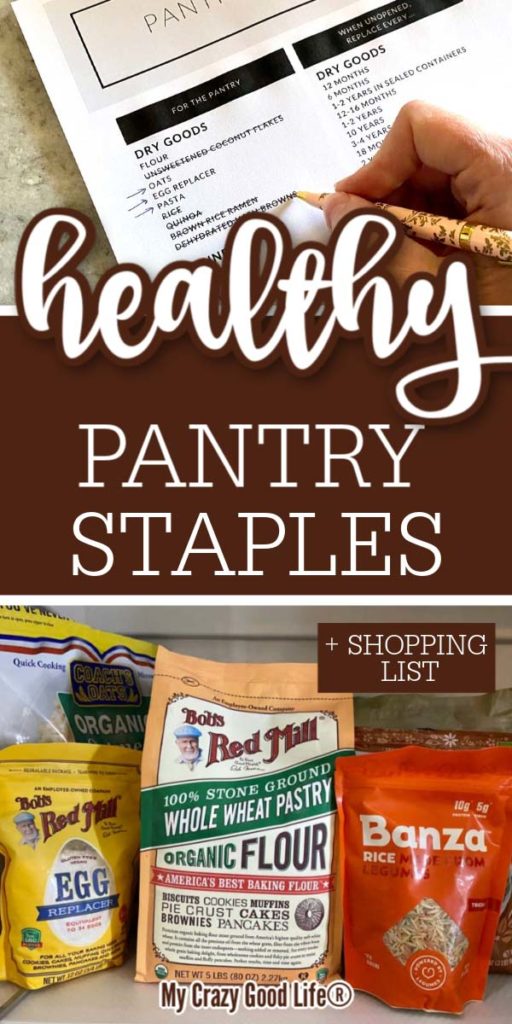 Like anyone, there are certain brands I prefer more than others. I've come to know the ingredients of the staple foods that I buy, so I'm more inclined to stick with certain brands when I shop.
Sometimes the food industry can be sneaky, so it's important to always read the labels on products you buy. Some of my tips for buying truly healthy food are:
Look for the least amount of ingredients
Say no to salt, sugar, or artificial sweeteners as an ingredient
Watch where your oils are coming from–some oils are better than others
Look closely at products that are labeled low fat or fat free. Many replace those fats with unnecessary ingredients
Look closely at products that are labeled healthy or come in "healthy looking packaging." More often than not, those are food items that are disguised as healthy.
Just because a brand has one flavor of a product that is healthy, doesn't mean they all are. The newest "veggie rice" on the market, Right Rice, is a great example. Some flavors have minimal ingredients, and others contain maltodextrin (an artificial sweetener) and highly processed oils. As a side note, none of them actually contain vegetables as their first ingredient.
How to stock a pantry:
I keep a rolling stock in my pantry, which means that as I use items, I replace them. When grocery shopping, I always buy staples when they're on sale. When I come home, I put the newer items in the back and use the items in the front so nothing expires and I'm not wasting money.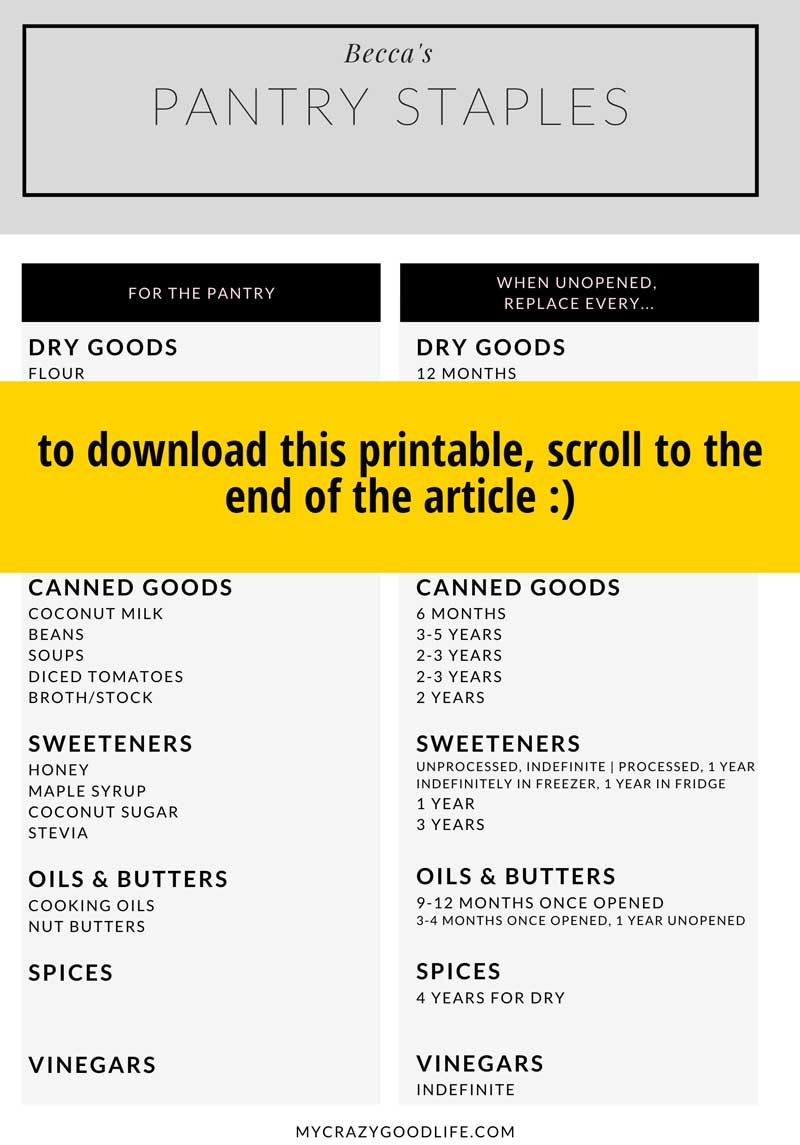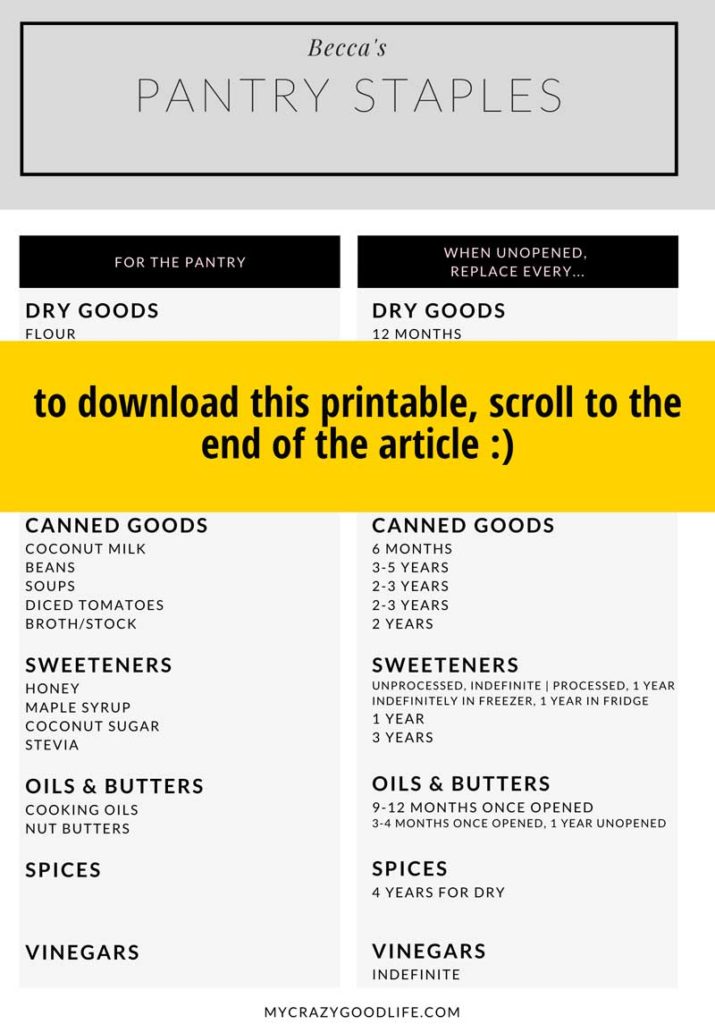 Click here if you're looking for pantry organizing tips!
Dry goods, Pasta, and Grains
Most of these items can be seen in my Amazon store.
Flour: I love the Bob's Red Mill whole wheat flour, but you can also find flour for a fraction of the price in the bulk bins (if your store has those).
Almond and Coconut flour: Almond and coconut flours do NOT work in place of all purpose flour. They work as a gluten free alternative to traditional flours.
Unsweetened coconut flakes: I like using these in baked goods, like these Protein Balls.
Rolled Oats and Steel Cut Oats: I always have these on hand for baked goods, breads, breakfasts, and homemade granola bars.
Egg Replacer: I keep this on hand because I can't eat eggs, but it's also great to have in case eggs aren't available.
Pasta: I keep a variety of types of wheat and chickpea pasta on hand at all times.
Brown rice: Dry brown rice is always in my pantry. Sometimes I prep my brown rice by cooking a large batch in my Instant Pot and freezing it.
Quinoa: I keep this on hand at all times, and same as the brown rice–I make it in batches and freeze it for easy weeknight meals.
Brown rice ramen: Especially as someone not eating meat and eggs, I rely on this for extra protein. It's great to have on hand.
Dehydrated Hash Browns: Easy to keep on hand for meals!
Yeast: Left in the pantry, it goes pretty fast–3-4 months. Store yeast in the freezer and it will last up to six months.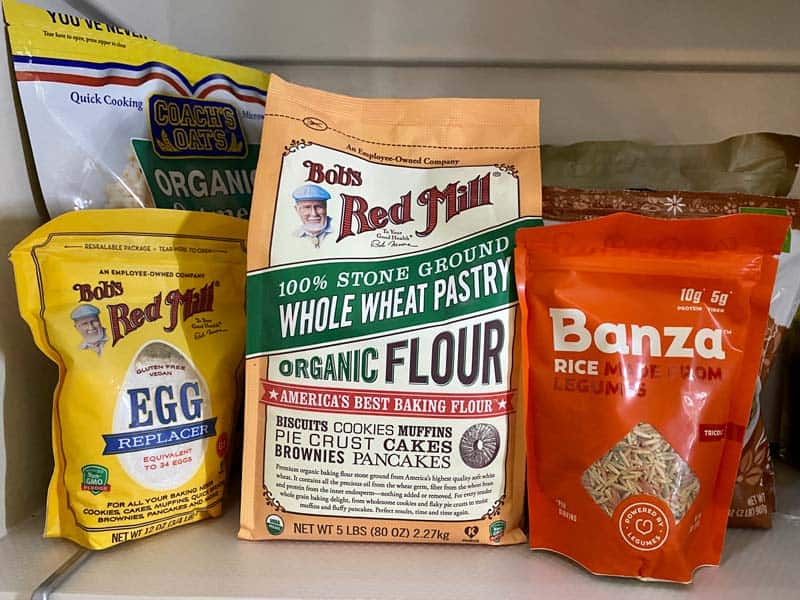 Canned Goods
Unsweetened coconut milk: Canned coconut milk that is great for thickening some foods and baking.
Canned beans: Black beans, kidney beans, and cannellini beans are our "go to" types. I always look for low sodium.
Canned soups: Low sodium is a must for us, canned soups are great in a pinch.
Diced tomatoes: Again, low sodium is always my pick. You can blend this to make tomato sauce so I keep plenty on hand.
Chicken Broth/Stock
Vegetable Broth/Stock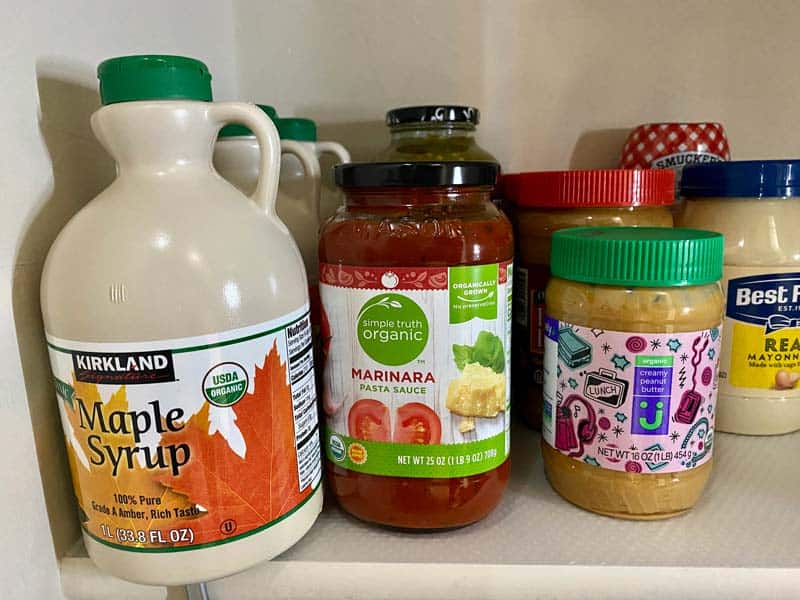 Sweeteners
Honey: I recommend finding a local beekeeper because local honey has amazing benefits. If you can't locate one, look for the raw honey in the grocery store.
Maple syrup: Check the label to ensure the label only lists "100% pure maple syrup. Sam's Club and Costco are the best value for maple syrup in my area.
Coconut sugar: It doesn't spike your blood sugar like traditional sugar, so this is one of our favorite items to use.
Stevia: SweetLeaf is hands down my favorite Stevia because there are no extra ingredients.
Oils & Butters
Extra virgin olive oil, Avocado oil, or Coconut oil: We use this a lot. Whether you prefer refined or unrefined oils, stock up on any healthy oil you like.
Nut butter: Peanut butter, almond butter, whatever you like. This is an easy way to get some extra protein in if you're running low on other staples.
Spices
It's important to remember that you will have to add more along the way, but the ones below are the ones I personally use the most and always have on hand.
Garlic powder
Onion powder
Chili powder
Paprika
Cumin
Oregano
Italian seasoning
Black pepper
Vanilla extract: Look for extract, not imitation vanilla.
Salt: Himalayan pink, kosher, or sea salt.
Cocoa powder: Pure unsweetened, no sugar.
Cinnamon
Vinegars
Apple cider vinegar: I use this for cooking
Rice vinegar: I use this for many Asian-style recipes
Red wine vinegar: Good for making salad dressings
Balsamic vinegar: Good for cooking and making salad dressings
It comes in 2 pages, with a blank page so you can add your own staples.