This site contains affiliate links. Please see Policies for more information.
We live in a world that is ruled by our smartphone batteries. If the phone, tablet, or computer dies we're out of luck and out of touch….instantly! FuelRod Charging Sticks are changing all of that. I assume this is similar to worrying about where to find a gas station back in the day. Now, we have the internet. Phew. Dodged a bullet there.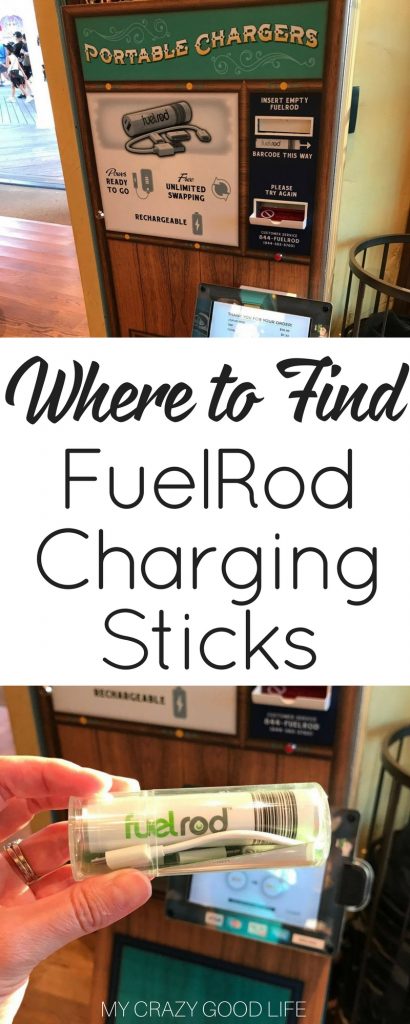 It's not always easy to know where FuelRod Charging Sticks are located. Sure you can order your original one online and recharge it yourself for convenient charging when you are traveling, etc. The best way I've found to use the FuelRod Charging Sticks is by knowing where I can trade them in for fresh ones!
Once you figure out where you can trade in your FuelRod (for free) and get a new one, freshly charged up and ready to go (for free), it makes life a whole lot simpler. We are a family of technology lovers. We all have equipment that needs recharging throughout the day and this is most prevalent when we travel.
Traveling means lots of extra photos, searches, texts and calls, and of course we have to share our journeys on social media! These are all battery suckers! Instead of having to worry about carrying around the tools to plug into a hit or miss wall outlet somewhere we can carry a FuelRod Charging Stick, fuel up our phones when they need it, trade it in for a fresh one at any FuelRod station, and be good to go again. The process is simple as long as you know where to find FuelRod Charging Sticks.
Where to find FuelRod Charging Sticks
Theme Parks
A popular location for FuelRod Charging Sticks Stations is theme parks! Of course we all use a lot of power when we're running around our favorite theme parks taking in all the excitement and sharing it with those who couldn't join us! Here's a list of the stations we've come across so far:
Disney Land Resort – Anaheim, CA
Walt Disney World – Orlando, FL
Airports
Another logical location for FuelRod Charging Sticks Stations is airports. All of your stuff is packed up tight and organized in your tiny carry-on bag and you don't want to dig it all out. You can get a little extra power for your flight with FuelRod Charging Sticks at these great (popular) airports. You can get the full list here.
California
Oakland International Airport
Sacramento International Airport
San Diego International Airport (Both Terminals)
Oklahoma
Tulsa International Airport
Pennsylvania
Philadelphia International Airport
Pittsburg International Airport
New York
Syracuse Hancock International Airport
Kentucky
Cincinnati / Northern Kentucky International Airport
Texas
Houston International Airport
San Antonio International Airport
Other Places to Find FuelRod Charging Sticks
Shopping malls are a good place locate FuelRod Charing Sticks Stations. Many have them near the food court, entrances, and by the cell phone stores!
Another good place to find FuelRod Charging Sticks is in welcome centers and some rest stops. They have a knack for finding locations where people find themselves in need of power and boom, there's a FuelRod kiosk.
Have you ever used any FuelRod Charging Sticks? How do they factor into your travel and entertainment needs?
Looking for more great tech posts?
DIY Tech Hacks
The Thinnest Thing Charging Case for iPhone