This site contains affiliate links. Please see Policies for more information.
You can watch Agent Carter on Tuesdays at 9pm ET/PT. There are no spoilers in this post.
In November while attending the Big Hero 6 red carpet event, I was able to go on a behind the scenes tour of the Agent Carter set. Yes–a tour of a Marvel set, in addition to interviews with Marvel's Head of TV, the Co-President of Marvel Studios, and the star of Agent Carter–Hayley Atwell.

We (the 25 bloggers on the press trip) toured the set of the ABC TV show Agent Carter and were able to see the office space of the S.S.R. (Strategic Scientific Reserve). I was amazed at how the set designers were able to acquire and/or recreate the antique desks and chairs, light fixtures, office supplies, and everything else in the building. It really felt like we were back in the 1940's. Here are the images that MARVEL cleared for release: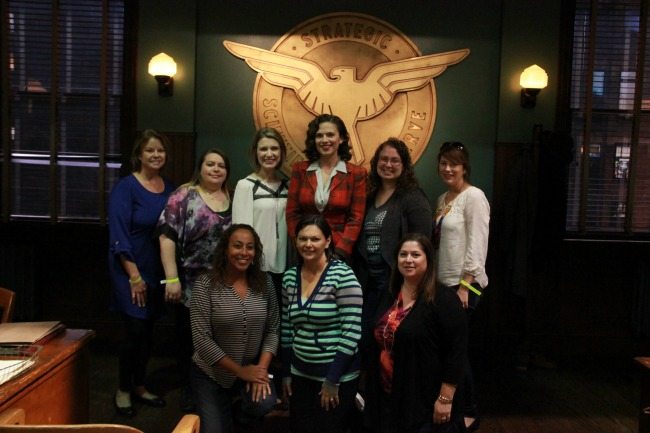 Doing our best to stand in for the S.S.R. agents: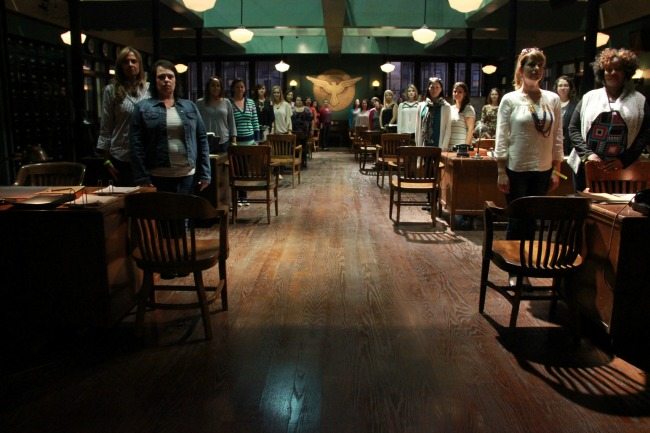 Playing Agent Carter, even if just for a few seconds: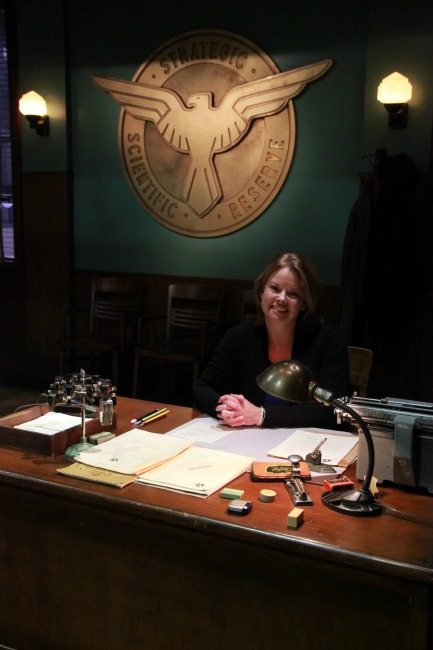 Meeting Hayley Atwell was awesome. She's so down to earth and kind, and we were humbled by her taking time out of her busy day to chat with us for a bit and tell us how she manages those combat scenes. Hayley has taken classes in hand-to-hand combat for camera, and refers to what she does in the scenes as a "dance." She said that fight scenes are actually shot in very small pieces and then stitched together to make sure all of the details stand out. She does use a stunt double when needed.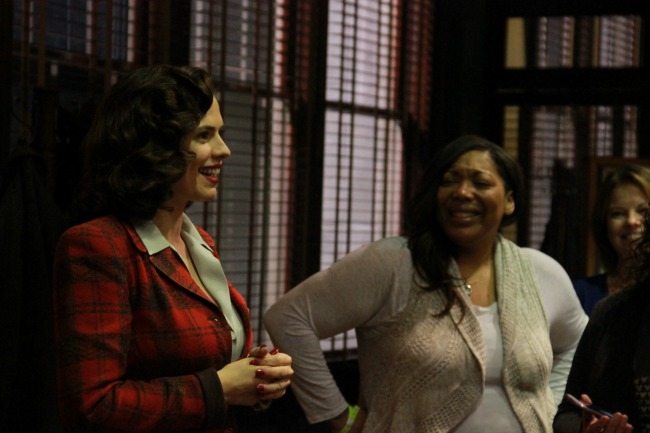 Like I mentioned before, attention was paid to every detail of the office. There were even labels on the drawers here: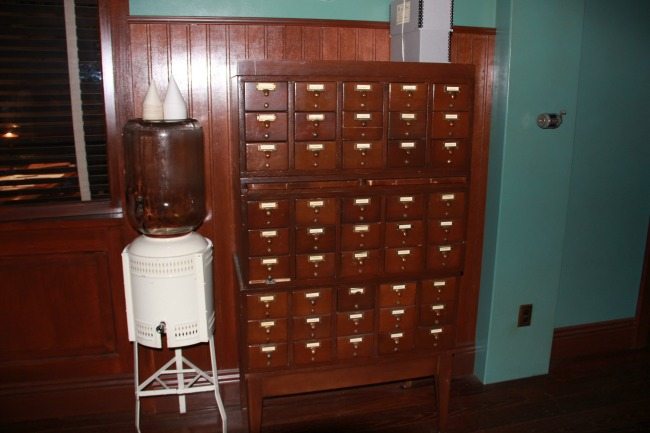 Items like this Top Secret folder were placed on desks. All of the papers on the desk were realistic–there were no blank pages under one "real" page.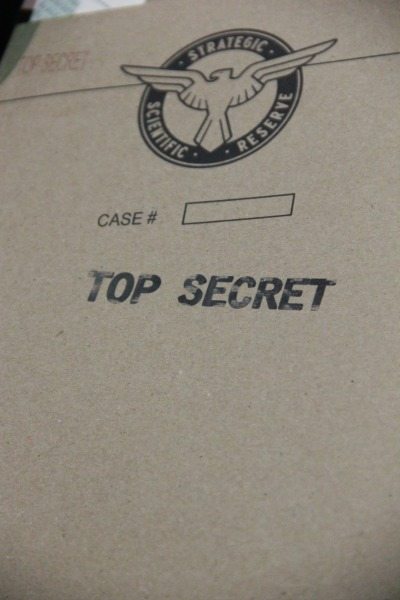 And no, I did not meet Tony Stark. Howard Stark chose Agent Carter to be his go-to-gal for his secret missions, so there are some documents and folders from Stark Industries. I did get a little excited when I saw the Stark name, though–Iron Man is my favorite!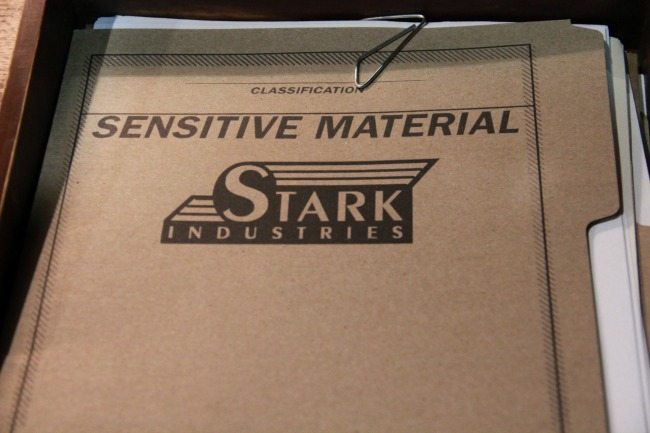 We talked with Costume Designer Gigi Melton about how she manages everyone's clothes for the show. It was so interesting!
She begins with an idea board and color pallettes. They need multiple pieces of the same clothing to account for shooting and fighting scenes where clothing might get damaged and/or bloody–she tries to replace small parts of the clothing when necessary, but sometimes she has to pull the clothing out of rotation and try to repurpose it somewhere else on the show. She's always on the lookout for vintage clothing and sometimes has to sew the outfits she needs with vintage fabric. The biggest problem she faces are fabrics that are disintegrating because of their age. She does what she can to reinforce seams and repair clothing.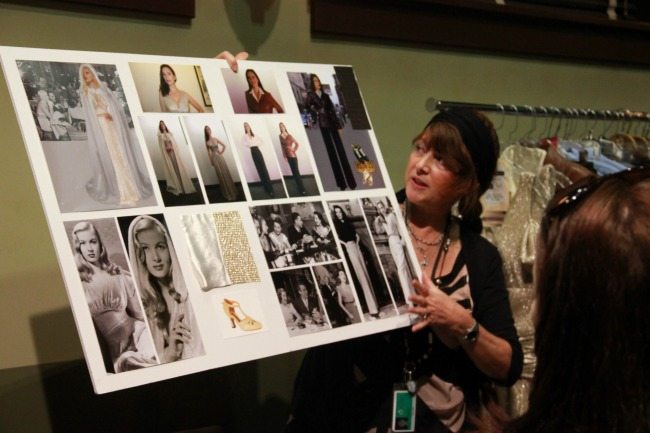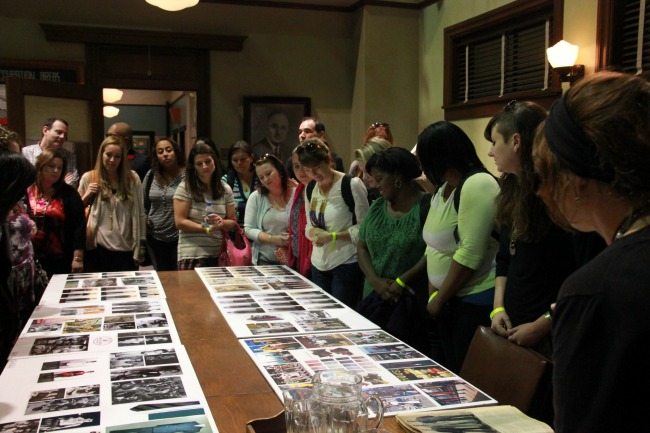 Our visit to the set of Agent Carter was amazing, for many different reasons. From the costume design to the set pieces to the live taping, it's so much more than what I think of when I'm watching it on TV. So much work is put into that short episode!
I attended press events with Disney and ABC TV, which included touring the set of Agent Carter and interviewing MARVEL employees. I was provided with an expenses paid trip to Los Angeles in exchange for my coverage about the events. No other compensation is given. Of course, opinions and experiences are my own. 
These exclusive Agent Carter behind the scenes photos are brought to you by Marvel. In addition to shutting down all contact to the outside world (I'm not kidding!), we signed multi-page agreements to not take any photos and allow the Marvel photographer to do all the picture taking for us. After clearing the photos for release, Marvel sent them over about a week ago.