This site contains affiliate links. Please see Policies for more information.
This post, Ewan McGregor on Fatherhood and Film Students, is part of an expenses paid trip with Disney. Some interview questions and responses have been edited to improve readability.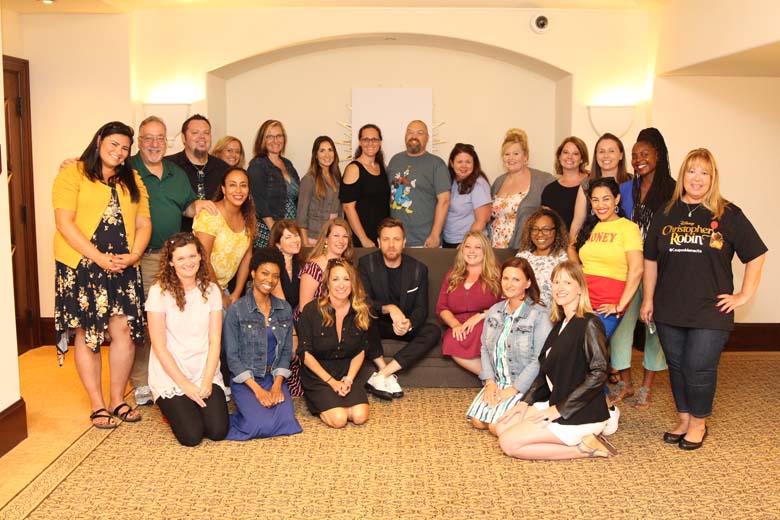 As part of the Christopher Robin event, I sat down with Ewan McGregor in a small room with 24 other bloggers. We chatted for a bit about what it was like playing  a grown up Christopher Robin, and he shared a bit about what it was like playing the character.
I thought his observations about fatherhood now vs. the time of the movie (1940s-50s) were so interesting. I also loved how he described the film students that Director Mark Forster brought in to help the cast, and I wanted to share these parts of the interview with you all!
What messages do you feel are in the film, about parenthood and especially fatherhood?
I think the film is about connection isn't it? About being available to each other and being there, being present.Through one reason or another, Christopher Robin is sort of not present at home. At that time, men weren't really expected, or didn't- they wouldn't have thought about it. They would go to work and come home and the wife was looking after the kids and they probably wouldn't be very close to their children, it made me think a lot about my dad. 
But I don't know that there was closeness. My mom has seen me with my daughters and she made a remark upon it once or twice, said how different it is, how close we are now with our children.And how back then men weren't. That was really interesting to play.
I found it quite difficult the first the early scenes with Bronte–who's so lovely that little girl–she's a great actor and she's a lovely little girl.And she's not really spoiled by it in any way, she's got a great parents, her parents are both actors.
But she's totally a little girl. She hasn't got any pretensions at all, she's lovely. So those scenes at the beginning when I'm reading her a story and I go to tell her that I can't come for the weekend and stuff it was difficult. I knew I wanted to be cold with her, it was quite difficult to do–my instincts were not that.
I feel like we can all relate to that, right? Not being present?
I loved that Ewan was so open and honest in his interview, telling us a little about his parents–and something very powerful about his father.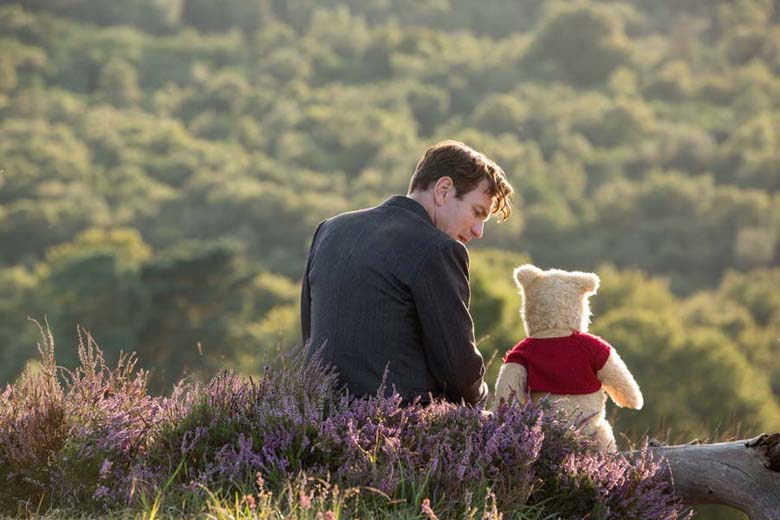 Below, Ewan explains what it was like acting with stuffed animals, or "stuffies" as they call them. Bronte Carmichael talked about this as well, and it's clear that acting with stuffed animals is more time consuming and not quite as easy as acting scenes with humans.
What I truly loved about this part of the interview was when Ewan spoke about the film students that Director Marc Forster brought in to assist with standing in and learning the lines of the stuffed characters. He regarded them as enthusiastic, great actors who ad libbed the characters wonderfully. Ewan also said that he didn't know that the scenes would have felt so realistic had it not been for their input in the movie.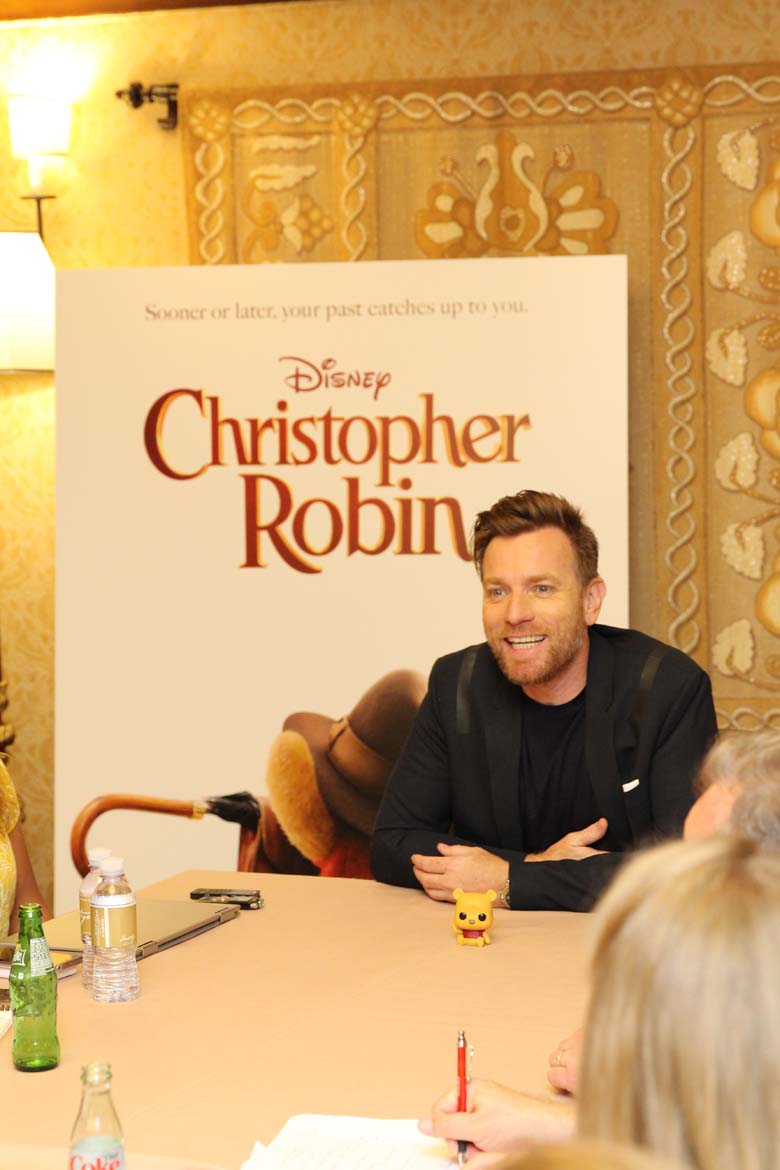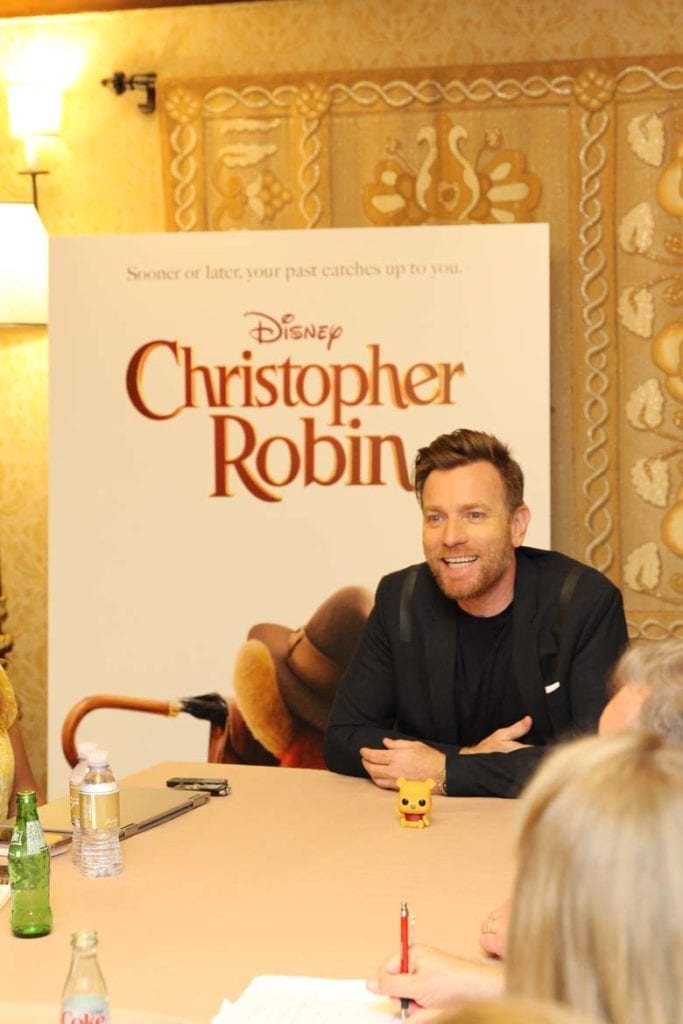 What was it like acting with stuffed animals?
He did a brilliant thing, Marc, in that he cast this band of young actors. Each one to play one of the characters. They were funny, they were so enthusiastic. Most of them were just out of drama school. Some of them had done a few jobs but not many, so they were very young and enthusiastic. Bear in mind, they weren't going to be in the movie. They were just reading in the lines so we could play with someone in the scenes that had characters.
We had like- they called them stuffies, teddy bear versions of all the characters that were exactly as you see them in the movie. They were beautifully made. I've got one of them–Pooh–I kept a little Pooh, so I've got him in my house. They were beautifully made, and they're exactly the creatures you see in the movie, except that they don't animate in any way, they were just teddy bears. So each one of these actors would hold the creature and move him around a little bit and, you know, they could tilt his head up to speak to me.
It was just crude and rudimentary, and the takes wouldn't really be in the film because they couldn't animate on top of the actual teddy bear. So we'd play the scene a few times with the actors and with those stuffies. And by the time we did that, I got a real sense of what the scene felt like and how to play it. Then they would replace the teddy bear, the visual effects people needed theirs without hair, so they had gray versions of them all, just gray canvas, no hair. Very basic–they had little eyes and a nose.
Just so you're looking in the right place, but it was all gray. They had versions–it gets a bit gruesome–they had versions with no heads. So you had to do the scene again with the stuffies with no heads. And then there was a Pooh version who had no head but also no arms or legs it was just a little tummy. Then we had to do scenes without the bear at all, nothing there to look at.
They could make them different heights, to just make sure your eye line was in the right place, and then often nothing at all. Because these great actors–once they removed the real stuffie, they would always just be off camera. They would still be throwing the lines in, playing the scene with you. Also, you could ad lib with them, they were good actors, they would make stuff up and if you went off script so would they. It was really great. I don't know that it would feel so realistic had it not been for their input, because they were so enthusiastic and such good actors. 
And they were all really well cast. They became more like their creatures the more and more we went on. The guy that played Eeyore just became more maudlin but by the end he was really quite upset (laughing as he said this).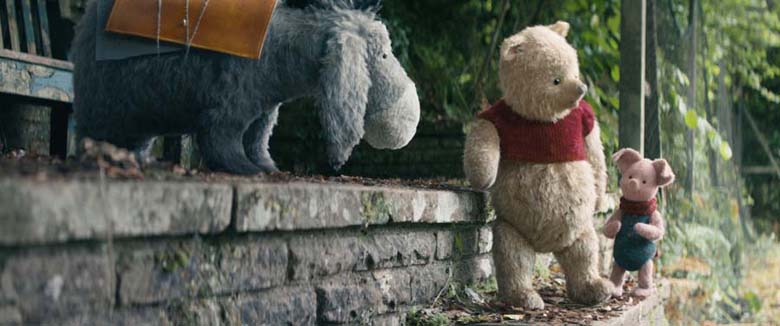 Christopher Robin opens August 3!