Butternut squash soup is a delicious way to warm up on a chilly or rainy day. Stick it in the crock pot to cook all day, or whip it up in your Vitamix for a quick dinner. Coconut milk makes this soup dairy free, or you could use heavy cream if you prefer. It's even delicious with no cream at all!

Ingredients for Dairy Free Butternut Squash Soup
1 medium butternut squash
1 medium yellow onion
1T Earth Balance Dairy Free "butter"
1t paprika
30 oz. of vegetable stock
salt and pepper to taste
2T coconut cream, optional (can also use heavy cream, it's just not vegetarian)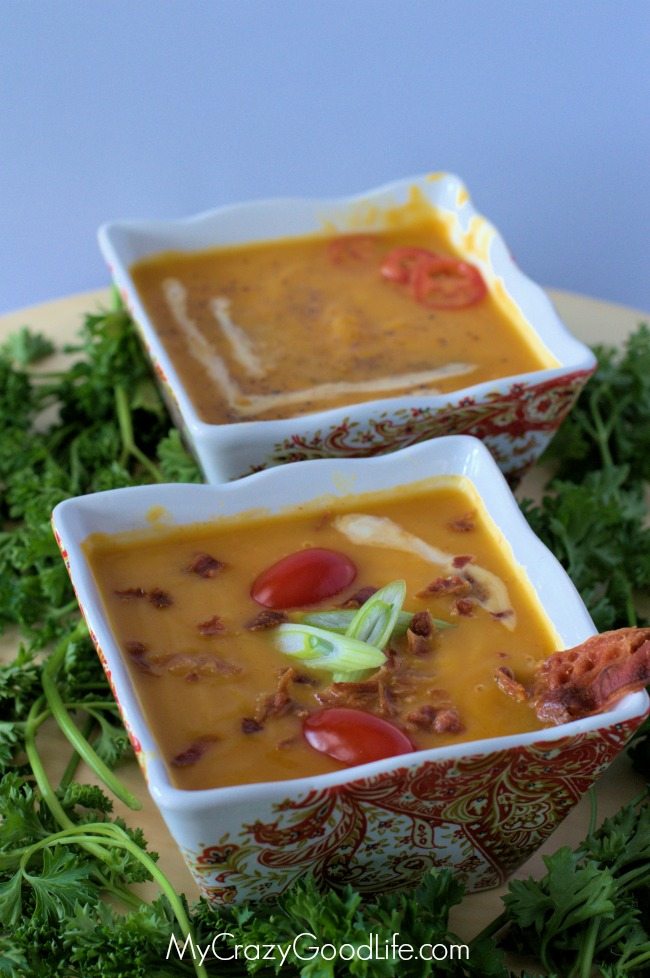 Instructions
Peel and dice butternut squash into 1 inch cubes.
Dice entire onion.
In a large pot, melt Earth Balance "butter."
Add the onions and cook until transparent (about 2 minutes).
Add the butternut squash and cook for another 2 minutes.
Add the vegetable stock, paprika, salt, and pepper.
Simmer with a lid on until the butternut squash is soft. Transfer entire contents to a large mixing bowl.
Use a hand mixer to blend contents to a smooth texture. Add cream if serving immediately. If not add cream after reheating and right before serving. Garnish as desired.
Garnish with bacon, green onions, parsley, or other herbs to add another depth of flavor.
21 Day Fix Container Count: 2 green containers full of soup equals 2G
Looking for more green? Add zucchini noodles to your meals!