This site contains affiliate links. Please see Policies for more information.
In the past few years, we have been getting plenty of superhero movies from the Marvel Cinematic Universe. Those movies include Iron Man, Hulk, Thor, Captain America, Avengers, and Ant-Man. You may notice a trend if you've been following along properly: a movie with one main superhero for each of the above-mentioned superheroes and then a big movie event including all of them together. Captain America: Civil War is about to turn that trend on its head. This time around, we will not only be seeing all of the Avengers in a Captain America movie but will be getting introduced to a couple more heroes and villains. All leading up to an even bigger movie event coming from the Marvel camp, Infinity War.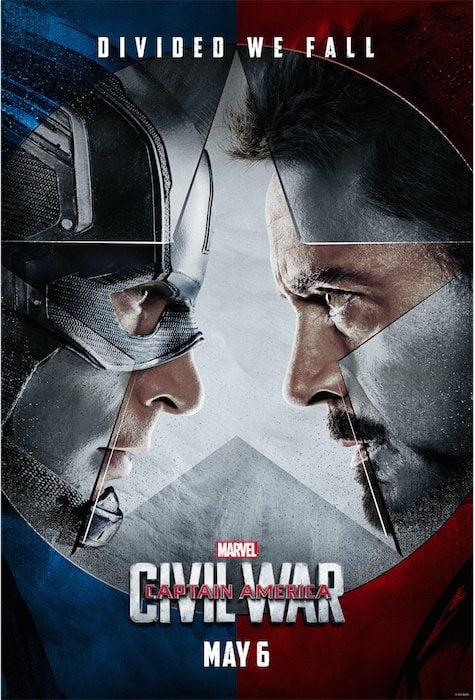 Directed by Anthony and Joe Russo, Captain America: Civil War is when those emotions we've seen between Iron Man and Captain America finally boil over. The list of stars in Civil War seems to go on for days and is a very impressive gathering of power. Chris Evans, Robert Downey Jr., Scarlett Johansson, Sebastian Stan, Anthony Mackie, Emily VanCamp, Don Cheadle, Jeremy Renner, Chadwick Boseman, Paul Bettany, Elizabeth Olsen, Paul Rudd, Frank Grillo, with William Hurt and Daniel Brühl all bring the biggest Marvel Comic event to life right in front of us.
Watch the trailer here:
It all starts back in the first Avengers movie when New York city was practically destroyed during the Avengers fight with the alien race. After yet another feat of destruction, the government has had it with the Avengers seemingly utter disregard for public property and collateral damage. The government then decides to put into place a system to govern the Avengers. Steve Rogers(Cap)(Captain America)(Chris Evans) decides that this is wrong and that the Avengers should be free to defend the world without Government interference. Tony Stark(Iron Man)(Robert Downey Jr.) feels that there is nothing wrong with the structure of Government monitoring and being held accountable. The two each gain different followers from within the Avengers and thus begins the Civil War.
The war begins on May 6, 2016, and you will want to be there to see how it ends. Just be sure to pick your side before you go, because this is a battle of which you don't want to be in the middle.
Media Courtesy of Walt Disney Studios