This site contains affiliate links. Please see Policies for more information.
This Exclusive interview with Alan Tudyk and Mads Mikkelson from Rogue One: A Star Wars Story is part of an expenses paid press event I attended.
I don't think I can convey through writing how much fun it was to interview Alan Tudyk and Mads Mikkelson–they're both such fun guys. They chatted a little about who they play in Rogue One: A Star Wars Story and what it was like to catch on fire–seriously.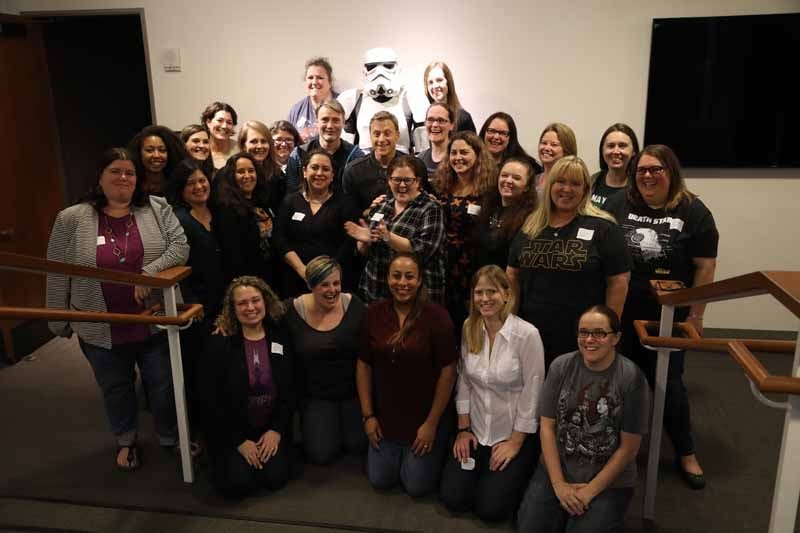 Some quotes have been paraphrased for readability.
Mads Mikkelson was a little disappointed that his character, Galen Eros, wasn't represented at the table he sat at for the interview. Several bloggers put small action figures there before the start of the interviews (it's a great ice breaker, and sometimes the figures haven't even been seen by the actors and actresses yet!), but Galen wasn't represented.
My character–who is not here–is Galen Erso. He is a scientist who works closely with Krennic in the film on a project that has the potential of making the world a better place (and also the potential of not doing so).
Also, Galen is the father of the movie's heroine, Jyn Erso.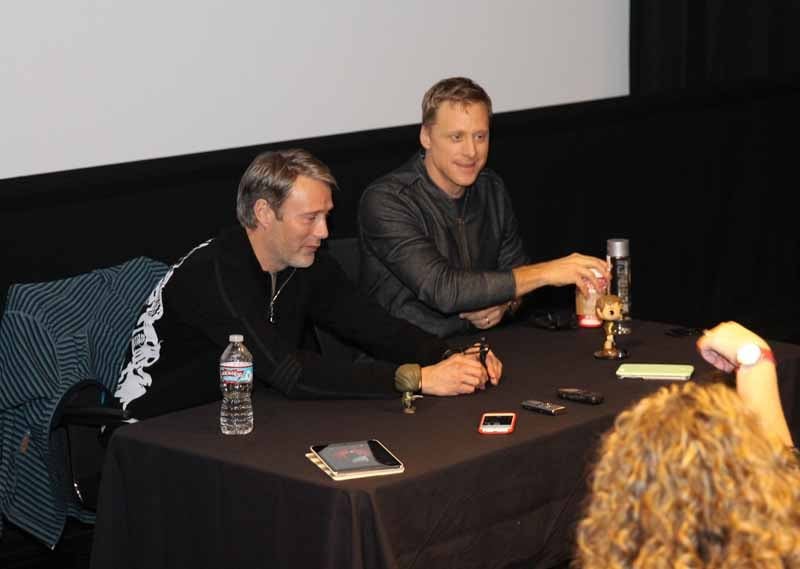 Finding out about his role in the movie is a fun memory for Mikkelson, he explained. He didn't need to see a script, "because it was Star Wars," and he said yes to Gareth Edwards right away. If he hadn't, his kids would have killed him, he said.
Alan Tudyk plays K-2SO, the newest Star Wars droid.
K-2sO was formerly part of the Empire, who was reprogrammed by Cassian Andor. He's now a soldier in the Alliance, who is free with his personality, which invites some moments of brutal honesty in the movie. K-2SO is a funny, sarcastic, and passive aggressive partner to Andor in the movie.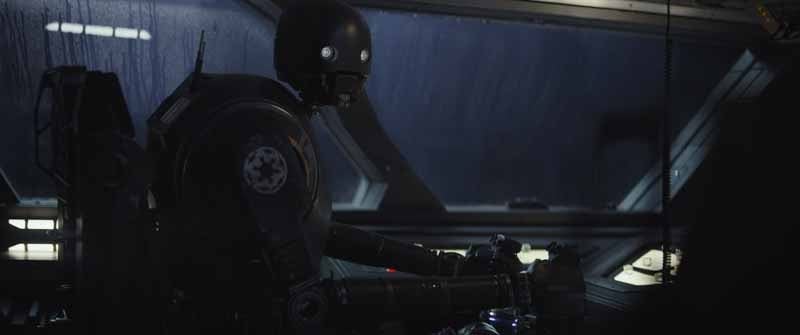 There was quite a bit of ad-lib in K-2SO's character, thanks to director Gareth Edwards. Edwards was open to the actors playing with the character roles and allowing them to discover how the scenes fit into the locations on set. Of course, Tudyk didn't create his own lines in the movie, but he had the freedom to improvise based on the line that was already written.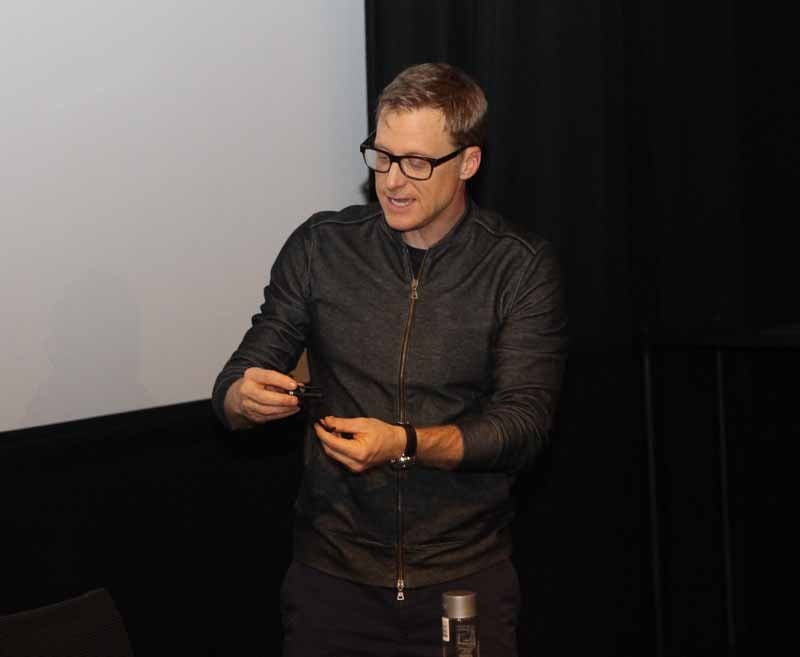 We were able to visit the Motion Capture studio at LucasFilm and saw all is behind a scene with K-2SO in it–there's so much work! And? Alan Tudyk did it all on stilts! K-2SO is a tall character, so the only way to get his stride right, and to help the other characters look at the same height when they talked to him was to put Alan on stilts during taping.
Here's a raw video of how Alan Tudyk motion captured K-2SO:
Alan interviewed for the role of K-2SO via video, and recorded the part with his wife. He sent in versions with three different accents, hoping one would make an impression!
Alan Tudyk also caught fire while taping Rogue One! He explained it to us:
I caught on fire! We were in the trenches–there was a battle going on, and I was wearing my skintight pajamas. There were explosions everywhere and all of a sudden my back gets hot. I thought, "oh, wow–I'm on fire!" A spark hit and then just spread out. I was very flammable. I wore fire retardant shirts after that.
One of the most popular questions during all of our interviews was, "Who were your favorite Star Wars characters before this movie?" I think it tells so much about the people, and it was fun to hear their love of all the characters.
Here's Mads Mikkelson, when asked about his favorite character (before Rogue One):
I think it's Han Solo for me. He's not really on anybody's side–he's on his own side. Obviously, Harrison Ford plays him charmingly, and he's a character you can relate to. You're not the good, or the bad, but you're that guy who's just there for the fun ride.
So, who is your favorite Star Wars character?
Rogue One: A Star Wars Story comes to theaters December 16.
This expenses paid trip to San Francisco is paid for by Disney, Lucasfilm, and Disney Junior and is offered in exchange for my coverage about the events. No other compensation is given. Of course, opinions and experiences are my own.