This site contains affiliate links. Please see Policies for more information.
This Exclusive interview with Diego Luna from Rogue One: A Star Wars Story is part of an expenses paid press event I attended.
As I mentioned yesterday in my recap of our interview with Felicity Jones, our interviews took place in a small theater inside of LucasFilm Headquarters. They were quiet and intimate, and it was more like a conversation between old friends rather than a press interview. Today I'm sharing my interview with Diego Luna, who plays Cassian Andor–a Captain for the Rebellion. 
Some quotes have been paraphrased for readability. 
Cassian is a spy–quite a mysterious man. He doesn't like war, but he believes in the cause and would do anything for it. He's ready to sacrifice everything–he's a true hero. Cassian is the kind of hero we could be–he doesn't have special powers; he's no Jedi. He's just a man with conviction who knows that working together as a team makes you stronger.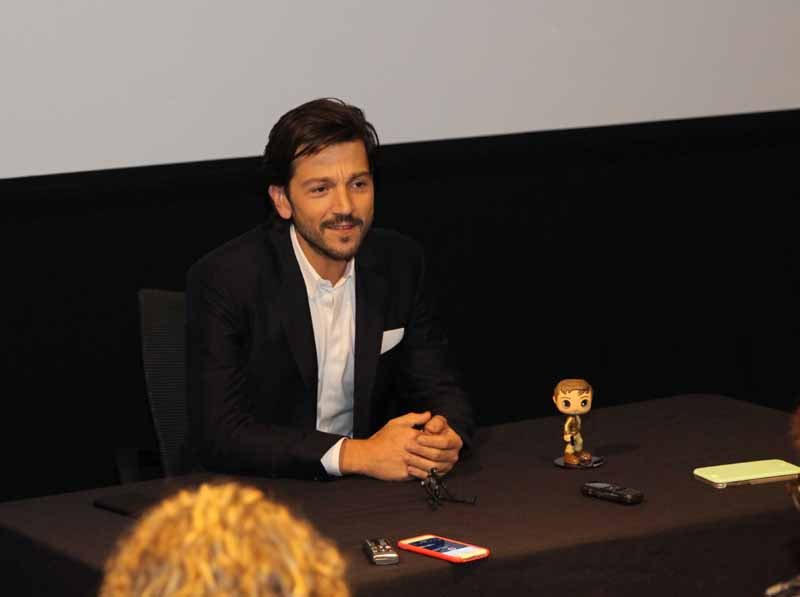 The first thing that struck me about Diego was how down to earth he was. So very kind, and talked very highly of his family. When asked about how his family felt about him starring in the film, his answer resonated with me–as a parent. He told his children about the movie and his character because he wanted them to experience this time as he is experiencing it–as an actor and not just watching it on the big screen when it comes out. He wanted them to understand the acting portion–that it's not real. That their Dad plays a part in a movie and to not be scared of what they see on the movie screen.
My son knows what the film is about. With the projects I work on I bring them, I bring my kids to see how we're doing it so they can see it from the perspective I see it. They'll be less affected by the story.

I grew up in theater, so I used to witness things I should probably not have witnessed [this was a joke]. Because I was watching from the dressing rooms or from the inside of the theater, I always saw the actor walk out after being killed on set and he was alive.

I saw the actor coming out crying and then thinking, 'oh my god, what happened? What was that?' Then they were getting ready for the next scene, and I realized those tears didn't mean what people thought it meant.

I understood that the representation fiction has to look real, but doesn't mean it's real. And I invited my kids to witness this process, because my son is huge fan of Star Wars.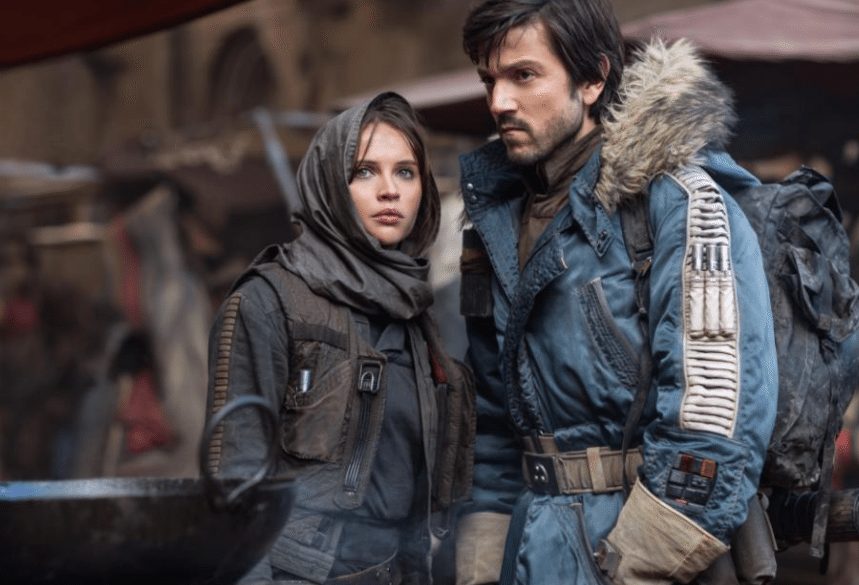 Talking about the bond shared between him and his son, Diego warmed all of our hearts by sharing this memory:
My son knows the world of Star Wars better than I do. He's eight years old, but he has seen everything and for this movie I didn't want it to stop him because everyone's going to be talking about it. I want him to be–to feel part of this. And he's so excited.

I share the excitement with him. When we were watching The Force Awakens, we were there holding hands, and enjoying the moment. It wasn't me saying, 'let's watch this cartoon, and let's talk about what they're saying,' I wasn't the dad there. It was two pals watching a film, and that was very sweet.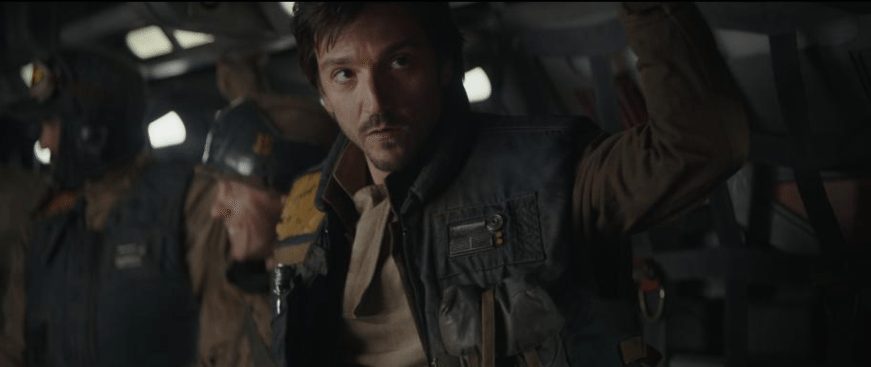 My work is something that has always separated me–it separates us. It represents something very negative to my kids. It's what keeps me away. It's that thing that I go do that they cannot be part of.

Then I finish the films, and they cannot watch them,. None of my other films–I mean, I did show my son Cesar Chavez, but he didn't want to watch it. He fell asleep. But my stuff is not meant for them. Until I did The Book of Life, that's the first film I could actually share with my kids.
I'm excited to see Diego's character evolve in Rogue One–he wasn't in a lot of the footage that we previewed, and he won my heart with the discussion we had about his family.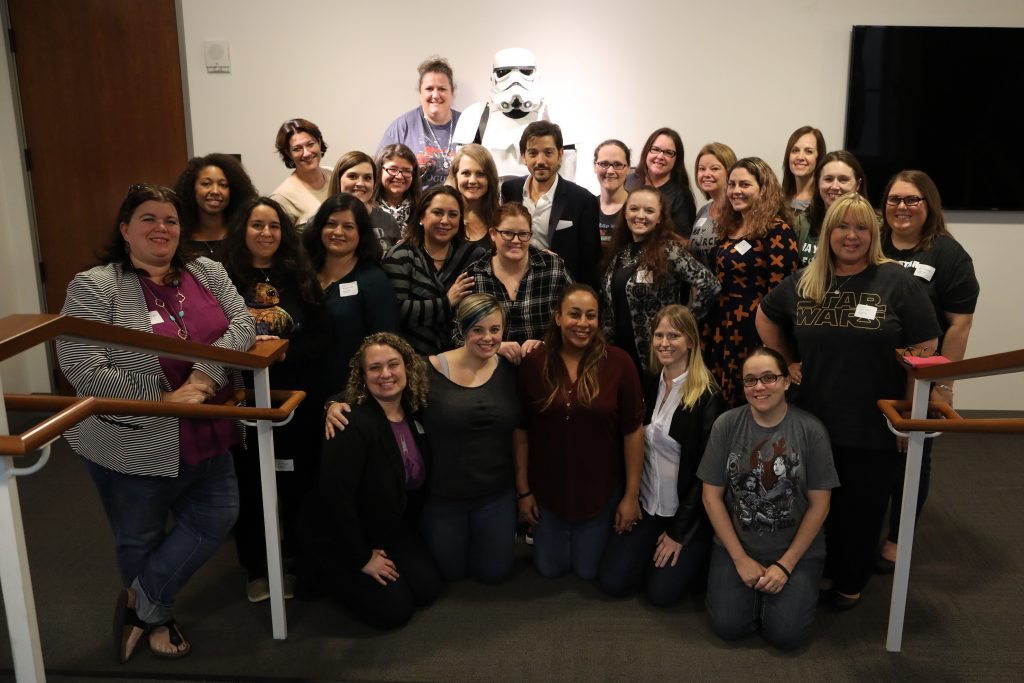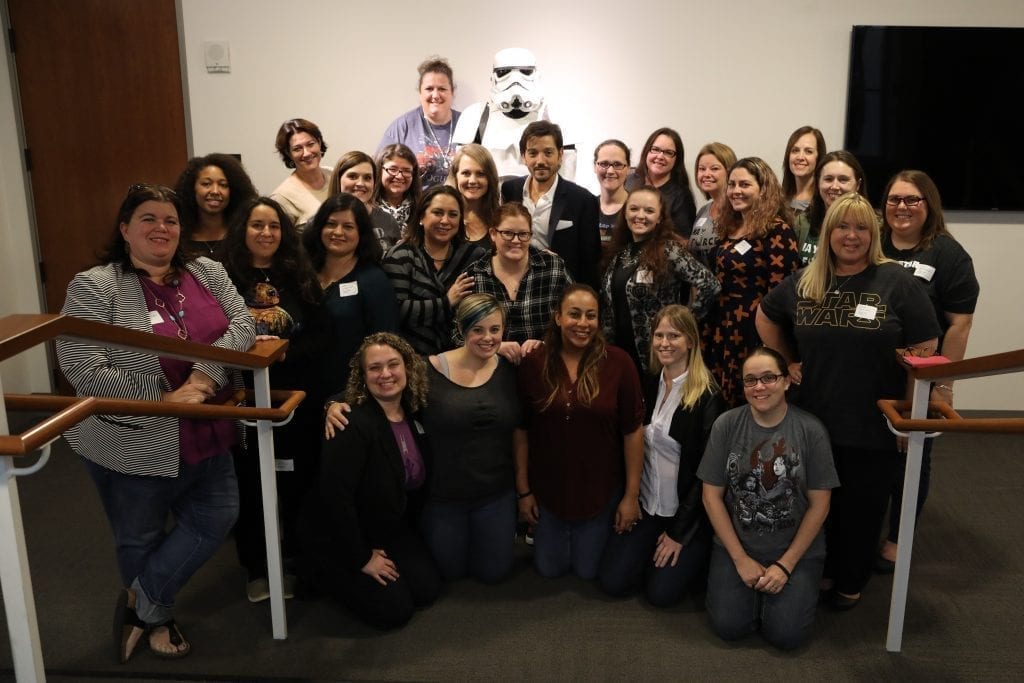 Rogue One: A Star Wars Story is out December 16, 2017.

This expenses paid trip to San Francisco is paid for by Disney, Lucasfilm, and Disney Junior and is offered in exchange for my coverage about the events. No other compensation is given. Of course, opinions and experiences are my own.