This post was inspired and sponsored by Domain.ME, the provider of the personal domains that end in .ME. As a company, they aim to promote thought leadership to the tech world. All thoughts and opinions are my own.
When was the last time you Googled yourself? No, seriously–go Google yourself–I'll wait.
Whether or not you have created an "official" online presence, chances are there's a record of you online already. Googling yourself just means that you've searched for your name online (I referred to the most popular search engine, Google.com).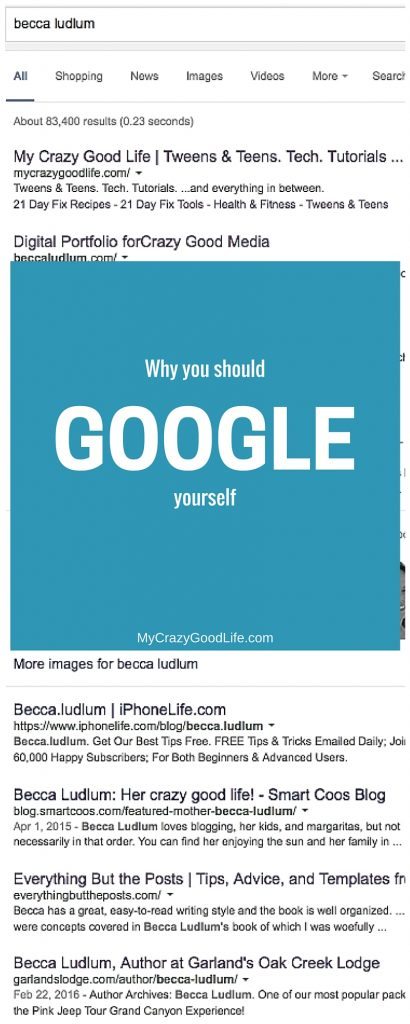 Why should you Google yourself?
Nearly one in four Americans admit to being negatively affected by information about them that was found online.
As a writer with an online presence, it's pretty easy for me to keep an eye on what's being said about me on the Internet. I put a lot of content "out there" and control most of what you see below. As you can see, there are a few websites here that either wrote articles about me or I contribute to. If you're not someone who does business or writes online, your search results probably look pretty different. There are a few ways you can take control of the search results that pop up when you Google yourself.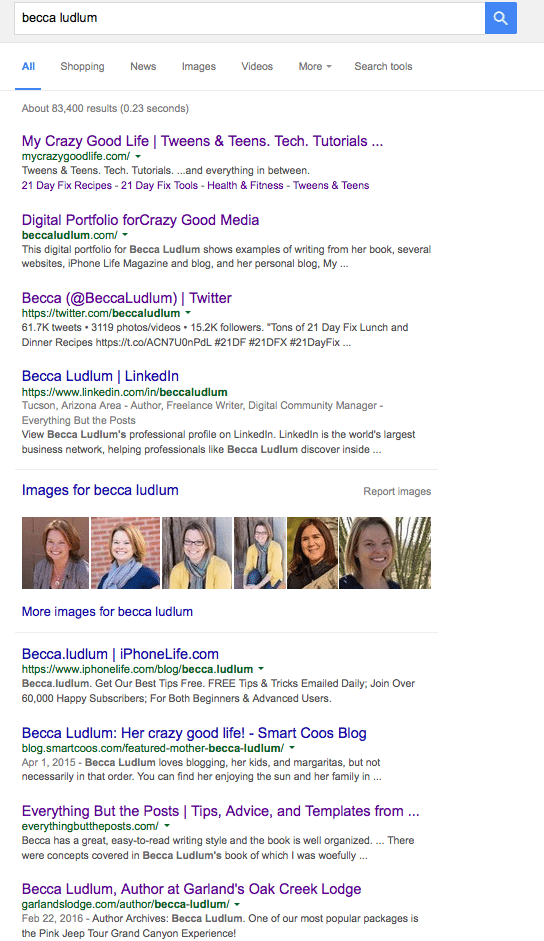 One thing you can do to give yourself more of an online presence is to purchase a personal domain name. It's about time we took care of our personal brand! I can hear you all saying, "Why do I need a website? I'm not a business Luckily, there are .ME domain names available that allow you to set up an online presence (aka digital footprint or digital reputation) seamlessly.
Be proactive  about your digital reputation
Doing something as simple as being proactive about your digital footprint (the information that's found about you online) can have a huge impact on what comes up when your name is Googled. It's important to know that you're probably not the only one Googling your name… You've probably been searched on the Internet by someone before they've even met you. For instance, this survey revealed that it's common behavior for Americans to search someone that a friend has mentioned in conversation (23% of Americans did that), a health care provider with whom they have an appointment (27% of Americans did that) or a first date (14% of Americans).
79 percent of Americans self-report that they haven't tried to manage information about themselves online. Only 8% have created online content to improve their search results or reputation, and 6% of Americans have purchased a domain address that includes their name.
There are a few ways to be proactive about your digital reputation. And while we're talking about it, I should mention that some of these are things you could be doing right now for your children, as well! It's never too early to secure URLs and email addresses for your kids.
Secure a URL: Google relies on a few things with regard to how they order the search results that show up when someone searches your name or you Google yourself. One of these things is time–the more time Google has to gather information about your name, the more items will show. Securing a personal URL with your name and setting up a basic landing page (as soon as possible!) is a good way for you to get your name "out there" on the internet. You can add a page with your resume, a short bio, or even links to your social media accounts.

I purchased .ME  domains for both of my boys (and myself!) a few years ago. Though I haven't set up landing pages, the boys will have the opportunity to do so when the time is right for them. My .ME domain, BeccaLudlum.ME, will direct you straight to this blog, My Crazy Good Life, when you type it into your address bar. Try it!

Get on Social Media: I noticed that my social media profiles made up a decent amount of the first few pages of my Google search. Just securing a profile on Facebook, Twitter, LinkedIn, Instagram, or Pinterest (whatever platform you're most comfortable with is best) can help manage your digital footprint. Of course, these accounts have to be registered in your real name and not an alias you might use online.
Be consistent: For any online profiles, use the name that you give people and be consistent. My "real" name is Rebecca, but I go by Becca, so that's what my online profiles are under. Stick to one name for all of your social media accounts, and don't use an alias.
Take control: I tell business owners and friends all the time, "people are already talking about you online. You can either be part of the conversation and take control or watch from afar as your reputation is built." I'm sure we all want to take control of what is being said about us online.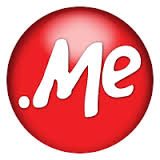 This post is sponsored by Domain.ME. This is a topic that I feel strongly about. Our family has had .ME domain names for years, and securing Gmail addresses for the boys was something I did early on. Just think, you could save your child from being Jane_Doe48752@gmail.com or http://Jane-Doe-Smith-NY.me as a web address by reserving these important online products today.