This site contains affiliate links. Please see Policies for more information.
I've been to Los Angeles a few times, but have never been to Madame Tussauds–and I'm so bummed that it took me so long! We had a blast visiting the historic wax museum and hanging with celebrities–especially the special Avengers section! Since we were meeting Avengers: Infinity War Executive Director Trinh Tran that morning to discuss the movie, Madame Tussauds was the perfect place to have some fun.
Of course, I started out where every Iron Man fangirl should–with my boy. I loved that they had him tucked into his own little space, it was perfect for pictures!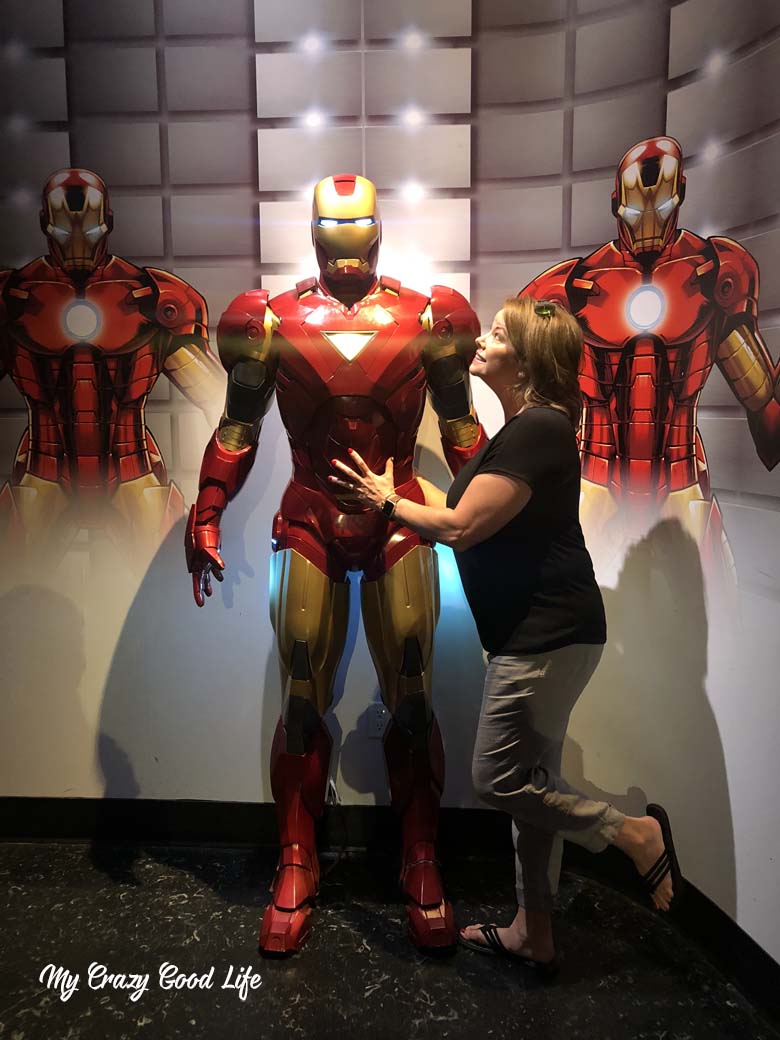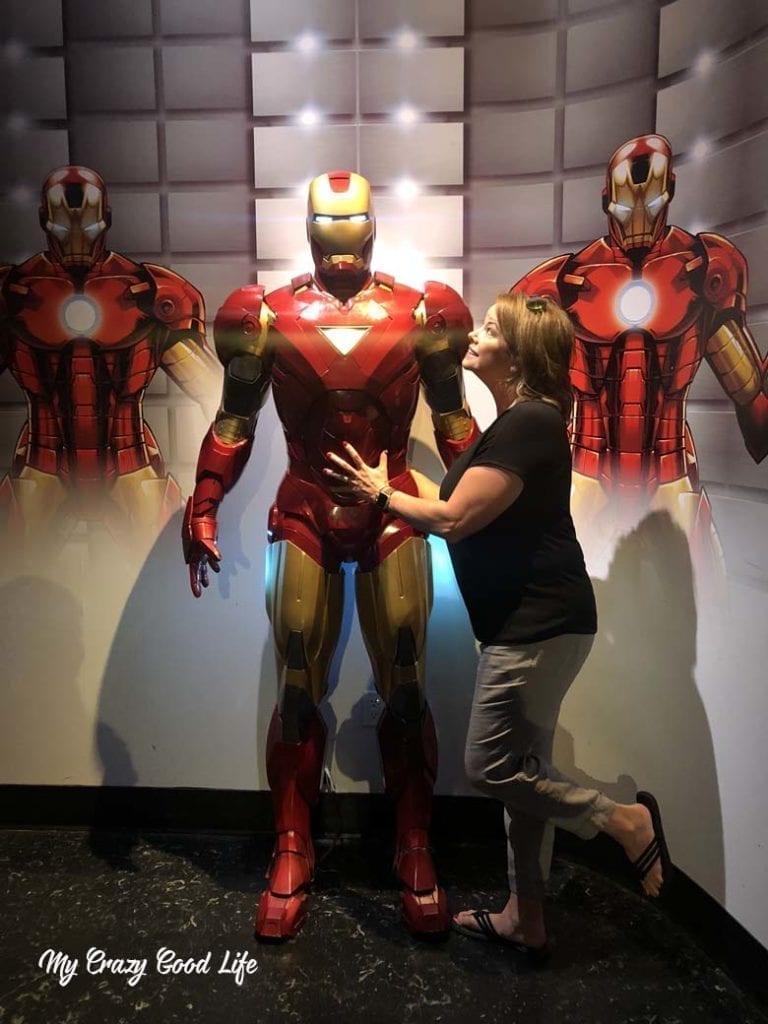 And I have to share that Wolverwine's claws look really sharp and pointy, but really…they're not so scary. He's a big softie on the inside.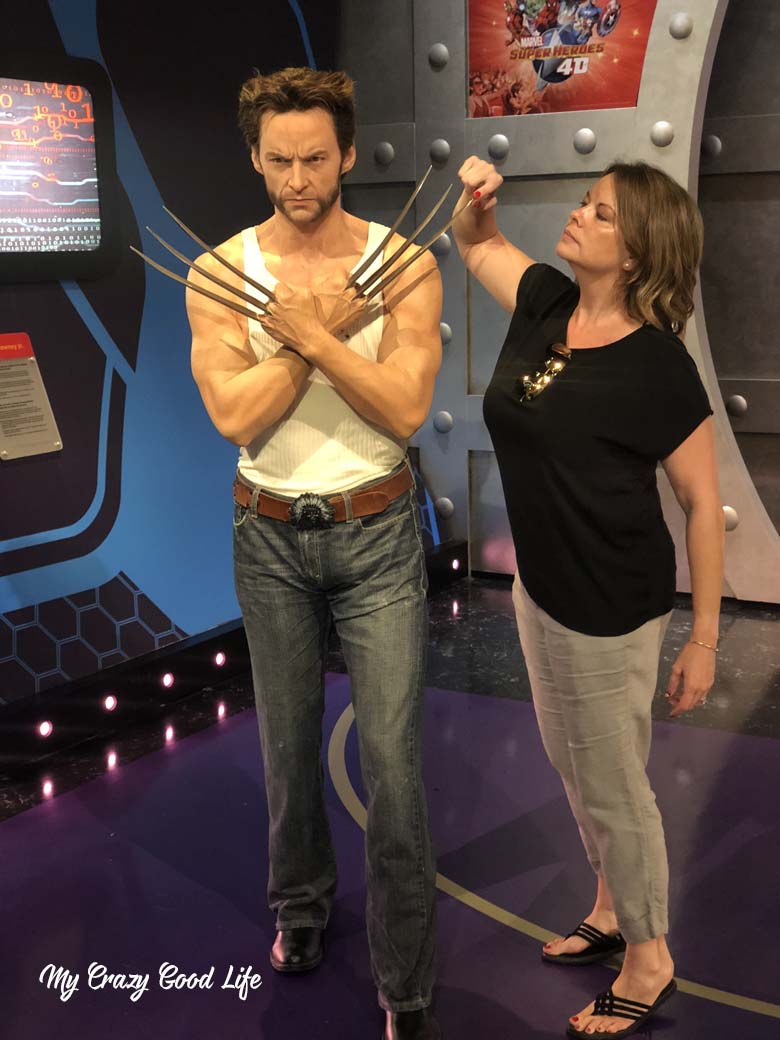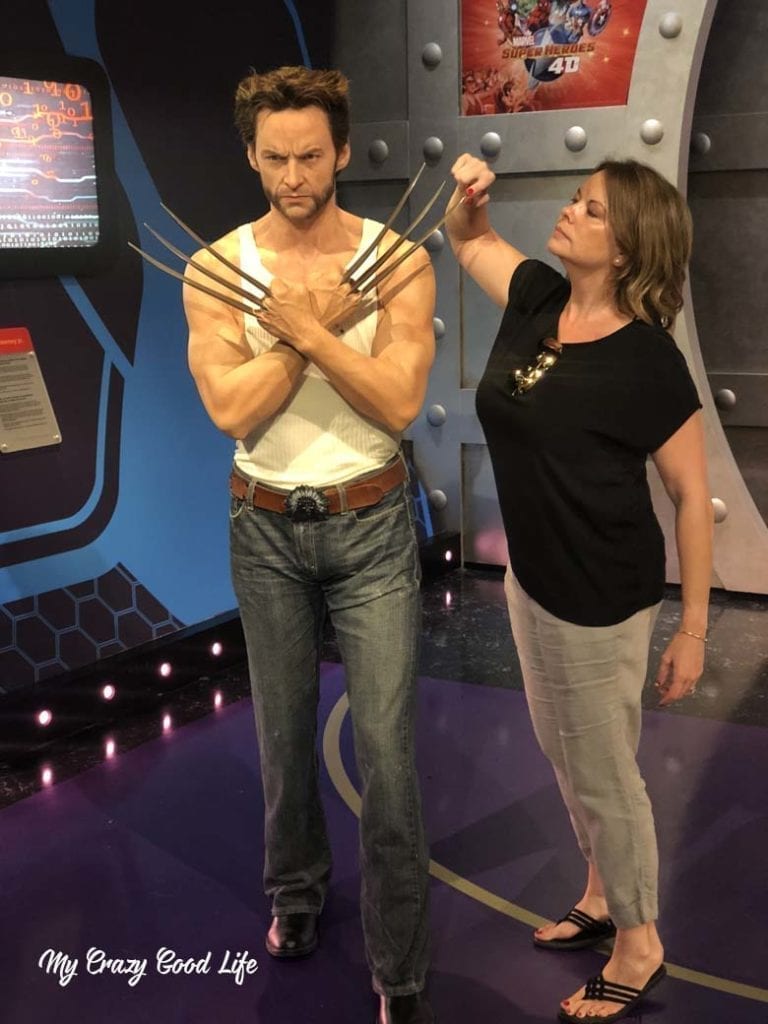 Cap is super nice in person–he actually gave me his backup shield and asked for some help. I totally agreed.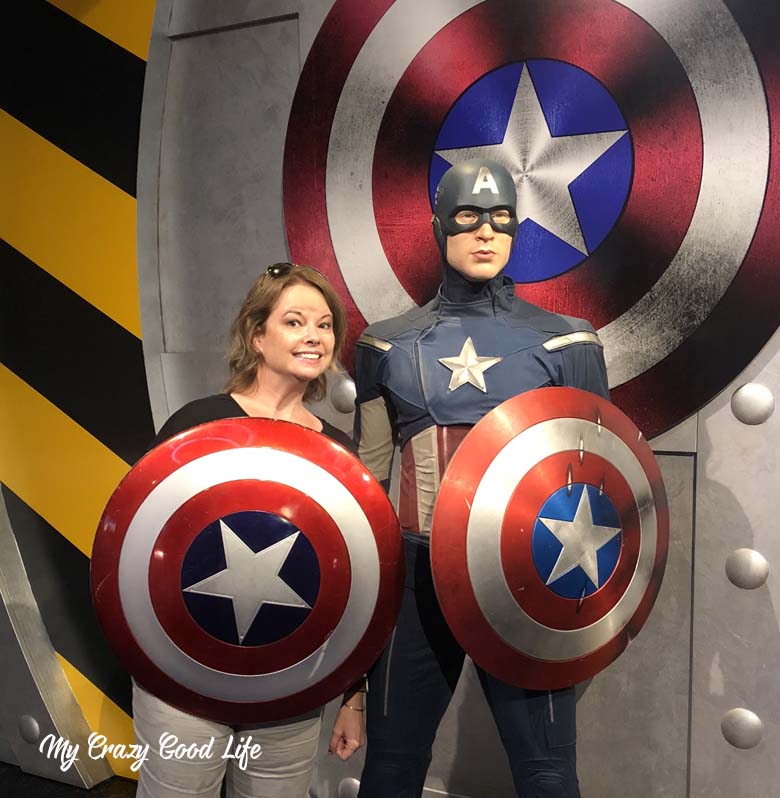 There are more! Here's the full list of the Avengers on display at Madame Tussauds:
Iron Man
Thor
Wolverine
Captain America
Tony Stark
Nick Fury
Spiderman (in the general museum, not with the Avengers)
We also made wax Infinity Gauntlets–and let me tell you, THAT was fun!! You can see my gauntlet it in action right here!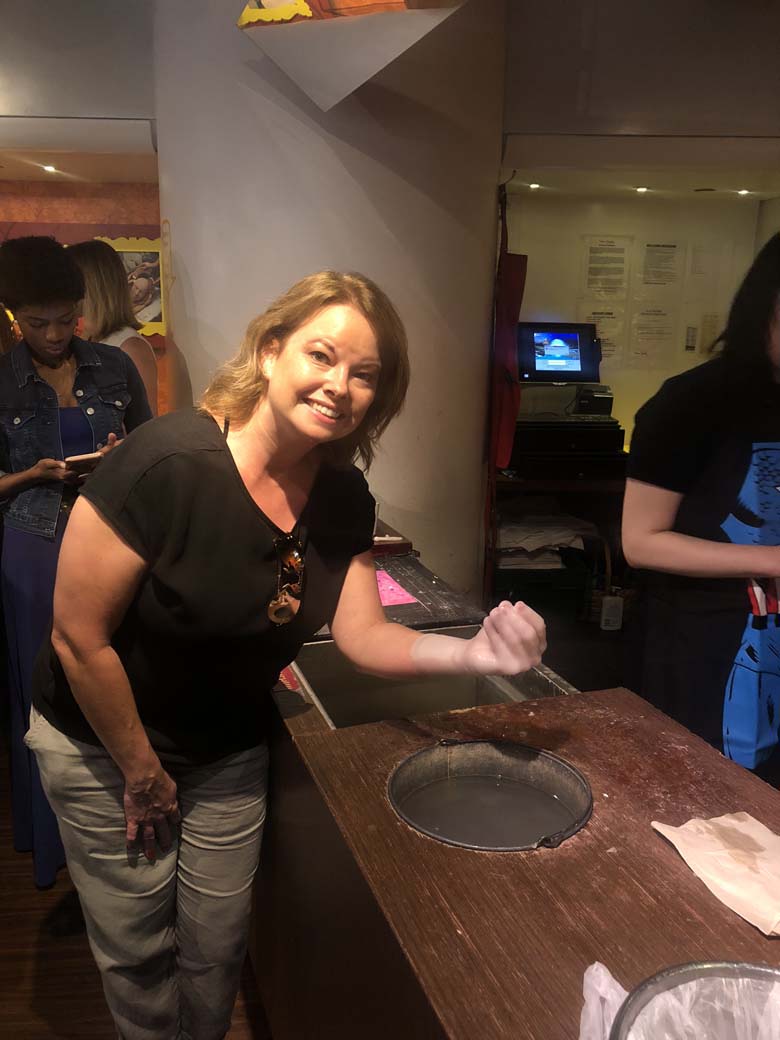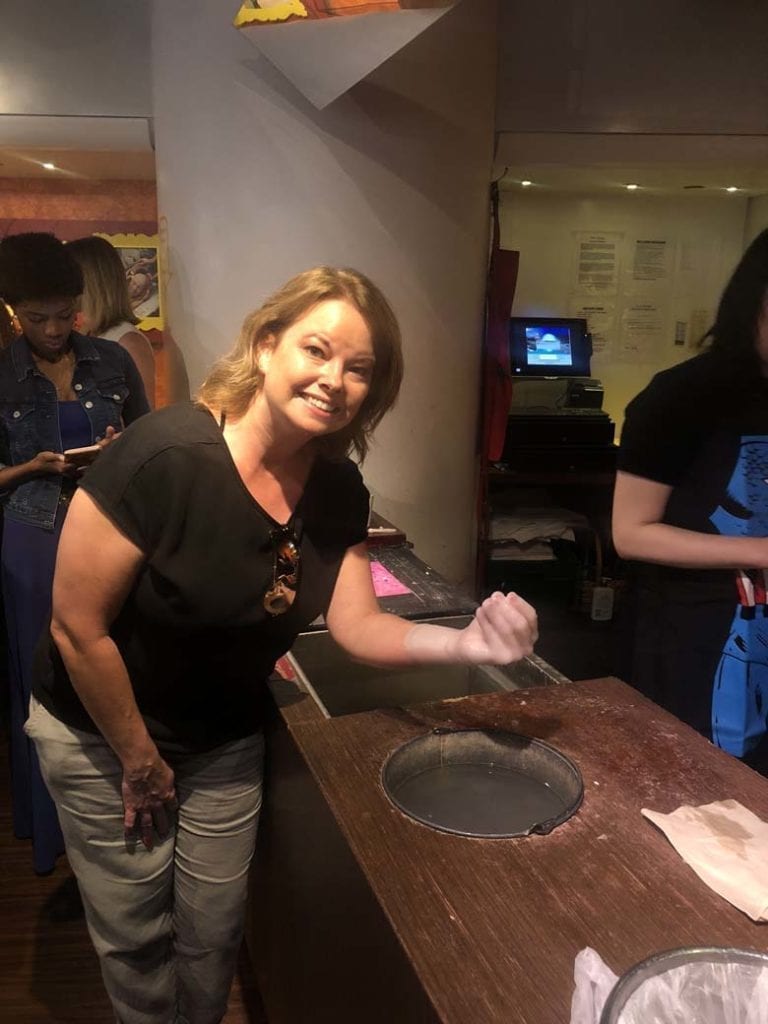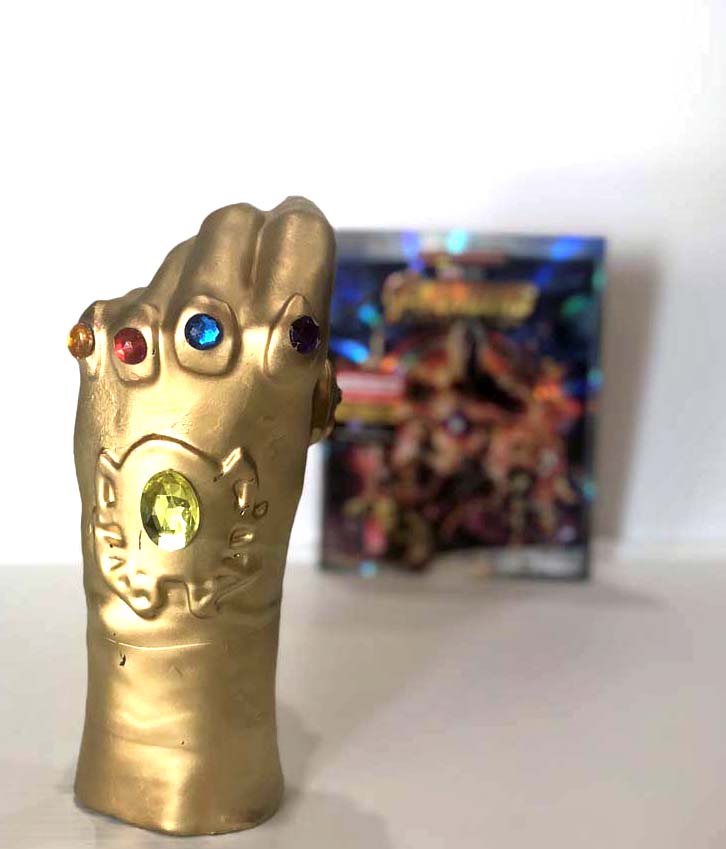 It is surreal being among the wax figures because they look so lifelike. When walking into a room you'd evaluate it a little differently–real or wax, I'd ask myself? You can see some more fun pictures from Madame Tussauds down below my interview.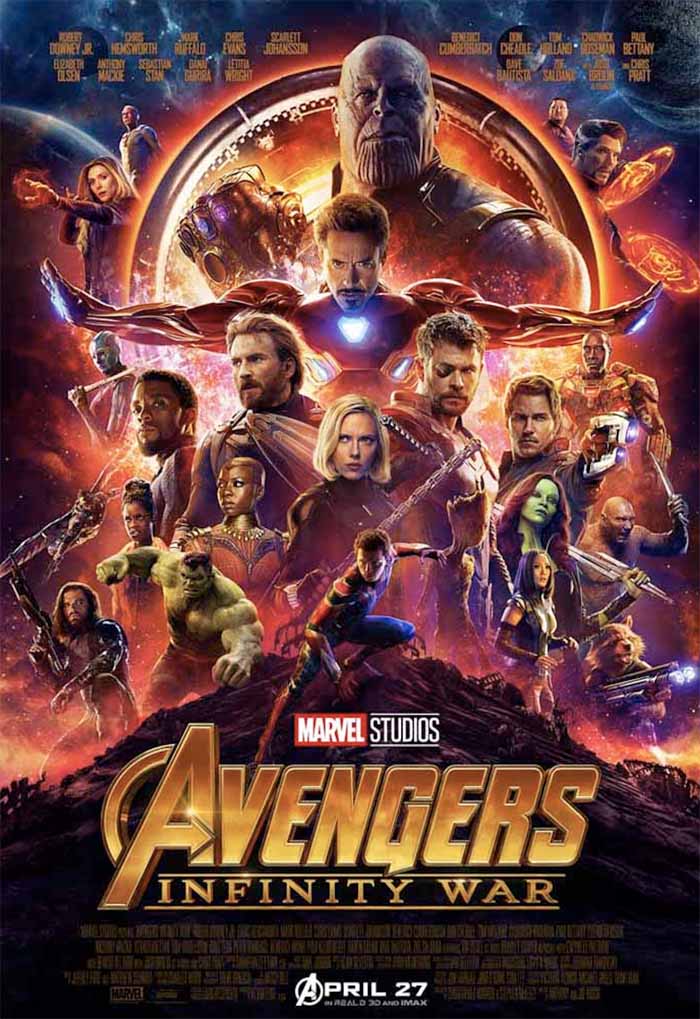 When we sat down with Executive Producer Trinh Tran, it was a bit surreal–and we had so. many. questions. If you haven't seen Avengers: Infinity War yet, 1. you need to and 2. there are spoilers ahead.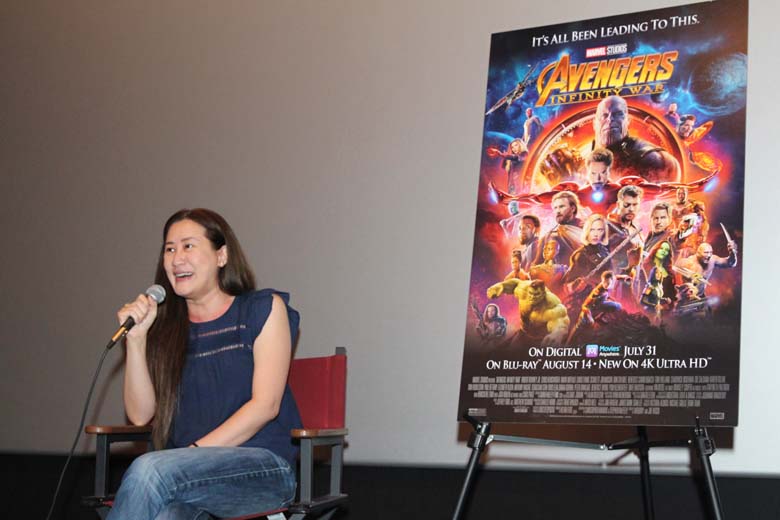 Question: A lot of people had nasty, angry responses to the outcome of Avengers: Infinity War. What has been the most bizarre or memorable fan reaction that you have witnessed?
You know what?I have been trying to avoid the Public, to be honest with you, after the opening. Only because I was really nervous about how everybody was going to respond to the ending and it actually feels really weird because I can't believe I can actually talk about it now.For the longest time, even during the Press tour, we couldn't say anything and for 2 years we had to keep our mouth mum about all the spoilers so this is actually one of my very first few times being able to talk about it and be open about it.Sometimes I'm going to be hesitant because I'm still used to the fact that can I say that?Wait a minute, the movie is out.

It's just, everybody embracing. Which is really shocking and great because for a lot of people, their fan favorites, didn't make it for whatever reason. Peter Parker or Quill but whomever it is, they didn't survive the ending and I think that the shock is that the bad guy won.So I think it was seeing that and being that the audience was OK with it was really weird.
Question: How do you decide who survives?
It was pretty difficult. Sitting in the story meeting we really had to make the decision of yes, who we want to survive so that we could tell the next story. We sat there and we boarded out, we brainstormed, we'd sat in the room, we hash it out every single day.

It was really trying to figure out how this was going to connect to Avengers 4. We wanted to be able to tell a story. I won't get into it much because, I don't want to spoil anything, but there is a specific reason why some of these people survive.
Question: That leads to the next movie.  What are some of the biggest challenges of shooting 2 movies like this back to back and somewhat on top of each other?
Being away for a year and a half.I think was one of the biggest challenges was shooting a back to back movie is really just the amount of time that you spend trying to complete the movie but really, getting the cast together.I mean, this is the biggest cast that we've ever had in any of the (Marvel Films), I believe even in Hollywood, the amount of talent that we have so to be able to actually bring them all together.

Even to shoot one scene was pretty challenging but we have the best people.Some of these crew members we've worked with since "Winter Soldier" so we have this trust that everybody is going to be able to figure out a way to make that happen. We were able to pull it off and make a great movie out of it.
After our interview, we had some time to walk through all of Madame Tussauds–we might have had a little too much fun.

See the trailer for Avengers: Infinity War here:
Avengers: Infinity War is available NOW on digital and on Blu-ray on August 14.