This site contains affiliate links. Please see Policies for more information.
April Fool's Day is so much fun with kids.When your kids get a little older, it can be dicey–is it fun? Cool? Will it ruin their entire day? I've found that it's best to try in-home pranks–nothing that will embarrass them at school or with friends. And don't do anything to their clothes or hair!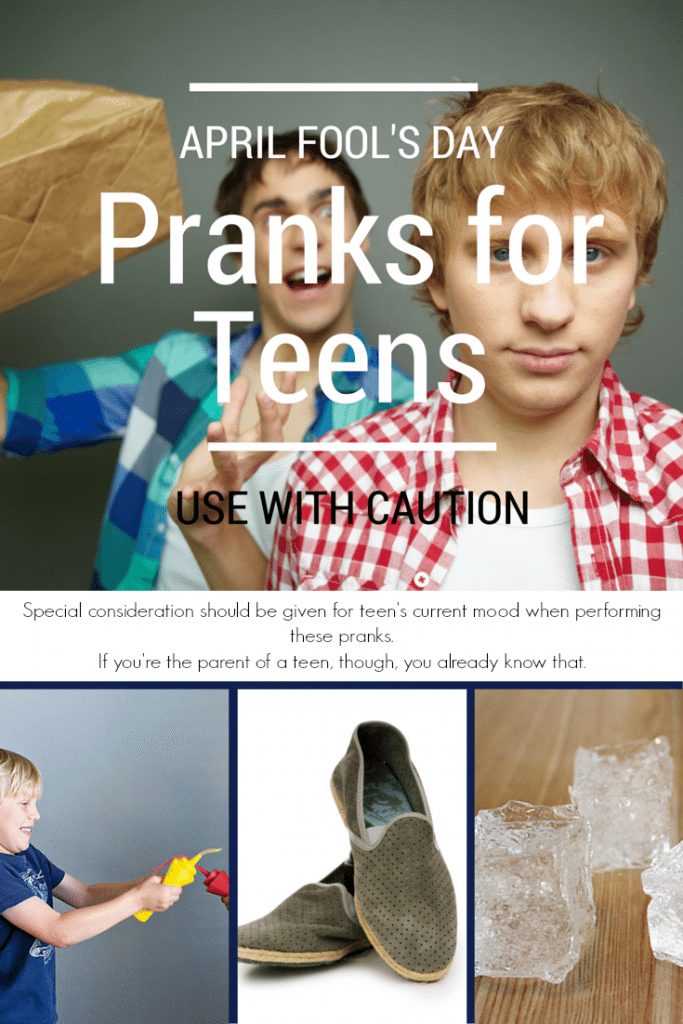 Think about how these fun pranks for teens might work with your kids, and try the ones that they'll think are funny! Or at the least, not mortifying and awful ;)
1. Kids and teens will laugh at these fun pranks–jello instead of juice, colored cereal milk, and fun lunch bag tricks.
2. Check out what Mommy Poppins has to say about short shoeing. I think it's a perfect prank for teens!
3. I'd camp out outside of my teen's door just to see him pull his socks out like this (#1)!
4. Having hamburgers for dinner? This awesome ketchup and mustard prank from All for the Boys is awesome!
5. If dinner is your thing, some of these fake out foods might be just what your teens needs.
6. Time to brush? Swap out your teen's toothpaste for some frosting or other sweet surprise!
7. If #8 is too tough, try this super quick prank from Kids Activities Blog (#1).
8. Dad Info has some great prank ideas that can be used for teens!
Doing all of these pranks is one way to get your teen angry–I recommend choosing one or two to keep the mood light!
Looking for more April Fool's fun? Check out these fun April Fool's Facts, these ideas for what NOT to do to you teen, or these easy pranks you can pull at home.