This site contains affiliate links. Please see Policies for more information.
This Purple Mattress Review is courtesy of Purple Mattress.
A few months ago, we received a Purple Mattress in the mail. We love it, and we love working with such a fun company! Here's our honest Purple Mattress review, along with an update from 2018.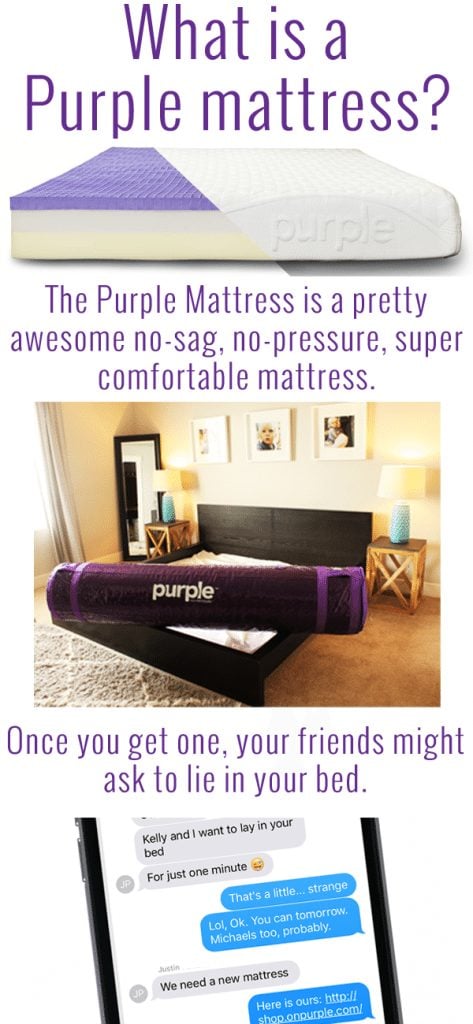 Well, it's not a dog toy.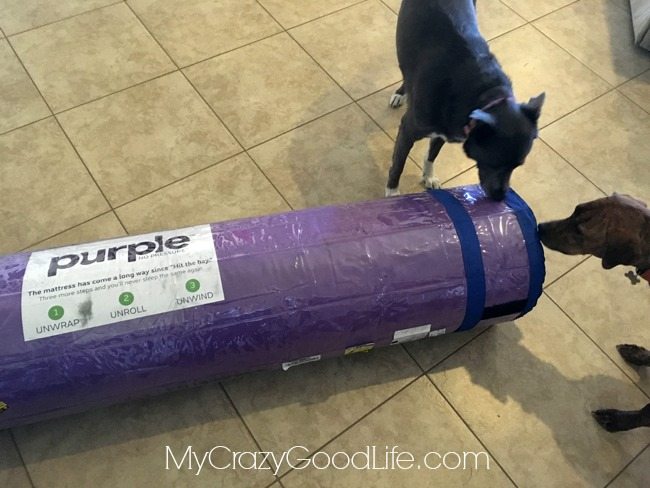 And it's not meant to be used in water log rolling.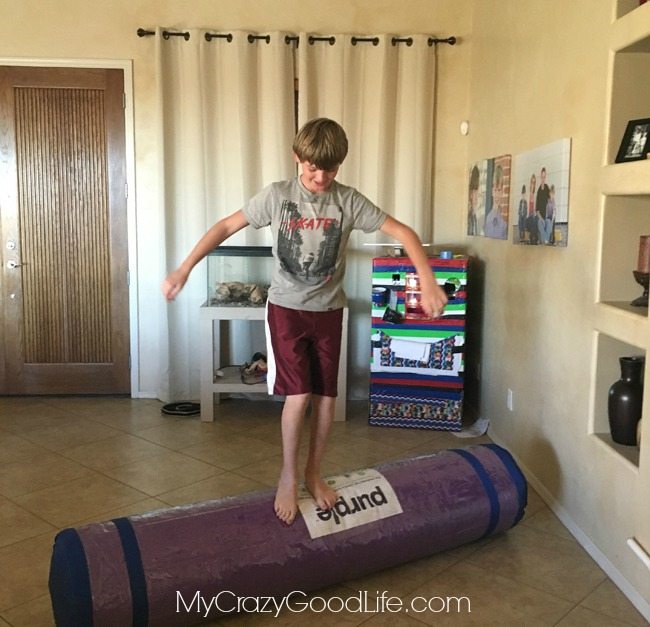 Ok, now you're getting close Jack. You are supposed to sleep on it!
Can you believe there is a King sized mattress in that package?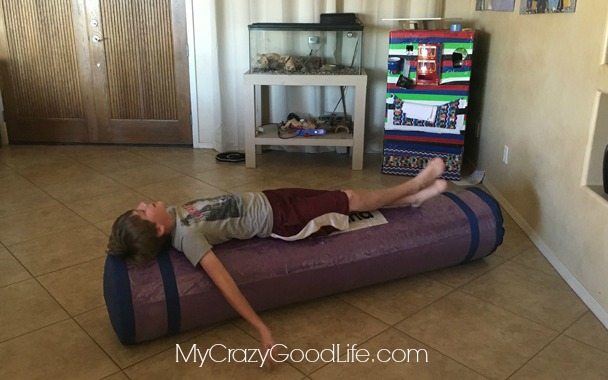 It's a mattress. But not just any kind of mattress. It's a no-pressure mattress that is a little different from its competitors. The Purple brand is a little fun.
A little quirky.
A lot different.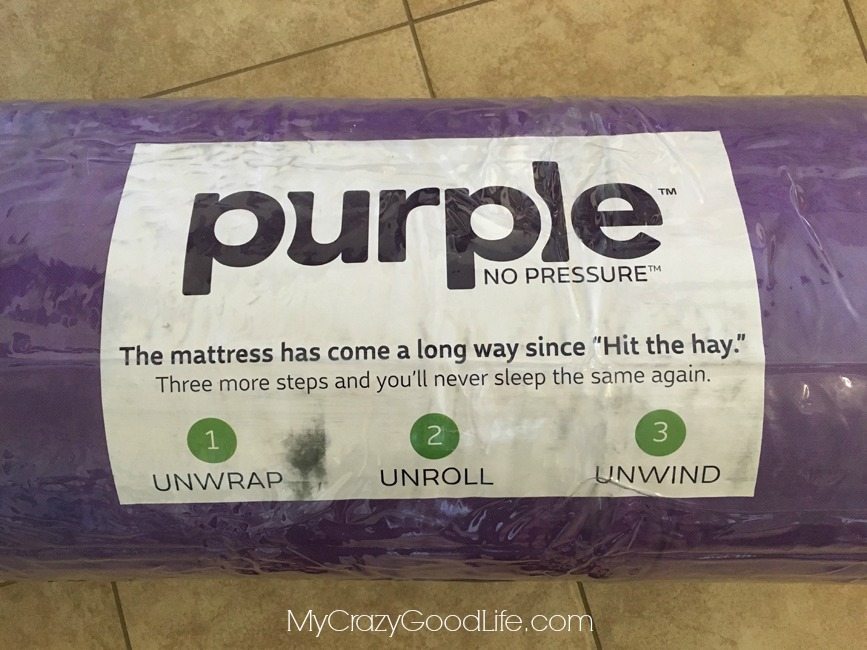 I should start by telling you that my husband and I don't have the youngest skeletons. We are pretty creaky and particular about our pillows and mattresses. We usually wake up and use a foam roller to get the kinks out of our backs and hips before we start our day, and then again before going to sleep. We're kind of high maintenance.
What about the Purple Seat Cushion?
Because trying the Purple mattress was such a big step for us, we decided to see what it was all about before agreeing to try it out. You might remember the video of Jack sitting on the raw egg on the seat cushion? That seat cushion was made out of the same material the Purple mattress is made from.
On a side note, that seat cushion is now at my mom's house. Many of you know that she was in a bad motorcycle accident in late 2016 and broke her leg in several places. She's not able to walk yet, and spends most of her time sitting. She was starting to develop some serious issues from not having a good seat cushion, though she had purchased several different ones at the time. After trying the Purple seat cushion, she is feeling so much better. No sores, no hip issues, nothing.
Is the Purple Mattress Purple?
The Purple mattress isn't purple. I knew you were wondering :)
Two layers of polyurethane foam with a top layer made from Hyper-elastic polymer™ in a Smart-Comfort Grid. The bottom line? It's firm, it's totally comfortable, and it will never sag on one side from someone sleeping there every night.

Is the Purple Mattress Heavy?
The mattress is heavy–it weighs about 140 pounds. It's a little tough to carry after you unroll it from it's shipping packaging–I'd recommend carrying it into your bedroom before unrolling it (unlike we did). If you need to move the Purple mattress from one room to another, I recommend folding it in half–it's not easy to carry when it's unfolded.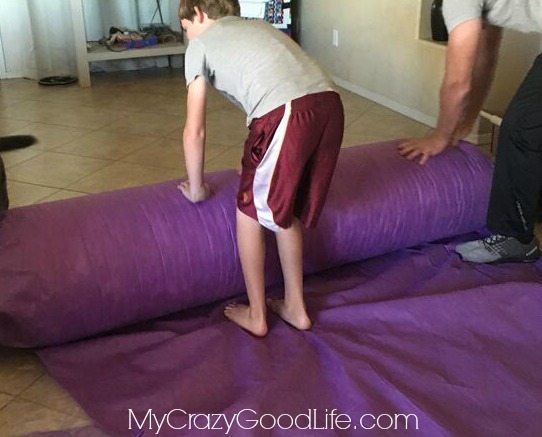 Jack begged us to keep the mattress for himself. And as you can tell from all of the pictures, the dogs were very interested too.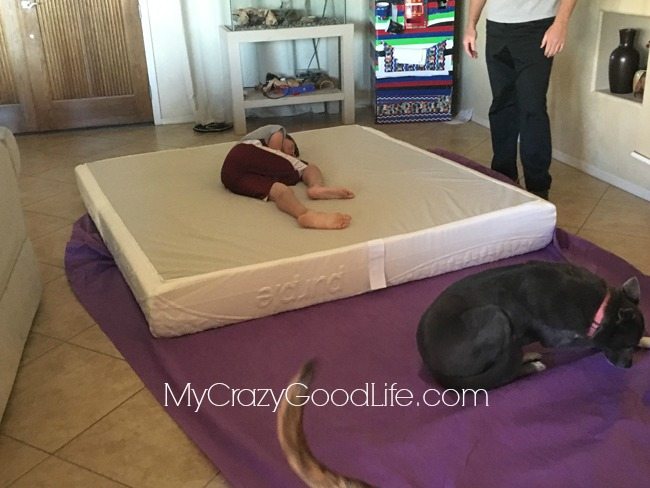 Jack loved the packaging that the Purple mattress came in. While we were getting the mattress on our bed, he was finding a fun way to use the plastic that it came in.
Seriously–the fun times don't stop with the Purple mattress!
Purple Mattress Review
We had the option to send the Purple mattress back if we weren't thrilled with it, but it's still on our bed. We used to wake up and feel a little "creaky." We had some aches and pains for the first 30 or so minutes after getting out of bed in the morning. No more. After sleeping on the Purple mattress, we wake up and our bodies don't need time to readjust. No back pain, no stiff hips, nothing.
In fact, a few weeks after we got our mattress, I received a text from some friends of ours. It might have been a little strange at first.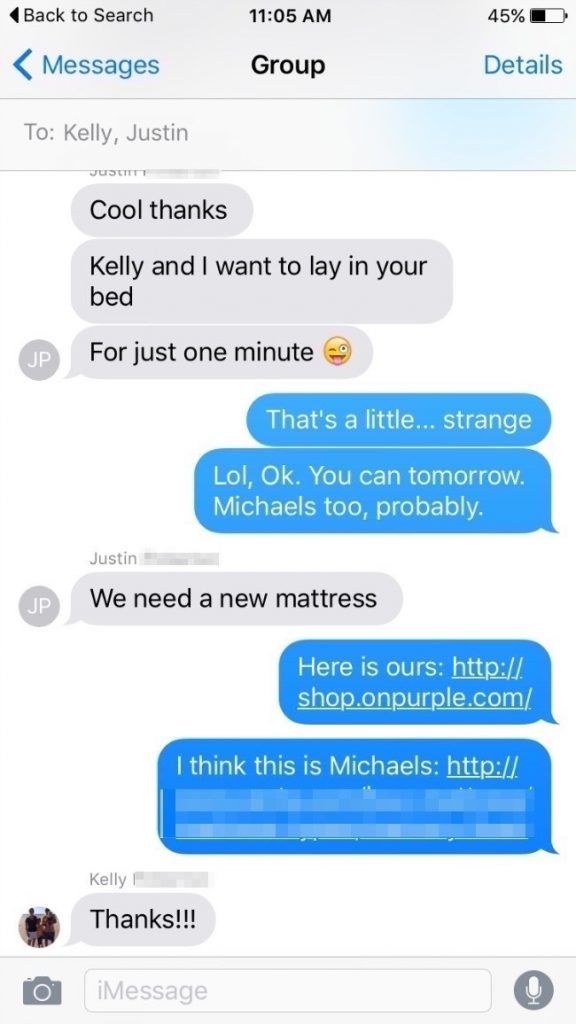 But we did let them come lay on our bed. They loved the Purple mattress and ordered one for themselves.
Does the Purple Mattress come with a Warranty?
Unfortunately, their mattress arrived on the same day as a crazy unannounced winter rainstorm. The Purple mattress was wet and my friend had to call Customer Service late that night to ask what to do.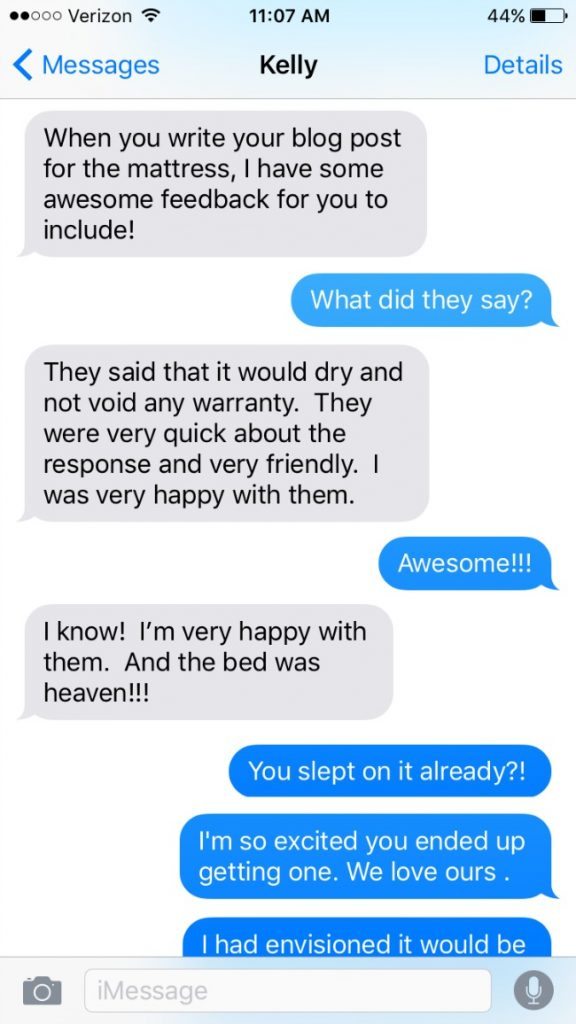 So if you're wondering… the mattress dried within a couple of hours with a fan and the 10 year warranty wasn't affected.
I'll tell you a secret… we kept our other mattress for about 5 weeks after we received the Purple mattress. We wanted to make sure we loved our Purple Mattress before getting rid of the other one. I'm happy to tell you that it's gone now!
We are so happy with our Purple Mattress and have been telling all of our friends about it. Now we're telling you. No more creaks, no sore muscles, no more foam rolling after we get out of bed in the morning.
Purple Mattress Review Update: Fall 2018
We have had our Purple Mattress for almost three years now, and we are still in love with it. Three years of sleeping in the same spots, and there are no sags or soft spots in the mattress, and it's just as comfortable as the first time we slept in it. We have had several friends buy Purple Mattresses too, and they all feel the same way about theirs.
Buying a mattress isn't easy, especially when it's one you buy online. It's tough to know what you're getting, and though it's helpful knowing that you can return it at any time, the practicality of that is a little difficult. It's not like you can store the mattress in a closet while you test out your new one.
We'd buy another Purple mattress again, for sure. It's that comfortable.