This site contains affiliate links. Please see Policies for more information.
This is safe to read! There are no series spoilers in this post–just some fun behind the scenes info.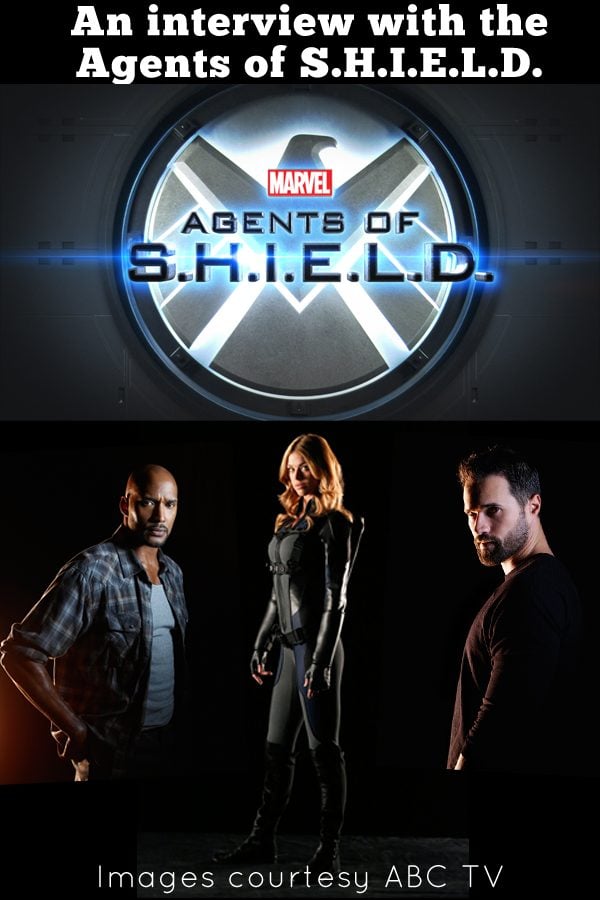 A couple of weeks ago I had the chance to sit down with Agents of S.H.I.E.L.D. stars Iain De Caestecker, Elizabeth Henstridge, Brett Dalton, Henry Simmons, and Adrianne Palicki–or as you may know them–Leo Fitz, Jemma Simmons, Grant Ward, Alphonso 'Mack' Mackenzie, and Bobbi Morse.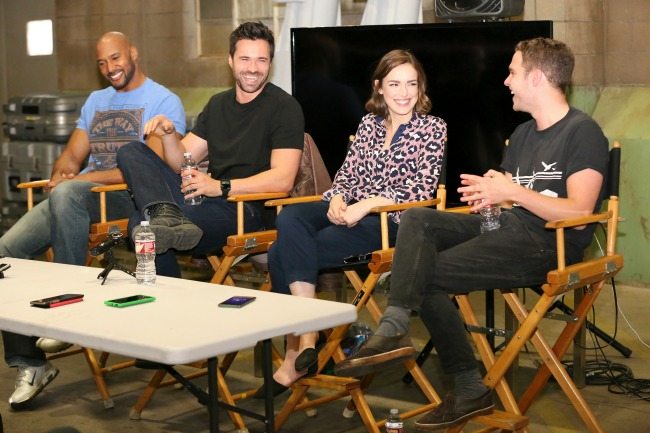 We were able to see a bit of the Agents of S.H.I.E.L.D. set (yes, we saw Lola!) as well as a bit of taping from a future episode! It was a blast. We had time to ask the cast a few questions, and while we were chatting I was surprised to learn that the actors don't know a lot about how their character evolves during the season until an episode or two before it tapes!
While not knowing the "full picture" of your character has to make it a little tough to plan ahead and prepare, I can imagine that it's so much fun to learn something fun and new every week about how your character unfolds.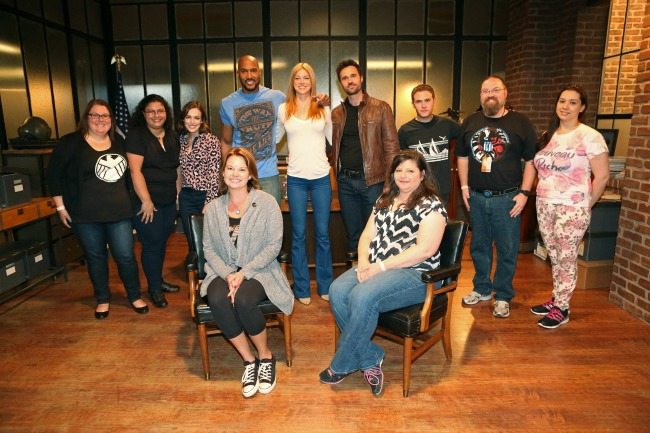 While on set, we learned that Adrianna Palicki does most of her own stunts–I never would have thought that!
I do the majority of my own stunts. There's stuff that obviously I can't do because there are insurance problems–jumping through a plate glass window, leaping through a door–but the fight [scenes] are definitely what I like to do. I learned Jujitsu for a previous film, I [also] take Muay Thai and box.
Henry Simmons, who plays Mack, chatted a little about his character's intentions.
I don't see my guy as evil. I think he's doing what he thinks is best for S.H.I.E.L.D.

…but, I guess evil people don't see themselves [as] evil.
I know that you diehard Marvel fans are asking what this all has to do with the Marvel Cinematic Universe. Jed Whedon talked about it on Marvel.com.
We were able to see last week's episode Melinda May in LA (so fun to see that early!) and I have been patiently waiting for this week's new episode called The Frenemy of My Enemy tonight at 9/8c on ABC! Here's a quick review of what you'll see, courtesy of ABC TV: "The Frenemy of My Enemy" A dangerous new alliance is formed as Coulson and Hunter turn to the last person anyone would expect–Grant Ward! As the war between S.H.I.E.L.D. factions continues, Skye and Lincoln will find themselves drawn into this conflict, on "Marvel's Agents of S.H.I.E.L.D." 
I attended press events with Disney and ABC TV, which included a set tour and interviews with the cast of Agents of S.H.I.E.L.D. I was provided with an expenses paid trip to Los Angeles in exchange for my coverage about the events. No other compensation is given. Of course, opinions and experiences are my own.