Thanks for stopping by! Sign up for my email newsletter to be notified of new recipes and other posts!
You know that we I love peanut butter, right? LOVE.
Peanut butter cookies are our my favorite. The only thing I don't care for is the floury taste that sometimes accompanies even the very best peanut butter cookies.
I found an amazing recipe on Joy The Baker's site when I began having gluten issues and have found that when paired with milk chocolate chips, these cookies are amazing. With or without the chocolate, they're amazing – I won't force anyone to put chocolate chips in their cookies.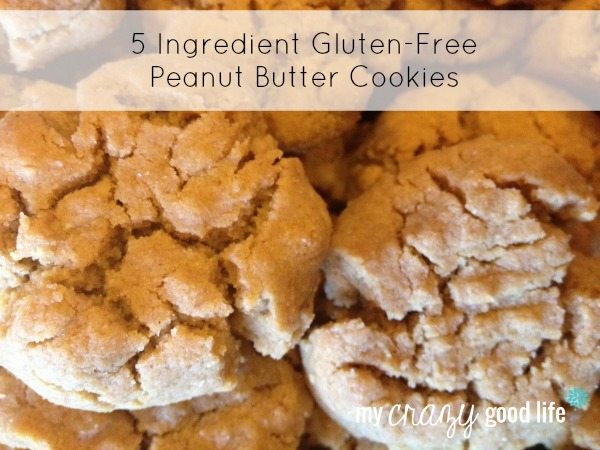 Of course I'm going to share the recipe for these with you – because I am not one of those people who has secret recipes!
Five Ingredient Peanut Butter Cookie Recipe
Ingredient 1. 1 Cup Peanut Butter. Preferably one that hasn't been recalled in the last six months.
Ingredient 2. 1 Cup Sugar. You can mix white and brown, or just go straight brown like I do.
Ingredient 3. 1 Egg. Organic brown free range, Omega-fortified, or a plain white one. An egg is an egg.
Ingredient 4. 1 Teaspoon Baking Soda. This'll make your cookies puffy and cloud-like.
Ingredient 5. Milk chocolate chips. Optional. Dark chocolate is healthiest, but milk chocolate is yummiest. Do what you love.
Mix the peanut butter, sugar, and egg. Add baking soda. Fold in chocolate chips.
Use a spoon to scoop the dough and roll into 1 inch balls. The dough is flaky and will have to be squeezed together to make it stick into a ball – it's ok – it'll be worth it.
Bake at 350 for 8-10 minutes.
Enjoy :)