We are a snacking household. It's not the best quality, but we truly can't help it. Since there is no end in sight, I recently realized that since we can't beat the snack bug, we should make the snacks healthier.
Introducing Mom's Really Good Granola Bars (named by Jack, not me). I call them my healthy granola bar recipe.

Healthy Granola Bar Recipe
Ingredients:
3 cups oats
2-4 tablespoons "healthy chaser" (I use flax seed and chia seed, but you could also use wheat germ, 7 grain cereal, etc.)
1 cup plus 1 tablespoon peanut butter (chunky or creamy)
1 cup + 1 tablespoon honey
Now you have your basic granola bars. Add what you like from the list below to customize them!
1/4 cup protein powder
1/2 cup shredded coconut (optional)
1/4 cup chopped almonds/walnuts/cashews
1/4 cup dried cranberries, raisins, chocolate chips – anything yummy :)
Some notes:
This recipe is really flexible. Don't stress about perfect measurements.
Sometimes I toast the oats and nuts on 400 degrees for about 13 minutes, but I haven't been able to tell if it makes a difference. If I have time, I do it. If not, I don't.
If you're using chocolate chips and you decided to toast the granola, you should let it cool down so the chocolate doesn't melt. But if you have picky kids and you need to trick them into thinking that they are eating chocolate granola bars you could let it melt and change the color of the whole granola bar. Not that I have ever tricked my kids into thinking they are eating lots of chocolate when they in fact are not.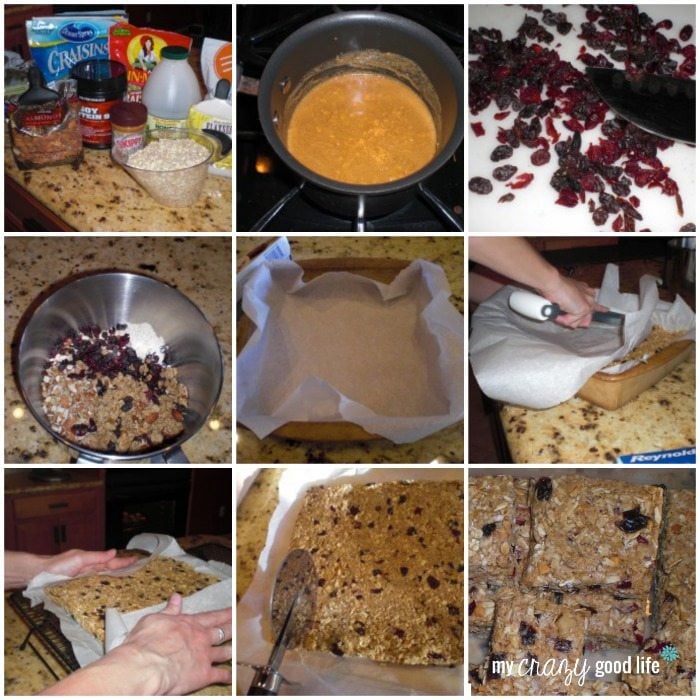 Instructions:
1. For extra smooth granola bars, put the peanut butter and honey into a pot and heat it on low until it melts together. I've made these without heating anything and they're just as delicious.
2. Chop the nuts, if you're using them.
3. Pour peanut butter, honey, oats, your healthy chaser, protein powder, and your extras into a bowl and mix them well. This is SO much easier with a stand mixer.
4. Grab a 9×9 pan and line it with some parchment paper.
5. Pour the mixture onto the parchment paper.
6. Cover it up with another piece of parchment paper, and begin rolling the bars flat. You could also use a can of soda if you don't have a rolling pin that will fit inside the pan.
7. After your granola mixture is nice and flat, throw the top piece of parchment away and use the bottom one to lift out your granola onto a cooling rack.
8. Push the granola into a nice firm square on all sides, then let it sit and harden for at least an hour.
9. Cut your granola bars. I use a pizza cutter.
I store my granola bars in a ziplock container in the pantry, and they last for about 1 week. You could get a little more time out of them if you store them in the refrigerator.
Yum! What do you love in your granola bars?
21 Day Fix: I cut two of these in the size of a yellow container and use a yellow container treat swap!