This site contains affiliate links. Please see Policies for more information.
This post is sponsored by Pure Cane Pre Workout Supplement. Use the discount code BECCA10 for 10% off your order.
Just like all of my readers, I'm busy to a fault and am always trying to find ways to squeeze in any and all health benefits I can into my day. Often, work and life outside of my blog get in the way of me completing all of my health and exercise goals. I've found that Pure Cane Pre Workout Powder helps me stay focused on my goals and provides the energy I need to get a great workoout in.
I do try to prioritize healthy eating, and I'm constantly looking for other healthy and natural ways to increase the nutrients my body is getting. Sometimes, I need a little boost to find the motivation to follow through with my workout routine.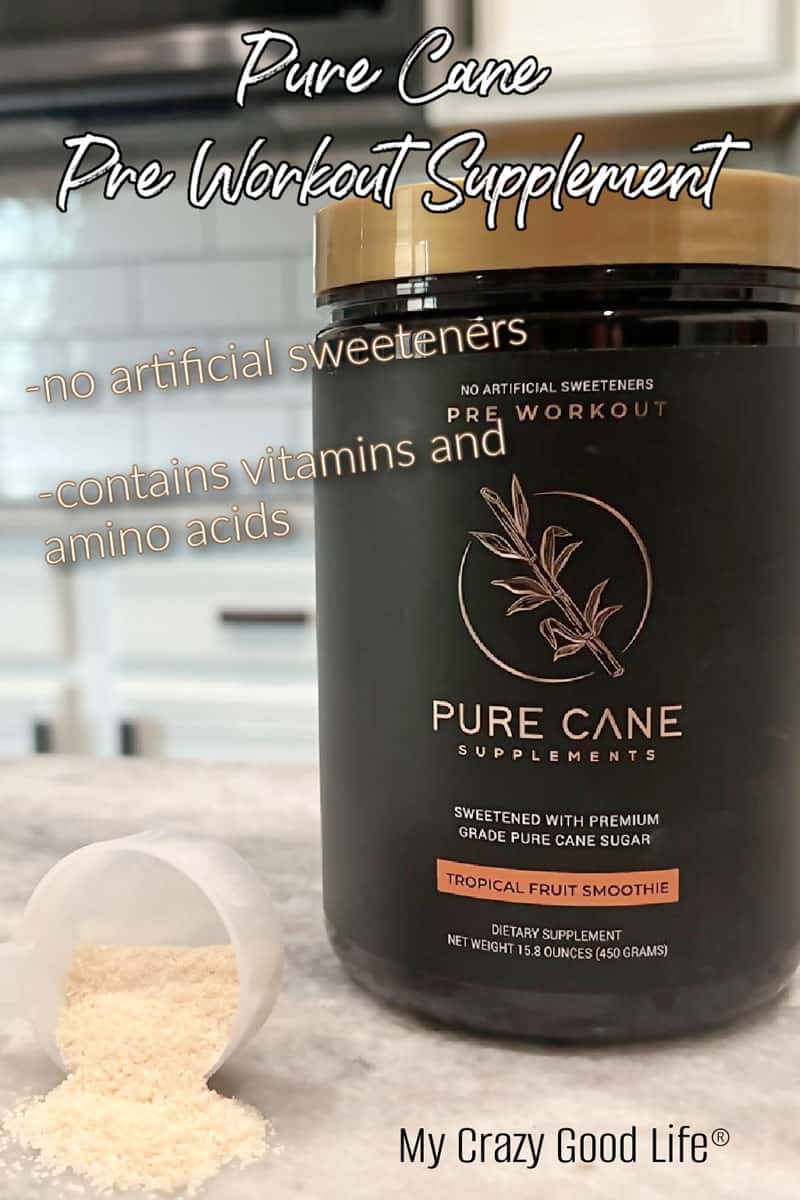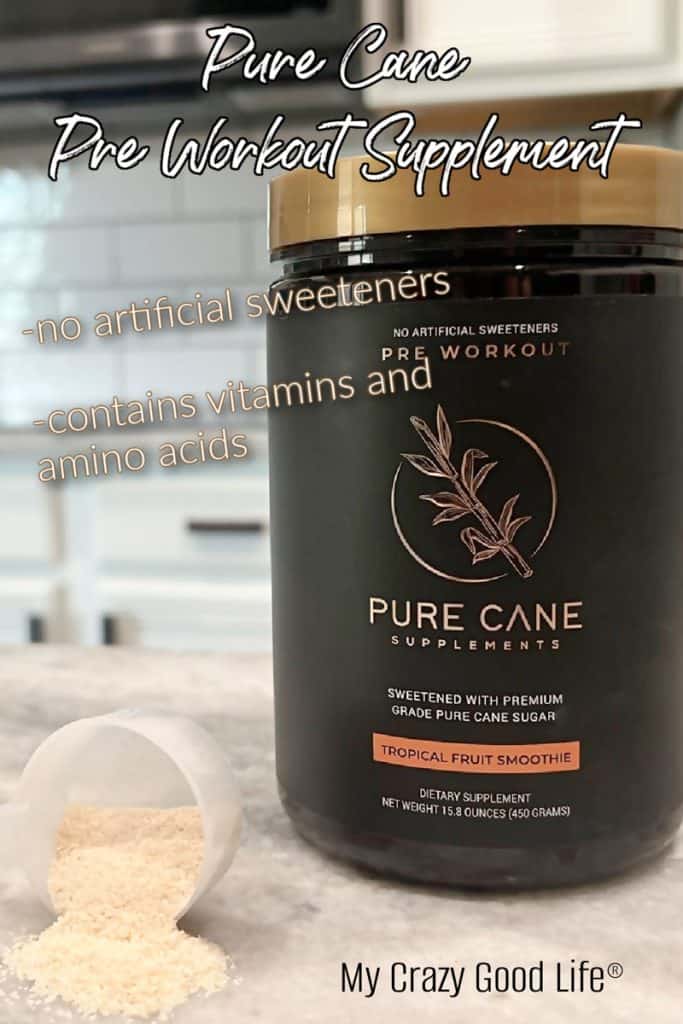 When looking for additional nutrients, the first thing I always steer clear of is introducing any artificial sweeteners into my body. The added nutrients just aren't worth it to me if I'm also taking them alongside artificial sweeteners.
I've spent hours researching and trying to find the best pre workout supplements without artificial sweeteners on the market. My main requirements are that it must be free of artificial sweeteners, and have additional benefits to fuel my workouts.
Queue in Pure Cane Natural Pre Workout Powder. Made with real organic cane sugar, and full of premium and natural ingredients, Pure Cane Pre Workout Supplements are my new go-to before working out.
What are Pre Workouts?
Pre workout powders are known in the fitness world as what pre workout supplement you take before starting your exercise routine. Pre workouts give your body a boost of both caffeine and nutrients that are specific to your exercise goals.
I love doing workouts that include weights, cardio, and strength training. For that reason alone, Pure Cane is my favorite go to for a natural pre workout supplement. Pure Cane Supplements contain two main ingredients, L-Arginine Alpha Keto Glutarate (AAKG) and L-Citruline Malate.

Research has shown that this combination of ingredients widens blood vessels, which can improve blood flow in your muscles. More oxygen means better endurance and more output in the gym.
There are many pre workout supplements available out there, many made with natural ingredients, but unfortunately many also contain artificial sweeteners. I avoid putting artificial sweeteners into my body. I have a whole post discussing the negative impacts of artificial sweeteners.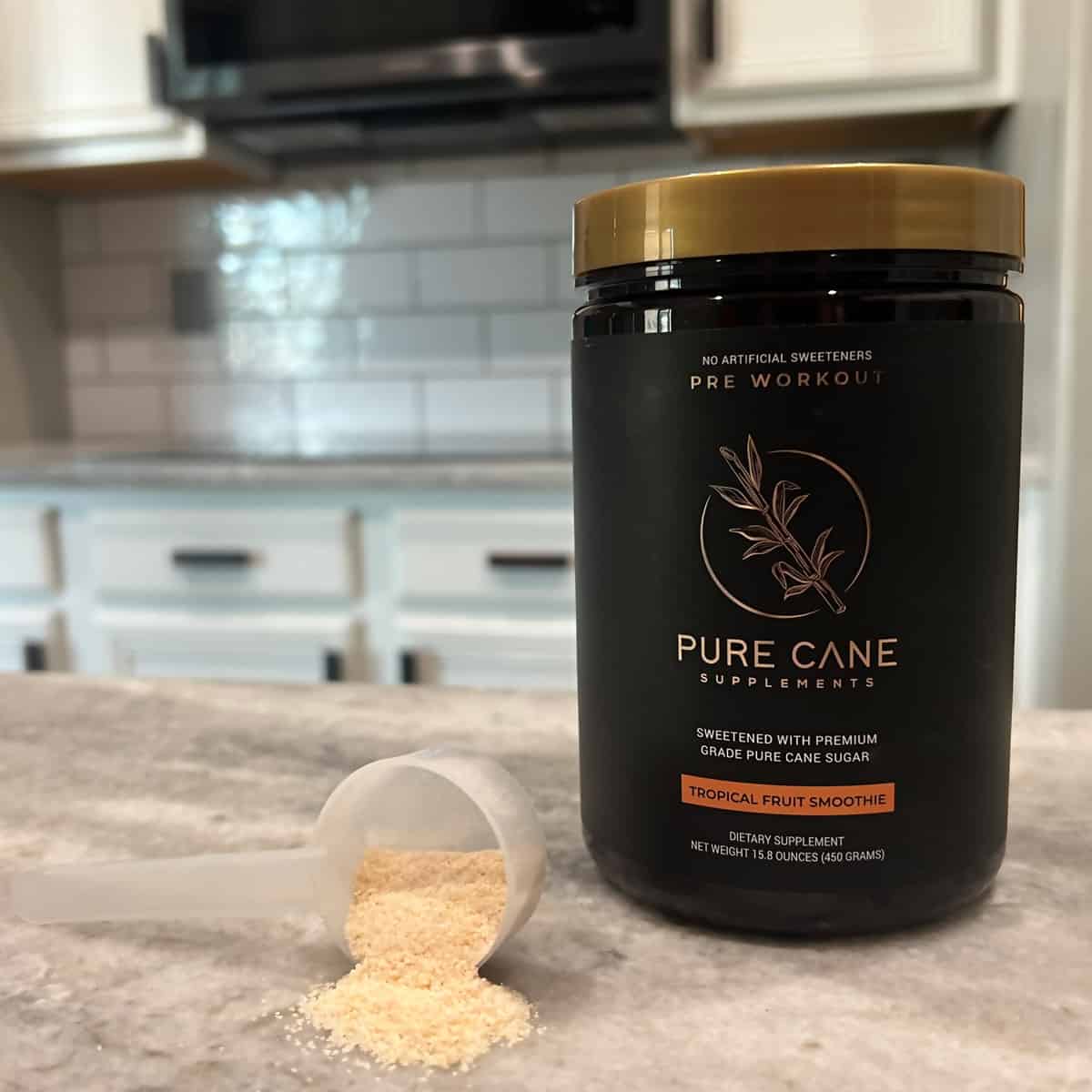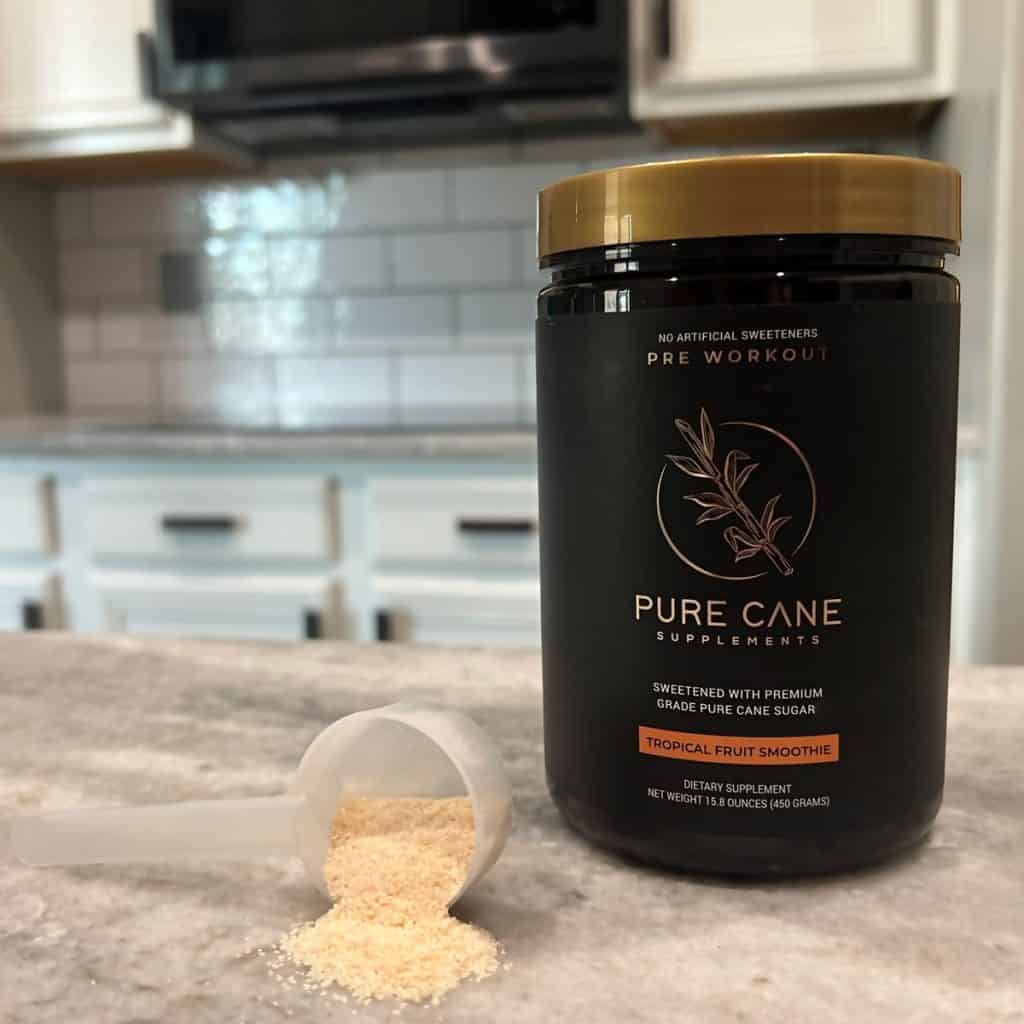 Why Pure Cane Supplements?
My days as a blogger are long, oftentimes I'm sitting at my desk well over the 40 hour work week. One of my favorite benefits of Pure Cane Pre Workout is the added fatigue booster.
For 10% off your purchase, use the code BECCA10.
Since I've been using the Pure Cane supplements, my energy has been noticeably better. This is thanks to the combination of amino acids Beta-Alanine and N-Acetyl-L-Tyrosine ingredients found in Pure Cane Pre workout supplements. These ingredients are known to reduce stress, buffer acid in muscles, and help sustain energy for longer.
Did I mention that Pure Cane Supplements contain caffeine? Caffeine is a natural ingredient that boost energy levels and can help with so many aspects in our day. I've noticed an increase of mental focus, athletic performance, and ease of completing my fitness goals.
What's in Pure Cane Pre Workout Supplements
I chose Pure Cane for the nutritional boost and benefits it delivers without any artificial sweeteners or flavors. Pure Cane delivers a handful of important vitamins, including Vitamin C, Niacin, Vitamin B6, Folate, Vitamin B12, and Calcium.
Pure Cane helps ensure that I receive all of my daily vitamins and health benefits that I may be missing from my diet. The ingredient I'm most impressed with: organic cane sugar. I love that Pure Cane isn't filled with any harmful ingredients or artificial sweeteners.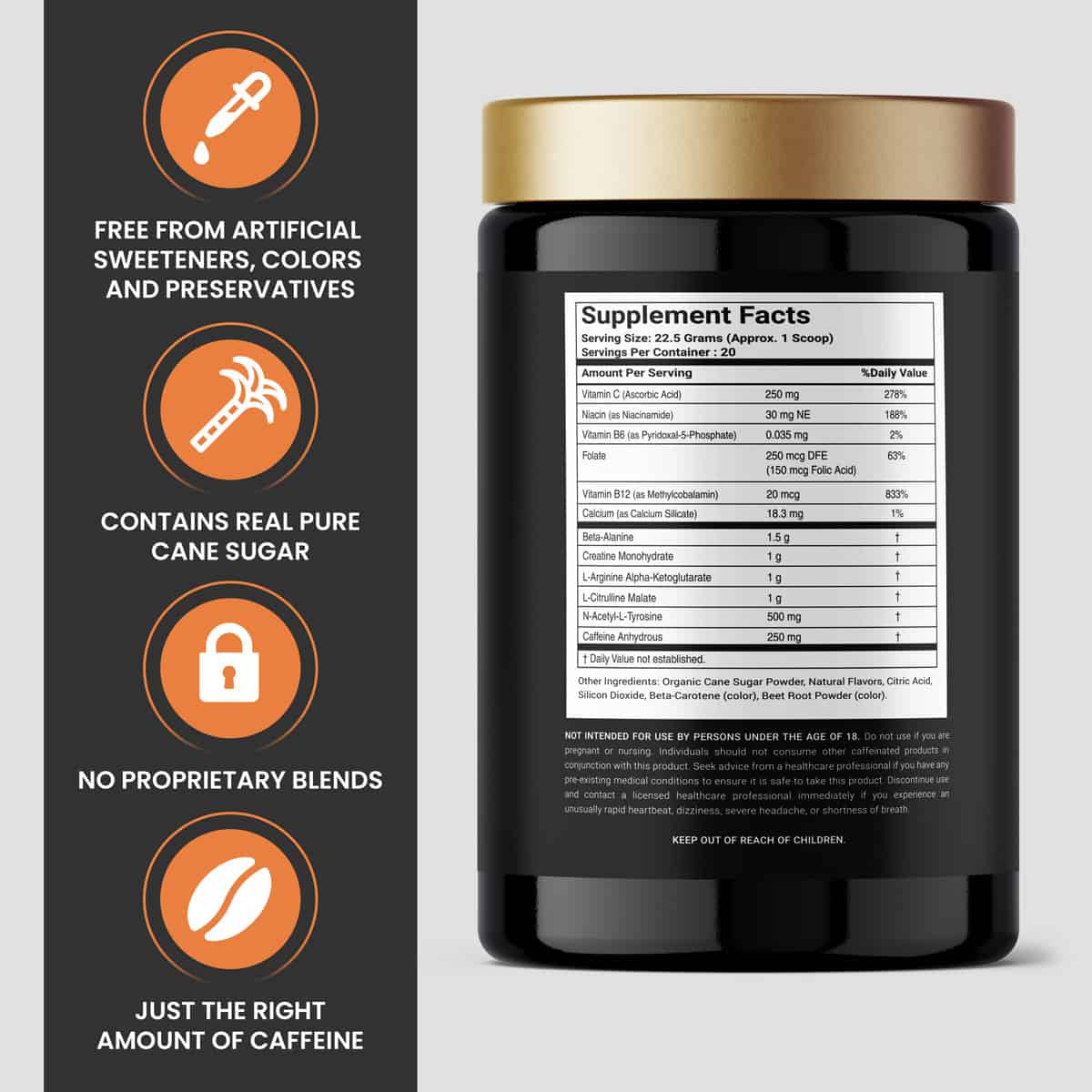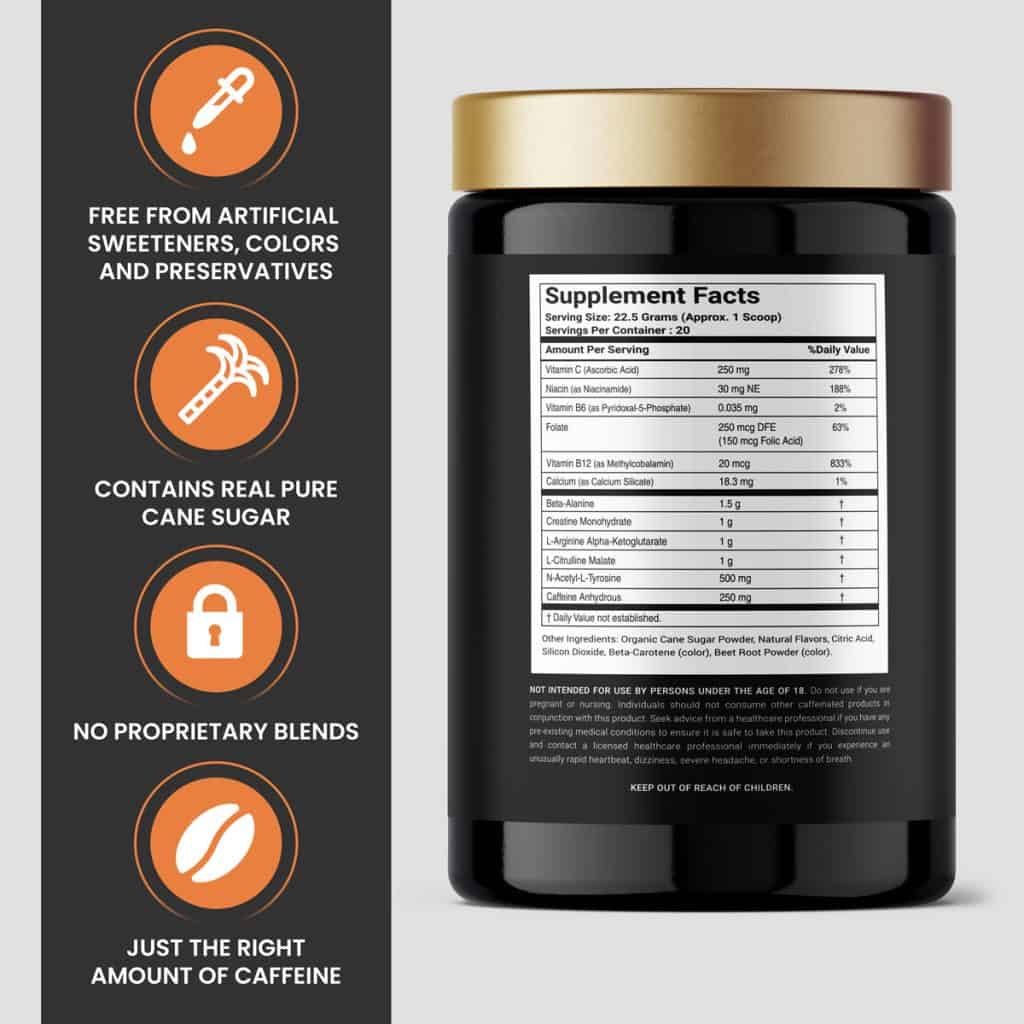 How to Use Pure Cane Pre Workout Supplements
I've been using Pure Cane now for a while, and learned that the best way to start this clean pre workout supplement is to start with 1/2 a scoop. This will give you the perfect energy boost without feeling jittery or over caffeinated.
I like to pour my 1/2 scoop into around 5 oz of water and drink it about 20-30 minutes before working out. In the past, I've also taken my 1/2 scoop of Pure Cane a little earlier in the day if I'm feeling a workday slump and I need a natural energy boost.
The mental focus that comes along with Pure Cane is incredible. I feel less scattered and more streamlined in the work I am doing both in and out of the gym.
Where to Buy Pure Cane Pre Workout Supplement Powder
Pure Cane Pre Workout supplements can be ordered online from their website, or even online at Amazon.com. I prefer ordering from Pure Cane directly, and absolutely love the latest flavor they released, Tropical Smoothie.
It's seriously the best pre workout supplement I've found. It tastes delicious, is easy to incorporate into my busy life, and helps me achieve my health and fitness goals.