This site contains affiliate links. Please see Policies for more information.
Welcome to Tween/Teen Tuesday at My Crazy Good Life! Today we're talking about monitoring your tween's internet use. I've partnered with Cox Communications to bring you some great tips about safeguarding your family in the digital age.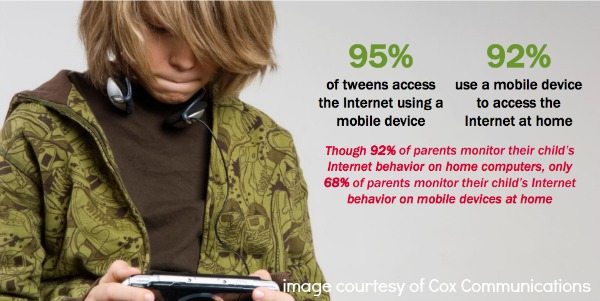 Did this statistic surprise you? 92% of parents monitor their child's internet behavior on home computers, but only 68% of parents monitor their child's internet behavior on mobile devices at home.
The average family has five Internet-enabled devices at home. Five. That seemed high until I thought about our home…
1. Desktop computer in my office
2. 3 smartphones
3. 2 gaming consoles
4. 2 iPads
5. One smart tv
We have nine Internet-enabled devices at home.
I can't even say when I was little, but… When I was younger, parents only had to worry about monitoring the home computer to keep their kids safe online. The internet has changed the way we parent today–we make rules for the boys that weren't relevant when I was younger. Here's something that we are always telling Michael:

I'm going to take a guess that this is the way most of you who have tweens are parenting right now. We make a rule, realize it's not working as we thought it would, then have to change it. Being honest about this helps Michael and Jack understand when we have to make changes to a rule we created.
Right now, Internet use is doubling every two years, which represents a dramatic increase in online activity. While we are finally gaining ground monitoring our kid's online behavior, kids now have access to content through mobile devices such as smartphones, game consoles and tablets, which poses new challenges for Internet safety.
How are you keeping your family and kids safe online? There are a few resources that I depend on often:
1. Common Sense Media This is my go-to site for video game and movie reviews–real ones. The staff at Common Sense Media makes sure parents have the information they need to make informed decisions about what their children are playing and watching. I completely agree with their stance on technology: media sanity, not censorship!
2.
Today we're looking for dangerous apps that tweens and teens might be interested in. Go grab your child's phone and let's chat. We have some apps to look at.
3. National Cable & Telecommunications Agency (NCTA) This site is fairly new to me, and I love how the NCTA is stepping up and realizing that they play an important part of online safety. Learn how to set parental controls on your cable box, see how the NCTA television show rating system works and find the NCTA's favorite places to learn about media management.
Tell me…
What Are You Doing To Monitor Your Tween's Internet Use?
I was compensated for this post by Cox Communications. While Cox Communications provided a topic for me to discuss, I was not asked to share specific information with my readers.