This site contains affiliate links. Please see Policies for more information.
This post, Invisalign vs. Braces, is sponsored by Invisalign. Jack is in the process of using Invisalign to straighten his teeth, and Invisalign is providing treatment in exchange for our honest thoughts and experiences. 
Invisalign is a pretty amazing product on the market that allows you to straighten your teeth without the use of traditional metal braces. Not only is Invisalign for adults, it's perfect for tweens and teens who need Orthodontic treatment. When hearing that a child needs their teeth straightened, a lot of parents wonder about Invisalign vs. Braces–which is best for their child?
We know that traditionally braces are recommended for straightening teeth but with Invisalign available that is all changing. There are so many positives to choosing Invisalign for getting that perfectly straight smile!
Tucson friends, we're working with Dr. Kurt Kacer from OrthoPros Tucson and I'd highly recommend their office!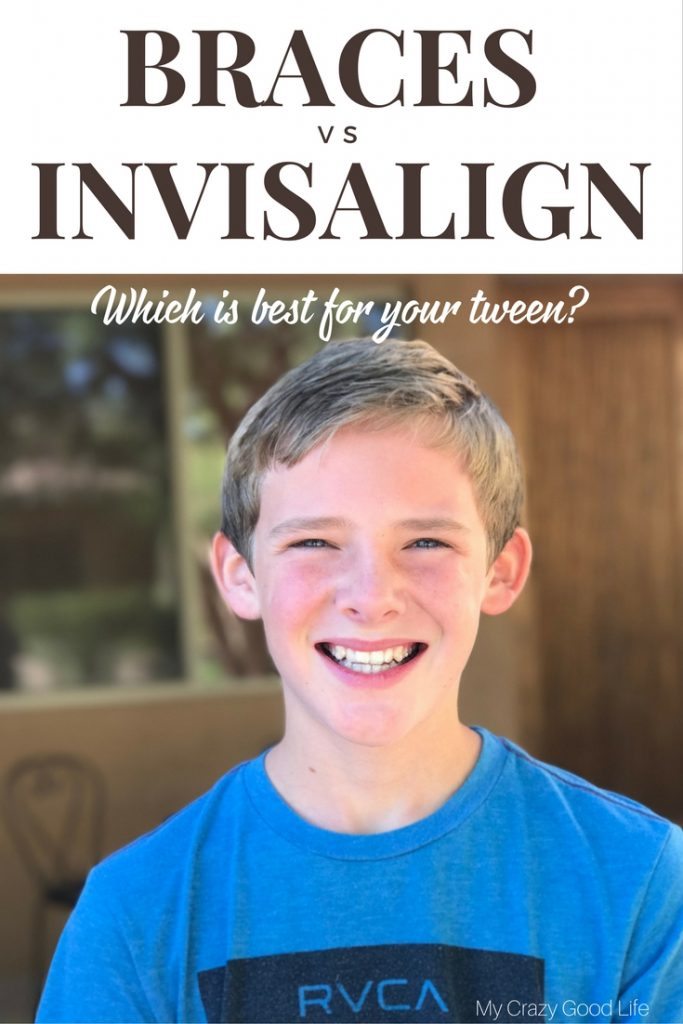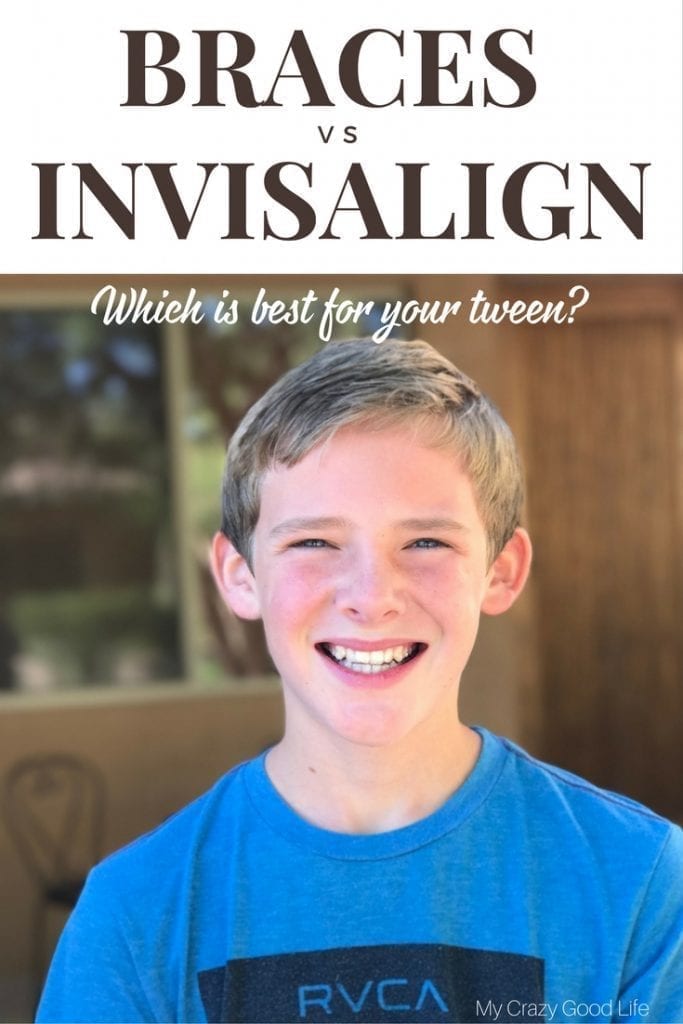 Why Invisalign is Perfect for Orthodontic Treatment for tweens:
Better Self Esteem
Being a tween is hard. They're awkward–dealing with changes all over the place–and they go to school which is one of the hardest things to do. Traditional orthodontic treatment can be bulky and difficult to hide. Invisalign is a great option for teens and tweens because they are nearly invisible. You don't have to see the wires and metal brackets. The clear, smooth, virtually invisible trays don't add any bulk or any visible signs of treatment. Your tween won't have to worry about being embarrassed or feeling awkward with Invisalign.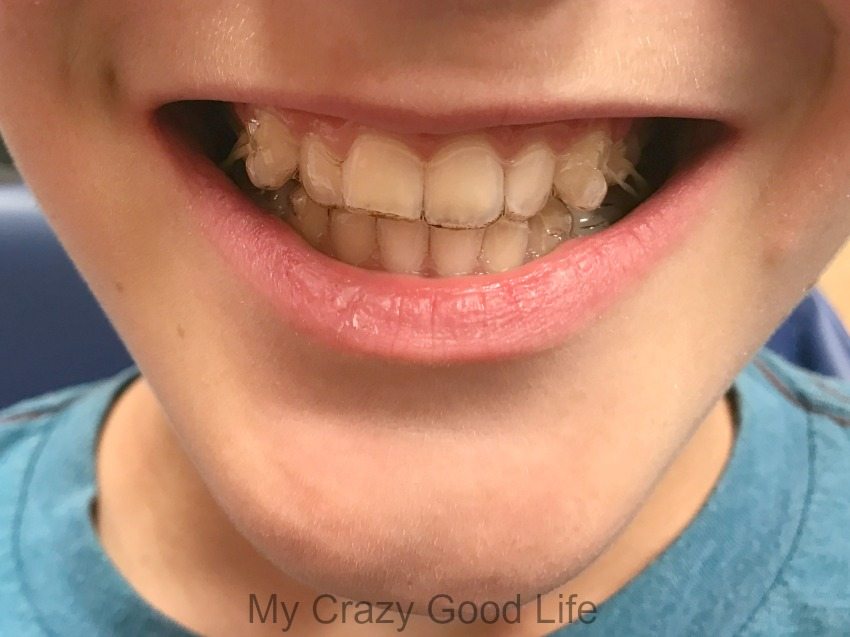 Here's a picture of Jack with his Invisalign and bands in. The rubber bands are only worn at night while he is sleeping. You can see a bit of the anchor "dots" on his two teeth, but that's all. Most of his friends don't even know he's wearing them! 
No Broken Equipment
Invisalign is a great option for orthodontic treatment because you don't have to worry about broken pieces or equipment. There's not running back to the doctors office every time something pops off or gets bent. Invisalign comes out when your tween or teen is eating so they avoid that treacherous risk of damaging orthodontics in the process of a meal.
Less Pain
Let's face it, there will always be at least a little bit of pain with the process. Since our older son had traditional braces and Jack is using Invisalign, I can tell you first hand that Jack has experienced less pain. The metal braces tore Michael's mouth up and we used wax daily throughout his treatment. Jack's Invisalign came with a nail file, and we were taught how to file down the sharp edges when we found them. Our experience with Invisalign is there is far less pain and irritation in the mouth. The Invisalign system of trays fit snugly and naturally, and they're changed out every week for a new set. Where Michael would normally experience extra irritation, rubbing, cuts, etc. Jack has experienced smooth sailing!
Tracking Wear
The Invisalign system has small blue dots on the very back so parents, you'll know if your tween or teen is wearing them as much as directed! It's a great way to let your kids have their independence but also keep an eye on their progress. You can check their progress with one easy step, no hassle, no nagging them all day long!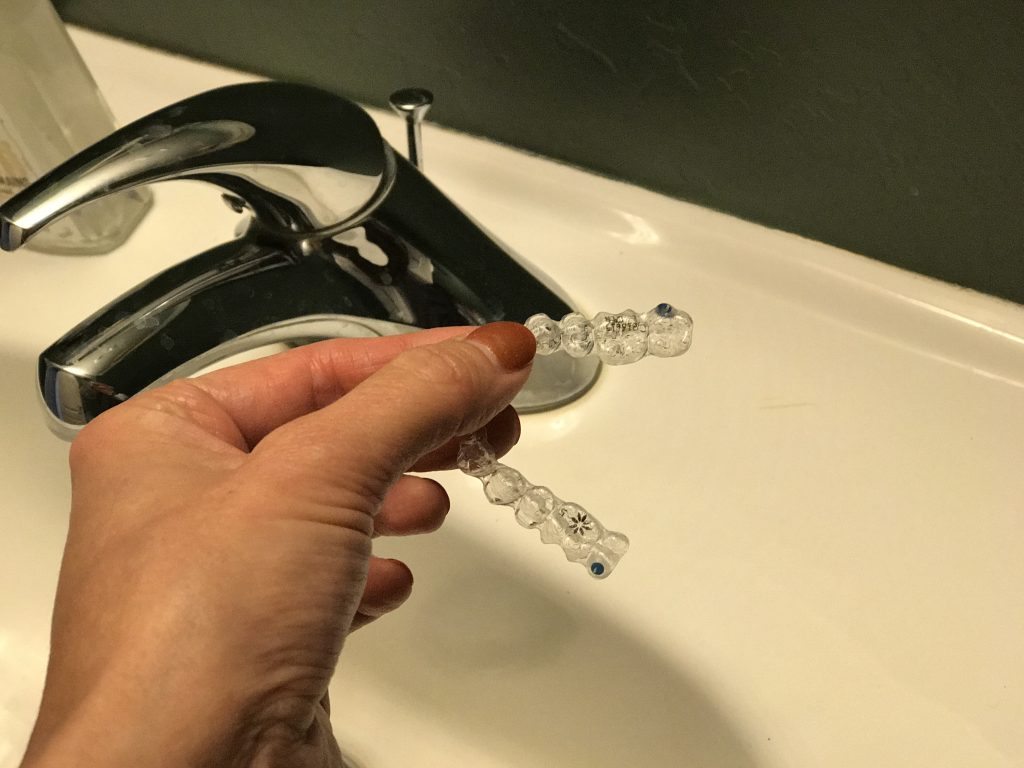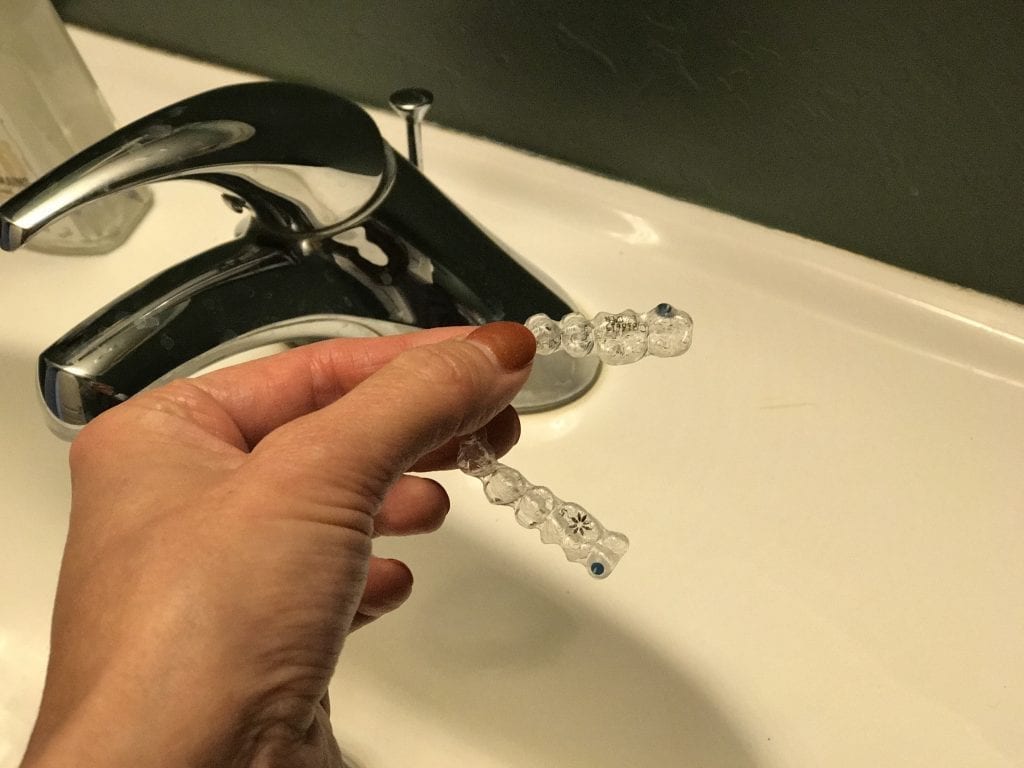 No Stuck-on Food Bits
Invisalign works this way because they come out when it's meal time. They're cleaner, easier to maintain, and of course you don't have any stuck food particles. This means you don't have to worry about cavities caused by food getting stuck around brackets and your tween doesn't have to stress about the special flossing that comes with wearing traditional braces. You do, however, have to brush both your aligners and your teeth before putting them back in after a meal.
Custom Program
Each person is different–every mouth, every smile, every kid. There's no standard way to put together the perfectly straight smile. With Invisalign the entire program is custom! You can rest easy knowing that you will see results because the program was designed specifically for you or your child.
Overall, the positives of Invisalign make the stress of Orthodontic treatment seem easier. It's always going to be a bit stressful when helping your children through this time, but Invisalign makes the process much easier to manage. They're cleaner, easier to maintain, and much more low profile. Less stress for your kid, less stress for you!
Take the Smile Assessment to see if your child is a good candidate for Invisalign!