This site contains affiliate links. Please see Policies for more information.
This Dairy Free Coffee Ice Cream uses only four ingredients. Made with simple ingredients and no heavy cream or refined sugar, it's definitely a healthier ice cream choice than your traditional ice cream options.
Our delicious ice cream has a creamy texture, and will easily become the best ice cream treat that is perfect for hot summer days.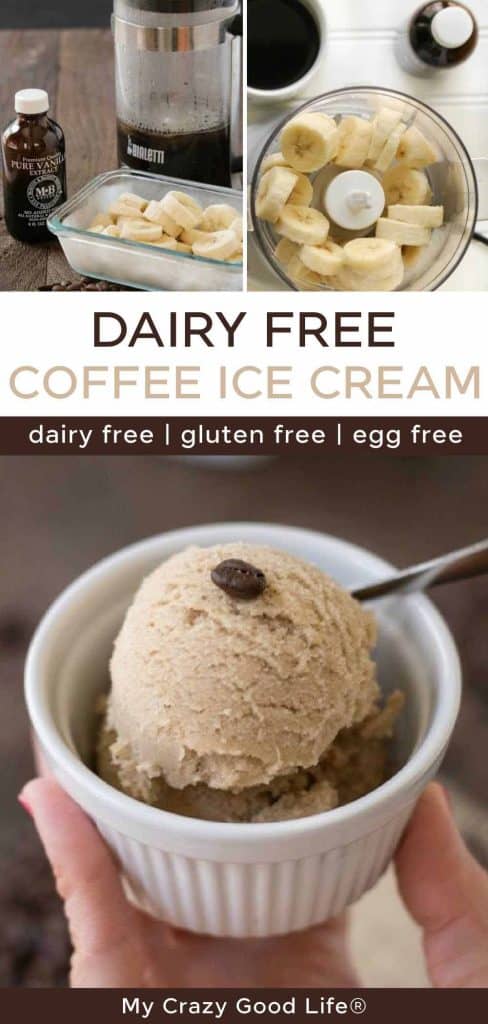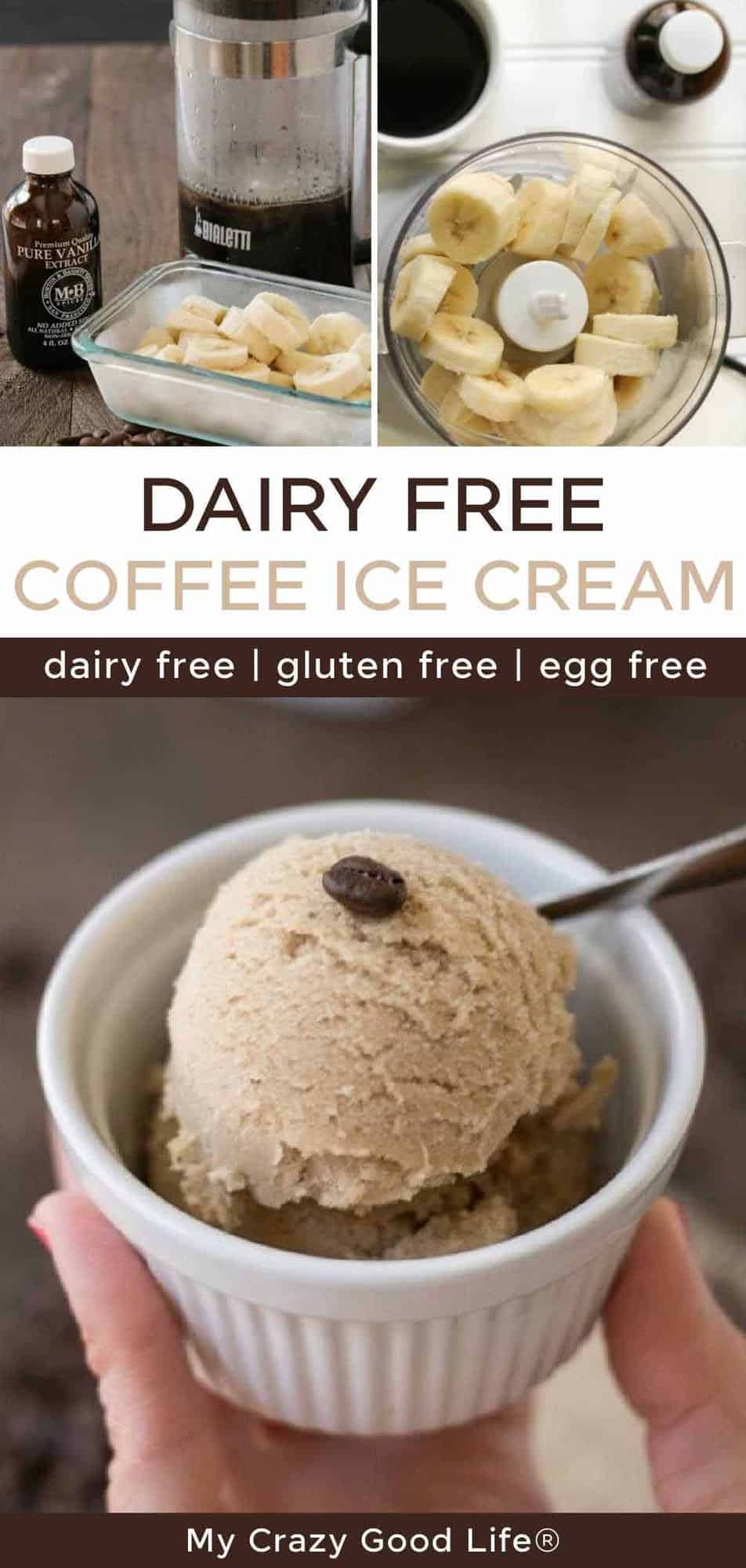 Put away your ice cream maker, this dairy-free coffee ice cream can be made in a high speed blender. If you're looking for a delicious and easily modified vegan ice cream, this is the perfect sweet treat for your healthy lifestyle!
Bon appetit!
Where's the recipe?
Here at My Crazy Good Life we believe that everyone can be successful in the kitchen. We want you to feel empowered and motivated to make delicious food that is healthy for you. We strive to provide detailed instructions, healthy eating nutrition information, and helpful recipe tips for each of our recipes.
If you don't need the full detailed recipe, simply scroll down to the bottom of the page to find our easy to print Dairy Free Coffee Ice Cream recipe.
Ingredients in Dairy Free Coffee Ice Cream
Bananas: The natural flavor of bananas adds sweetness, and a little banana flavor to blend nicely with the other ingredients.
Espresso: Coffee flavor, am I right? Anytime I can have coffee in a different form than my normal cup of coffee? That's the good stuff.
Honey: Swap out for a vegan sweetener of your choice. Our go to is pure maple syrup if honey isn't an option. If you are comfortable using refined sugars, cane sugar will also work.
Vanilla Extract: I prefer using coffee extract if you can find it at your grocery store, but vanilla extract will still work well.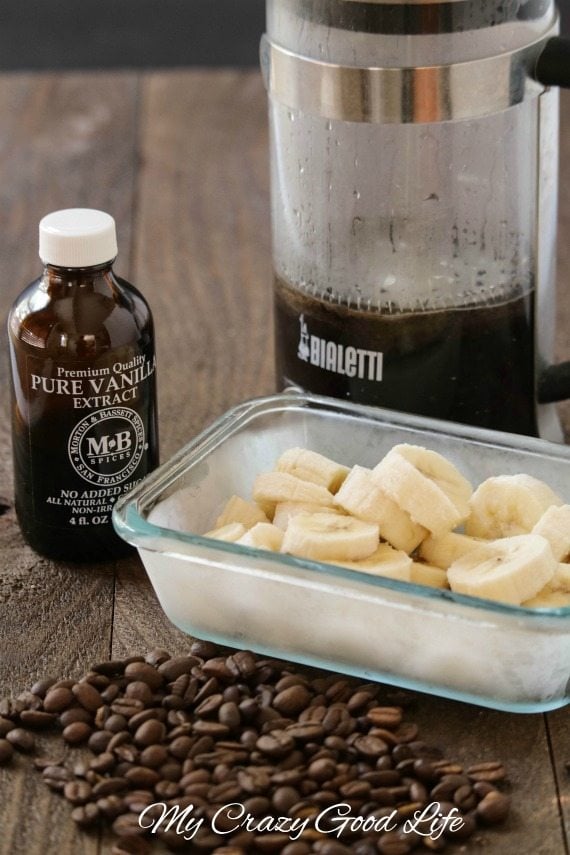 How to make Dairy Free Coffee Ice Cream in the Blender
You can use a food processor, Nurtibullet, Blendtec or Vitamix blender to make this vegan coffee ice cream recipe. A high-speed blender will help yield the creamy ice cream texture that we all love! It's my favorite way to make ice cream without using the traditional ice cream machine.
First brew some coffee. I made mine and sweetened it with just a bit of honey.
Next, in a food processor, add the frozen bananas, coffee, and vanilla extract.
Then blend the ice cream ingredients until smooth and creamy.
Finally, place the blended ice cream in a freezer safe dish and then freeze for an hour.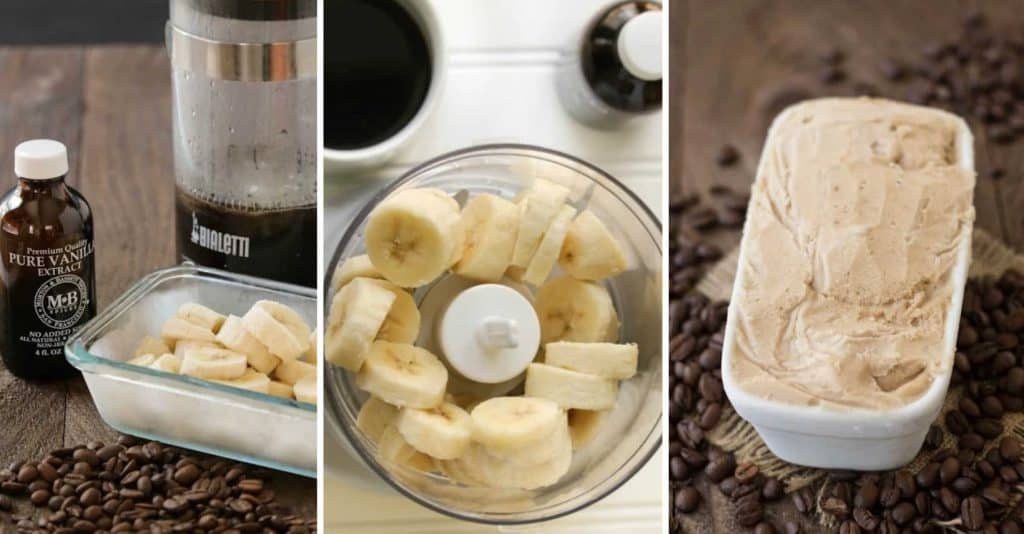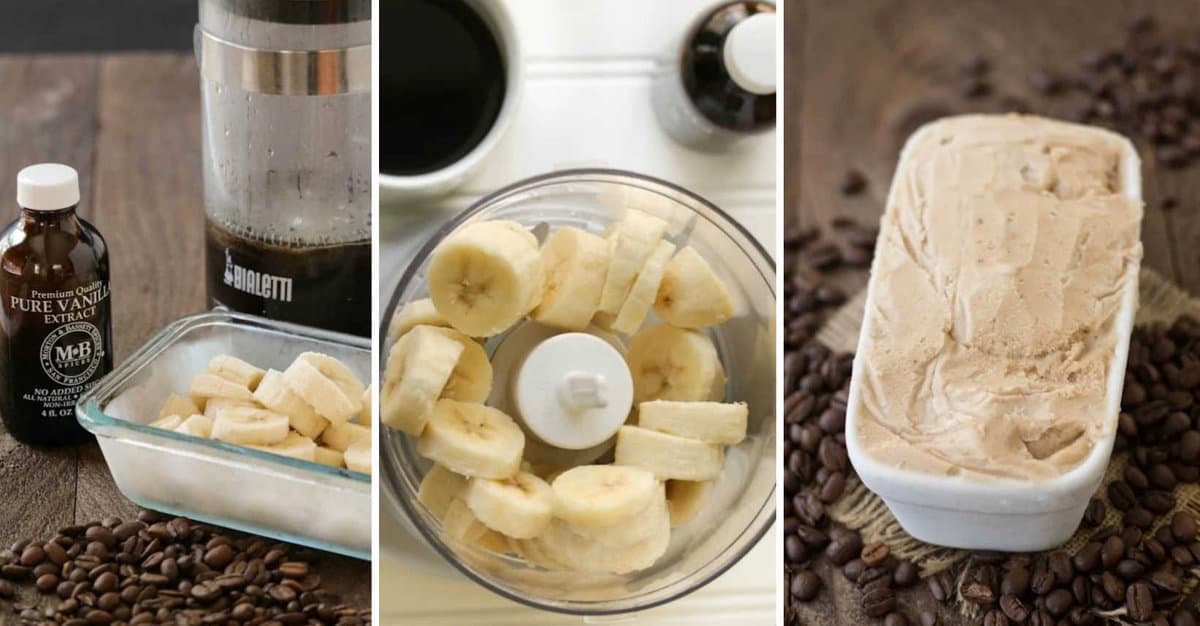 Recipe Tips
If you don't like bananas, this banana ice cream is not for you. I don't think it tastes like overpowering bananas, but you can definitely tell that it's made from them. If you like bananas, I think you're safe to make this and assume you'll like it. I love it!
Our homemade ice cream can be frozen for up to a month and it's delicious. I can't imagine that you'd have an issue freezing it for longer than a month, I just haven't done it yet. As long as the banana ice cream doesn't have freezer burn, I'd thaw and eat it!
I use a ziploc container to freeze this lactose free ice cream. You could also use a ziploc freezer bag if you'd like! I think any airtight container would be perfect.
Taking this out of the freezer after storing our creamy homemade coffee ice cream for a while? It's best to let it thaw for a few minutes and then pop it in the microwave or food processor or blender for a few seconds to soften it up. This will make a huge difference when eating. It's definitely best to eat banana ice cream right away if you can!
If you don't have a high-speed blender, a regular blender will work, you might need to increase the time you spend blending the ingredients together.
Feel free to swap out your espresso for the decaf coffee version. It'll still have the delicious coffee flavor we love.
If you like the blend of sweet and salty flavors, sprinkle a tiny pinch of sea salt on the top of your ice cream.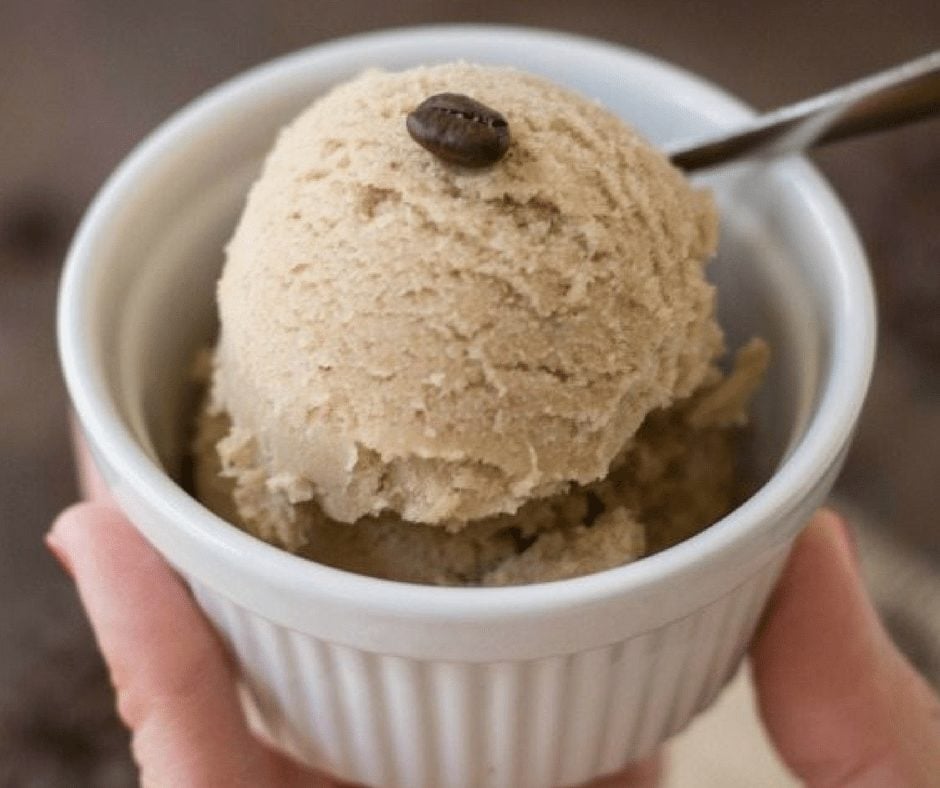 Healthy Eating Plans
This amount serves about 2 ice cream scoops for 2 people – but if you're like me, it's just good enough for ONE person!
21 Day Fix
For the 21 Day Fix, I would consider this a yellow container treat swap because of the large amount of pureed bananas.
Weight Watchers
SmartPoints: 3
2022/2023 Plan: 1 Point
Points are per serving. If you omit the sweetener this is a zero point dessert!
More Sweet Healthy Recipes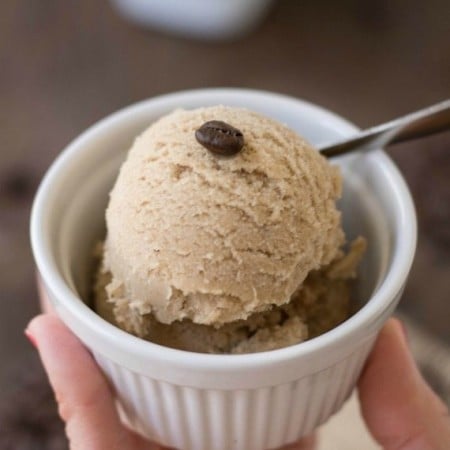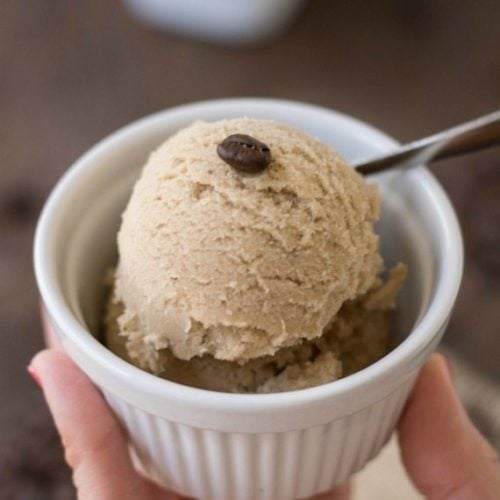 click the stars to rate!
Dairy Free Coffee Ice Cream Recipe
Servings 1
This dairy free Coffee Ice Cream is a delicious dessert that's easy to make! Perfect for any healthy eating plan.
Equipment
Vitamix Blender

Food processor

Coffee Press
Ingredients
3-4 bananas sliced frozen
1/4 cup espresso (at room temp)
1 tsp honey (can also use sugar)
1/2 tsp vanilla extract (I prefer coffee extract if you can find it, but vanilla is easier to find!)
Instructions
Brew coffee. I made my coffee and sweetened with just a bit of sugar to my liking, as I was worried the ice cream would turn out a bit bitter.  1/4 cup espresso , 1 tsp honey

Let it cool.

In a food processor, add the frozen bananas, coffee, and vanilla extract.Blend until smooth and creamy. 3-4 bananas, 1/2 tsp vanilla extract

Take it back to the freezer for an hour.
Notes
This amount serves about 2 scoops for 2 people – but if you're like me, it's just good enough for ONE person! 21 Day Fix I would consider this a yellow container treat swap, but some people count it as purple. If you'd like to count it as purple, be sure to remember that half of a banana is one purple container. Weight Watchers 3 Smart Points if you use sweetener in the coffee. If not, it's free! 2023 Plan: 1 Point
Nutrition
Calories: 344kcal | Carbohydrates: 87g | Protein: 4g | Fat: 1g | Saturated Fat: 1g | Sodium: 4mg | Potassium: 1267mg | Fiber: 9g | Sugar: 49g | Vitamin A: 227IU | Vitamin C: 31mg | Calcium: 18mg | Iron: 1mg
Save
SaveSave
SaveSave