This site contains affiliate links. Please see Policies for more information.
This Parmesan Pasta Salad with Broccoli is going to be your new favorite recipe. It's perfect for parties, picnics, and weeknight dinners. It is great to whip up a batch and have it in the fridge to pack with lunches too!
It's delicious but more importantly it is really quick and easy side dish to make. You never have to feel stressed about offering to make a pasta salad for the next potluck or cookout. Everyone will be impressed with your recipe and you don't have to spend a bunch of time making something. Win, win!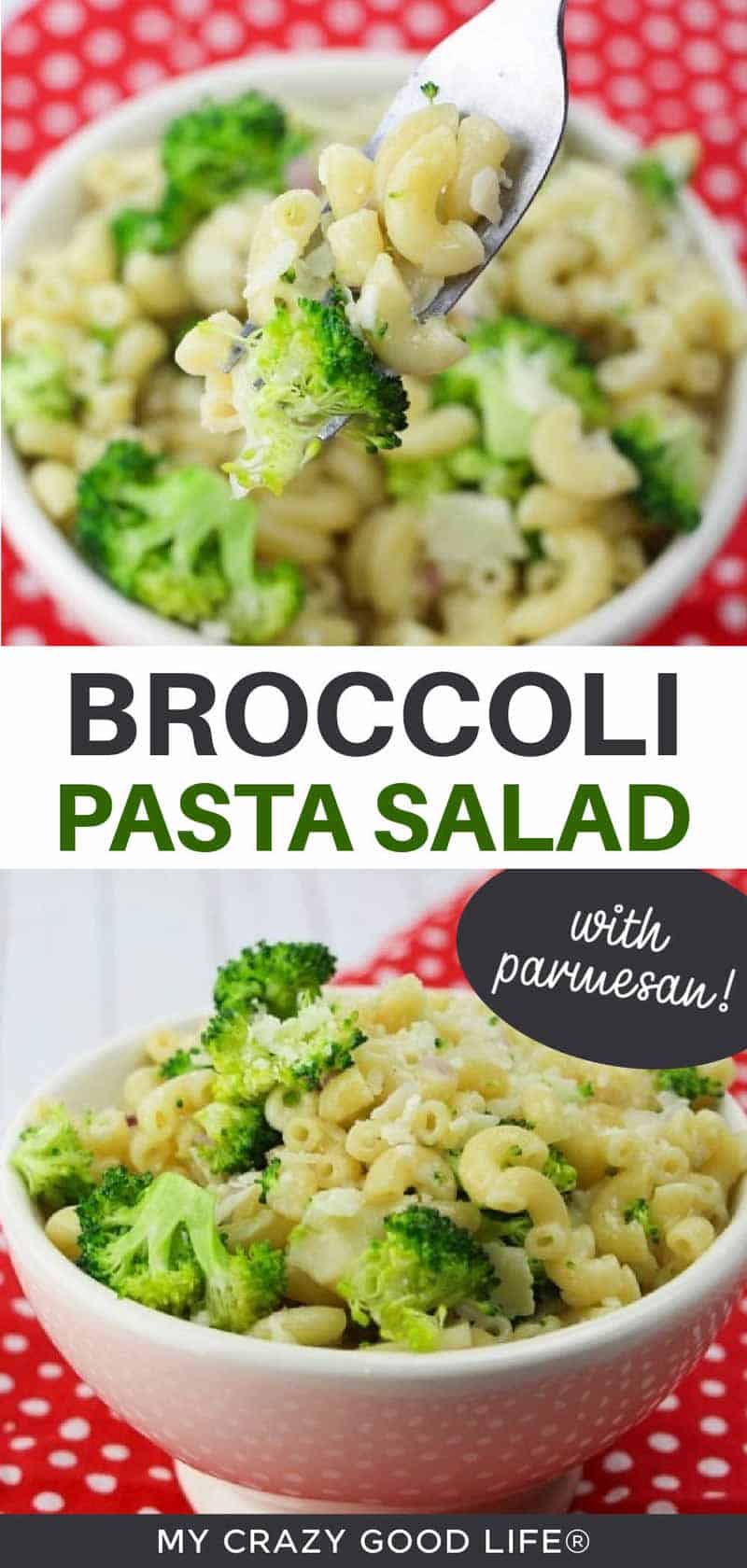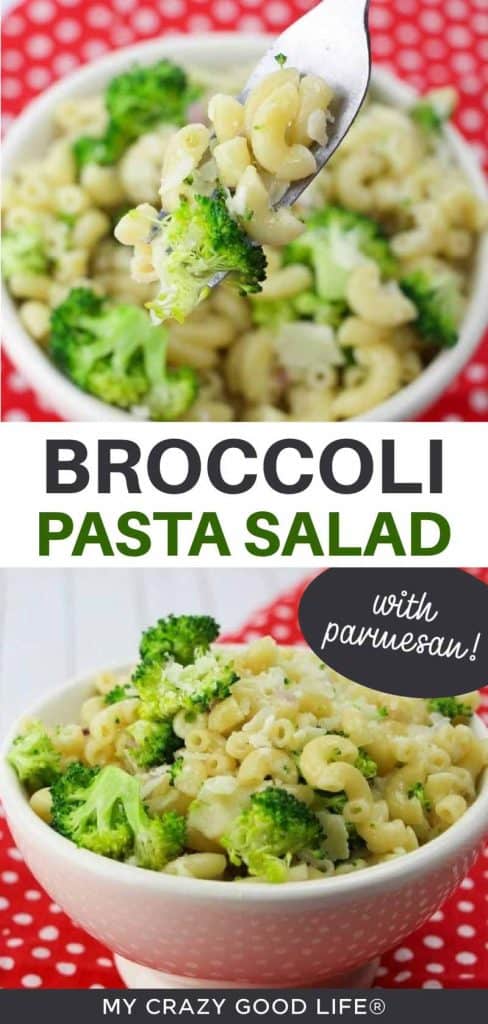 I know we already talked about this but it is worth repeating…I love easy recipes. Just a few easy steps for this simple parmesan pasta salad! What is easier than that?!?
Where's the Recipe?
Here at My Crazy Good Life we write our recipes with all of our readers in mind. Many of our readers are experts in the kitchen, while others are starting out in their healthy eating and cooking journey.
To meet the needs of all readers, we write our recipes with detailed instructions, tips and tricks, healthy eating plan point information, and nutritional information. If you are ready to cook with more simplified directions, simply scroll down to the bottom of the page where you'll find our easy to print Broccoli Pasta Salad with Parmesan.
Ingredients in Broccoli Pasta Salad with Parmesan
Olive Oil: Olive oil is one of my favorite healthy oils to cook with for many reasons. I could talk about the benefits of olive oil for a long time, and even have a blog post about my favorite healthy oils.
Broccoli: Broccoli is a big hit with my family. I love to add broccoli or broccoli florets to any dish I can. Broccoli has many nutritional benefits and is rich in fiber. We use fresh broccoli florets for this recipe.
Basil: I love the flavor of dried basil, however if you don't enjoy the basil flavor, feel free to swap it out for dried or fresh parsley.
Pasta: You can't have a pasta salad without pasta, am I right? We love using classic elbow shaped pasta in our pasta salad. However, you are welcome to choose the type of pasta you use. We recommend a small size similar to the size of elbow pasta though.
Fresh Parmesan Cheese: We love to buy a wedge of parmesan cheese and grate it as needed. The parmesan cheese is perfect for this dish. Is it even considered a pasta salad if you don't add cheese?
Scallions/Green Onions:
Garlic: Garlic is a staple in my diet. Not only do I love the nutritional benefits garlic can have for my body, I love the flavor boost it gives to this parmesan pasta salad.
Salt: You are welcome to add a dash or two of salt to this recipe. We prefer to add salt slowly, if any at all. Salt and pepper to your liking.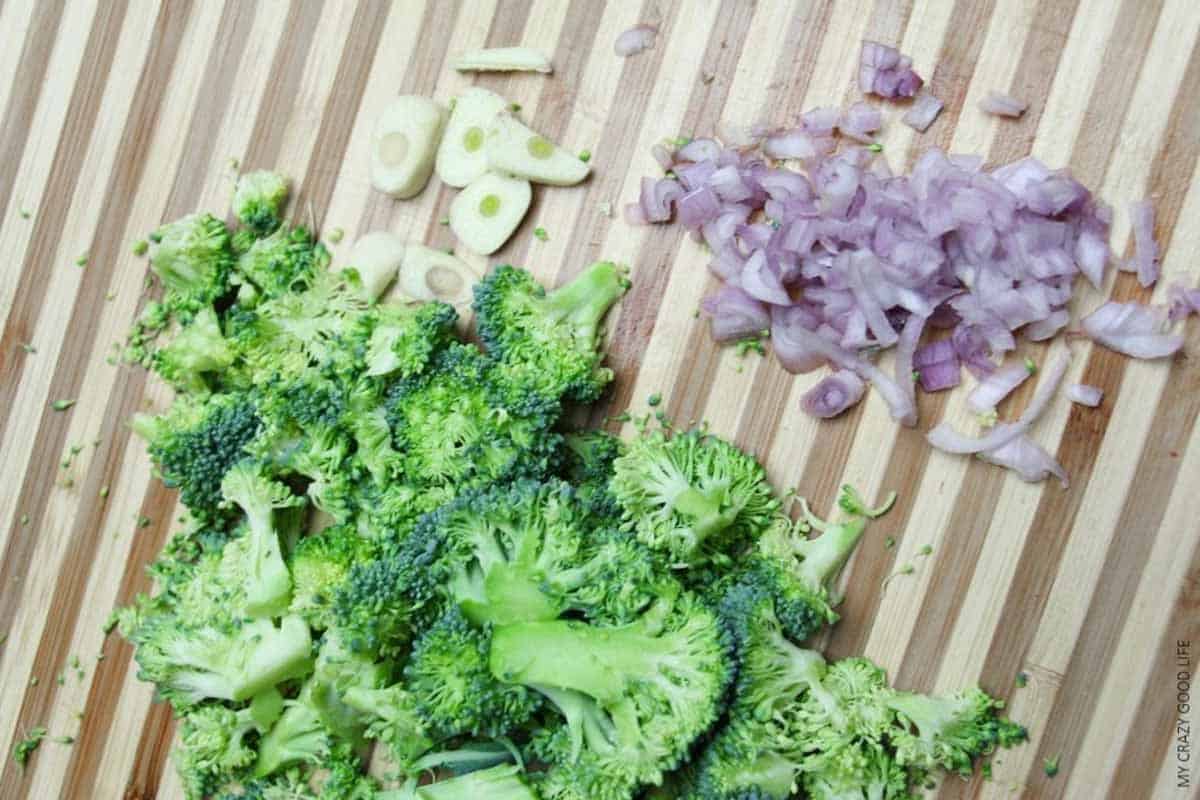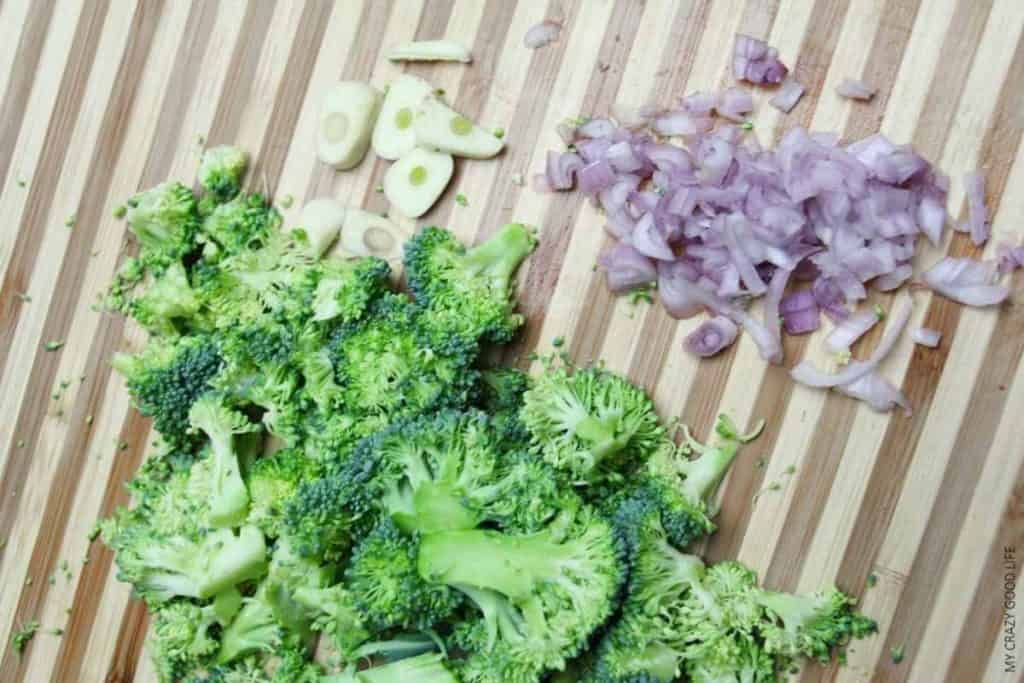 How to make Broccoli Pasta Salad with Parmesan
Add pasta to boiling water and cook according to package directions. Drain pasta water and transfer pasta to a large bowl.
While pasta cooks, place all ingredients except for cheese and pasta in a pan and cook over medium heat until broccoli is tender.
Add cooked ingredients to the bowl of pasta, toss.
Refrigerate until mixture is completely chilled.
Once the broccoli pasta salad is chilled, add fresh parmesan cheese before serving.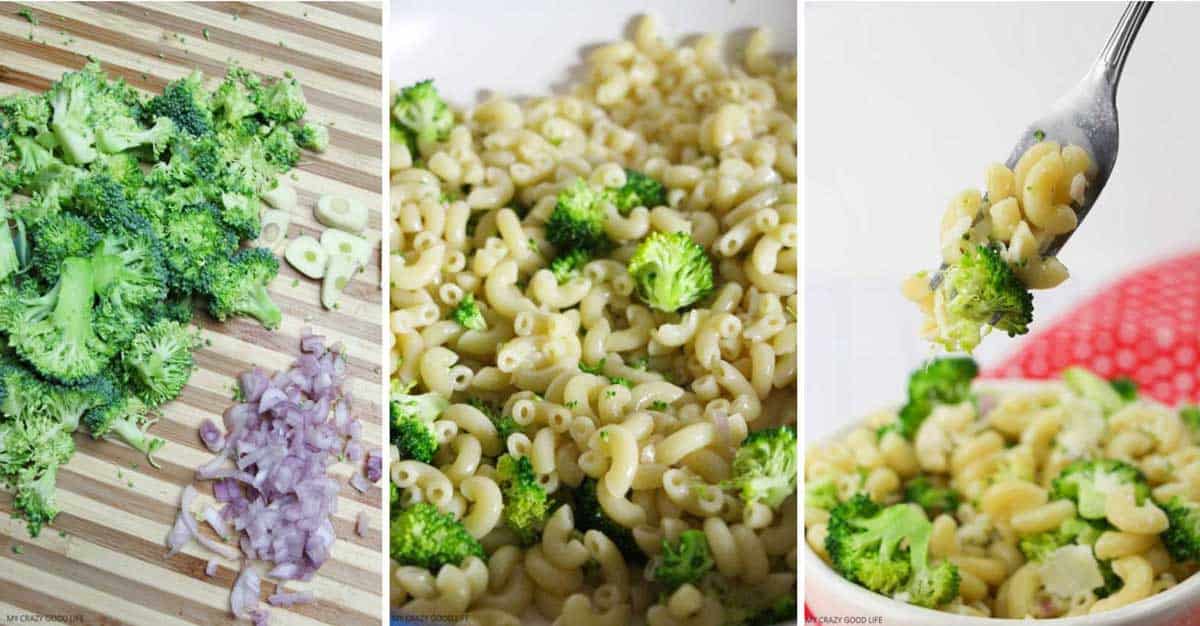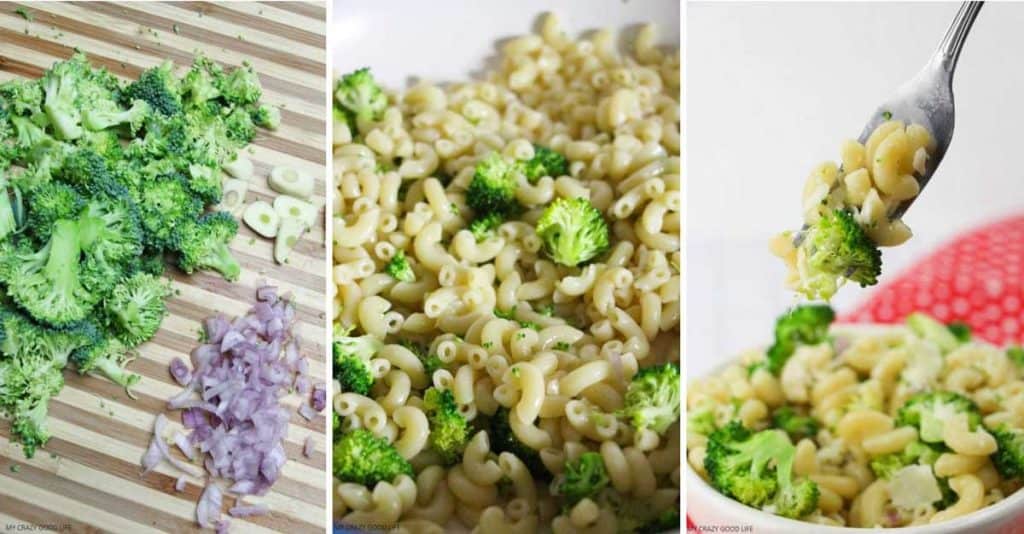 Recipe Tips
We haven't tested this recipe using frozen broccoli or frozen broccoli florets. I think the result might be a bit too soggy. We recommend sticking with fresh broccoli if you can.
This recipe doesn't have a lemon juice or lemon zest. We wanted to keep the recipe simple and with fewer ingredients. However, if you'd like to add a dash of lemon juice to your recipe, feel free to add less than a tablespoon before tossing. Please keep in mind that our nutritional information provided is from the original recipe.
If you are running low on time, feel free to rinse your cooked pasta with cold water to quickly cool the temperature down. You'll still want to refrigerate it a little bit before adding the parmesan cheese. This will help cut down on necessary refrigeration time.
This recipe is not gluten free, however you could easily swap out the type of pasta for a gluten free alternative.
Pasta salads are fairly popular recipes. We like this recipe because it is fresh, and not heavy in flavor. All of our ingredients are simple and flavorful.
If you have any leftover Broccoli Pasta salad, you may store them in an airtight container and keep in the fridge for up to 4-5 days.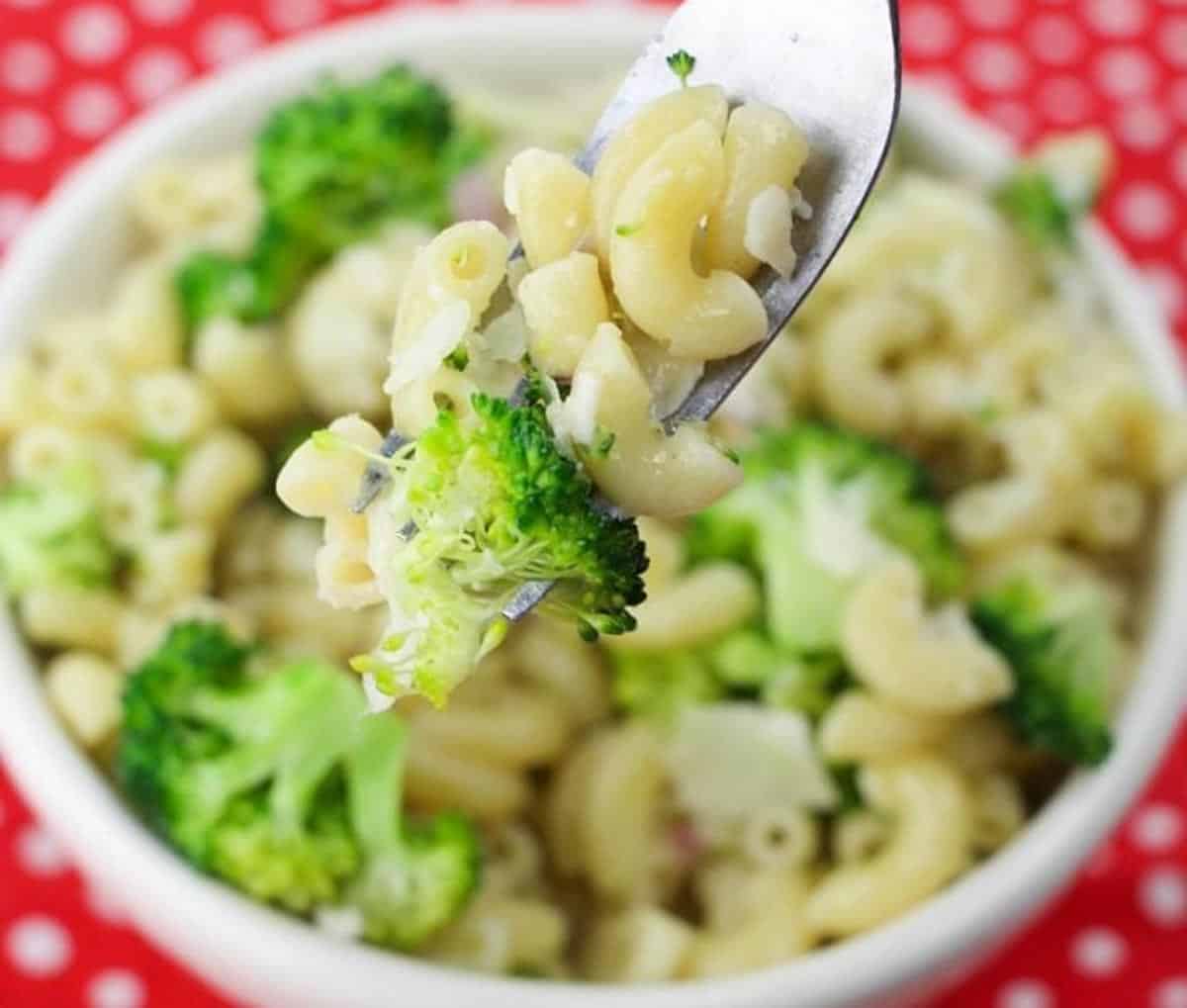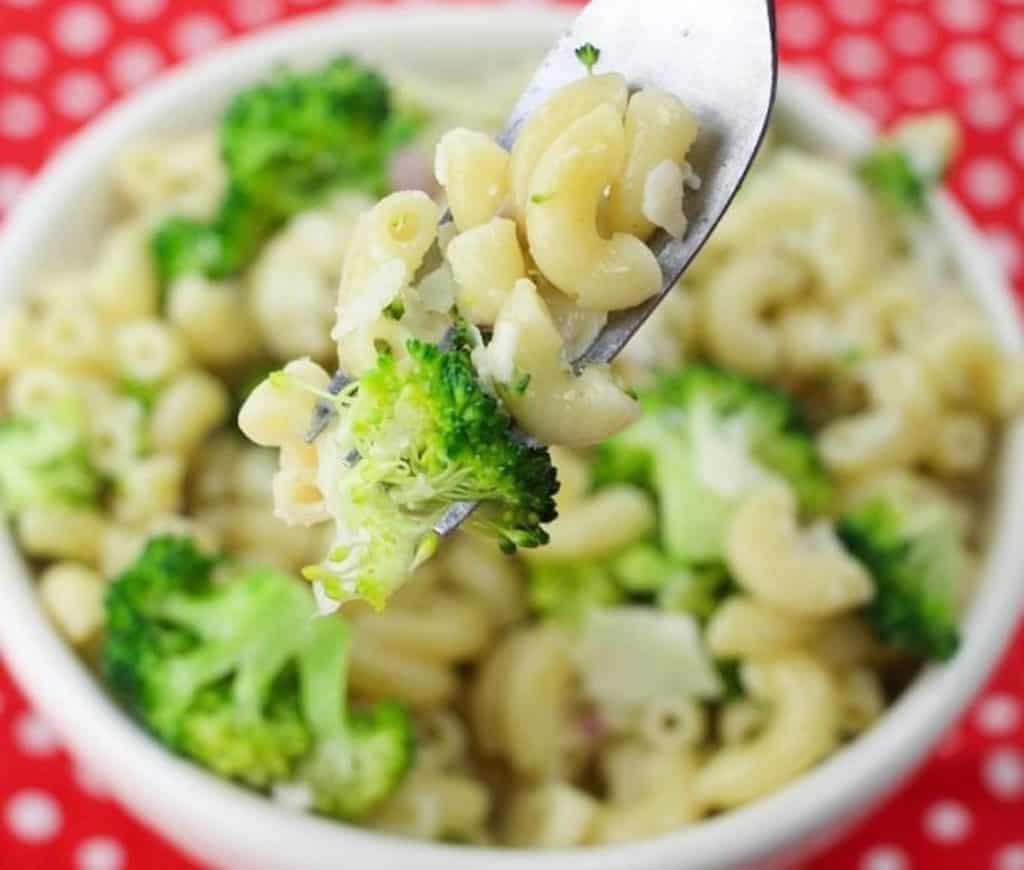 Healthy Eating Plan Points
Weight Watchers
5 points on the 2023 plan, when using whole wheat pasta.
More Popular Recipes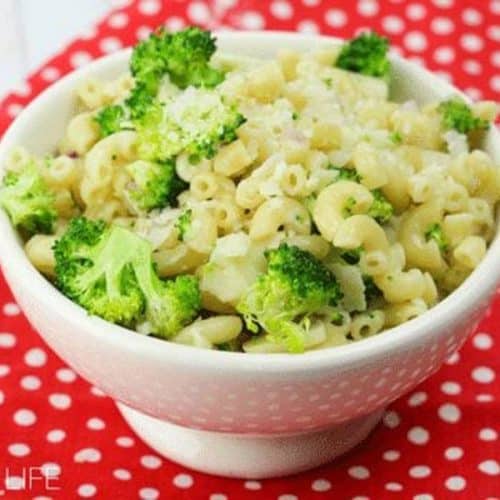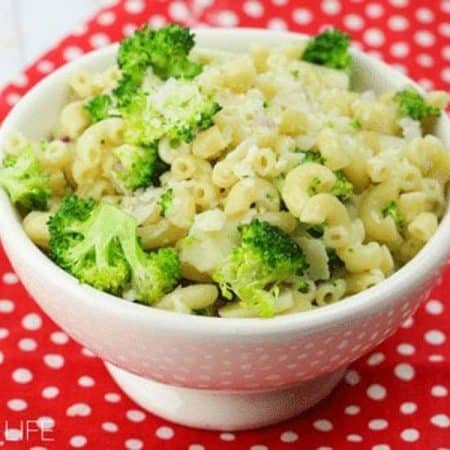 click the stars to rate!
Broccoli Pasta Salad with Parmesan
Servings 8
One of our favorite recipes is this easy to make Parmesan Pasta Salad with Broccoli. It's perfect for bringing to a backyard barbecue or any other event when you need a healthy side dish! 
Equipment
Kitchen Knife

Cutting Board

Enameled Cast Iron Pan
Ingredients
¼ cup Olive Oil
2 cups Broccoli chopped
½ teaspoon Basil
½ pound Pasta cooked and drained
½ cup Parmesan Cheese
¼ cup Green Onions Sliced
1 clove Garlic
Instructions
Place all ingredients except for cheese and pasta in a frying pan and cook over medium heat until broccoli is tender. ¼ cup Olive Oil, 2 cups Broccoli, ½ teaspoon Basil, ¼ cup Green Onions, 1 clove Garlic

Add pasta, toss. ½ pound Pasta

Refrigerate and add cheese before serving (so it doesn't melt). ½ cup Parmesan Cheese
Notes
Weight Watchers | 6 Freestyle Smart Points per Serving 
Nutrition
Calories: 199kcal | Carbohydrates: 23g | Protein: 7g | Fat: 9g | Saturated Fat: 2g | Cholesterol: 4mg | Sodium: 110mg | Potassium: 149mg | Fiber: 2g | Sugar: 1g | Vitamin A: 222IU | Vitamin C: 21mg | Calcium: 93mg | Iron: 1mg