This site contains affiliate links. Please see Policies for more information.
Dear Costco,
Towards the end of last year, you stopped carrying your Kirkland Organic Peanut Butter. As soon as I saw the asterisk on the price tag, I knew it was time to stock up.
We stocked up on your organic peanut butter and within a few months you began carrying a new, non-organic peanut butter. I was ok with that, and so were many others that I had spoken to about the peanut butter. We were just happy to have our two ingredient (peanuts and salt) peanut butter back.
Fast forward to two weeks ago. I made my weekly Costco run and found none of your new peanut butter. I asked a nice gentleman where it was, and he assured me that this particular location was just out of it for now.
I did some research.
Awful news:
None of the Costco warehouses in Tucson carry the Kirkland brand peanut butter anymore. It has been discontinued.
Wonderful news:
I had found a few articles about the best natural peanut butter, and some of the brands mentioned had the same two ingredients as my beloved Kirkland brand peanut butter.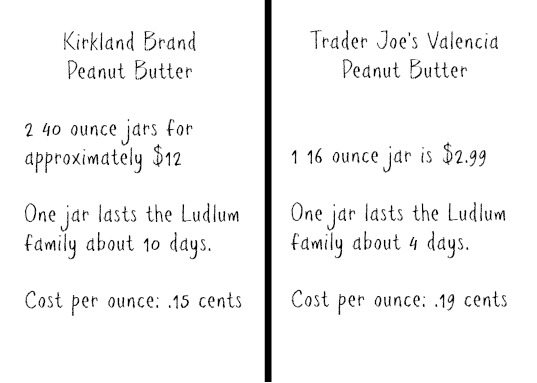 I found a replacement. Trader Joe's Valencia Peanut Butter with Sea Salt is comparable to our favorite peanut butter.
The problem? I shop at Costo weekly, not Trader Joe's. Trader Joe's is nowhere near where I shop.
And?
When I bought 6 jars of peanut butter (plus one jar of peanut butter plus flax seed) at TJ's yesterday, the cashier asked if I was making cookies. Because maybe other people don't buy 6 jars of peanut butter at one time?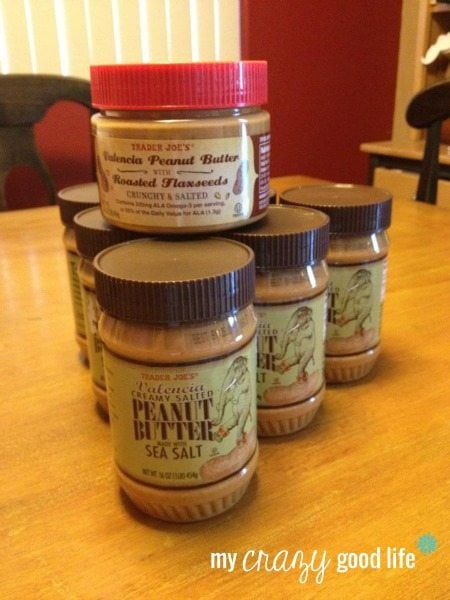 We eat peanut butter on everything – on waffles and pancakes, on bananas, in my spinach smoothies, on sandwiches, and on fruits and veggies like apples and carrots.
Am I using my blog to whine about your decision to not carry Kirkland brand peanut butter anymore?
Yes.
I'm sorry, but yes.
The other peanut butter choices in your store have too many ingredients, and taste completely bland. You have spoiled me with your awesome product, and now I am ruined.
I'd like to buy Kirkland peanut butter again.
In the big jars.
At Costco.
Please.
PleasePleasePleasePleaseWithABigCherryOnTop,
Your biggest fan and most enthusiastic customer,
Becca
———
Has a company ever discontinued your favorite product? Did you ever find a suitable replacement?