This site contains affiliate links. Please see Policies for more information.
For more craft tutorials, recipes and tween/teen tips, subscribe to my newsletter!
I am knee deep in Lego party creativity right now, and am dying to share my invitations with you! I just finished making these Lego birthday invitations: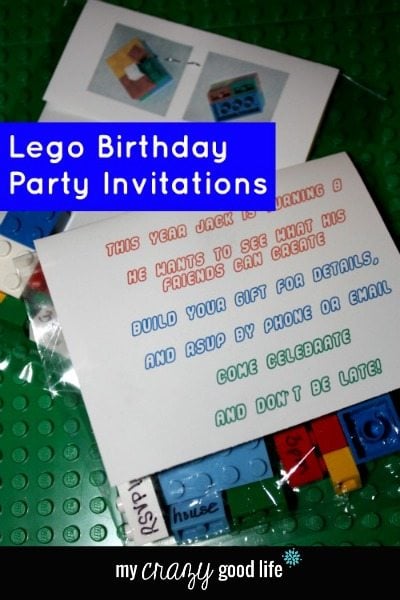 We mailed our invitations today, and Jack's friends will have to assemble them to see the party details.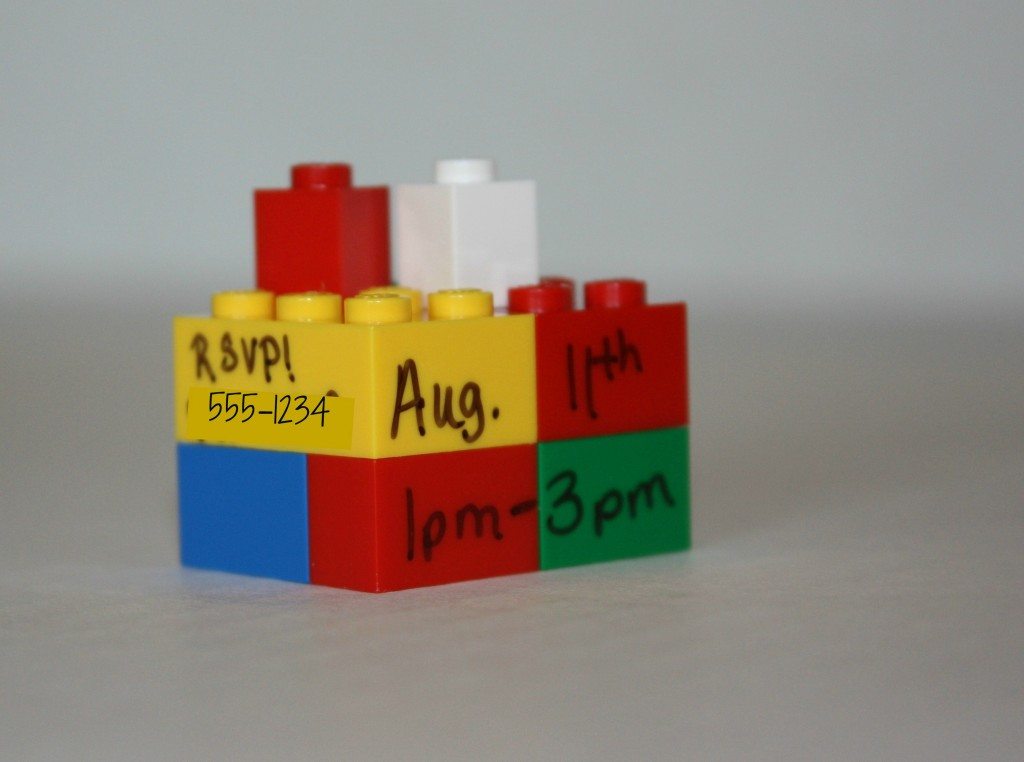 After buying a new box of Legos at Target, we came home to build something special. Jack decided to make his friends "gifts." The two legos on the top are a bow.
 How to make Lego party invitations
1. Decide on a creation.
We made 15 of the same creations. The colors were different, but the construction was identical. This was important so we could add "directions" on the invitation in case parents kids got stumped.
2. Make a "tester."
I found that my handwriting was much steadier if I wrote with two legos gifts turned on their side and pushed together. I wrote on the left "gift" while my hand rested on the right.
Trying to fit important information on a couple of Lego bricks isn't easy. Try writing your phone number on two different bricks, and play around with your address. It'll work out, just be patient.
3. Take pictures. Lots of them!
I used a picture of the top and a picture of the bottom of the "gift" to give kids and parents a hint about the construction of the invitation. I didn't want anyone to have to call and ask me for the details because the invitation was too difficult to put together.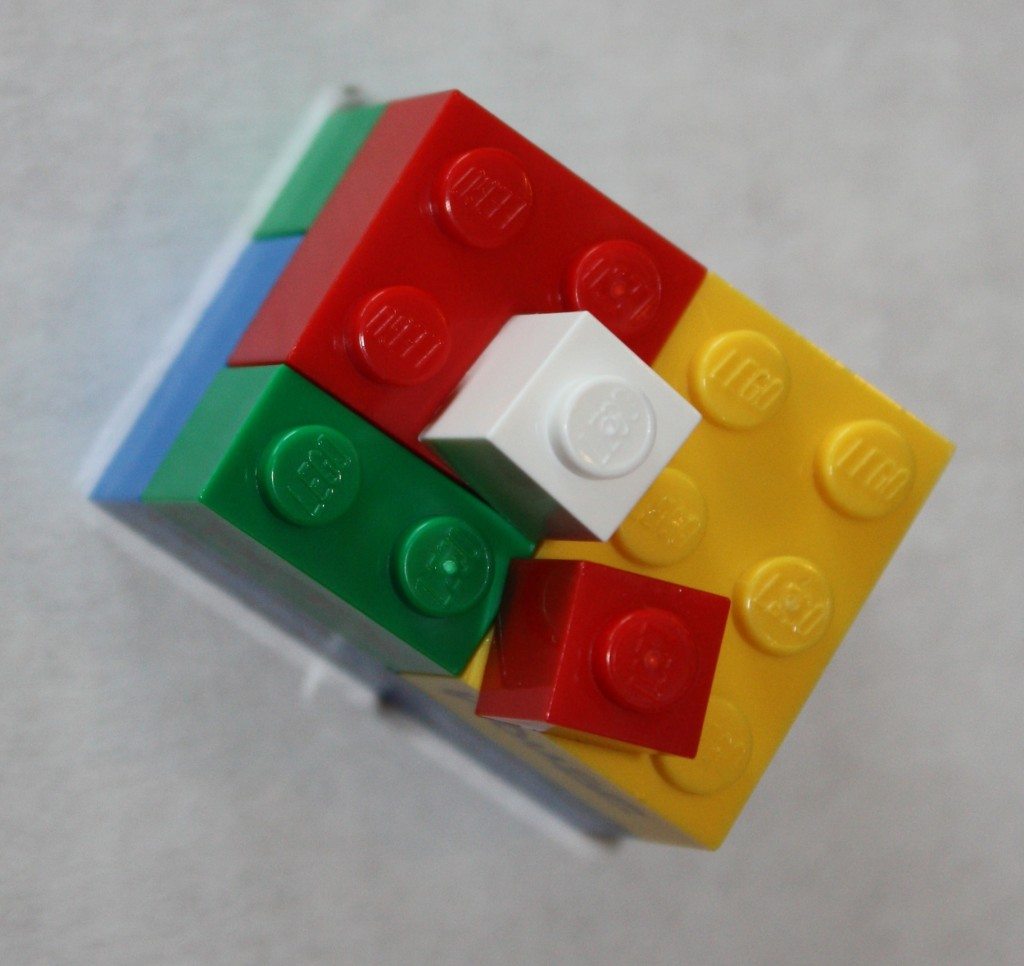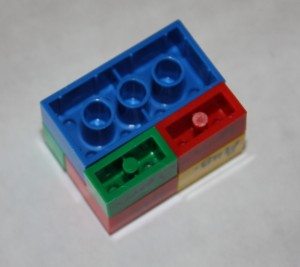 4. Make a bag topper.
Mine said,
This year Jack is turning 8.
He wants to see what his friends can create.
Build your gift for details,
and RSVP by phone or email.
Come celebrate
and don't be late!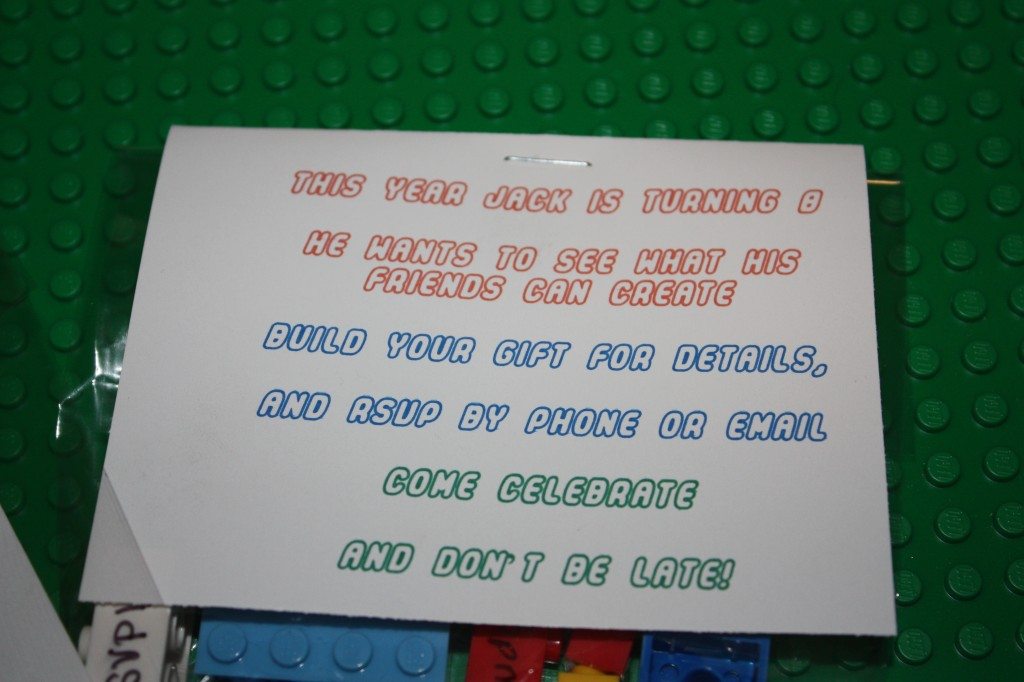 Of course, after I printed them all out, I thought of a few different (better) ways to word it, but what I have here gets the point across!
I added the photos in step 3 to the back of the bag toppers.
5. Stuff your invitation bags!
Disassemble your creations (one invitation at a time!) and drop them into a clear cellophane bag. Fold the top of the bag over once and staple, then fold your bag topper over the stapled area and staple once more.
You're finished!
6. Send those invitations out and start party planning!
If this tutorial helped you create a Lego birthday party invitation, I'd love if you shared it with facebook, twitter, or Pinterest using the buttons below. Thank you!