This site contains affiliate links. Please see Policies for more information.
As if you needed another reason to see Big Hero 6, there's Feast.
Maybe I loved it so much because we just got a new puppy, but I don't think so. I think everyone will love it, new puppy or not.
Feast is Disney's new animated short film that plays before Big Hero 6. It's both heartwarming and funny. While in LA I was able to meet director Patrick Osborne and producer Kristina Reed (keep an eye out for them at the Oscars).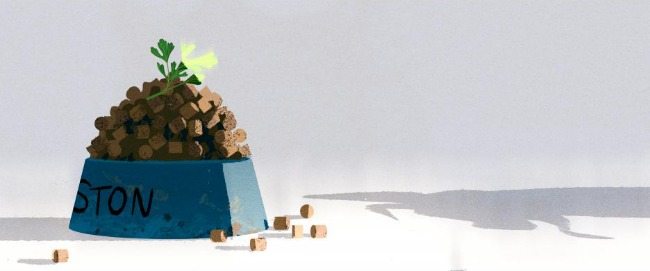 Patrick told us that after installing and using the app 1SE (1 Second Everyday) to take a video of his meals everyday for a year, he had an idea. While looking at his completed video–at the design and color of the food and the plates on the table–he thought it would be fun to animate. His ideas slowly came together as Feast.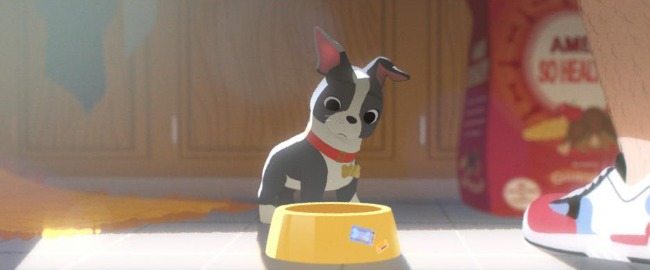 The animators brought a few puppies into the studio to help them draw Winston, the puppy star of Feast. The head tilt, the whining, the puppy excitement–they nailed it all. Another thing the animators nailed was the food–the feast. Winston feasts on meal after meal with his owner. The meals are all iconic and quickly recognizable–spaghetti, nachos, french fries, and pizza were some of the meals featured in the short. All foods that are loved by young and old, and especially loved by Winston.
"Feast," a new short from first-time director Patrick Osborne (head of animation for "Paperman") and Walt Disney Animation Studios, is the story of one man's love life as seen through the eyes of his best friend and dog, Winston, and revealed bite by bite through the meals they share.
Don't skip the opening previews for Big Hero 6, because you might just miss Feast.
I attended press events with Disney and ABC TV, which included an interview with the director and producer of Feast. I was provided with an expenses paid trip to Los Angeles in exchange for my coverage about the events. No other compensation is given. Of course, opinions and experiences are my own.