This site contains affiliate links. Please see Policies for more information.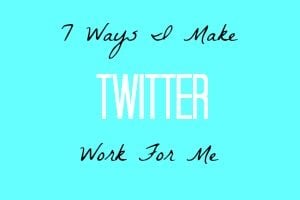 Recently, I have found Twitter.
Some might say the word "addicted" is in order, but I don't think so.
Not yet.
There are people who tweet their every move.
Going to the store
Taking a nap
Be back in 5
I think those people are addicted.
I tweet funny stuff.
Stuff that wouldn't fill a whole blog post, but needs to be shared.
Also, I use Twitter.
Really.
Use it.
For local updates.
Sales.
News.
Traffic.
Weather.
Fairs and Festivals.
I have had a few friends join lately and the first questions they ask are "Who do I follow? How do I find people? How do I "do" Twitter?"
Here are my 7 (life saving, ground breaking, etc., etc., etc.) Twitter tips.
Why 7?
Because that's how many I can think of, and I am not about adding fillers tonight.
Oh, and Julie? I'm sorry for not giving you a nice round number.
Anyway… 7 Lifesaving Twitter Tips:
Tip #1.
Follow your local news networks.
Follow them all at first, then decide who tweets the most useful information.
I found one in Tucson that is great about news updates.
Not news updates like "SWAT situation in Tucson today" but "Avoid 5th Street and Craycroft due to police activity," or "I-10 closed eastbound at milepost 175."
That's exactly what I want to know about when I am looking through my Twitter stream while checking out at the grocery store. It has saved me quite a few traffic delays.
Tip #2
Follow your local newscasters
This is different from following the news network. It's definitely more personal, but depending on the news you want it might be your best bet.
My gateway Twitter newscaster was @JeffBeamish, a local Meteorologist who kept me up to date through the completely weird tornado/flood warning a few months ago. He's also an avid sports fan and gives updates on games that he's watching.
Watching the news is one thing, but reading tweets about what the weatherman is seeing every 5 minutes?
Completely different weather experience.
Tip #3
Look through the newscaster's following/follower list
I have found several local people to follow by looking through the local newscaster's following/follower lists. Local businesses that I didn't realize were on Twitter, certain government officials, and some local PR people are just a few examples of who I've found.
Tip #4
When you can, retweet instead of reply
When you hear something interesting, do you nod you head and say, "Wow" to the person who told you, or do you say "Wow" and then go tell a friend?
Retweeting is a way for you to say "I thought this was interesting… check it out." And even better? If I see something hilarious, or witty, or interesting being retweeted by a friend, I'm likely to go follow the original person who tweeted it in the first place.
Tip #5
More followers = More informed
Another great reason to use Twitter? It's like having a roomful of friends waiting to give you their opinion.
An example:
4:31 My son just fell and knocked a tooth out. What do I do?
4:32
That happened to my daughter last month. Put it in milk and get to a dentist.
4:33
OMG! Sorry!
Dr. Smith on Broadway and 1st is still open -call 555-1212 and bring him in.
4:34
I'm a dental assistant. Have your son rinse with milk, put the tooth in a ziplock bag full of milk, and get to an emergency dentist.
—–
This did not happen to me (though it's a definite possibility), but I have seen similar twitter stories.
You can't deny that that's cool. Moms everywhere, helping other Moms.
Tip #6
#hashtag
The hash tag (#) is a search tool for Twitter. You can click on it and see what the millions of Twitter users are saying about a subject.
Examples of subjects? There are thousands. Millions, even.
See Tip #7 for an example.
Tip #7
Follow Friday (a.k.a. #ff or #followfriday)
Do you have a Twitter friend that you're dying to share?
Someone funny that you want to tell your friends about, or someone new that needs a few followers?
Every Friday, people on Twitter refer their friends to others by tweeting their name and #ff or #followfriday after it.
Common courtesy is to either reply and thank the person or retweet the #ff so your followers can see it, too!