This site contains affiliate links. Please see Policies for more information.
In our house, we usually have one big gift and several smaller ones under the tree on Christmas morning. When the boys were little, big gift usually meant just that – large in size. Now that the boys are older, they  are starting to ask for more expensive items – and our "big gift" is synonymous with expensive gift.
I'm always worried about spending a lot of money on something that the boys won't love after a couple of months, so in the past few years we have been turning to reviews to see what parents say about more expensive items. In my quest to give as well as receive, I'm reviewing these SMS Audio STREET by 50 headphones for you – and telling you whether they're worth your big gift splurge.
STREET by 50 Over-Ear Headphones, $249.95
My official review:
STREET by 50 headphones are amazing. They look, feel, and sound incredible. They have over-ear leather cushions that are made of soft memory foam, and the adjustable headband is made of a custom polymer plastic. These are the headphones that your teen can toss in their duffel bag without worrying that they'll break during the day. Of course, I would recommend gently tossing them on top of the books just to be safe, but I figured you knew that.
STREET by 50 headphones have passive noise cancellation, so when you are wearing them you can't hear your kids fighting can concentrate on the music that's being played. The sound quality is stellar – I admit that I listen to music at a volume that I don't let my kids listen to. The STREET headphones sound amazing at all sound levels. They also have a thick tangle-free removable cord with a three-click microphone for volume control and song skipping.
STREET by 50 headphones are available in black, blue, and white. For a limited time they are also available in pink, purple, red, and yellow.


My Mom review:
Yes, STREET by 50 headphones are worth the price tag if your child is a music lover like mine is. They sound great, and are durable. Michael took them to NY and back this fall, carrying them in his duffle bag, and they are unscratched and unchipped.
I know what you're asking in your head, and I'm going to answer it right now…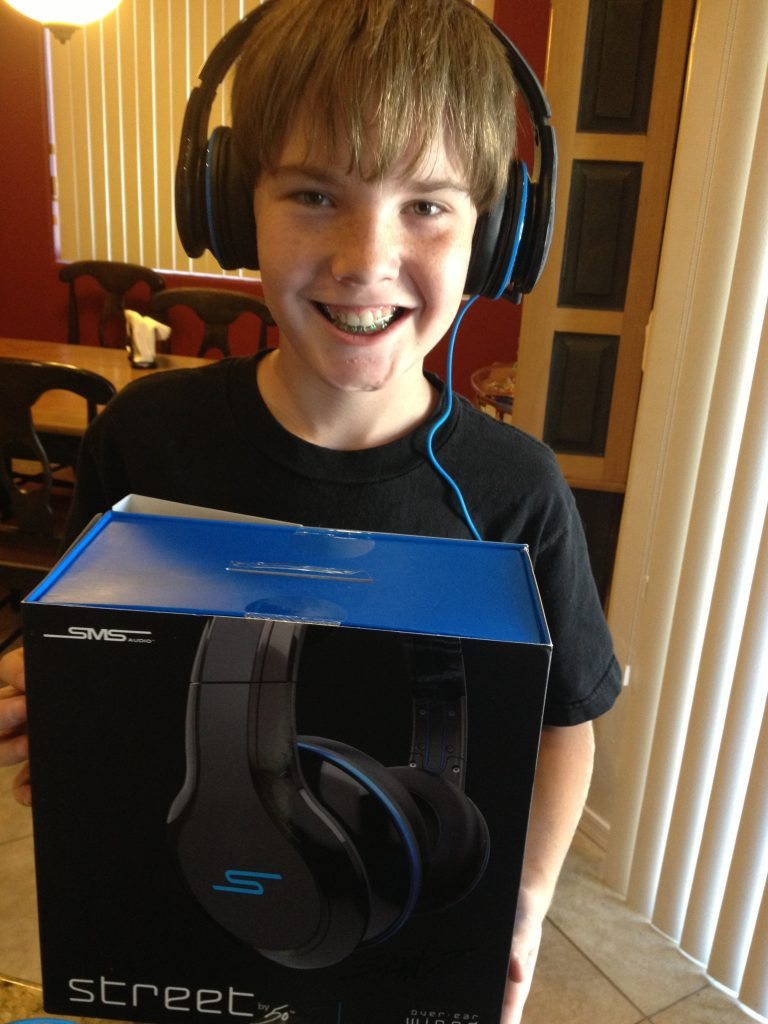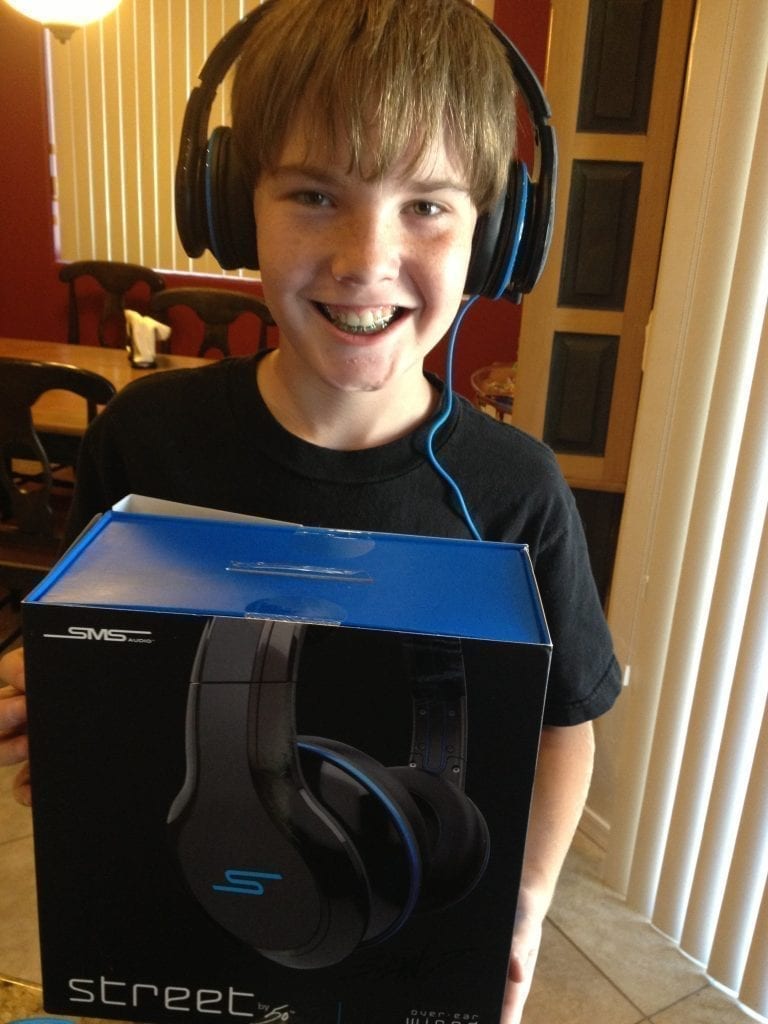 Which is better… STREET or Beats?
It's true – STREET by 50 are designed by 50 Cent. And they are a direct competitor of the very popular Beats by Dr. Dre. We did a comparison. In my kitchen. It was very formal.
You should know that we compared the on-ear Beats to the over-Ear STREET headphones, which may have given STREETs an unfair advantage in the sound department. 
STREET won in the sound, comfort, and feel departments.
Since our STREET headphones enclose your ear, there was a significant difference in the environmental noise that you heard when the headphones weren't playing any music. When music was turned on (same song for both pair), the difference in sound quality was even more significant. I'll admit, if I hadn't been comparing side by side, I would have been happy with the way the Beats sounded. But since I was comparing side by side, we could tell a difference.
STREET also won for comfort. The leather was softer and there seemed to be more cushion on the STREET headphones.
Feel? The STREET headphones win that, too. The plastic headband felt more durable than the Beats.
So, is the price tag worth your big gift investment?
Yes! I'd splurge on these if my son was asking for them. I'm thinking about getting a pair for my husband, too, since his Bose noise-canceling headphones are needing an update. These headphones are excellent quality and I am impressed by them every time I borrow them from Michael.
I was provided with a pair of SMS Audio STREET by 50 over-ear headphones for review purposes. As always, I would never recommend a product that I didn't totally love, and that includes products provided to me for reviews.