This site contains affiliate links. Please see Policies for more information.
For a long time, it was a yearly tradition for my family (parents, aunts and uncles, and grandparents) to spend a week in Maine during Labor Day. They would sit on the beach, barbeque, and shop 'till they dropped.
In 2002, my parents sent me this awesome berber blanket from their trip. It was the perfect size for snuggling on the couch and it was so cuddly.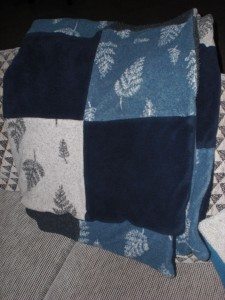 Michael soon named it "the leaf blanket" and promptly stole it from me. He wouldn't take naps without it, and demanded that we trade it out with the comforter on his bed. We obliged, because he was two. And cute. And he had never clung to anything like that before.
The next year that my parents went to Maine, they sent another berber blanket. This one was named "the blue blanket," and it was for Michael. Except Michael didn't want it. He wanted the leaf blanket. Fine. I took the blue blanket.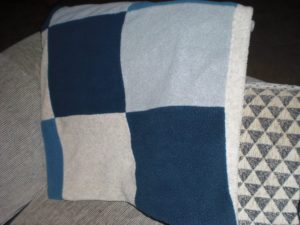 Fast forward to 2005. Jack was one. And he fell in love with my blue blanket.
Then he stole it from me. Just like his brother did.
My parents looked and looked for another blanket for me when they went back to Maine, but they were gone. Mom was S.O.L.
I dealt with not having a snuggle blanket. I used fuzzy socks and sweatshirts instead. It was a joke around the house, and every once in a while, I would borrow a blanket back. That worked well until the kids went to bed and wanted their blanket to sleep with. Oh well. That's the life of a Mom.
When my parents were here a few weeks ago, my Dad made a comment about the lack of blankets we have lying around the house.
I had never thought about it before, but he was right. We had one for our bed, one for the spare bed, and then the boys each had "the" blankets on their beds.
Perfect reason to go look for an extra blanket.
I went to Kohl's and found a soft, fluffy, perfect blanket. It was $49.99, but I found it on clearance and paid $8.99. I was in love.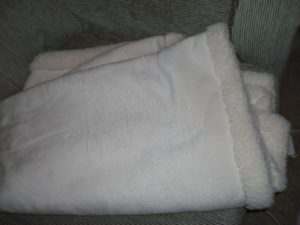 Until they found it.
Michael: Mom, where did you get this? It's so soft!
Jack: Mom! I love this blanket!
Michael: Um… Can I trade you for the leaf blanket?
Mom: No! That's MY blanket!
Jack: Mom, can I pay you money and then this blanket can be mine?
Mom: No! It's MY blanket!
Michael: When you go to bed at night, can you bring the blanket into my room so I can sleep with it?
etc. etc. etc.
So I thought about it for a few days.
And decided that everyone should have a comfy blanket like Mom's.
I went back to Kohl's.
They had three left.
I bought two.
And now I have the happiest, snuggliest, warmest boys in. the. world.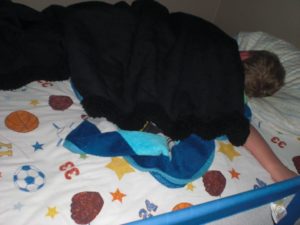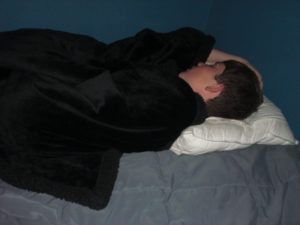 And the happiest Mom, too. Because I finally have my own blanket.
—-
This post was originally published 1/2010, and remains one of my favorites. The blanket battle continues in this house :)