This site contains affiliate links. Please see Policies for more information.
You have a blog and love it, but want… more.
More comments. More interaction. More review and giveaway opportunities.
Gotcha.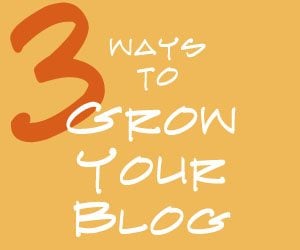 Three Ways To Grow Your Blog
1. Be social: Make sure you are part of social media networks such as facebook, twitter, Pinterest, and Google+. Use these networks to not only share your posts, but to also share posts from other bloggers. Make sure to mention/tag them when you share! When sharing, instead of just adding a link within a status update, try to engage your audience. "Who is looking for the Easter Bunny? Karen of DesertChicaRamblings.com has a list of where to find the Easter Bunny in Tucson!"
2. Stick to a schedule: I know this one is tough – I am guilty of it, too! Try to post regularly – that might be every day, twice a week, or maybe even once a week. Whatever works for you, stick to it! Regular posts bring regular traffic.Sometimes, it helps to post (and comment) as part of a blog carnival/linky – Wordful/Wordless Wednesday, What I Wore Wednesday, Made By You Monday… For a full list of blog carnivals/linkys head over to the Blog Guidebook Linky List.
3. Comment Love: Not only does leaving a comment create a backlink to your blog (good for SEO), but it gets your name out there! People don't know about your blog unless you tell them, and this is a great way to spread the word. Other commenters will see your information and maybe decide to visit your blog, and the blog writer will probably click over and say hi, as well!
By following these guidelines, you should start to see an increase in your blog traffic within two months or so. By building your brand (yes, your blog is your brand!) and gaining momentum, you'll be more visible to businesses that might want to work with you. Though it may seem like some blogs are an overnight success, it takes time and dedication to grow your blog.
Questions? Let me have them! I'm ready to help :)
________
Looking for more blogging tips? Everything But the Posts, my new book, shares tips, advice, and templates for setting up a blog, connecting with your community, and monetizing. It's available in paperback, on Kindle, Nook, and iBooks.