This site contains affiliate links. Please see Policies for more information.
Disney's Pinocchio is out on Blu Ray today, and it has a ton of fun bonus content to celebrate, as well. It's almost enough to throw a Pinocchio party, I think! The Special Edition Blu Ray is being released 1/31/17, and will have a few fun bonus features, including Lenticular Packaging, The Pinocchio Project: When You Wish Upon A Star, Walt's Story Meetings: Pleasure Island, In Walt's Words – Pinocchio, and Women In Animation.
Today, we're celebrating the release of Pinocchio on Blu Ray with a fun Pinocchio party craft–a microwave popcorn bag!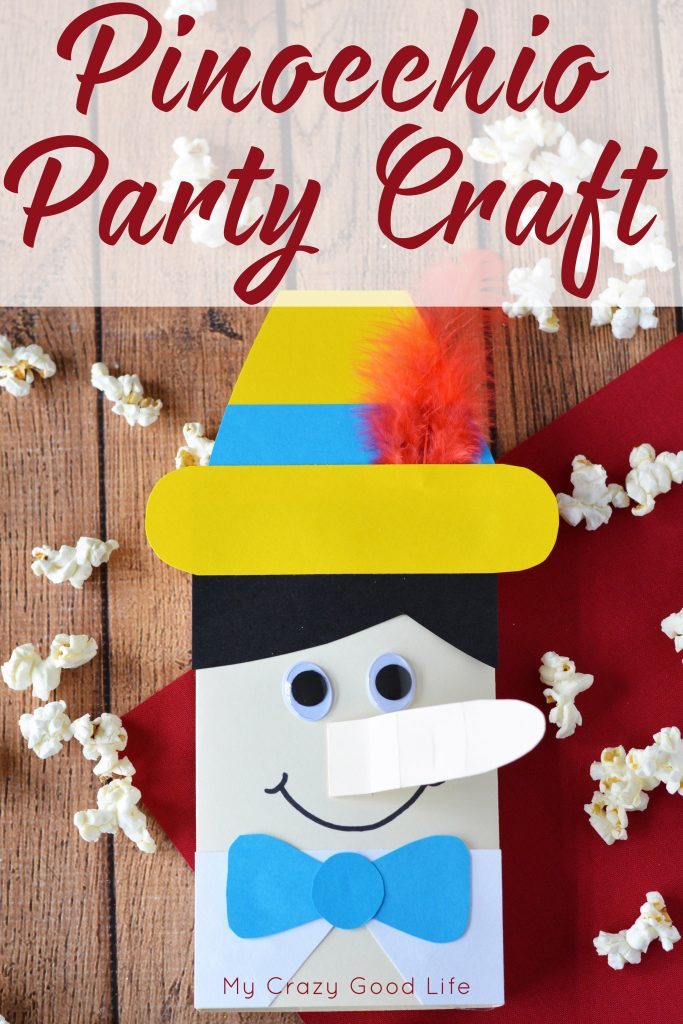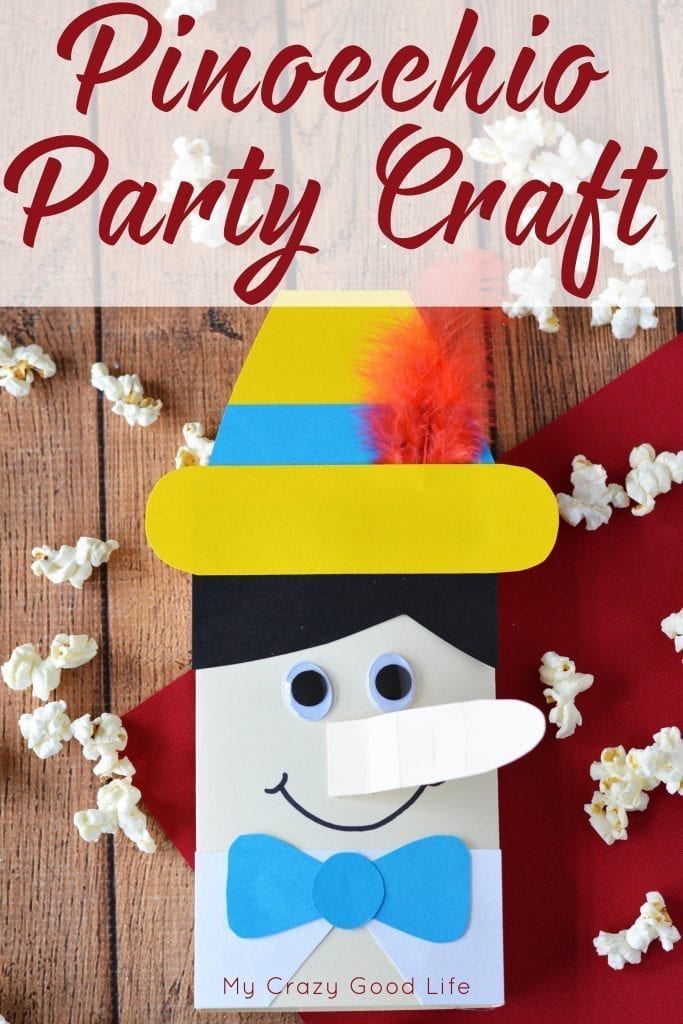 Sitting down with a big bowl of popcorn to watch a movie is my favorite–and I thought a fun microwave popcorn bag holder would be a fun craft to go along with this exciting Pinocchio announcement!
To make this Pinocchio party craft, you'll need:
Microwave popcorn (Note: Please measure your microwave popcorn package before cutting any paper. Each package varies a bit in size. )
black marker

Directions for the Pinocchio Party Craft:
1. Cut your cream paper to 7″ x 11″ using the paper trimmer.
2. Use the scoring blade to score the cream paper, along the long edge at 3.5″x 4″x 8″ and 8.5″.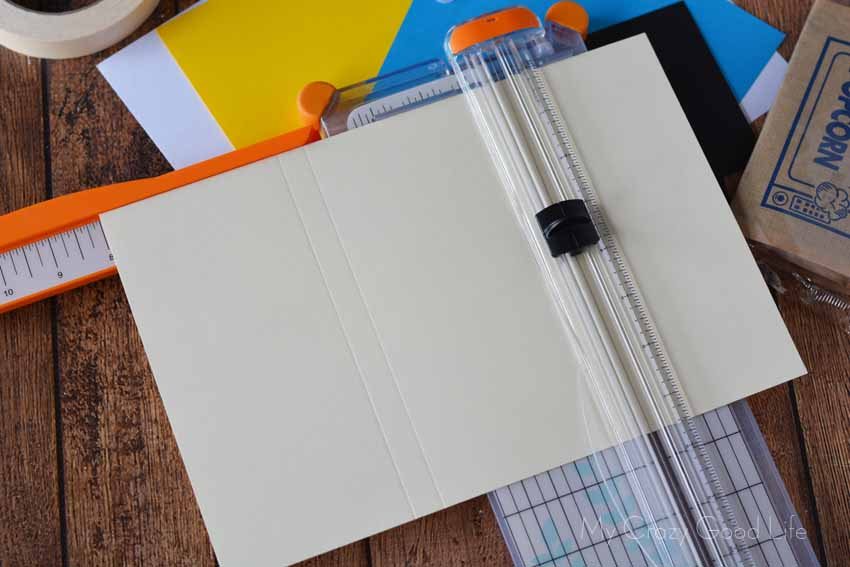 3. Wrap the cream paper around the package of microwave popcorn and attach one edge with clear or masking tape and glue the other edge together with white glue.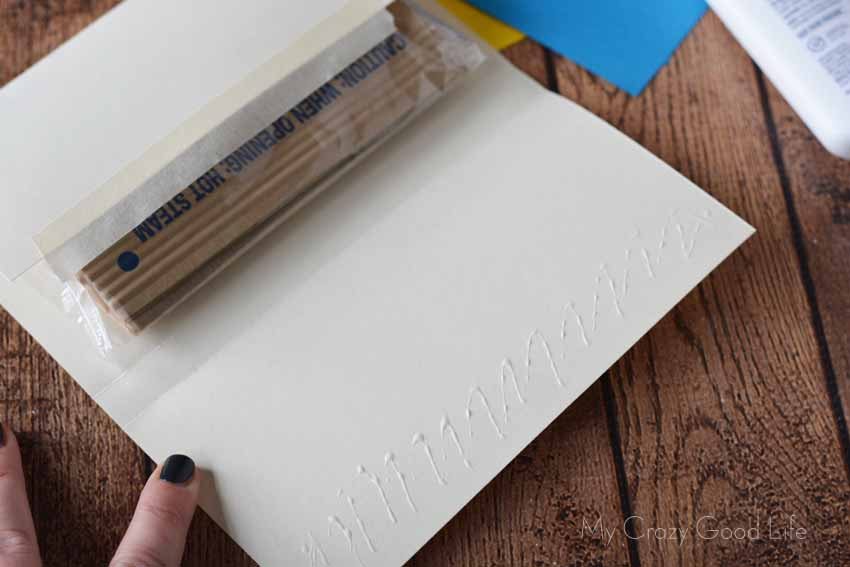 4. Cut a piece of black paper, 2″ x 4″ for the hair. Cut a triangle out of the piece of paper to create hair.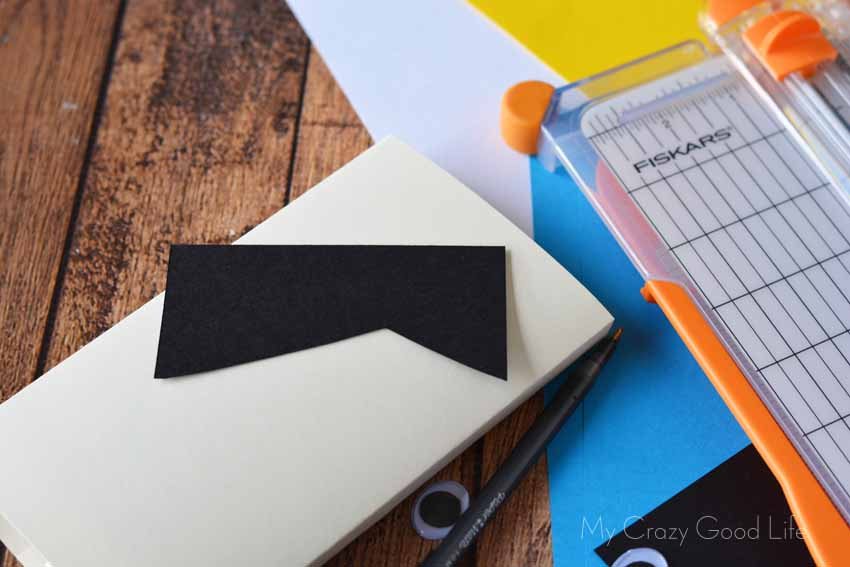 5. Cut a white piece of paper 2″ x 4″ and cut a triangle out of the center to create the collar.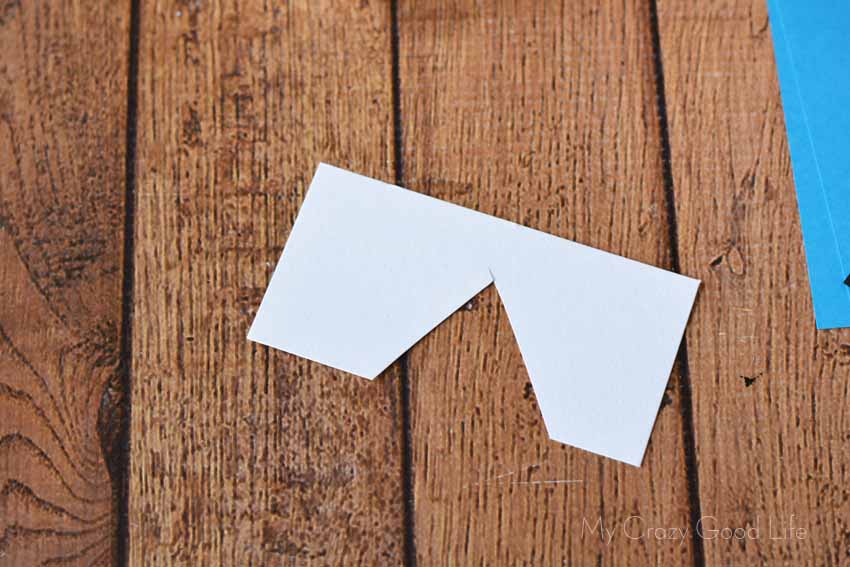 6. Cut three pieces of blue paper 1.5″ square. Cut out the center of the bow tie in a circle shape and 2 bow ends as shown.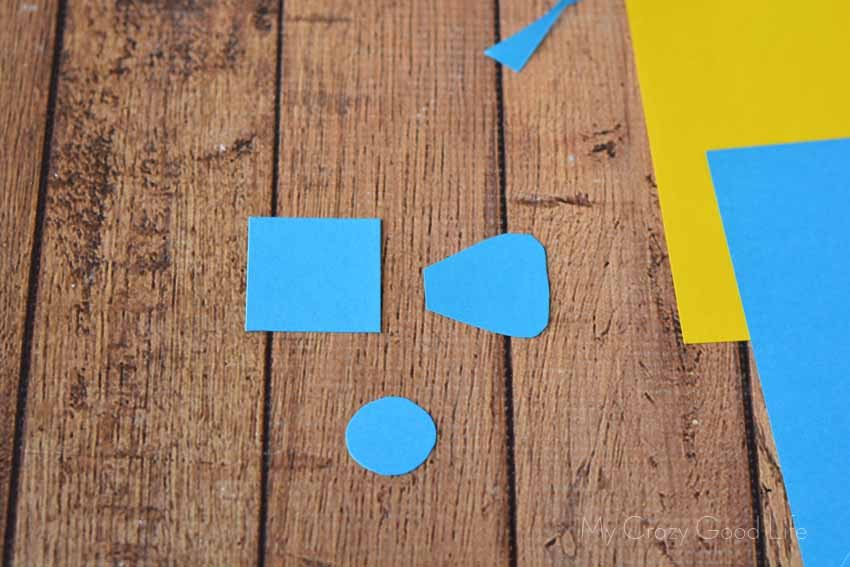 7. Cut a 3″ x 4″ piece of yellow paper for the hat, and a 1-1/2″ x 5-1/2″ piece of yellow paper for the hat brim. Round the ends of the brim with scissors. Cut a piece of blue paper, 1″ long for the hat. Place the three pieces together, affix with white glue and trim the edges of the blue overhang. Slide the feather under the blue strip and attach with a dollop of glue.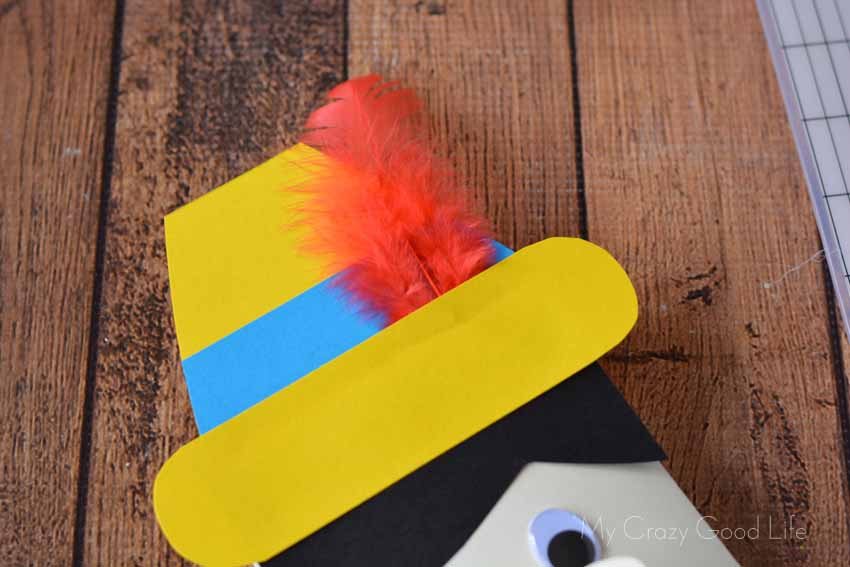 8. Cut a 4″ x 1″ piece of cream paper and round the end for the nose.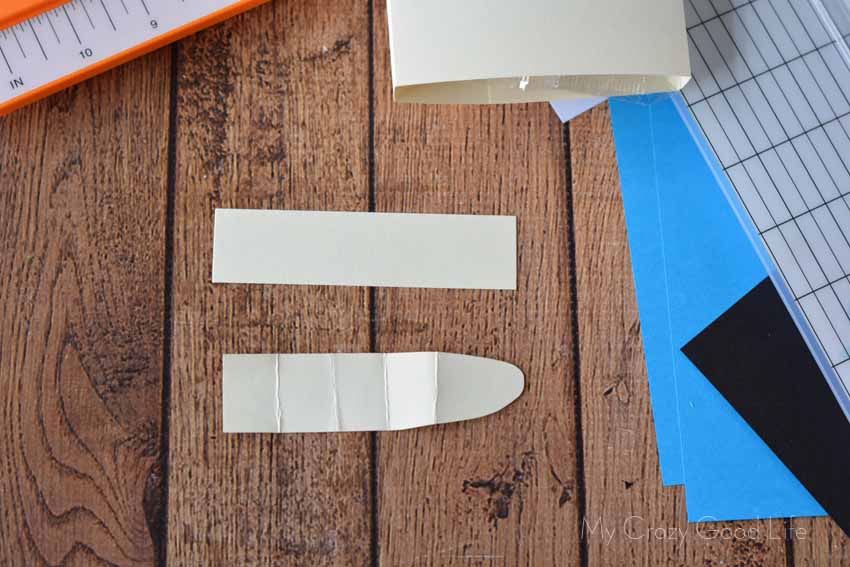 9. Create an accordion fold so the nose can grow.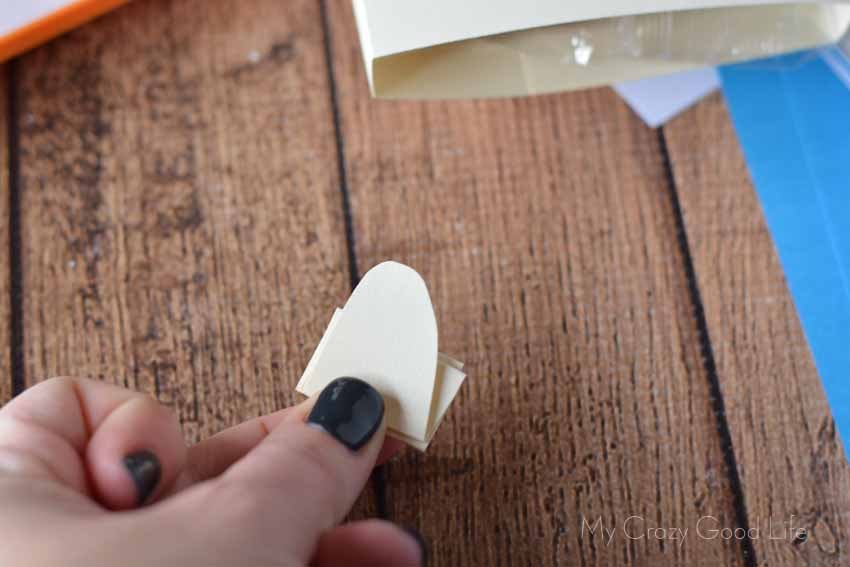 10. Assemble your Pinocchio by laying the pieces onto the wrapped popcorn, making sure they fit before affixing them with white glue.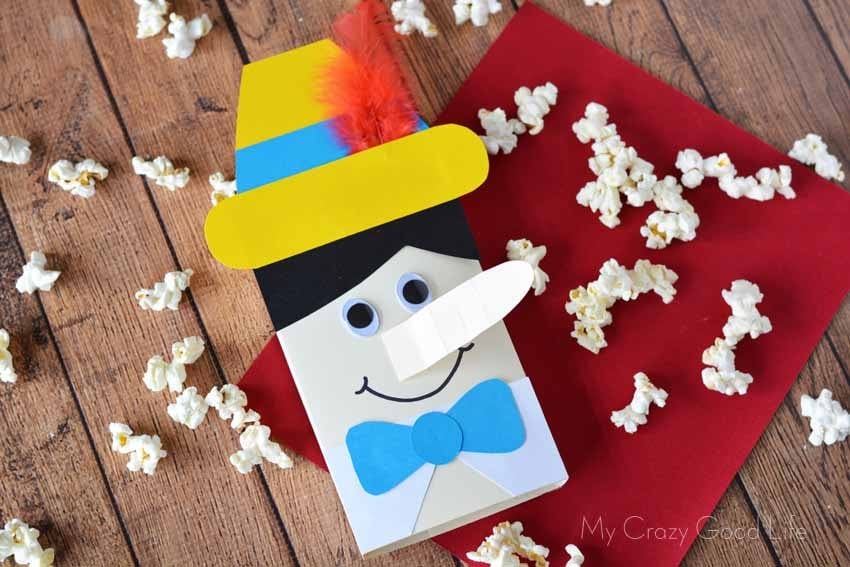 11. Add google eyes with glue and draw on a smile. Let dry before enjoying.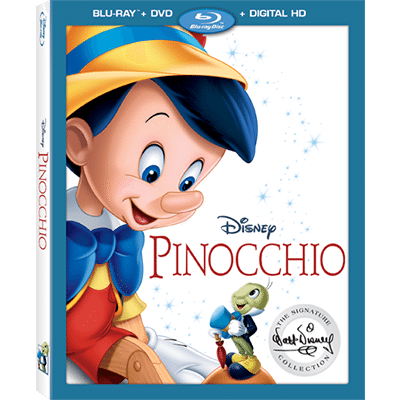 Pinocchio is available on Blu Ray January 31, 2017 with special bonus features!
Walt's Story Meetings: Pleasure Island – The Pleasure Island scene in "Pinocchio" had much more development than what is seen in the film. Join Pixar's Pete Docter and Disney historian and author J.B. Kaufman as they explore artwork recently discovered in Disney's animation research library revealing some of the attractions, gags and games, which Disney animators created for this iconic location of the film, that never made it on screen.
In Walt's Words – "Pinocchio" – Hear Walt himself discuss the making of "Pinocchio" through archival recordings and interviews.
The Pinocchio Project: "When You Wish Upon a Star" – Music influencers Alex G, Tanner Patrick and JR Aquino from Disney's Maker Studios, a global leader in short-form videos, gather in a creative workspace to create their rendition of the film's signature song, "When You Wish Upon a Star," and produce a fresh new music video.
Oswald the Lucky Rabbit in "Poor Papa" – This recently restored and scored 1927 short features Oswald the Lucky Rabbit who gets multiple visits from the stork and is forced to attempt various methods to help stop the onslaught of baby deliveries.
Classic Bonus Features – These offerings from prior home entertainment releases include hours of bonus material, such as the making of "Pinocchio," deleted scenes, sing-alongs, storyboards and theatrical trailers.
This expenses paid trip to San Francisco was paid for by Disney, Lucasfilm, and Disney Junior and is offered in exchange for my coverage about the events. No other compensation is given. Of course, opinions and experiences are my own.