This site contains affiliate links. Please see Policies for more information.
This post is sponsored by Seaside Reservations in Mexico. The content is my own. 
Is a family vacation right around the corner for you? Us too! We are planning our trip to Rocky Point, Mexico and are pretty excited about spending some time on the beach with the boys.
Traveling with older kids (mine are 9 and 13) comes with it's own set of difficulties–you don't want them to get bored, but don't want them to be on their phones and iPads all day. They'll be without friends and needing some fun things to do. Here's what we have brainstormed up.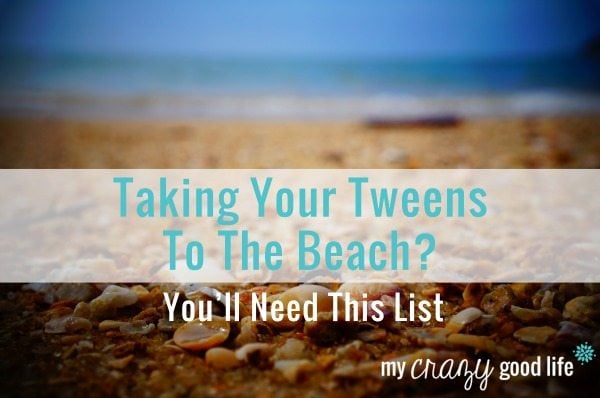 Packing For The Beach With Tweens And Teens
1. Sunscreen
2. Swimsuits 
3. Flip-flops. Or as Michael affectionately calls them now, Mandals.
4. Snacks These boys are eating full meals and snacks in between. They're growing like weeds, and I don't want to be stuck without a bag full of healthy and filling snacks for them. We'll be bringing fruit, peanut butter and veggies/crackers and probably a few bags of something fun like potato chips. Or Takis. Because that's what they're into right now.
5. Our new Eton solar stereo. I'm reviewing this for my iPhone Life holiday gift guide and what better place to test it? I'm certain the kids will keep busy changing the songs every 30 seconds listening to music on the beach.
6. Magazines Jack will read book after book, but we struggle with finding things that Michael wants to read. Thankfully, we have found a few magazines that Michael enjoys–Red Bulletin is his favorite right now. And he has found a way straight into his mother's heart by reading iPhone Life–he loves the tech rumor articles.
7. Plastic containers Jack is a collector. If we have learned any lesson at all from our past vacations, it's that Jack needs a plastic container to store his treasures. When we get home, we'll fill a Ball mason jar with sand and shells and seal it up after we label it.
8. Portable device chargers I can't leave home without mine, and Michael is close behind me. We'll have our device chargers with us to keep us plugged in (probably a limited amount) on the beach!
9. Games! Apples to Apples is a family favorite, but we'll also bring SkipBo, Uno and Yahtzee.
With these things in our beach bag, we'll be set for a few days.
You can find us right here: