This site contains affiliate links. Please see Policies for more information.
If you're looking for a delicious, satisfying, and spicy sauce to go with…everything… you'll want to make this Low Carb BBQ Sauce. The best thing about this sauce is that I didn't start out trying to make it low carb, or sugar free.
We naturally use honey and molasses instead of sugar and brown sugar, and prefer a healthy BBQ sauce over one that is full of sugar and other highly processed ingredients.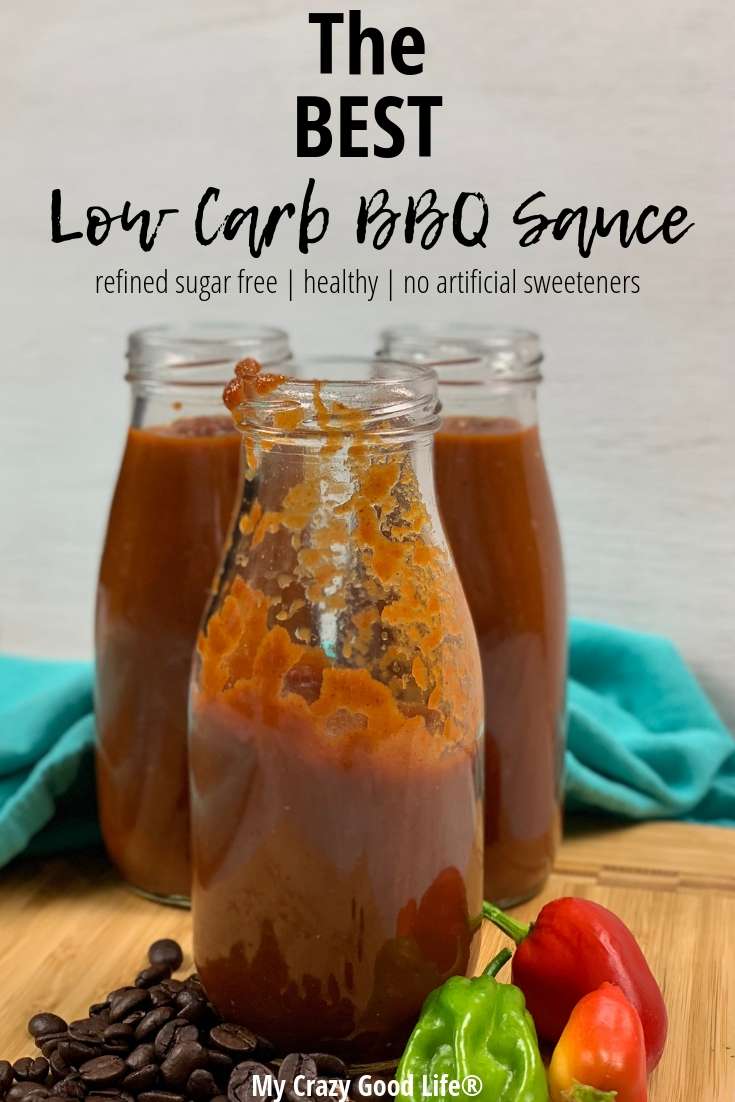 Ingredients in this BBQ Sauce:
onion
jalapeños
serrano peppers
cloves garlic
tomato sauce (you could use sugar free ketchup, but make sure you account for it in your diet if you need to)
Worcestershire sauce
coffee
molasses
vinegar (plain or apple cider vinegar is fine!)
lemon
chili powder
mustard
cumin
smoked paprika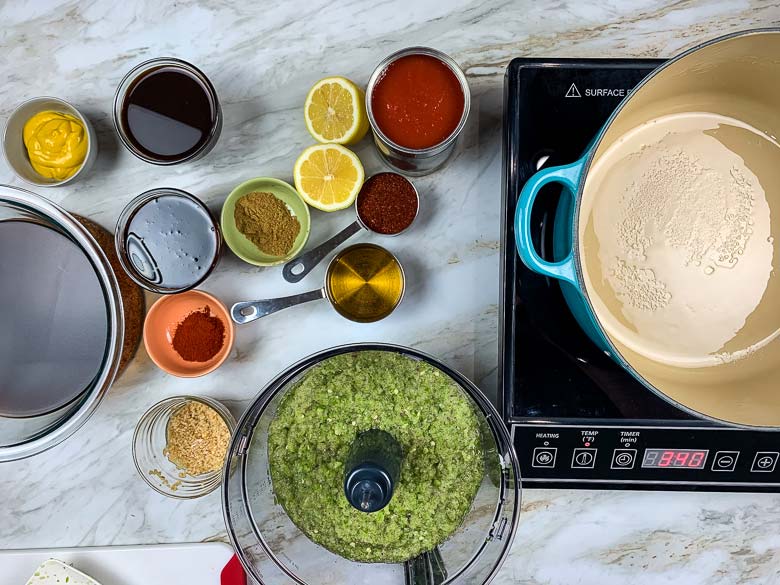 How to make this low carb BBQ Sauce:
1.Dice peppers and onions using a food processor, knife, or dicer. Here's the food processor I use.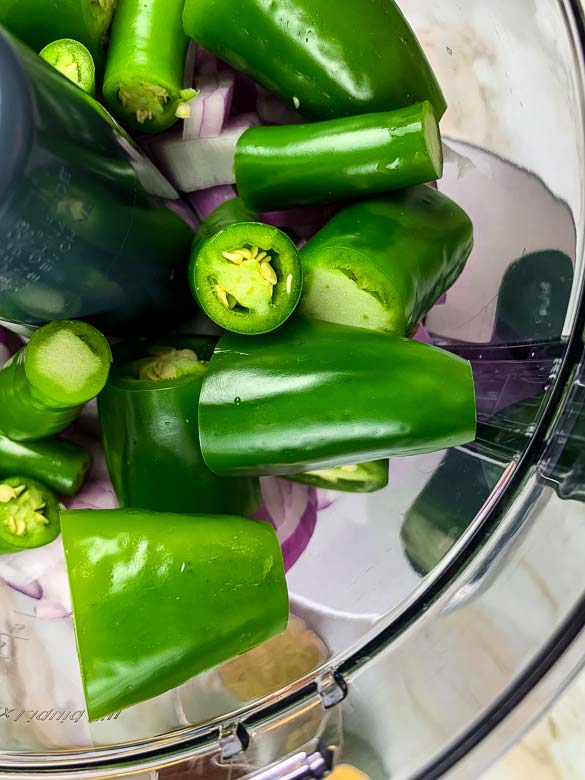 2. I use my stainless steel blade for this and chop it as fine as possible. After the sauce is cooked, we are going to blend it, so don't worry too much about getting these ingredients perfectly smooth–we just want them to be easier to cook.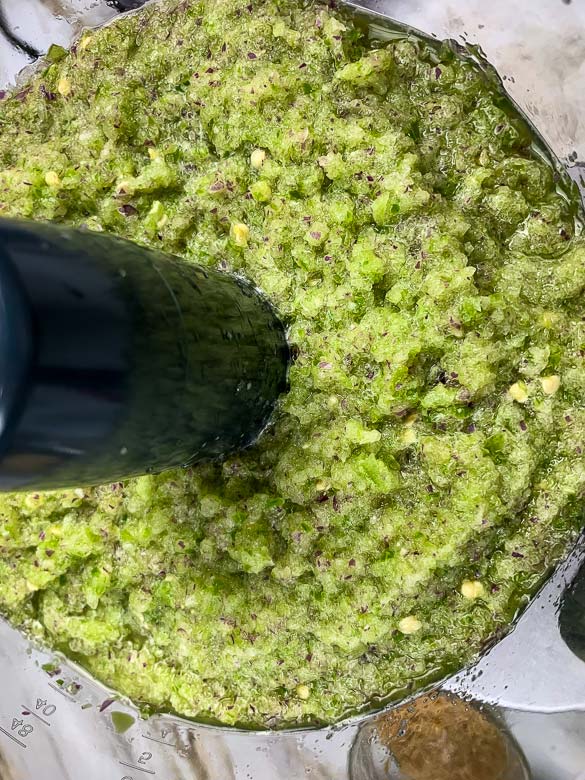 3. Add all of your ingredients to a large pot. Allow to simmer for at least 30 minutes.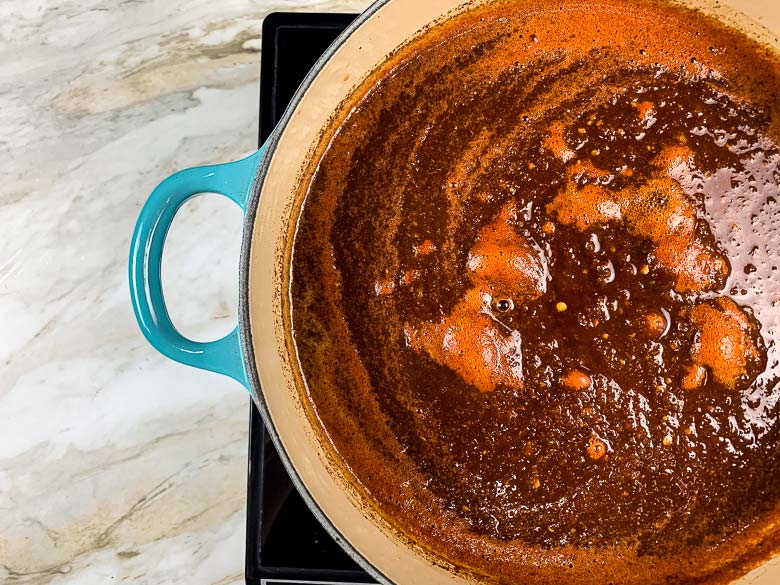 You can easily smoke this sauce, too! I use a pot or disposable foil pan to smoke the sauce for 2-3 hours at 200º. Many people add a little bit of liquid smoke to their sauce if they don't have access to a smoker.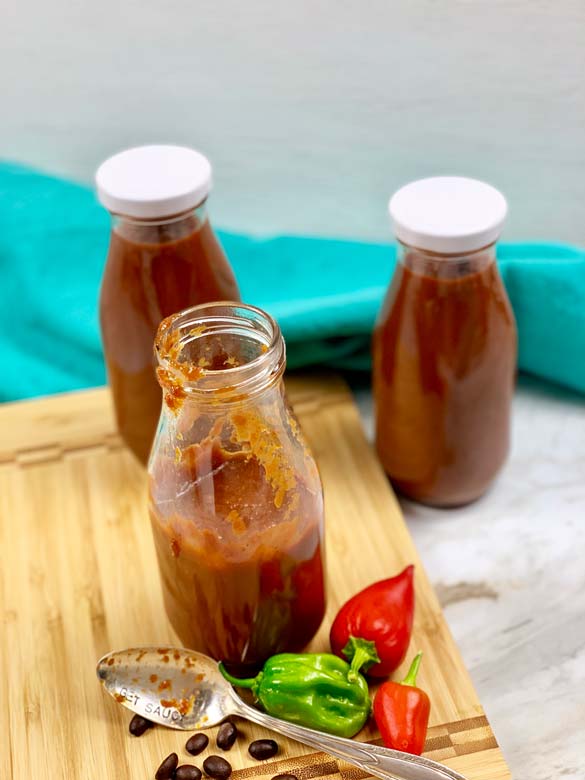 4. After you've made the sauce, it'll be a little chunky because of the onions and peppers that you added. If you prefer a smoother sauce go ahead and add it to the blender for a few minutes.
I store this sauce in milk jars like you see above or in mason jars. I often double or triple the batch to give to friends or keep in the back of my fridge. Our BBQ sauce never lasts more than two months or so because we eat it, but I've been told it can keep safely in the fridge (in a sealed mason jar) for up to six months.
Why is this keto BBQ Sauce?
The full nutrition information is below in the printable recipe. One serving of this sugar free BBQ sauce has 3 carbohydrates and 1 gram of fiber, making it two carbs per serving. This number makes it the perfect keto BBQ sauce to use for your low carb diet!
Is this BBQ Sauce healthy?
It is. I've been making this BBQ sauce for years, and we love that it doesn't contain any high fructose corn syrup, ketchup, or other highly processed ingredients. There are no added sugars and though there are a lot of ingredients in this recipe, almost all of them are minimally processed.
While I'll admit to thinking that Sweet Baby Ray's BBQ Sauce is delicious, I stopped buying it (and all other store bought BBQ sauces) after reading the ingredients of them. Most store bought sauces contain High fructose corn syrup, food starch, extra salt, artificial colorings and flavorings, and artificial sweeteners.
Homemade BBQ Sauce is easy to make and tastes so much better than store bought, anyway!
Is sugar free really sugar free?
Sugar free can mean so many things. At the grocery store I'm hesitant of anything that has a label that says sugar free because it usually means that the product has artificial sweeteners in it.
Sugar free can also mean that something is free from brown and white sugars, like this BBQ sauce. It's usually referred to as refined sugar free. There is no sugar or brown sugar in this recipe, and if you look at the nutritional information and see that there are 2 grams of sugar in this sauce, know that it's from the molasses (considered a natural sweetener) and tomato sauce (tomatoes have natural sugar in them, about 2 grams per 1/4 cup). Many recipe creators say sugar free instead of refined sugar free because most people don't know what refined sugars are.
Sugar free should mean that there are 0 grams of sugar in a recipe or product, but it's easier said than done. Because sugar is naturally occurring in fruits and some vegetables, it's found in many recipes.
Reading labels and ingredients is the only way to become educated about what you're eating, and knowing the difference between sugar free, refined sugar free, and sugar free *but contains artificial sweeteners is important on your quest to living a healthy lifestyle.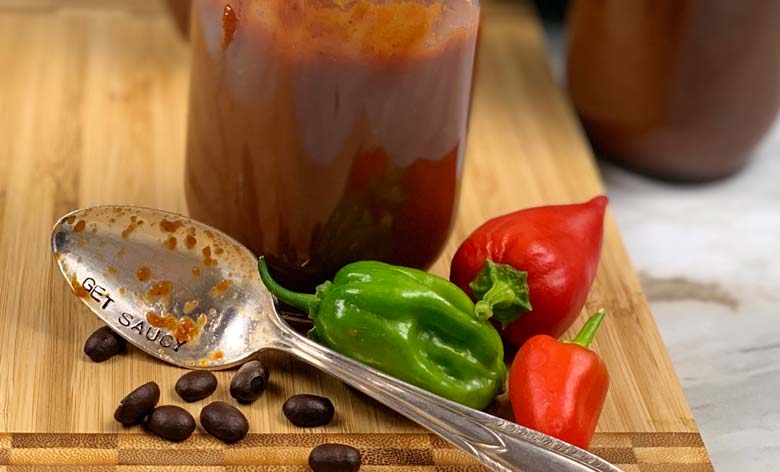 What sweetener is used in this BBQ Sauce?
This BBQ sauce uses molasses as sweetener. Molasses is a byproduct of the sugar refining process and is what's combined with white sugar to make brown sugar.
If you'd rather not use molasses for this BBQ sauce, you can use honey or maple syrup instead. They won't give you the same deep flavor as molasses, but will result in a BBQ sauce that's just as sweet.
Do you have any low carb recipes or keto recipes for BBQ food?
Homemade Rotisserie Chicken These homemade rotisserie chicken recipes are delicious with this homemade low carb BBQ sauce–it makes it so easy to make BBQ chicken! Directions for oven, Crock Pot, Instant Pot, Ninja Foodi, and Grill are included in this post.
Cauliflower Steaks You can season these cauliflower steaks any way you'd like, and we love sprinkling some salt and pepper on them before dipping in BBQ sauce!
Avocado Stuffed Chicken Breast (wrapped in bacon) These chicken breasts are delicious and the entire family will love them! Dipping the chicken in BBQ sauce steps this recipe up a notch!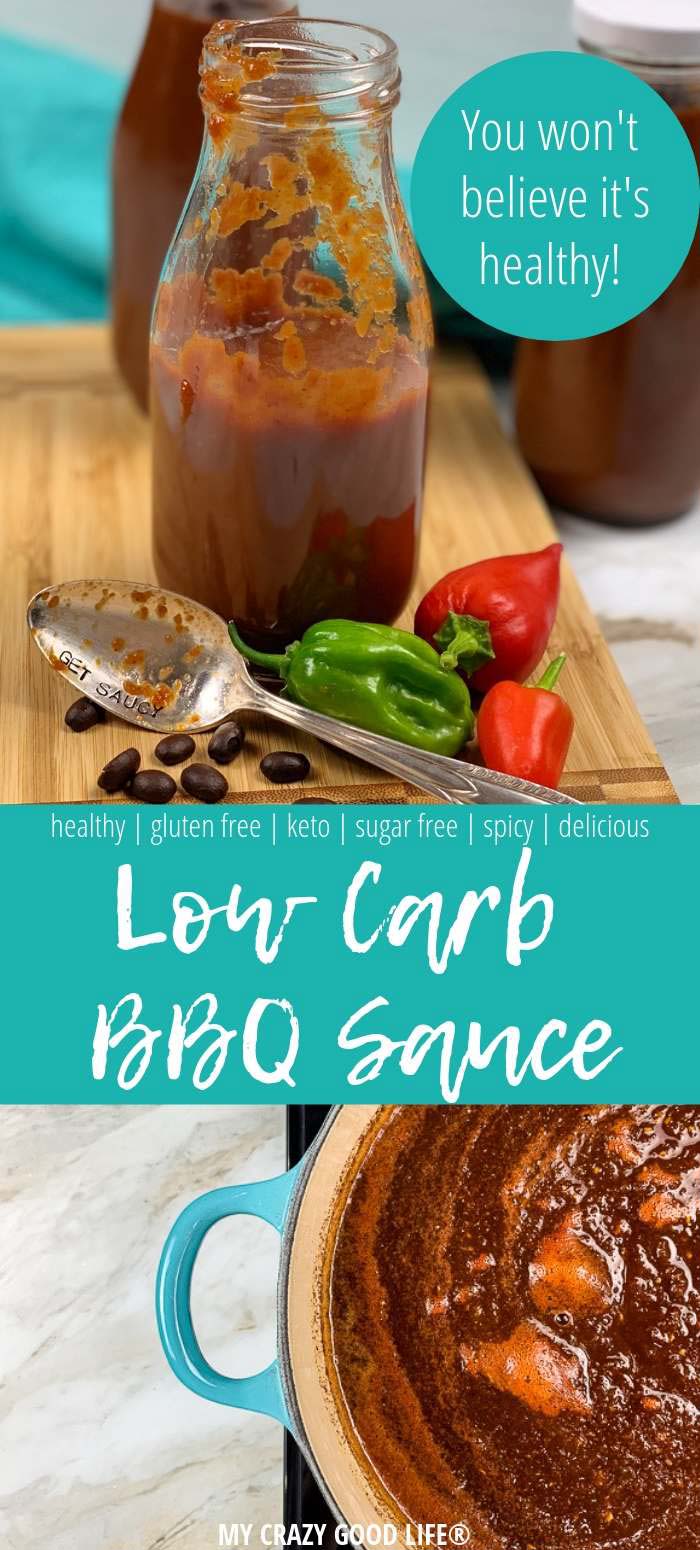 Do you have any other low carb sauces?
Yes! Leaving the chicken out of the following recipes will leave a delicious low carb sauce that you can use to dip your food in:
Is this Weight Watchers BBQ Sauce?
This is the perfect sauce for your Weight Watchers plan! Each 2 tablespoon serving is 1 Point on Blue, Green, and Purple plans. The points in the recipe come from the molasses and Worcestershire sauce.
Is this a smart choice for the 21 Day Fix or Ultimate Portion Fix eating plans?
It is! The molasses in this recipe comes out to 1/3 sweetener teaspoons per serving. There is tomato sauce present, but it's a negligible amount of a purple container (1/16th, to be exact).
Trim Healthy Mama:
This is a THM-FP recipe.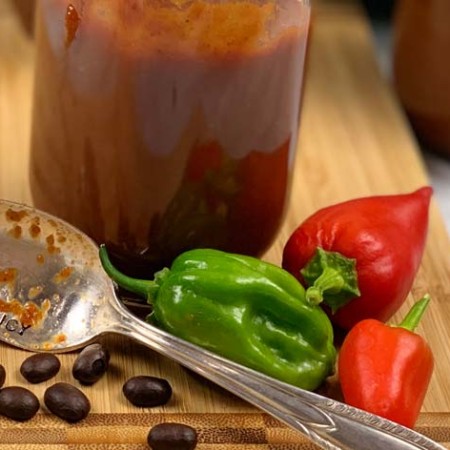 click the stars to rate!
Low Carb BBQ Sauce | Healthy & Refined Sugar Free
Approximate Serving Size: 2 tablespoons
Servings 48 servings
Not only is this family-favorite recipe a low carb BBQ sauce, it's refined sugar free, healthy, and delicious! Free from artificial sweeteners, this sauce uses molasses to sweeten it up. It's the best BBQ sauce for your dinner, and for dipping!
Equipment
Food processor

Kitchen Knife

Enameled Cast Iron Pan
Ingredients
2-3 jalapeños diced
2-3 serrano peppers diced
1 cup onion diced
8 cloves garlic minced
1 cup tomato sauce
1/2 cup Worcestershire sauce
3/4 cup coffee
1/3 cup molasses
½ tsp vinegar apple cider
1 lemon squeezed
1/8 cup chili powder
2 tbsp mustard
1 1/2 tsp cumin
1 1/2 tsp smoked paprika
Instructions
Add all of your ingredients to a large pot. Allow to simmer for at least 30 minutes. 8 cloves garlic, 1 cup tomato sauce, 1/2 cup Worcestershire sauce, 3/4 cup coffee, 1/3 cup molasses, ½ tsp vinegar, 1 lemon, 1/8 cup chili powder, 2 tbsp mustard, 1 1/2 tsp cumin, 1 1/2 tsp smoked paprika

After sauce is cooked, blend until smooth and bottle it up for later!
Nutrition
Serving: 2tbsp | Calories: 14kcal | Carbohydrates: 3g | Protein: 1g | Fat: 1g | Saturated Fat: 1g | Sodium: 63mg | Potassium: 90mg | Fiber: 1g | Sugar: 2g | Vitamin A: 45IU | Vitamin C: 2.5mg | Calcium: 12mg | Iron: 0.4mg