This site contains affiliate links. Please see Policies for more information.
These stickers are for personal use only. Do not download the printables to sell or host on your site.
Today I'm sharing something that is pretty exciting. Two of my most favorite things all rolled up into one! 21 Day Fix is an awesome lifestyle choice but it does require some management. You always have to keep track of how many containers of each color you eat and it's a good idea to track water as well. An easy to way track any kind of diet or exercise regimen is with a bullet journal. With these 21 Day Fix bullet journal stickers you can combine the awesomeness of bullet journaling with your 21 Day Fix plan.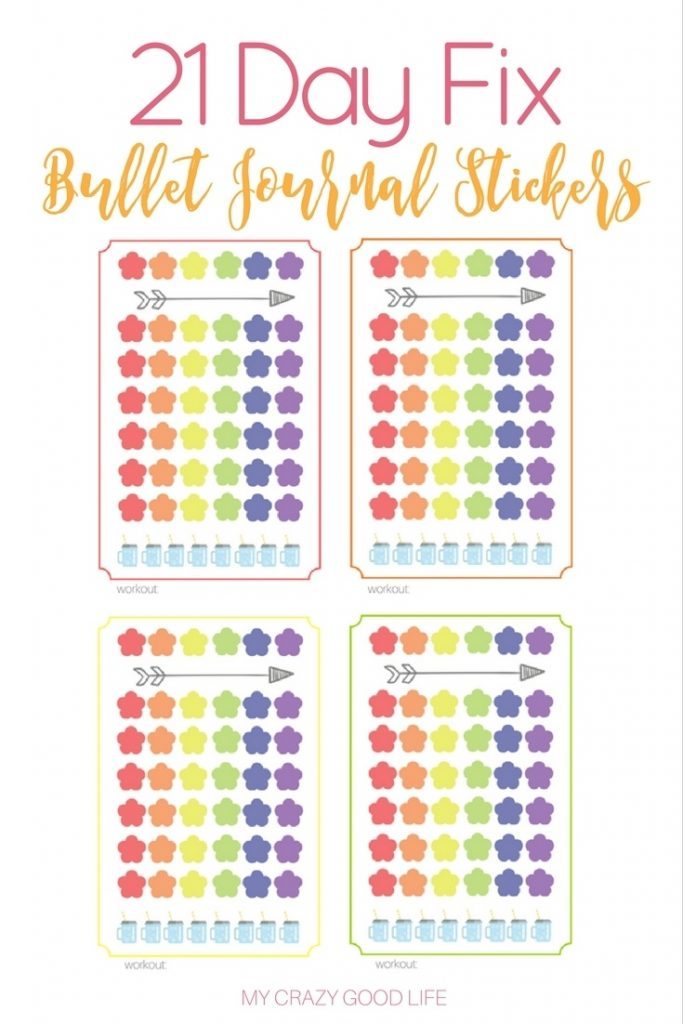 These stickers are adorable, you can print them at home, and they're useful. Those three things are a winning combination as far as I'm concerned! I really like that having this file on hand means I can easily print more when I need them. Sticker paper is cheap and you can order it from amazon which is even easier! The whole process is truly delightful.
It will automatically save to your desktop and each time you need more stickers you simply click and print! Keep some of this sticker paper on hand and you'll be all set. I love that this one simple sticker contains all the info I need to know about my whole day for 21 Day Fix. I can log my workout, water, meals, all in one spot. These stickers are a bright and colorful, they provide an excellent way to track your progress as well. Each day will look the same so you can see which days you did well and which ones you slacked a bit!
How do you use bullet journaling for fitness or meal planning?
If you haven't begun your bullet journal yet, you only need a few supplies to get started. The same goes for 21 Day Fix, it really is a match made in heaven. Bullet journals are easy to make from almost any notebook or journal, some colorful pens are great to design the inside, and you can't go wrong with sticker paper and other embellishments! For 21 Day Fix you can get started with a simple kit!
This sheet of 21 Day Fix Bullet Journal stickers was created by Trisha from MomDot. Learn how to create your own printables with her new ebook, How to Make a Printable.
Save