This site contains affiliate links. Please see Policies for more information.
This is a sponsored post written by me on behalf of Safeway. All opinions are 100% mine.
Charcuterie boards are definitely "in." There are no rules with these beautiful boards, but traditionally they contain sliced meats, soft cheese, dried fruit, vegetables, and crackers.
Charcuterie boards are popping up at restaurants and happy hours everywhere, and there is no shortage of fun themes to use when creating your own board.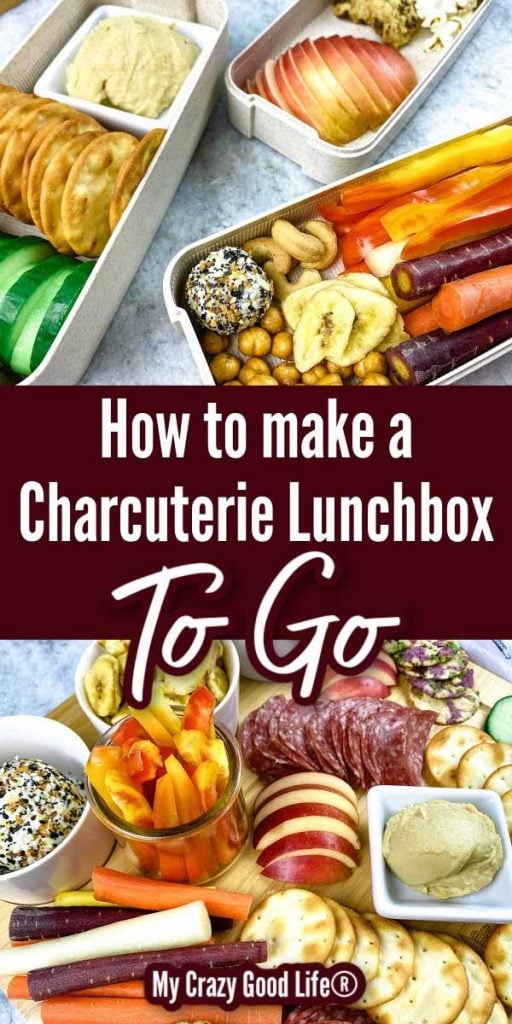 I much prefer bento box/grazing box lunches that contain a variety of snacks instead of a traditional sandwich, so I thought it would be fun to walk you through how to make one of these fun single serving "boards" for lunch!
How do you say Charcuterie?
Let's just get it out in the open–this isn't an easy word to say. Charcuterie is pronounced char-koo-ter-ee. It's a french word that basically means "pork butcher," but rest assured that these boards aren't limited to pork.
If you aren't feeling brave today, it's absolutely ok to simply say that you're making a cheese board.
Safeway has options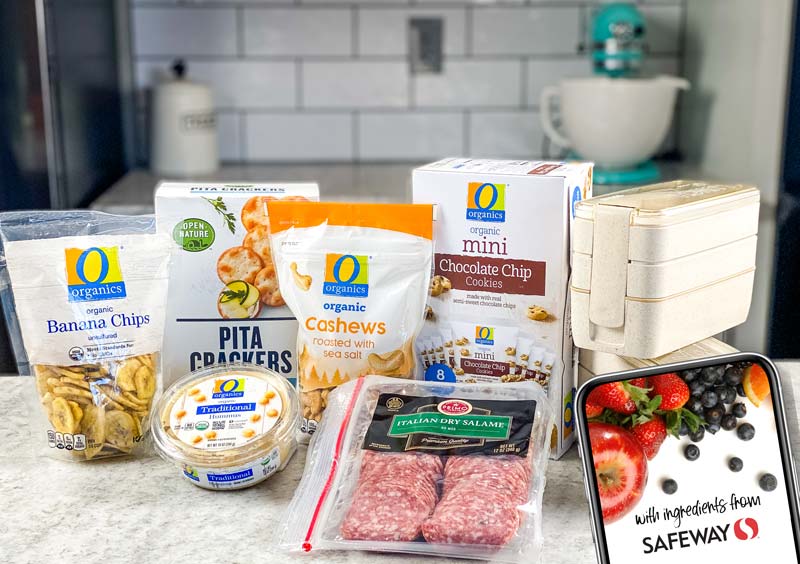 You're going to want to head to the grocery store with a plan. I shopped at my local Safeway store, but you can find these products at the Albertsons Companies family of stores including Albertsons, ACME Markets, Jewel-Osco, Randalls, Shaw's Supermarket, Star Market, Tom Thumb, and Vons. I love their selection of high quality foods like O Organics® snacks and Primo Taglio® meat and cheese.
Did you know that O Organics offers high quality, non-GMO and 100% USDA-certified organic products? We often buy their dried fruit and nuts to snack on.
Primo Taglio products are made with nothing but the best ingredients and never contain artificial flavors or colors. Cheese, like the soft goat cheese used for this board are made with high quality milk and old-world recipes.
Safeway also offers Grocery Delivery and Drive Up & Go™ for convenient ways to shop! I love using Grocery Delivery when I'm pressed for time.
How do you make a simple cheese board?
To make a simple Charcuterie board, start by choosing a few options from each list below. If you'd like super easy, you can print a grocery list with everything I used along with some extra suggestions–it's right at the end of this post.
There is no wrong way to make a Charcuterie board! Choose a theme and go with it–the perfect Charcuterie board is the one you bring, no matter what snacks you choose to put on it.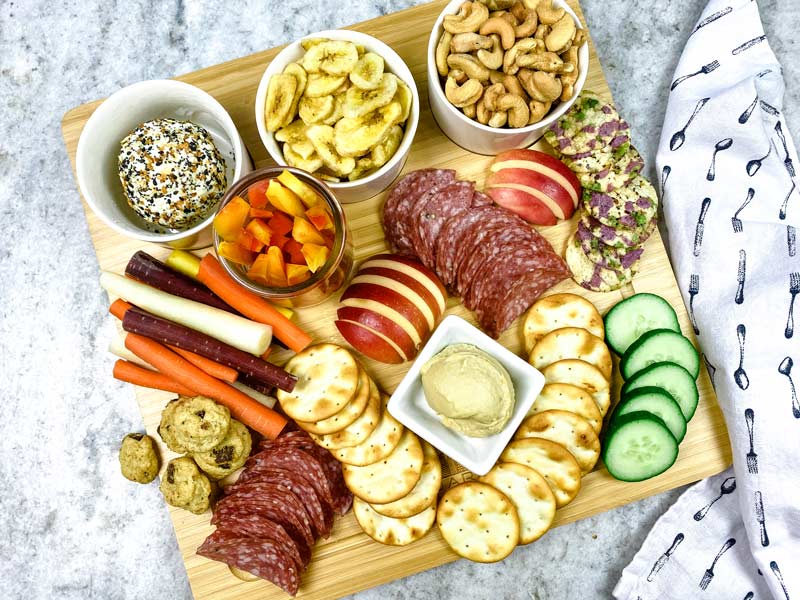 You'll need:
A board of some sort–even if it's just a simple cutting board
Small bowls for dips, olives, or snacks
Possibly a knife for spreading
Snacks! See below for ideas.
Meats
Traditionally, cured meats are used. If you're looking for a healthier alternative, I'd add in low sodium deli coldcuts.
Genoa salami
Prosciutto
Calabrese
Pepperoni
Deli ham or turkey
Cheeses
A mixture of hard and soft cheeses are preferred. I love rolling my soft cheese in seasonings, like Everything but the Bagel. You can't choose wrong with one of these boards–choose your favorites!
Soft cheeses such as Brie or a Brie spread
Blue cheese
Cheddar
Gouda
Provolone
Goat cheese
Salty Snacks
I love to add crackers and small pretzels to my boards–they're crunchy and great for snacking.
Olives
Pickles
Pretzels
Crackers or Flatbread
Nuts
Dips
Sweet Snacks
Cookies
Candy
Dried fruit
Fresh fruit
Yogurt covered pretzels and nuts
Fresh snacks
Celery
Carrots
Cucumbers
Cauliflower
Broccoli
Grape tomatoes
Charcuterie Lunch Box
Are you ready to make your individual Charcuterie board? The ingredients below are more than enough for one small charcuterie board, so if you'd like to make one for a friend, you'll have plenty of snacks.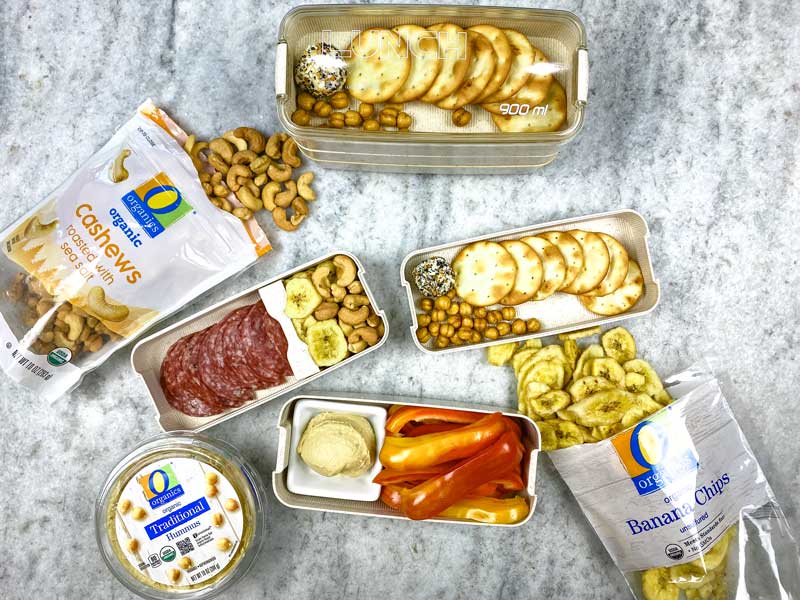 Time needed: 15 minutes.
I used a three piece Bento box for my lunch and it worked perfectly. This easy Charcuterie board is perfect for lunch!
Start with dips

I rolled goat cheese into a ball and then rolled it on a plate filled with bagel seasoning.
Next, I added a scoop of hummus to a small bowl that fits into the box.

Meats

I added salami that had been folded in half. I used about 8 pieces.

Crackers

I added crackers and some roasted chickpeas to add a crunch to the snack.

Sweet & Salty snacks

I used banana chips, salted cashews, popcorn, and a few mini cookies to fill the box where I had some extra room.

Vegetables & Fruit

I used sliced peppers, cucumbers, carrots, and half an apple to finish off my lunch. These were perfect for dipping in the hummus.
Whether you're looking for an easy appetizer, something perfect for your grazing table, or something to snack on for food and wine night, a Charcuterie board is an easy idea.
These recipes are perfect for using in a Charcuterie board:
Print this shopping list: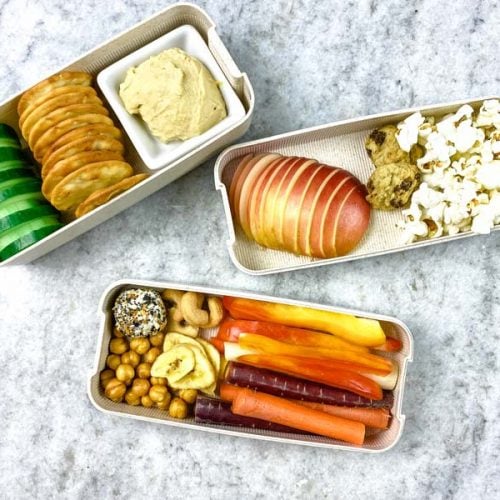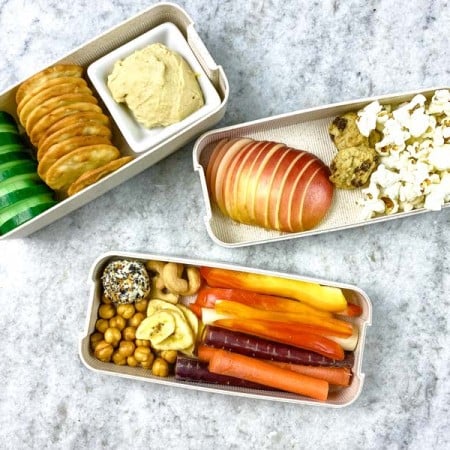 click the stars to rate!
Shopping List for Lunch Charcuterie Board
Servings 2
Wondering how to make a Charcuterie board? There are some simple basics you'll want to include, and I've got ideas and a shopping list for you. This simple Charcuterie board for one (or two!) is easy and beautiful.
Ingredients
Safeway Products:
O Organics Traditional Hummus
O Organics Banana Chips
O Organics Cashews
O Organics Mini Chocolate Chip Cookies
Open Nature Pita Crackers
Primo Taglio Italian Dry Salami
Primo Taglio Soft Goat Cheese
Produce:
Multi-Colored Carrots
Apples
Bell peppers
Cucumbers
Additional Ideas:
kiwi
grapes
strawberries
raspberries
grape tomatoes
fresh baked french bread
wheat crackers
roasted chickpeas
pretzels
hard cheese
olives