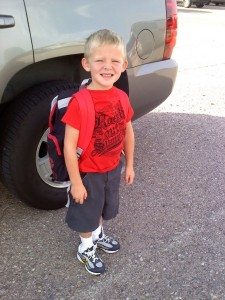 Jack started preschool (he calls it "playschool") this week! When I came to pick him up from his first day, he  was excited to tell me all about his fun day.
Transcript of the conversation:
Mom: What was your favorite part of preschool?
Jack: The legos. And the goo table. I had a worst part, too.
Mom: What?
(I thought you were supposed to have nothing but fun in preschool)
Jack: Some kids tortured the hamster. It died.
Mom looks at teacher, who quietly nods her head.
Mom: That's so sad. What… umm…  What happened?
(Do I really want to know?)
Jack: The kids were playing with it and they spinned it really really fast and it died.
*I should probably stop here to explain that Jack can't say his /r/ sound very well. So it actually sounded like this:
"…they spinned it wewwy wewwy fast…"
I looked at the teacher, who nodded her head again.
That, along with the image in my head of the spinning hamster, was enough to set me off.
I started laughing.
Pretty hard.
Then Jack started grinning.
I'm pretty sure the teachers had a lot to talk about when we left that day.