This site contains affiliate links. Please see Policies for more information.
As someone who needs lists to function, I understand the beauty of a planner. One book where everything lives. No misplacing that piece of paper or forgetting about that appointment, because it's all in one perfect place.
I was sent a Purposeful Planner to review and to be honest, I'm having some trouble waiting until January of 2016 to use it. I keep picking it up and flipping through the pages, looking at the daily tasks and inspiring quotes, and trying to remember every single thing I already have planned in 2016 so I can write it all in now. It's sturdy, yet beautiful. Functional, and still a little fun.
There are affiliate links in this post.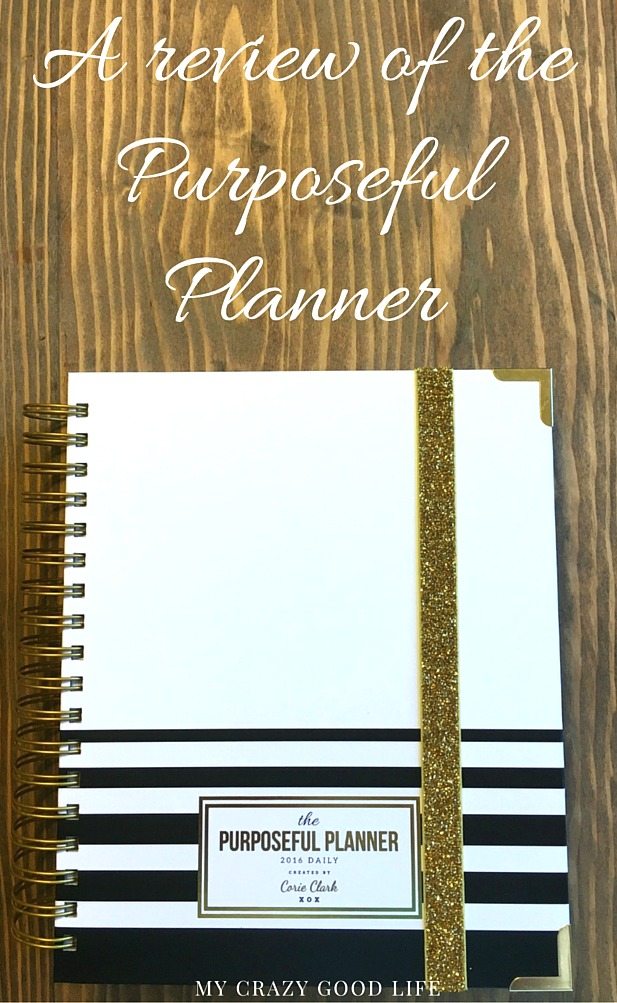 I received the Daily Purposeful Planner in CoCo stripes, but it's also available in Holly Floral as well as black and white leatherette.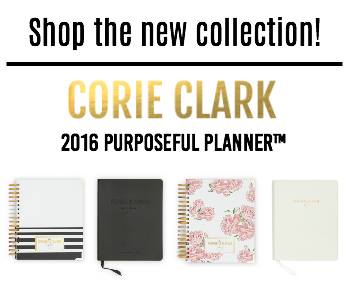 How big is the Purposeful Planner?
The official size of the Purposeful Planner (in CoCo stripes) is 9″x10″.
The unofficial size is… a little smaller than my 13″ MacBook Air.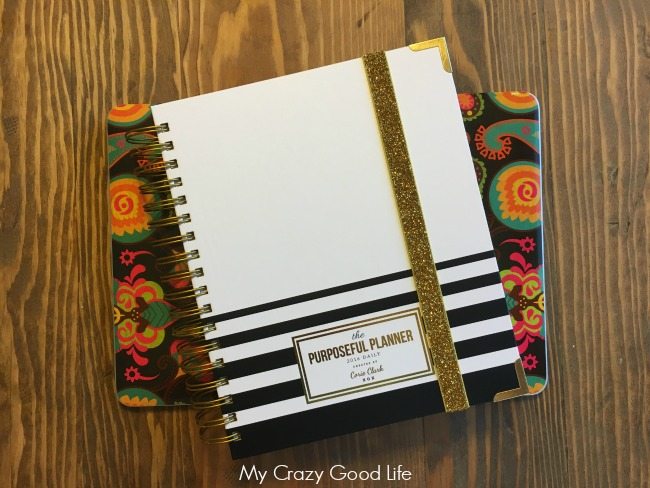 Are there pockets inside the Purposeful Planner?
Yes! There's a sturdy pocket inside the front cover.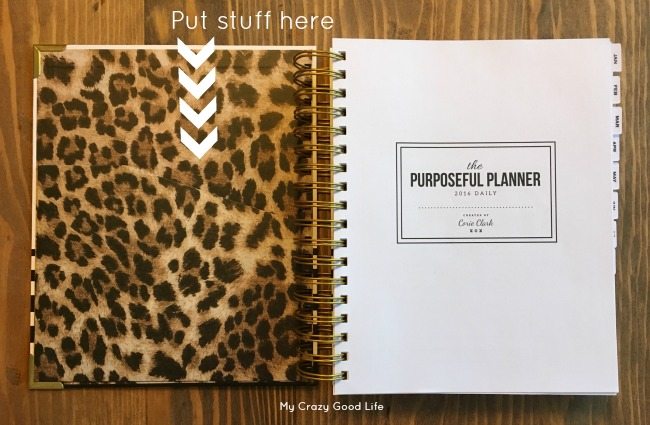 Is it just a planner?
Well, kind of. It has monthly calendars: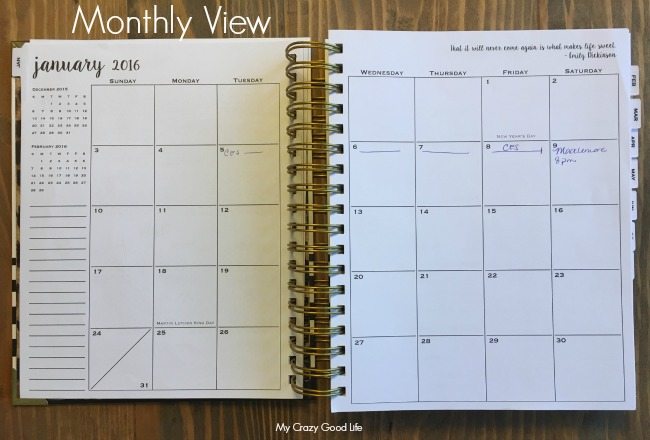 and it has a daily calendar: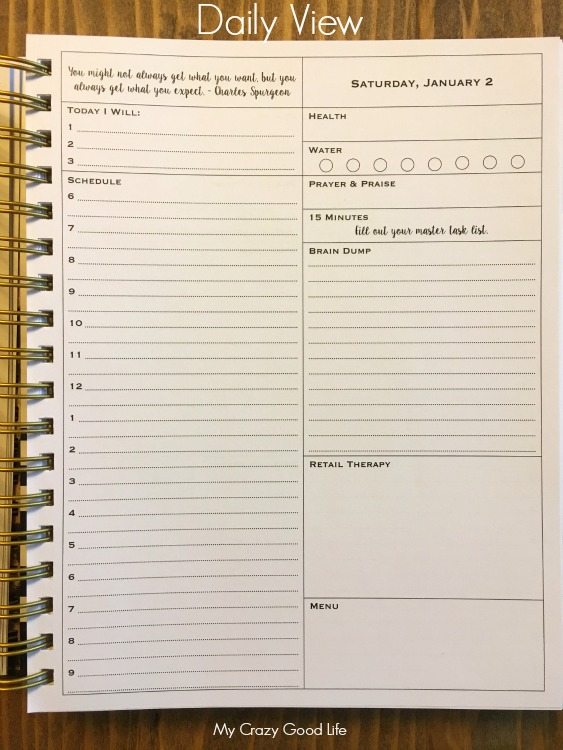 Though I'm sure you can see it for yourself, I think a few things on this page are really cool.
There's a quote for every day of the year. Some are bible verses, some from books, etc. There's a spot to log your water intake. I think this is so helpful!
Corie wrote in different 15 minute tasks every day. These are great for breaks during the day for me, I always need a reason to get up and take a break!
There's a spot for brain dumps. Right now I use a notepad next to my desk to write things down when I'm working, so I don't click away and become unfocused. I love that I can do this right from my planner now!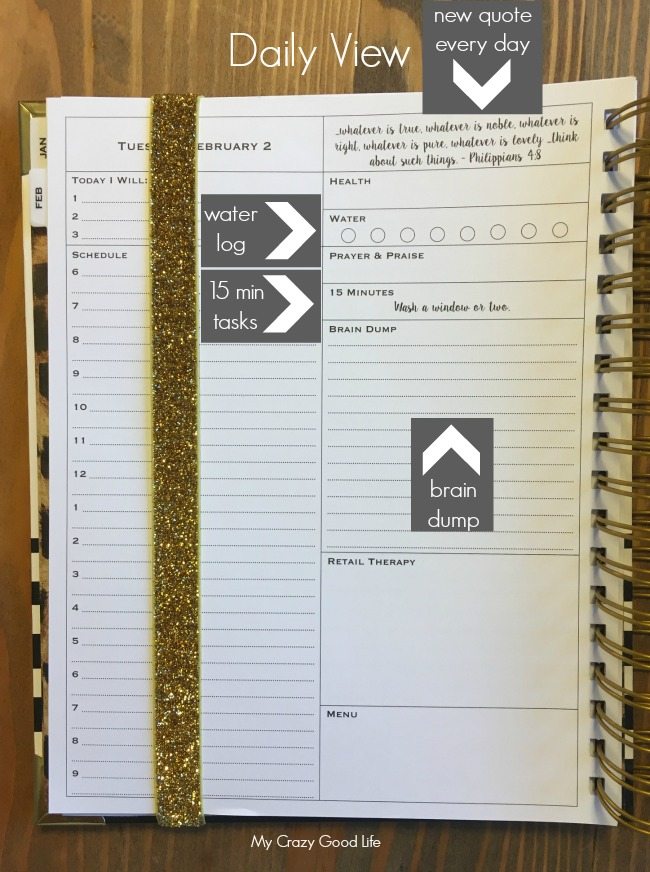 So, yes–it's a planner, but it also has a few other really cool features.
At the beginning of every month, there's a spot for you to list out your dreams, goals, and to-do lists. It's even broken up by area of the house: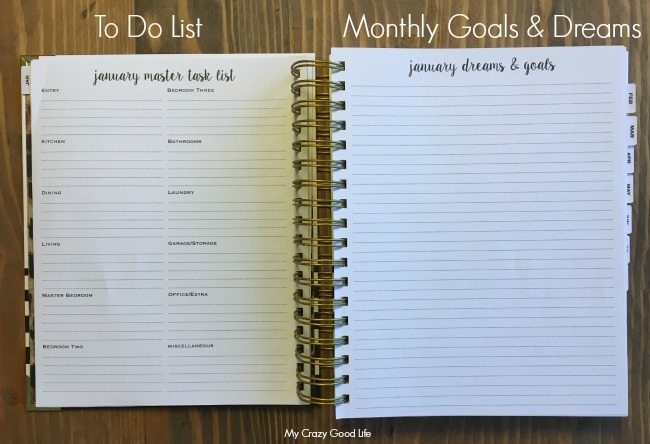 This didn't surprise me a bit knowing that Corie Clark, the creator of the Purposeful Planner, is also author of the book The Simplicity Project. In my head, her house is perfect and everything is labeled and in the correct place.
Also included at the beginning of each month's calendars is a monthly budget and meal planning section: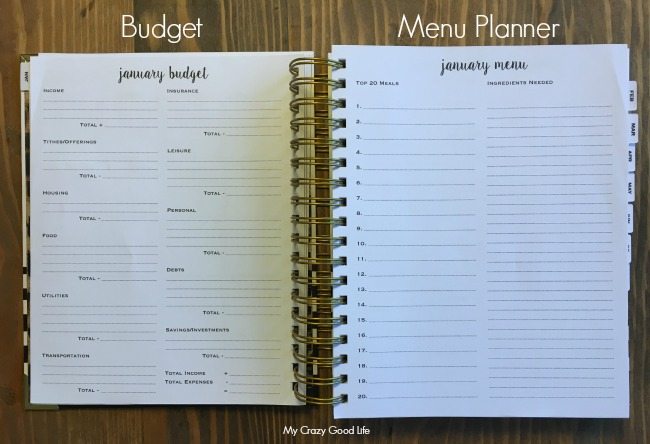 I love this. Every month is a new chance to start fresh and make new goals.
The Purposeful Planner is a daily and monthly calendar. It's also a way to set your tone for the year, follow through with actionable items every day, and check your goals every month.
How much is the Purposeful Planner?
Depending on the style you choose, the Purposeful Planners range in price from $44-$52. The one I reviewed above is $52.
Do I need the accessories?
Nope. You don't need a thing except the planner. But… some of the accessories are pretty awesome.
You'll notice on some of my pictures there is a gold band around the planner. That helps you stay on the right page from day to day and not have to flip through the planner every time you open it. I love these bands–totally worth the extra cost, in my opinion.
If you follow me on Instagram, you'll see that I've been using the My Crazy Day Notepad. It's my new best friend. There is room to schedule your day, track your water, and dump your brain–just like in the daily planner. If you end up purchasing a weekly planner but are a little sad that on busy days you can't schedule all of your to-do items, this notepad is for you. It's also great if you have a few months until you can use your new daily planner!
Washi tape. Because washi tape. It matches your planner and adds a bit of color. What's in the box? The planner, a sweet note from Corie, and well, the box–it's not just a box. It's a heavy duty box to store your memories, and I love it.

I'm loving my Purposeful Planner–the durability, the style, and the organization it provides my brain. I'm happy to answer any questions you have about it, so leave me a comment below if you have one!
I was provided with a Purposeful Planner to facilitate this review.