This site contains affiliate links. Please see Policies for more information.
Cleaning the grill doesn't have to be one of those chores that you dread! Cooking on a nice clean gas grills is amazing! Here in Arizona we use our gas grill more than the oven so naturally I had to find a way to effectively clean our grill grates! Here's my ultimate gas grill cleaning hack…you might be surprised by the secret ingredient.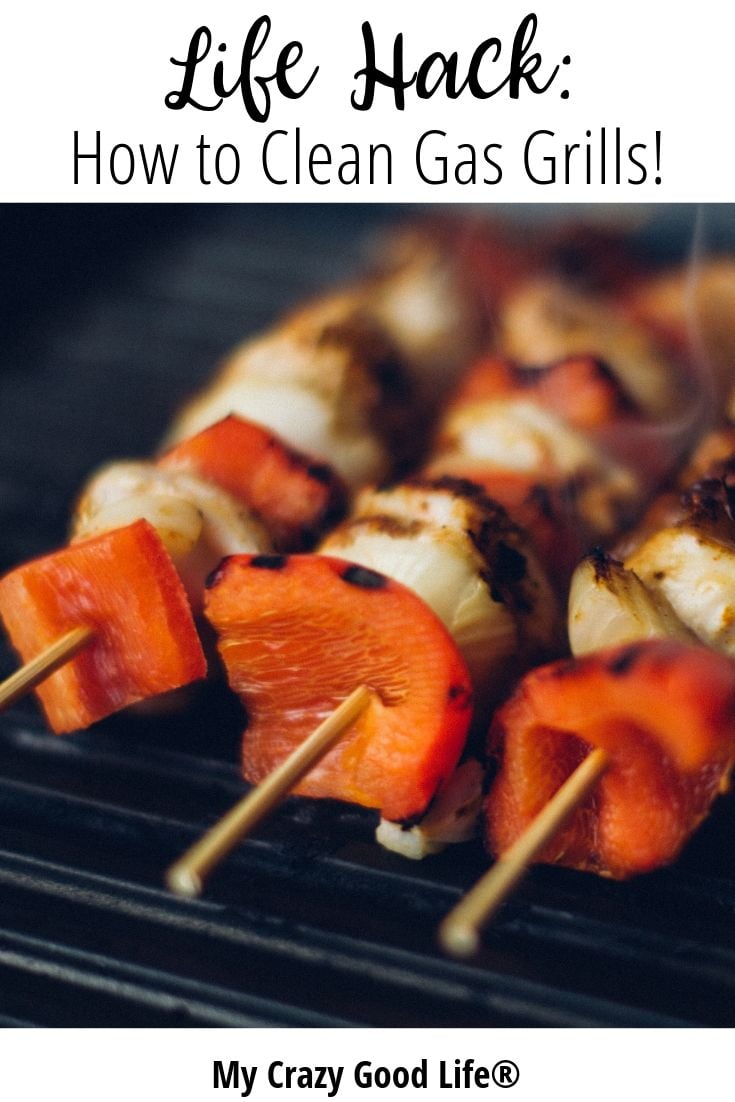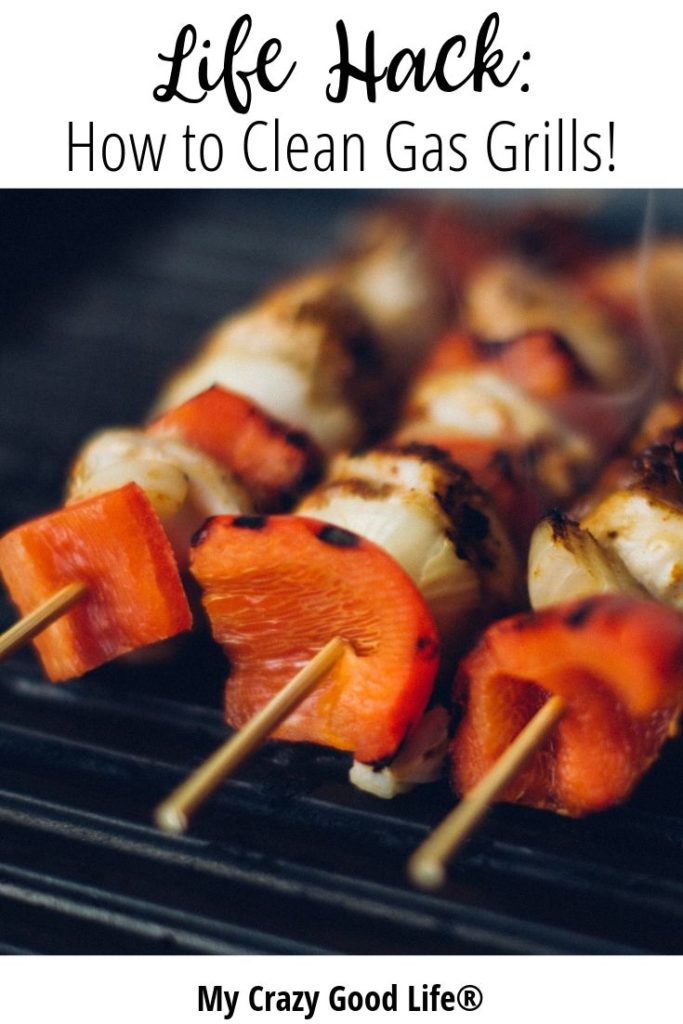 Why shouldn't I use a chemical cleaner on my grill?
I'm not a fan of harsh chemical cleaners, so I've searched for a heavy duty non-chemical cleaner I could use to clean the grates in our grill. Recently, we found that Super Washing Soda–a close cousin of baking soda–works well on tough jobs! I picked some up at Walmart to use around the house because it seems to be useful for everything…more on that below.
One of the main reasons I don't like to use harsh chemical cleaners on our grill is because of how much we use it. The nice weather year round in Arizona means lots of cooking on the grill. Perhaps if we were only using our grill seasonally and it only got one or two deep cleans a season a chemical cleaner wouldn't seem to bad…it just feels like too much chemicals soaking onto something we eat off of. YUCK.
What will I need to really get a sparkling clean finish when cleaning grill grates?
The best way to remove stuck on grease is to scrub the grates with the washing soda and a stiff bristle brush. For really dirty grates…the kind you don't want to clean but would rather toss…soak them in a solution of 1/2 cup washing soda per gallon of water. Once they've soaked for a few hours pull them out and scrub with the stiff bristle brush and more cleaning soda.
You'll need a stiff bristle brush, warm water, and the super washing soda to get a nice clean finish on all your grill surfaces. The Super Washing Soda shouldn't be used on aluminum surfaces so if the outside of your grill is aluminum you won't want to use it on that!
Here are some step by step photos of how I clean our gas grill: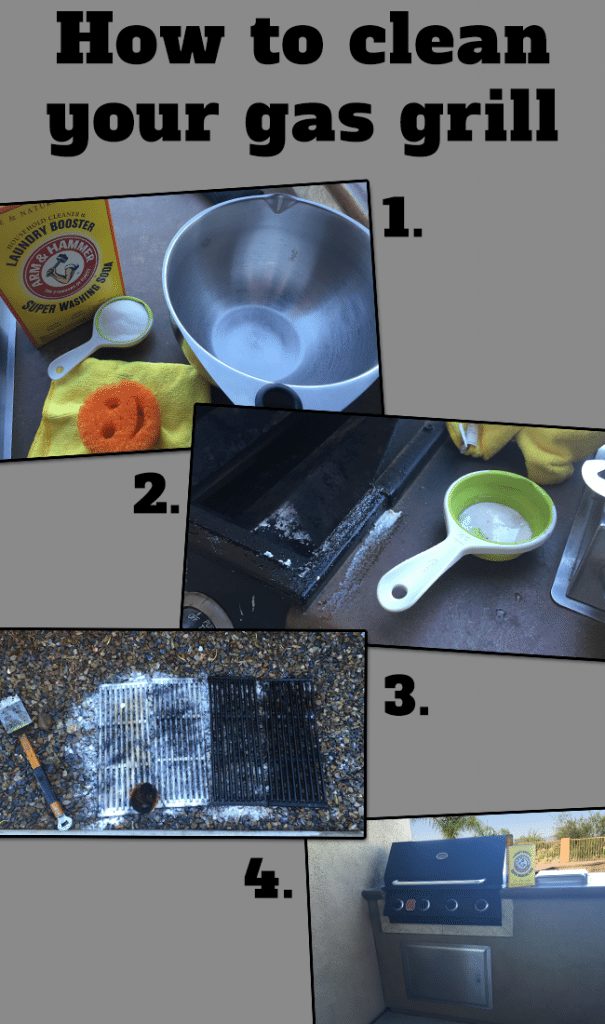 Tips for cleaning the grill:
First things first. Turn off and disconnect the gas before you start doing any cleaning. There's a lot of knob turning and shuffling around. You won't want to realize too late that you didn't shut off the gas the whole way.
Having a measuring cup, some cleaning cloths, and the hose nearby for rinsing can make life a lot easier! Your wire brush from the grill will come in handy too.
The whole process can be done in the kitchen if it's hot and you don't want to clean the grill grates outside ;)
How to get a sparkling clean gas grill:
Step 1: Mix a thick paste of washing soda and water for scrubbing.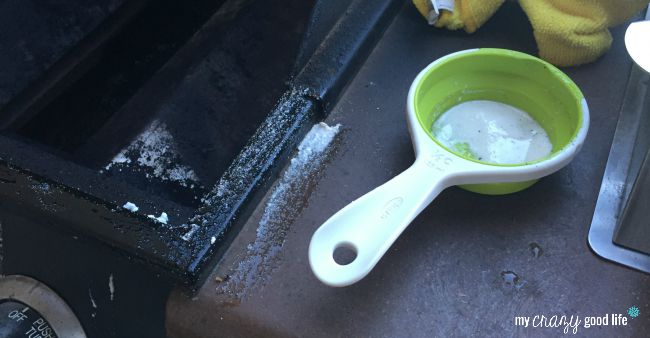 Step 2: Using a scrubbing pad to dip into the paste, scrub the outer cooking edge of the grill. I found that using a lot of paste helped to clean the gunk faster. When you're done, use a damp rag to wipe the excess paste and gunk off the grill.
Step 3: Pull the grates off the grill and soak in a shallow tub as mentioned in the official directions above. If you don't have a shallow tub, place the grates in an area where the cleaning solution won't bother plants or grass. I stuck them on our rocks.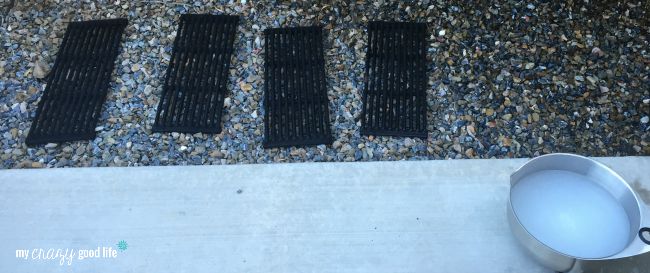 Step 4: Cover the cooking grates with a coating of washing soda and a little bit of water, so it forms another paste coating. Let sit for a few minutes, even up to 15 minutes for really dirty grates.
Step 5: Begin scrubbing grates one section at a time with a scrubbing pad or bbq grill brush (or both!). When you're done, flip them over and go back to step #4.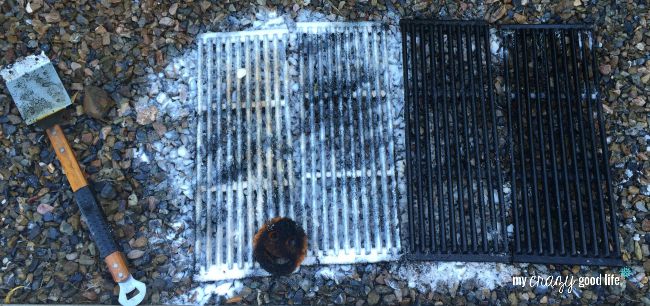 Step 6: Allow the grates to dry before placing them back on the grill and then close the lid, you're all done!
Can I use Super Washing Soda for other cleaning tasks?
As I mentioned before, Super Washing Soda is useful for cleaning so many things around the house. Here are just a few ways it can help you:
Laundry
Oven and Stovetops
Small Appliances
Outdoor furniture
Garden Tools
Window blinds
Garage floors and concrete
Showers and toilets (it is a natural water softener and dissolves hard water stains!)
Garbage cans
I should also add that I've used this stuff to clean tough messes in all areas of our home. It's a great natural cleaner that doesn't bleach or damage most surfaces and it adds just enough of an extra kick to get stuff really clean, which I love.
What is your toughest household item to clean?