This site contains affiliate links. Please see Policies for more information.
It seems that every day, I fight a war. Of course, I'm not fighting a real war, but one against the clutter that tends to find its way into my house. More than anyone, I think I need these simple decluttering tips in my home!

As we gain sentimental knickknacks and beautiful pictures that belong in frames, we also suffer from the clutter that they bring. Clutter also surfaces in the important paperwork that we have to keep but haven't yet filed, or bills that need to be paid but aren't quite ready to be shredded yet. After a while of trying to rearrange it, we usually hit our breaking point–decluttering. It happens to the best of us, really. It's time to take out the old and replace with the new, or just take out the old and enjoy a bit of extra breathing room.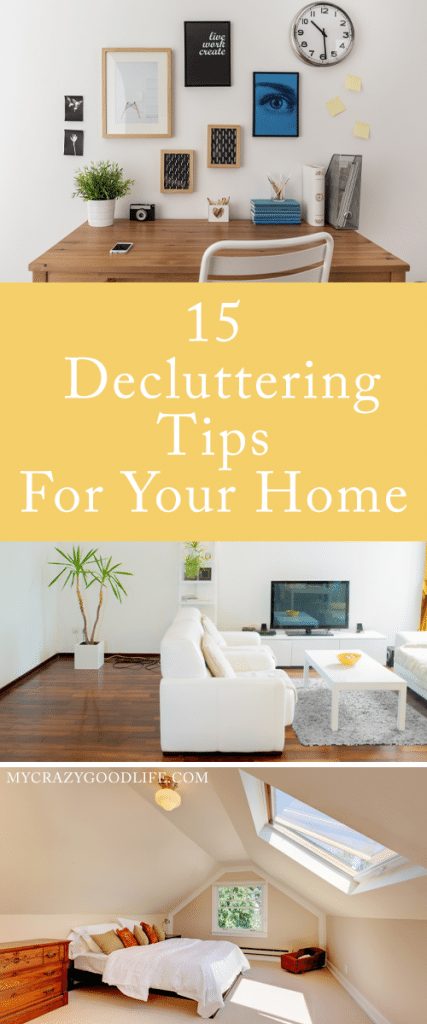 15 Decluttering Tips for Your Home
Get rid of things you haven't used in a year | Levo
Ditch the excuses | Living on a Dime
Make sure you have trash bags ready |Home with Keki
Separate into piles | Eclectically Vintage
Use  toilet paper rolls to organize cords and wires | Krazy Coupon Lady 
Make a list of what you will need to do | Mom Wife Busy Life
Add those "someday" tasks to your to-do list | Frugal Beautiful
Start small | Double The Batch
Remove clothes you haven't worn for a while | Bloglovin
Follow the "one in, two out" rule | Moma in The Now
If you don't recall seeing it for a year or more, you don't need it | East & Blog
Do you have too many glasses and cups? | Tico and Tina
Store it neatly and get organized | Listotic
Sell or donate the unwanted items that are still in good condition | Just a Girl and Her Blog
Know the differences between garbage, donation, and items that can be sold | Sweet Tea Makes Three