This site contains affiliate links. Please see Policies for more information.
Core de Force is a fun Beachbody program that combines MMA with Boxing and some awesome cardio. The Core De Force meal system is similar to the 21 Day Fix meal system so it was right in my wheelhouse and I knew I had to get you some resources for this new program. This Core De Force meal plan printable will get you started off on the right foot.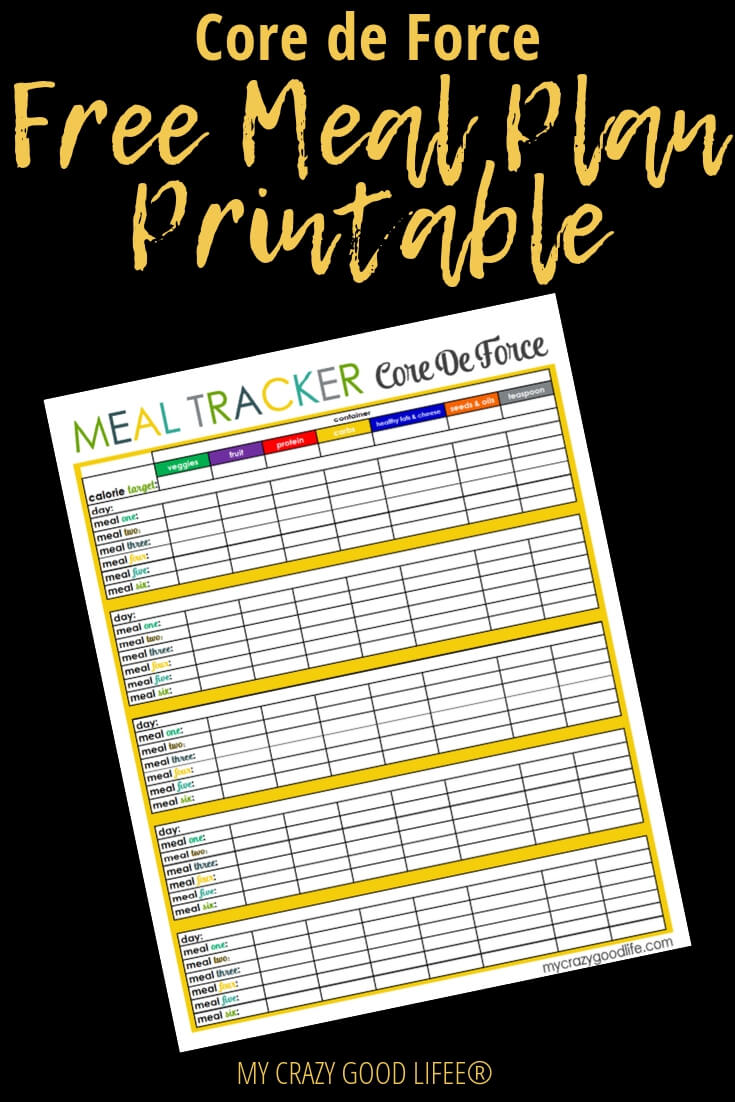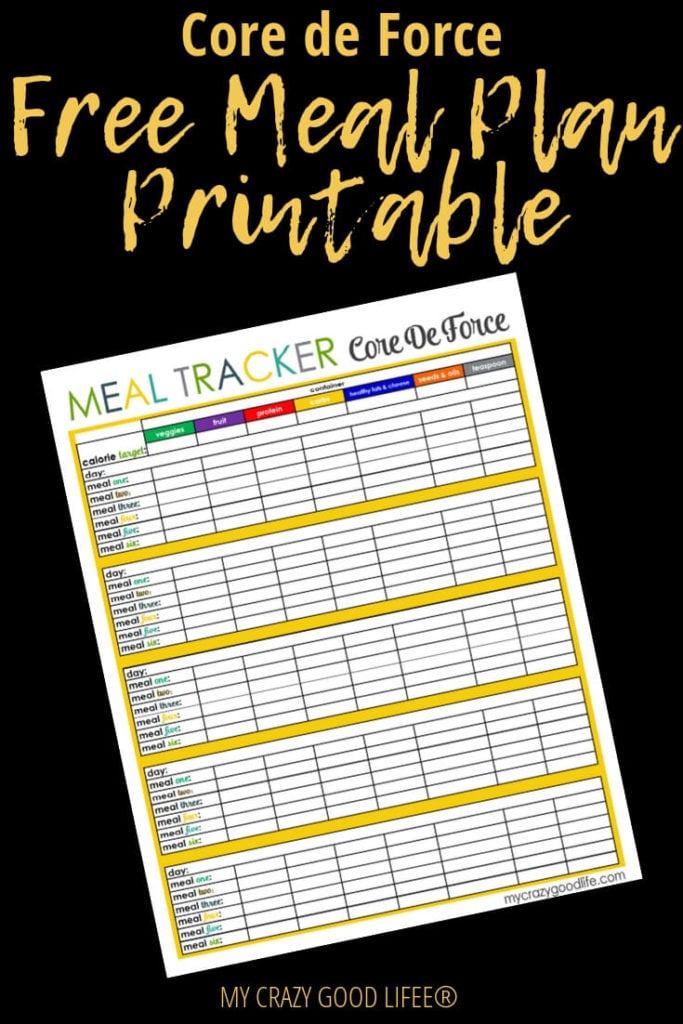 What is the Core de Force program like?
The Core de Force program on Beachbody is an eating plan and an exercise system that has MMA inspired workout plans. I LOVE the MMA aspect of this series, it's my favorite set of Beachbody videos to date!
It's never a bad time to get started down a new and healthy path. One of the great things about most of the Beachbody programs is that they feature workouts that can be done at home. You don't have to drag yourself to the gym, no packing an extra bag to lug along to work, no mid day shower when hitting the gym on your lunch break.
Can I do the Core de Force workouts at home with Beachbody On Demand?
Absolutely, it's easy to do at home, very little equipment required, and you can start seeing great results almost immediately. With the new Core De Force program the MMA style workout system is so much fun.
It's something different and it keeps me interested and engaged. I almost don't realize how much work I'm doing because I'm having fun while getting fit. This total body workout program is serious business. Core de Force can definitely help with weight loss as well as a healthier lifestyle thanks to the nutrition plan.

Why do I need a Core de Force meal plan?
I've found that meal plans make it so much easier to follow any program. Using this Core De Force download and print meal plan makes it easier to be successful. It makes so much sense when the system is all laid out in front of you each day.
A meal plan is the easiest way to make sure there is nothing left to chance. No, "I think I'll just have a snack" moments that can derail your plan. By cutting out that temptation we can all succeed more easily!
Is this an easy to follow Core de Force meal plan PDF?
One of the things I really appreciate about the Core De Force and 21 Day Fix plans is that they're so easy to follow. No one, including me, has time for a complicated program.
If I can't work the system into my life there's a good chance I won't stick with it, and I know that is true for most other people as well. These Beachbody programs really help to make it easy for me to live my best life!
That being said, the same goes for my workout resources and printables. This Core de Force meal plan PDF is very accessible. It's color coded and designed to flow through the day and into the next for an entire week.
Core de Force Measurement Tracker
When you are working your way through any intense exercise program it's important to make sure you track your measurements. The scale can't always accurately access your progress.
You might not be able to see your results as you look in the mirror every day but with this Core De Force Measurements tracker you will notice the number changing as you work through the program.
Again, it's key to your success to watch your measurements and not your weight. Your body will be changing and developing new muscle and sometimes the scale alone is not an accurate reading of your success.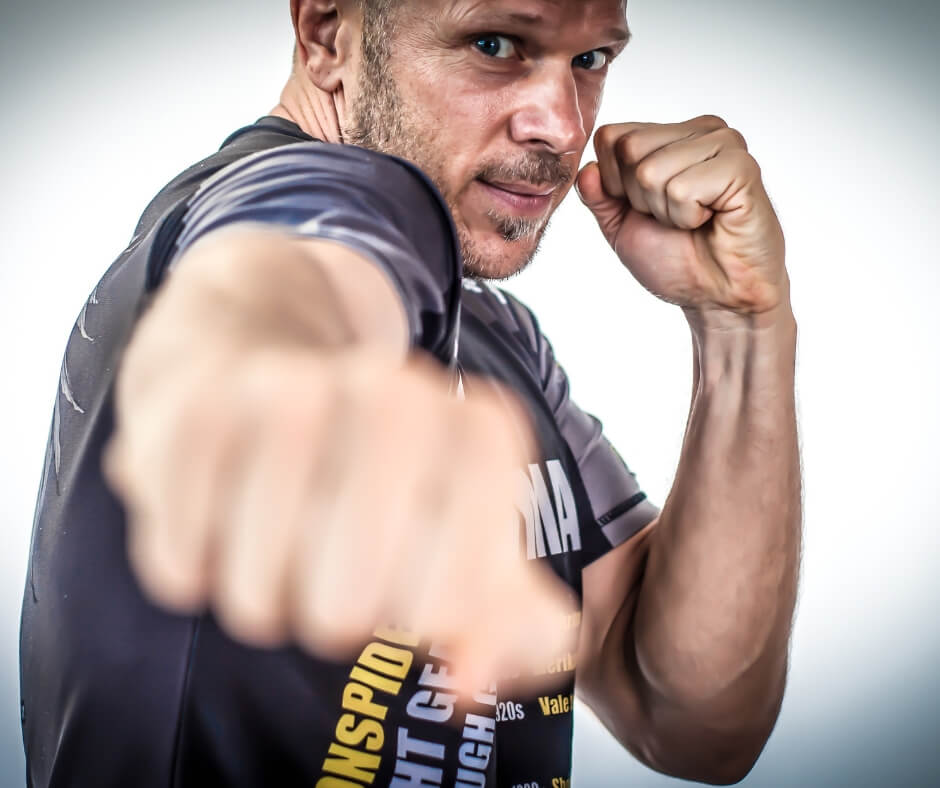 The measurements tracker below is a very easy printable. I'd consider this absolutely essential to monitoring progress on the Core de Force program.
If you are participating in any new workout program you should use measurements to define your progress. The scale won't always give you a full and accurate depiction of what is happening inside your body so you progress.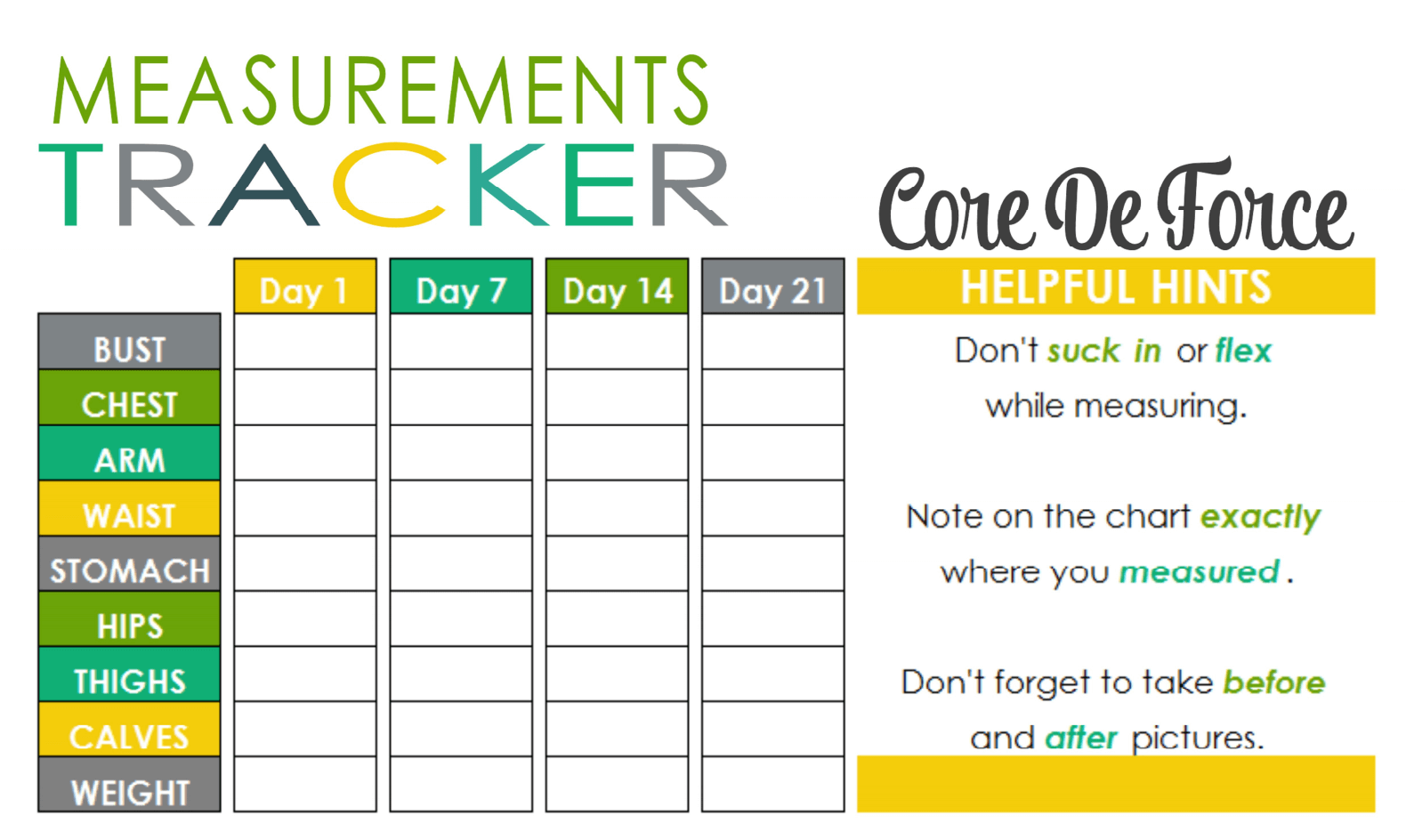 Core De Force Meal Plan Printable
How about we get to the star of the post! This is the printable that we've all come for so just a few tips: I'd consider printing this and plotting out all of my meals the best way to use a meal tracker. However, you are definitely able to print and use this tracker to do just that, track your containers as you eat them throughout each day.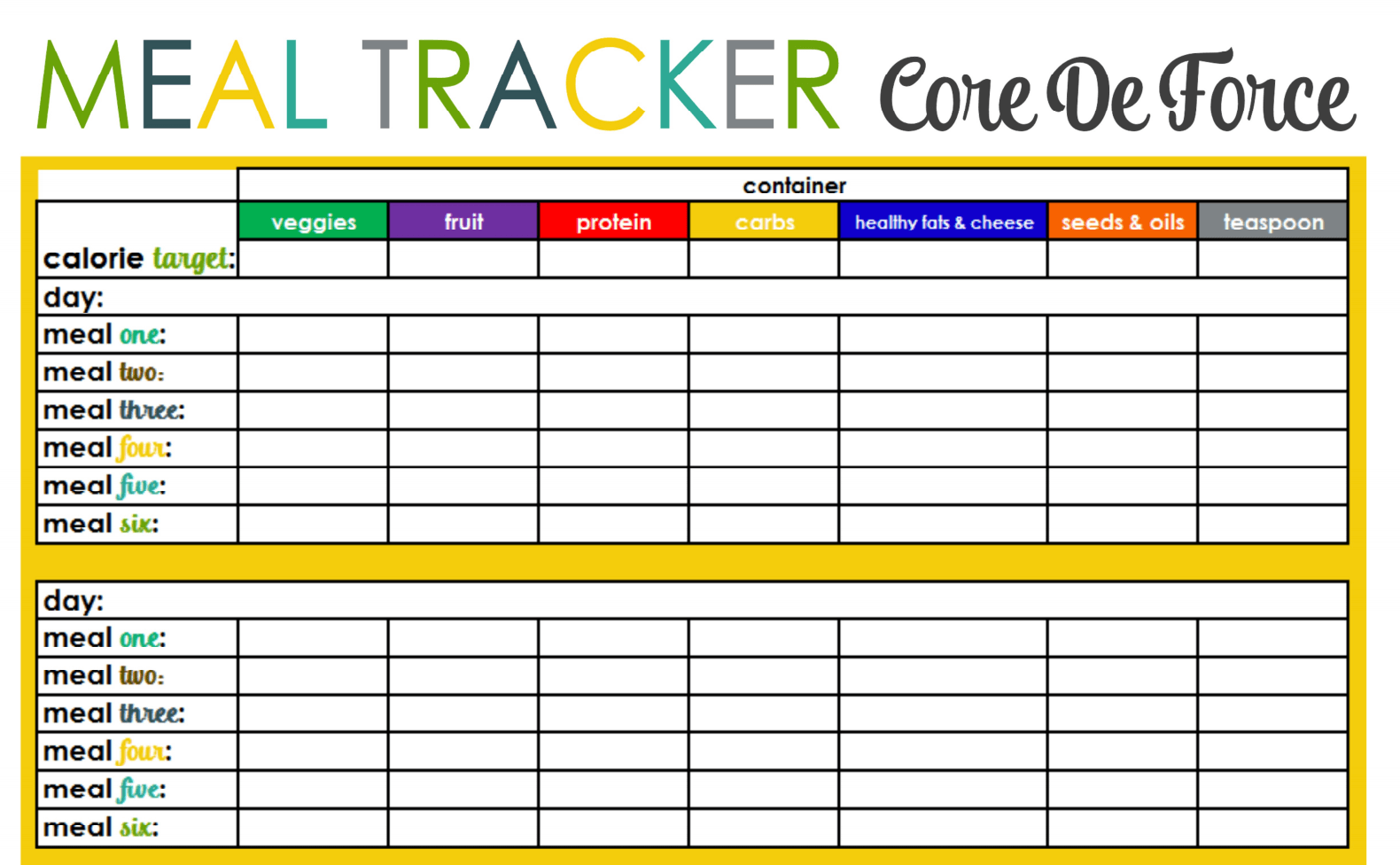 If you haven't picked up the Core De Force system yet you can grab it here. Just like with my 21 Day Fix content, it will supplement the program and help you succeed but it can't replace the program entirely!
Printing this Core De Force meal plan is quite simple, click right here so you can access the one page download. From there you are able to print, and save this useful resource for yourself. This printable Core de Force meal plan tracker is for you to use, it is not for commercial use and you can not resell it.
How do I get access to this Core de Force download?
By entering your email address, you will be added to the My Crazy Good Life email list. You can unsubscribe at any time. The information will only be used to provide you with updates according to our privacy policy, found on our website. We will never sell your info.
Save
Save