This site contains affiliate links. Please see Policies for more information.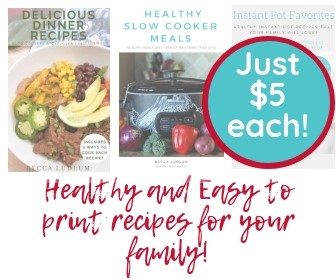 Welcome to Tween/Teen Tuesday at My Crazy Good Life! Today I'm explaining what the new facebook changes mean for your teen. I'll also help you find the settings to keep your teen safe online and explain why I'm not a fan of the new facebook privacy settings for teens.
———————–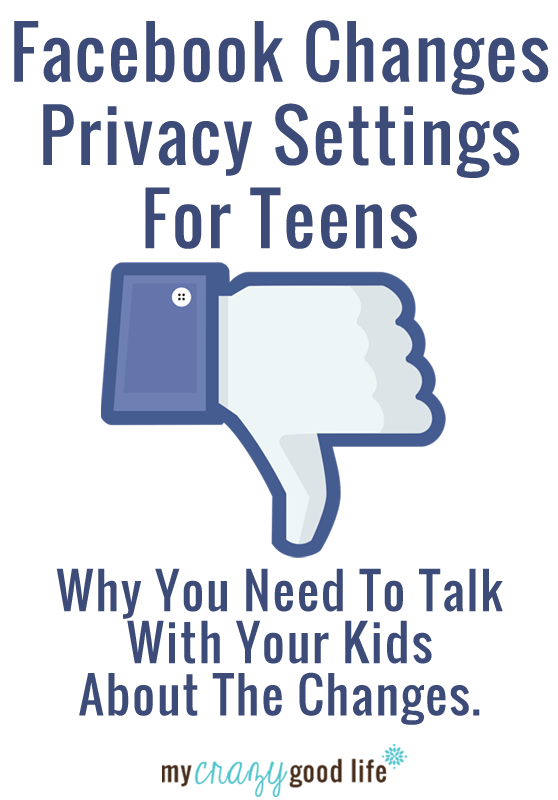 Facebook dislike image courtesy WikiMedia Commons.
Teens 13 years of age and older are able to register for a facebook account. Previously, teens with facebook accounts had status updates defaulted to sharing with "friends of friends." With the new changes, when teens ages 13-17 sign up for a facebook account their default audience for status updates will be "friends" (which is a smaller audience) and they will have the option to share their status updates with the public.
Not all of these changes have rolled out to all facebook profiles yet, so be aware your teen might be operating under the "old" policy right now, like mine is. There isn't an option for him to have followers yet. Keep checking back, though, because eventually your child's profile will be affected.
In addition, teens are now allowed to have followers, or people who can view their status updates even though your teen isn't friends with them. Those following your teen will only be able to see the updates they share as public.
Here are the basics:
1. Your teen has a choice between making his status updates visible to a select group of people, all of his friends, friends of friends, or public. This is something that can be changed every time he posts a status update by clicking the box to the left of "post."

2. If your teen has allowed public followers, they will see his status updates in their timeline. This includes public check-ins that tell his location, public pictures that he posts and any other public status updates he makes.
3. If your teen changes an individual status to public, they will see a series of pop-up warnings from facebook. The first warning says, "Did you know that public posts can be seen by anyone, not just people you know? You and any friends you tag could end up getting friend requests and messages from people you don't know personally."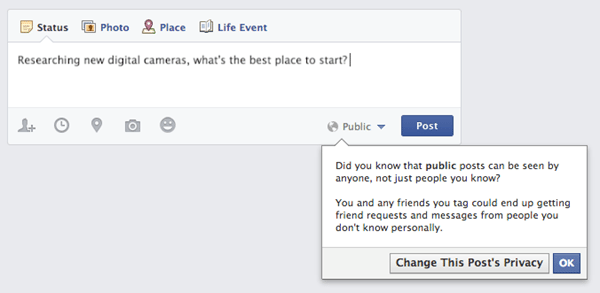 If your teen still chooses to make his update public and chooses "ok," he will see a message that says, "Tip: Sharing with Public means anyone (not just people you know) may see your post."

Once you change the audience that you share one status update to, that audience remains the same for all future posts (unless you manually change it again).
What does this all mean?
1. Talk with your teen. Explain what online privacy is and why it's important.
2. Explain some of the scenarios that concern you. A friend tagging him at the mall so the friend's followers know where they are. Someone knowing where he goes to school. A follower who documents his life and uses it to bully him.
3. Walk through the facebook privacy settings with your teen. Take a look at the Privacy Shortcuts that can easily be found in the top toolbar: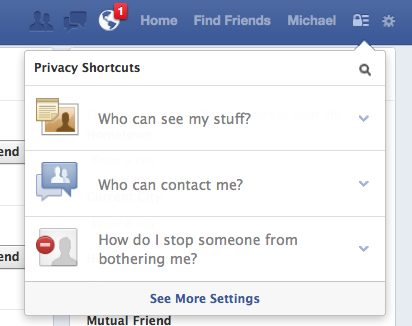 Click through to each section and discuss what the options mean. Remember, your teen is still a kid. Help them understand what their choices are in this area.

4. Discuss friend requests. If your teen receives a friend request from someone they don't know, what should they do? Make sure you're on the same page about this. For younger teens, check their friend lists often.
Here is a quick reference chart to help you with your facebook walk-through with your teen:
The bottom line is that as parents, we have to stay up to date with the social media networks that our children are using. I'm not a fan of the new facebook privacy update because I don't think teens should have public followers. A teen who changes the audience of their status update without their parent's knowledge could be put in danger by a public check-in. I understand that for other social media networks the same danger is there, but I think it's easier to keep up with the "protected or public" options of other networks like Twitter or Instagram. The feedback I've heard tells me parents easily feel overwhelmed by facebook changes and instead of digging in deeper to make sense of them, they back away from them entirely, leaving social media privacy decisions to their teens.
What do you think about the new facebook privacy changes for teens?
In addition to public status updates, facebook apps can easily grab your permission to share personal profile information. Bryan Logan explained how to check what your facebook apps are doing behind your back and how to change their settings or remove them.