I had the opportunity to preview Disney's newest movie Cinderella this week, and I loved it! I'll admit–princesses aren't really my thing–but, I was pleasantly surprised with Cinderella and would definitely watch it again! And don't forget that before the movie you'll see the new Frozen Fever short! Here's my Cinderella parent review–everything you need to know before taking your little ones to the movie.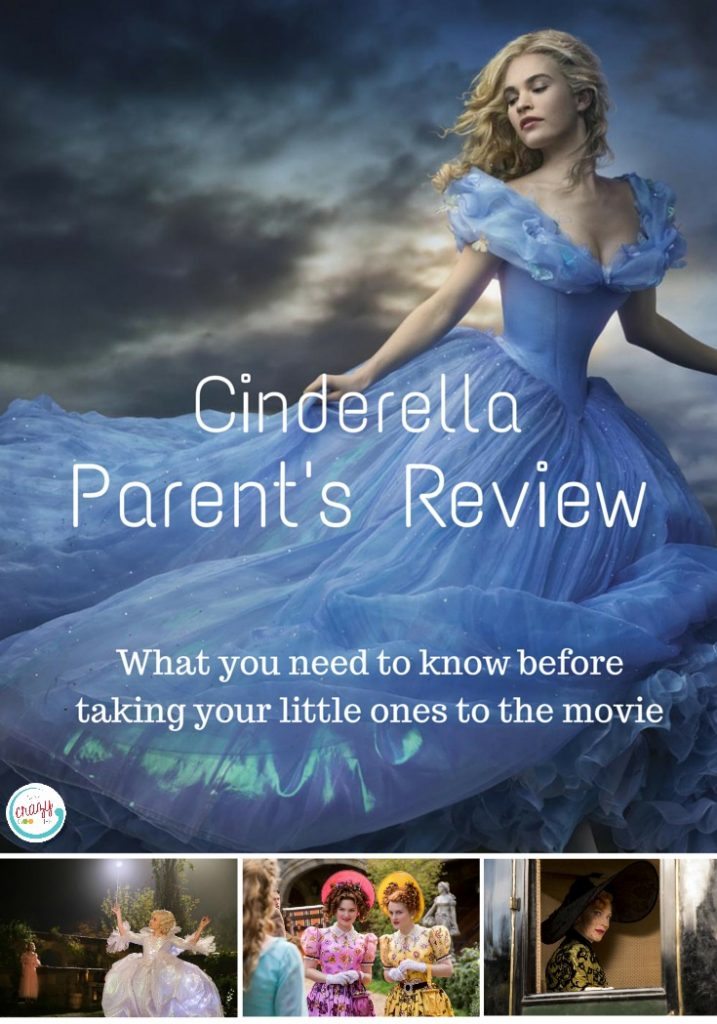 The story of "Cinderella" follows the fortunes of young Ella (Lily James) whose merchant father remarries following the death of her mother. Eager to support her loving father, Ella welcomes her new Stepmother (Cate Blanchett) and her daughters Anastasia (Holliday Grainger) and Drisella (Sophie McShera) into the family home. But, when Ella's father unexpectedly passes away, she finds herself at the mercy of a jealous and cruel new family.

Soon, she is forced to become their servant, disrespected, covered in ashes and spitefully renamed Cinderella. Yet, despite the cruelty inflicted upon her, Ella will not give in to despair nor despise those who mistreat her, and she continues to remain positive, determined to honor her mother's dying words and to "have courage and be kind."

When Ella meets a dashing stranger in the woods, unaware that he is really the Prince (Richard Madden) and not merely Kit, an apprentice at the palace, she believes she has finally found a kindred soul. It appears her fortunes may be about to change when the King (Derek Jacobi) summons all maidens in the kingdom to attend a royal ball at the palace, raising Ella's hopes of once again encountering the charming Kit. Alas, her Stepmother forbids her to attend and callously destroys her dress.

Meanwhile, the calculating Grand Duke (Stellan Skarsgård) devises a plan to thwart the Prince's hopes of reuniting with Ella and enlists the support of the devious Stepmother. But, as in all good fairy tales, help is at hand. Soon, a kindly beggar woman (Helena Bonham Carter) steps forward and, armed with a pumpkin, a few mice and a magic wand, changes Cinderella's life forever.

A live-action feature inspired by the classic fairy tale, "Cinderella" brings to life the timeless images from Disney's 1950 animated masterpiece as fully-realized characters in a visually-dazzling spectacle for a whole new generation.
And if you haven't had the chance to see it yet, here's the official trailer:
There were many children in the audience at the screening. Four or five year-old girls in princess dresses, six and seven year-old children who were excited and obviously fans of the movie. While some parts of the movie are sad (I'll explain why at the end of the posts, as the explanations need a spoiler alert), I think that children over the age of seven could see this movie without parents worrying that it might be too intense. I would personally suggest talking with children younger than seven about some of the things mentioned at the end of this post such a death of family members and bullying.
There has been some talk about Cinderella's tiny waist in the movie, which is a great talking point for you and your children. You could mention that corsets were fashionable in that time, as well as other things you'll see in the movie like metal hoop skirts.

This version of Cinderella isn't a musical–there are no songs to sing along to during the movie. There are a few scenes that include very mild language (such as stupid) and a few scenes where the stepmother and stepsisters bully Cinderella. You can see some of that in the trailer above.
By far, the best scene in the movie is when the Fairy Godmother appears! She brings some laughs into the movie and watching the transformations of the pumpkin, lizards, and mice is wonderful! Your children will love this part for sure.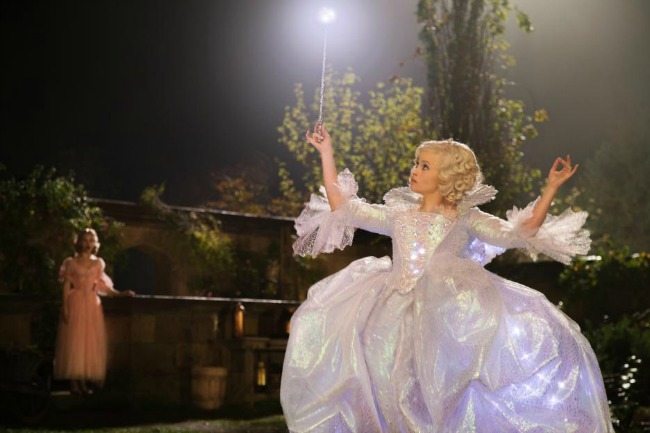 As I mentioned above, there are a few scenes you might want to know about so you can prepare your little one. Telling you about this will spoil some of the movie. I'm warning you now so you can click away if you'd like.
Cinderella Parent Review: Spoiler Alert
When Cinderella is young, her mother dies. If you'd like to take an extended bathroom break to miss this scene, head out while Cinderella's mother is reading and singing to her as she falls asleep. After reading and singing to Cinderella, her mother falls outside of her room. The doctor comes to examine her the next day and immediately after Cinderella is taken to say goodbye. It's a sad scene where they are able to say goodbye as a family and Cinderella receives words of wisdom from her mother.
After Cinderella meets her stepmother and stepsisters, her father leaves on a trip and dies while he is gone. Cinderella is devastated to learn the news of her father's passing, but is remarkably kind to the man who delivers the news–a great example of her character.
Shortly before the ball, the Prince finds out that the King is dying. He passes after the ball in a much less dramatic scene than the first two deaths in the movie.
---
To facilitate this review, I was invited to a screening of Cinderella. I have not been compensated for this review. Media provided by Walt Disney Pictures