This site contains affiliate links. Please see Policies for more information.
My family recently tried the new Oscar Mayer Deli Fresh BOLD lunch meat and we love them! Their new flavors, Italian Style Herb Turkey Breast, Cajun Style Turkey Breast, Maple Honey Ham, and Chipotle Season Chicken Breast are so flavorful that they can easily be used alone without extra sauces and spices. My favorite part? There are no artificial preservatives and no artificial flavors! I'm sharing my recipe for BOLD Cucumber Sandwiches today!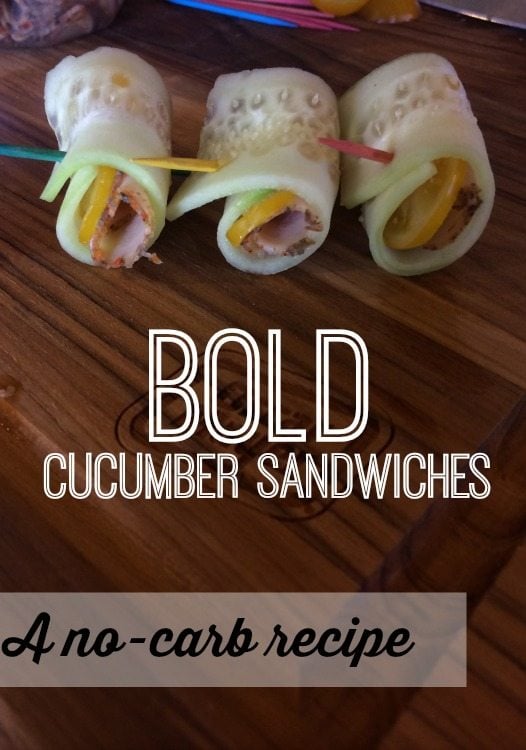 To make these cucumber sandwiches, you'll need: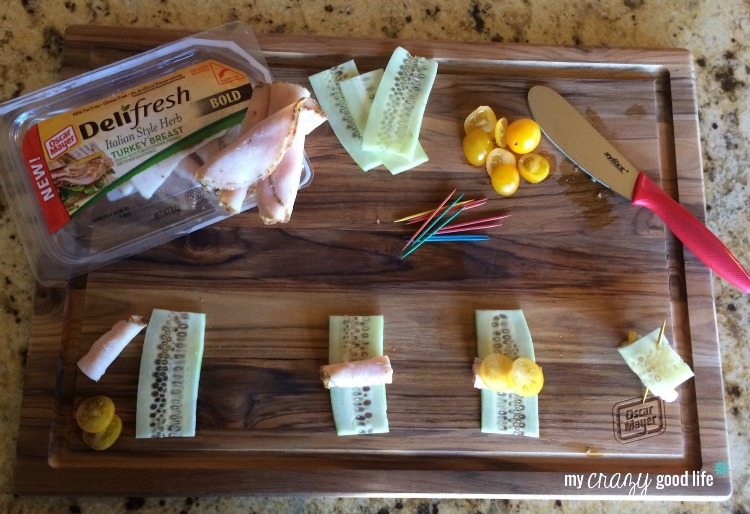 Cucumber, skinned
Oscar Mayer Deli Fresh BOLD lunch meat (we used Italian Style Herb Turkey)
Grape tomatoes
Toothpicks
1. Roll up one slice of lunch meat , then cut in half
2. Slice grape tomatoes
3. Use sharp knife or mandoline to slice cucumber
4. Assemble sandwich as shown above:
-Place lunch meat and two slices of tomato onto cucumber slice.
-Fold over one side of the cucumber and then the other, using a toothpick to secure sandwich (secure on the sides of the cucumber, not through the seeds)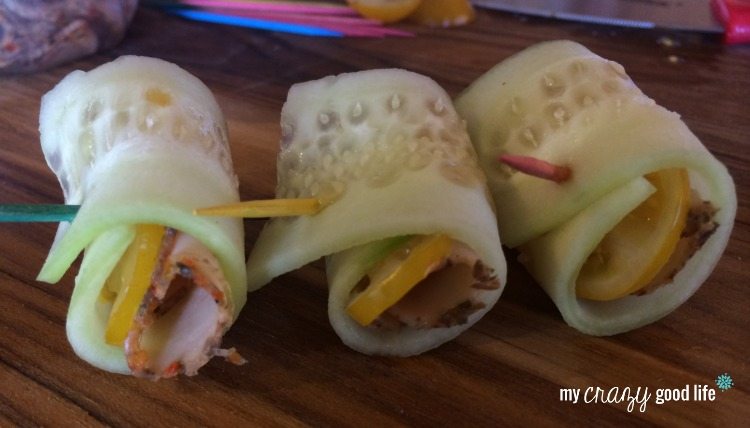 You could also use lettuce or spinach as a wrap for these sandwiches. I happen to love cucumber, so that's my go-to wrapper. The yellow grape tomatoes could be substituted with red tomatoes, a slice of green onion, or a small slice of cheese.
The cucumber and tomatoes in this recipe make mayo, mustard, and other sandwich spreads unnecessary! These flavorful bites are a great lunch for adults, kids (they love eating anything with toothpicks!), or even a quick and healthy appetizer for your parties and happy hours.
Deli fresh BOLD lunch meat is available in stores now. The price ranges from $3.99 for an 8 oz. package to $5.99 for a 16 oz. package. You'll find them in the refrigerated section next to the prepackaged lunch meat.
This sponsored post was written while participating in my partnership with Oscar Mayer and One2One Network, but as always, all opinions are my own. I received Deli Fresh BOLD coupons and other related items from Oscar Mayer/Kraft Foods.
Weight Watchers Freestyle Smart Points: 1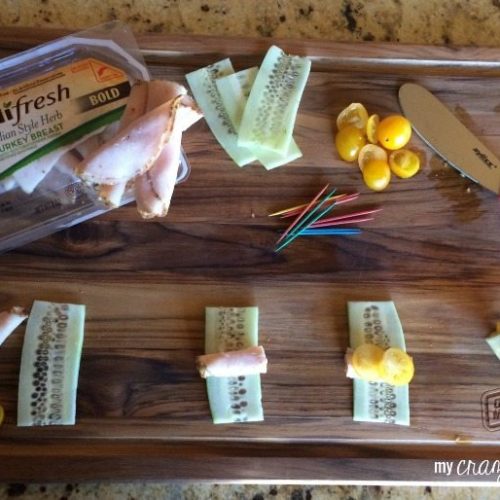 click the stars to rate!
BOLD Cucumber Sandwiches: Low Carb Recipe
Servings 1 serving
These BOLD cucumber sandwiches are my favorite lunch right now. They're healthy, easy to put together, and it's a great no carb recipe!

Ingredients
1/2 Cucumber skinned
3 slices Oscar Mayer Deli Fresh BOLD lunch meat we used Italian Style Herb Turkey
1 ounce Grape tomatoes
Instructions
Roll up one slice of lunch meat, then cut in half

Slice grape tomatoes

Use sharp knife or mandoline to slice cucumber

Assemble sandwich as shown above:

-Place lunch meat and two slices of tomato onto cucumber slice.

-Fold over one side of the cucumber and then the other, using a toothpick to secure sandwich (secure on the sides of the cucumber, not through the seeds)
Notes
Weight Watchers Freestyle Smart Points: 1
Nutrition
Calories: 43kcal | Carbohydrates: 5g | Protein: 5g | Fat: 1g | Saturated Fat: 1g | Cholesterol: 8mg | Sodium: 291mg | Potassium: 320mg | Fiber: 1g | Sugar: 3g | Vitamin A: 344IU | Vitamin C: 9mg | Calcium: 21mg | Iron: 1mg