I pride myself on being honest with my boys.
Well, except for that one time I skirted that whole baby thing…
Anyway.
There was a small "issue" at school this past week with an HIV/AIDS lesson turned s_x-ed.
And the "issue" ended with Michael learning about…
you know…
"it."
I don't dare type the word here because we don't need anyone finding this blog while googling *that.*
Movingalong.
We had planned a few weeks ago to take Michael to the Bodies Exhibition in Tucson.
We had no idea how relevant it would be after this week.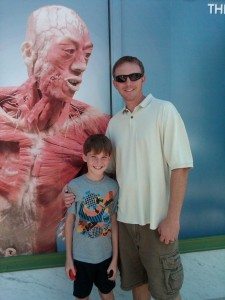 I have chosen to only post this picture of the exhibition, due to some of you maybe not wanting to see the whole shebang. If you would like to see more pictures, click here.
Have you heard of Bodies? It's very similar to BodyWorlds, just on a smaller scale.
It's an exhibit of human bodies that have been carefully preserved and are on display for educational purposes.
Michael is 9. Steve and I decided that he was old enough to view the exhibit if he wanted to go.
Jack, who is 5, wanted to go, but we decided that he should wait just a little longer (due to lack of an attention span, not content of the exhibit).
We talked it over with Michael, showed him some pictures online, and asked if he wanted to go.
He did. And he loved it.
We saw several younger children there, starting at 4 or 5 years of age. If you want to bring your kids, don't worry that they will be the only ones there.
Steve and I walked through the exhibit with him, allowing him to choose what he wanted to spend time looking at.
We paid the extra $5 for the audio tour, and listened to the verbal descriptions of several exhibits.
When we first walked into the building, we saw a skeleton and listened to a description of bones.
Michael turned to me and said, "Is that a kid?"
And though the skeleton was raised above the ground, it looked to be just a hair taller than Michael is.
Perceptive little boy.
We saw bones, muscles, organs, and whole skeletons.
Diseased parts and healthy parts.
I asked Michael what his favorite part was, and he said he liked all of it, but especially the roundworm in someone's intestine and the cancerous organs. He's such a boy.
While he was walking around, he seemed particularly interested in the heart and brain, and told us that he was a little creeped out by the embryo exhibit.
Mom's honest opinion?
I'm glad that we took Michael. He was very interested in it, and I feel that he is at an age where he can appreciate the exhibit.
There's nudity, but in different forms. It wasn't an issue for us, and Michael said that it didn't make him uncomfortable.
Take your kids if they show interest. You'll be glad you did.
Tucson Bodies Exhibition Information
The exhibit will be in Tucson until August 31.
It took us about 1 hour to walk through the exhibit.
Ticket prices range between $14-22, with military, senior, and student discounts available.
The Bodies Exhibition is in several cities this summer… click here to see if it's coming to you.
If you decide to go, please leave me a comment and let me know what you think!
My family was generously provided with tickets to view the Bodies Exhibition, but I was not paid for this review.
The opinions expressed are my own.
Have you voted yet?
0