This site contains affiliate links. Please see Policies for more information.
These 2B Mindset holiday recipes are a great way to stay on track this holiday season. You don't have to miss out on your favorite holiday meals thanks to these 2B Mindset approved holiday recipes. My 2B Mindset Holiday Recipes eBook is the perfect way to keep these recipes on hand for the upcoming holidays.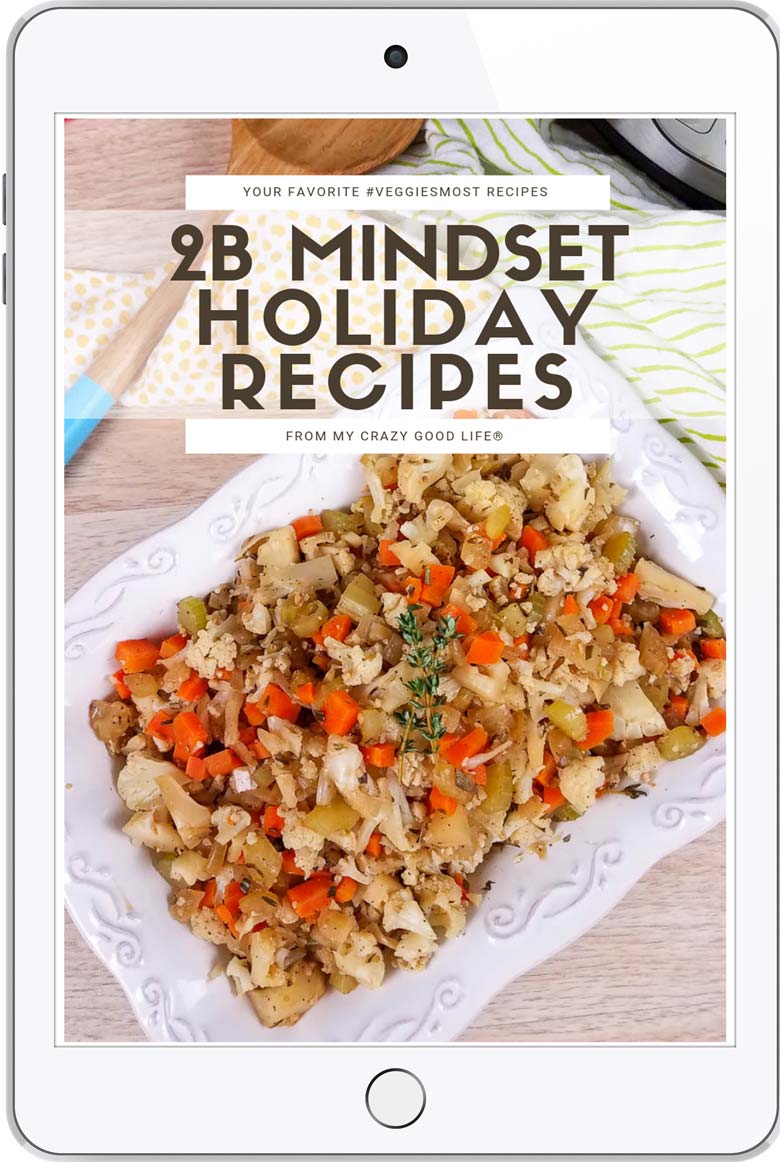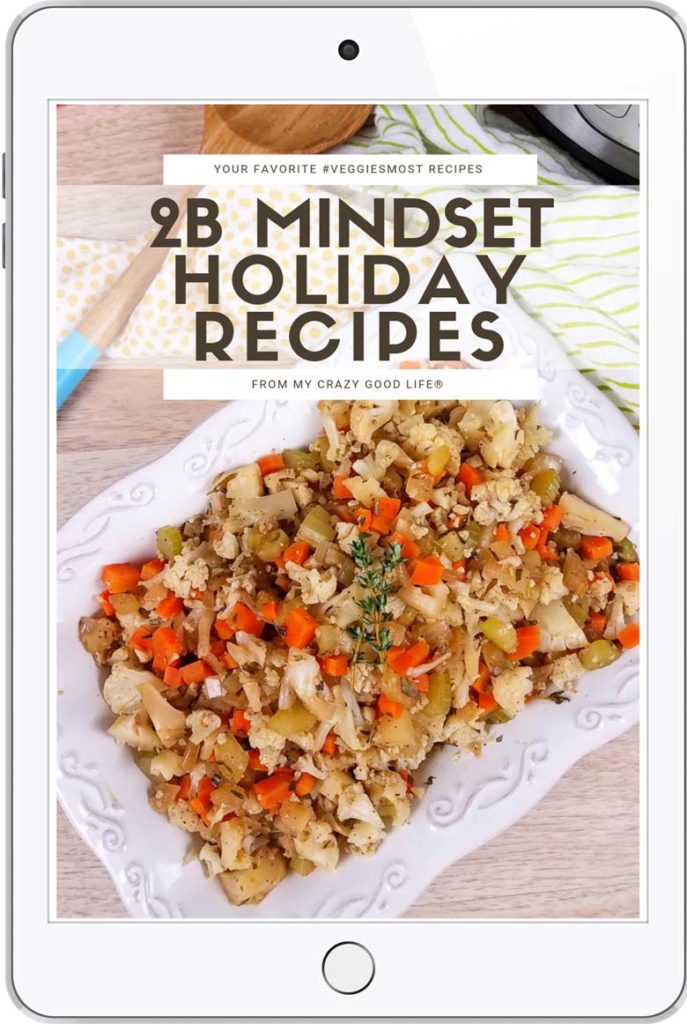 2B Mindset Holiday Recipes eBook
When it comes time to celebrate during the holidays, a lot of families do so around the dinner table. We prepare elaborate meals for our friends and loved ones. A lot of overindulging happens and most of the time we spend the next several days recovering from stuffing ourselves with delicious but somewhat unhealthy foods.
That can all change this year. I have all kinds of delicious recipes, sides, meals, and desserts in one easy to print eBook for you! These holiday themed recipes are all great for Thanksgiving, Easter, Christmas, and everything in between. To be honest, they're great for any day–not just holidays. If you are looking for a way to make sure you stay on track with your dietary and weight loss goals this year, pick up this inexpensive collection of health conscious recipes!
Here's a list of all the delicious recipes that a part of this simple to print and save eBook. Each one is unique, delicious, family friendly, and perfect for your holiday table. Your guest, family members, and loved ones will be wowed by these healthy yet scrumptious side dish, desserts, appetizers, and meal recipes.
The 2B Mindset meal plan and nutrition program is all about changing your relationship with food. It's about losing weight with the nutrition program since there is no dedicated exercise program like most of the other Beachbody programs. These 2B Mindset recipes will help you eat healthy, stay on track, and continue towards your goals this holiday season.
Want to learn more about 2B Mindset?
Recipes:
Garlic Rosemary Smashed Potatoes
Healthy Spinach & Artichoke Dip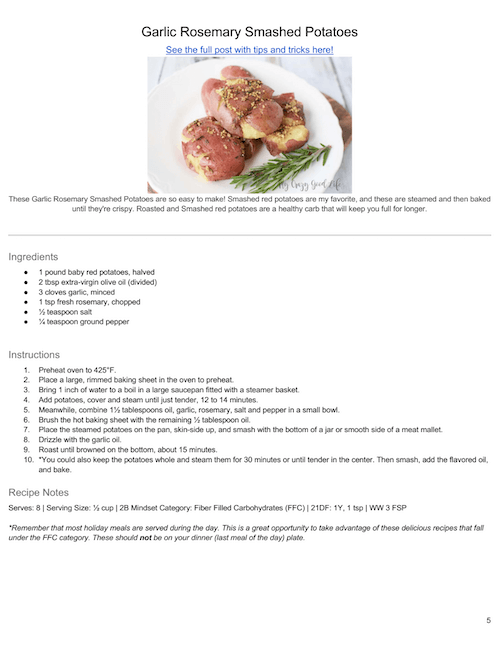 How do the eBooks work?
You can access the books via smartphone, tablet, or computer and then save them for future viewing or print them out to keep on hand in the kitchen. Each recipe is on a single page with ingredients, directions, and nutritional information. You get a single snapshot of the finished recipe and a link to the full blog post in case you need a little more direction.
You can save the book to view anytime you like on your devices or print them out. If you save them on your devices you can easily click through from each recipe to the blog post where you'll find the video (hooray for the visual learners out there)!
All ebooks are part of my buy 2 get 1 free offer which requires code mcglb2g1 when purchasing. For that price you are able to avoid the ads, distractions, and searching through the recipes on the site to find what you want!
Why buy an eBook when you can get the recipes for free?
I had the same concern and question! When my readers started asking for printable versions of my recipes without ads or "fluff" I knew I needed to find a solution that could work for everyone. While my blog posts include a printable version of the recipe they also have tips, tricks, videos, ads, related posts, and more useful tidbits that some readers simply do not like to scroll through.
Many readers also told me that they'd prefer to pay a small fee in order to access the recipe collections that I put together without having to search for the recipes themselves. Since the eBooks have a great low price and lots of recipes, it's a nice trade off for those who prefer the convenience of the eBooks versus the user experience on the site.
While it might seem like just a matter of preference it's also a great way to share the recipes with those people in your life who might not be tech savvy.
If you have family members or friends who like the 2B Mindset program and cooking or baking, this book would make a great gift! They don't have to be online to use it, you can save the book and print it out for them. You can also send them the download link via email when purchasing them a copy as a gift!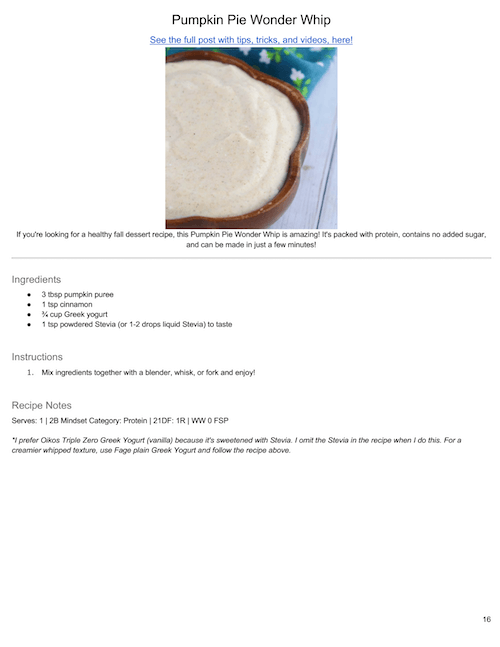 What cooking methods are used in the 2B Mindset Holiday Recipes eBook?
For this particular eBook all of the recipes that are included use the stove or oven. Some may have modifications for other cooking methods like the Air Fryer, Instant Pot, or slow cooker but not all of them do. These extra cooking methods help make meal prep easier whenever possible.
The great thing about this eBook is that anyone can use it, the recipes are easy to prepare at home and they don't require any special cooking appliances or tools. Simple cooking methods are especially nice during the holidays when we have a lot going on in our homes. The last thing we need is complicated recipes that require us to run out and get lots of fancy new kitchen gadgets, right?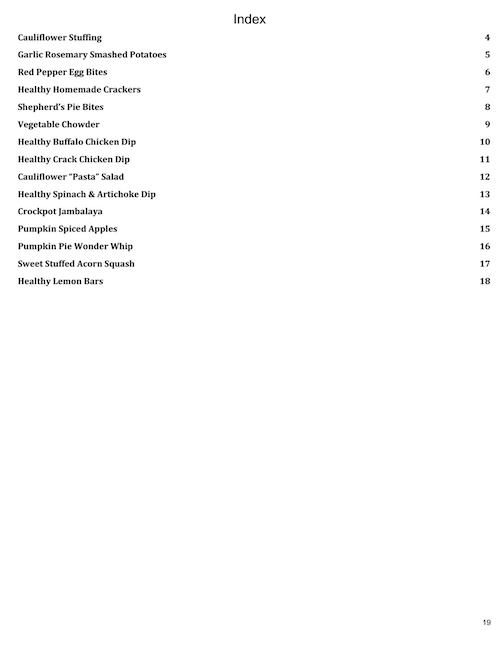 Is there any other dietary information included?
Obviously for this eBook there is 2B Mindset program information included in the eBook for each recipe. Another perk is that the 21 Day Fix and Weight Watchers information is provided as well.
Some of the recipes will have other nutritional information on the blog posts themselves so you can check them out for more in-depth analysis of the nutrition and diet programs!
Do you have any other eBooks for me to check out?
I've made it my goal recently to share more about my eBooks with you! I want everyone to get the most value possible from My Crazy Good Life® and part of that is making sure you know about all the great stuff we have going on here.
Here are some of the other eBooks we have in the store. Check them out and see for yourself which ones can help you stay on track, mix things up, or just make life easier in the kitchen.
If you buy 2 you get 1 free with code: mcglb2g1 so make sure to use that at checkout if you find several books that you can make use of! Don't forget if you buy two for yourself you can always add a third as a gift for someone else!