This site contains affiliate links. Please see Policies for more information.
Looking for more blogging tips? Everything But the Posts, my new book, shares tips, advice, and templates for setting up a blog, connecting with your community, and monetizing. It's available in paperback, on Kindle, Nook, and iBooks.
 __________
This is part two of my Pinterest Basics for Bloggers series. Find part one here.
As I've mentioned before, Pinterest is the place to be for bloggers who have content to share. I have some more tips for you today!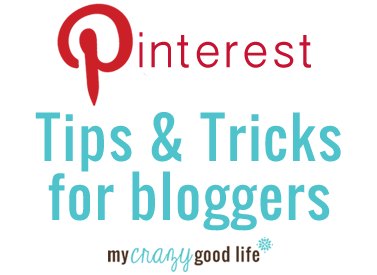 In my post about making your blog content go viral, I said that I pin most of my blog posts multiple times to multiple boards. There are a few tricks to doing this.
Don't pin the same post multiple times to the same board over and over. For example, I pin a recipe post to Just for Jack first (because we're pretending Jack loves that recipe), then to Looks Yummy, then to My Crazy Good Life. If it gets popular, that pin will go on my Popular Pins board, as well. I just go down the list of boards scanning for somewhere the post will fit, then pin it. After a few days start the process over again, making sure to pay attention to any group board rules you have.
When you link to your blog post, also give your readers an option to pin the post to read later: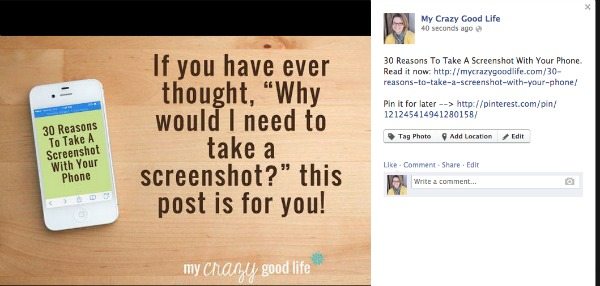 Invite people to follow along with relevant boards in your blog post. Like this:
To learn more about Pinterest, follow my Pinterest Tips board!
Well, maybe it doesn't have to be that big. You know what I mean ;)
Fun Pinterest Tricks and Tips
To see what has been pinned from your blog, head to http://pinterest.com/source/YourBlogName.com. I go to http://pinterest.com/source/mycrazygoodlife.com.
To be alerted when content is pinned from your blog, head to Pin Alerts and set up an account. They'll notify you when your content is pinned.
Don't "pin dump." That's when you log on and pin multiple things within a few minutes and log off. Especially don't do this when pinning posts from your blog. People will see #allthepins from you and scroll right past them all.
To see how much traffic Pinterest is driving to your site, log into your Google Analytics accounts and click Traffic Sources > Referrals. If you see Pinterest, click it: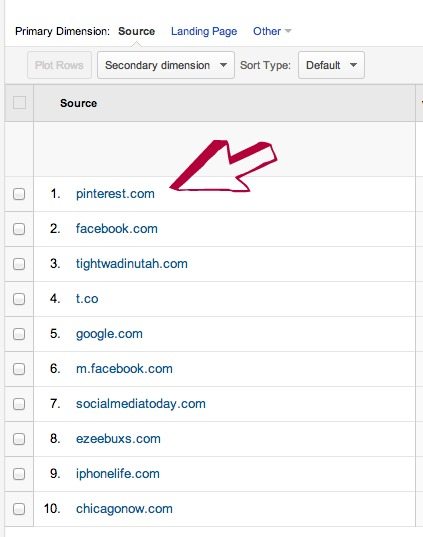 Click on Pinterest and you can view each individual pin that's sending traffic to your site: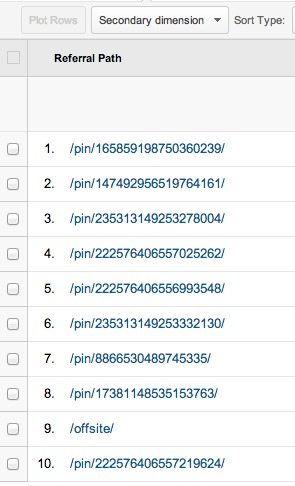 Make sure to check and see if there's more than one page – I just saw that I have 406 pages of pin links. I've been using Pinterest for a long time!
To Grow Your Pinterest Presence, Repeat After Me: Search, Follow, Search, Follow, Search, Follow.
When something catches your eye, look to see who else pinned it. Click through to see their boards and then look to the bottom of the pin to see who else pinned that item–you'll probably be interested in following them, too!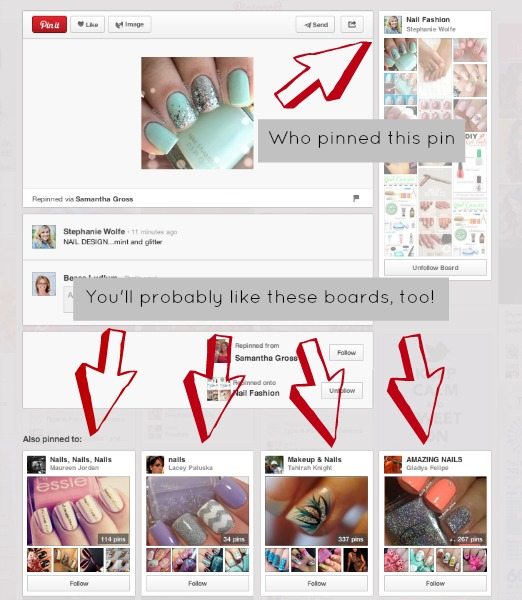 When want to find more boards with similar content, do a Pinterest search for it. For this pin, I'd just search for "nails."
The more you search and follow, the more diverse content you'll have to share!
Here are some other great Pinterest posts I wanted to share with you:
1. The Blog Maven tells you 9 Ways To Bring Pinterest Users To Your Blog
2. Business2Community tells you 11 Ways To Maximize Pinterest Pins Of Your Blog Content
3. Kevin & Amanda tell you how to Add A Pinterest Mouseover Button To Your Blog – for WordPress and Blogger blogs!
Do you have any Pinterest tips for me? I'd love to hear them!
This is part two of my Pinterest Basics for Bloggers series. Find part one here.