This site contains affiliate links. Please see Policies for more information.
Ahhh… Autumn. My favorite time of the year.
Well, it was when I lived in Upstate New York. Here in Southern Arizona, there's not much of an "Autumn," per se. It's more like "let's wait for the temps to drop under 100, then in a month or so we might see a few yellow trees."
To be honest, I've been pretty jealous of all of the "Fall posts" popping up in my reader lately.
I miss picking apples and walking around looking at beautiful colored leaves, collecting acorns, and all of the fun craft fairs that are going on during this time of year. But what I really miss the most is the smell of burning leaves. That smell ranks right up there with freshly cut grass from the lawnmower and fresh lilac trees.
Anyway… got a little sidetracked… sorry.
Today we went up to Mt. Lemmon for Oktoberfest, a german festival that reminded me of the festivals that I used to go to with my grandparents when I was little. It was fun to watch the chicken dance (totally thought Jack would get up and do it, but he refused. I know he wanted to.) and listen to the german band that was playing. The kids went up on the ski lift with Dad and Aunt Jen, and they were so excited to be there. It was wonderful wearing jeans and sweatshirts and seeing our breath for the first time in a year. It was a great day.
The best part for me, though? The leaves. Beautiful red and orange trees. Not many, but enough. I was good and didn't burn any leaves, but the thought did cross my mind.
I could bring them home, get a metal bucket, and burn a few to see if they smell the same…
The second best part was looking through the pictures that I took today. Here they are: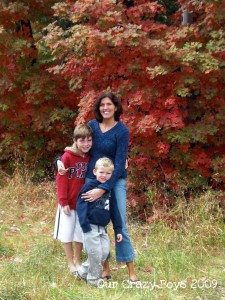 Aunt Jen with the boys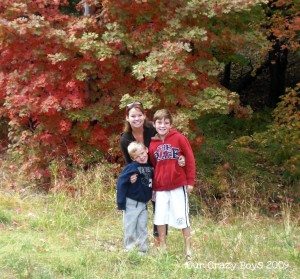 Mom and the boys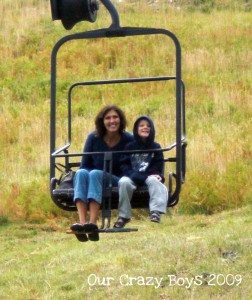 Aunt Jen and Jack on their way down from the ski lift ride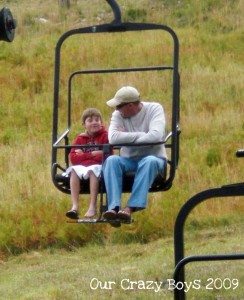 Michael and Dad on their way down… notice anything missing?
Yup, a shoe. Michael lost a shoe on the way up the mountain.
I think it's kind of funny that he didn't take the other shoe off… just to be safe.
When they got to the bottom, Dad saved the day by hiking back up the hill (in his flip flops) to find the missing shoe. After receiving a little help from passers-by up above, it was found!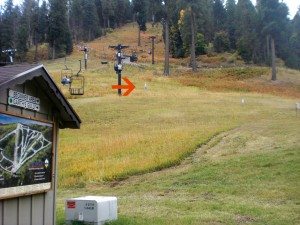 Happy October, everyone!
Oh, and in case you're wondering… less than 2 days until we leave for our Cancun vacation… where the weather forecast for the week is:
Momday: Thunderstorms
Tuesday: Thunderstorms
Wednesday: Thunderstorms
Thursday: Thunderstorms
Friday: Yup, you guessed it… more thunderstorms.
But that's ok. Because I'll bet that a "bad" week at the beach is better than a good week in the "real world."
Right?